As The New York Times co-chief art critic Roberta Smith was recently awarded the Dorothea and Leo Rabkin Foundation Lifetime Achievement Award, it is timely to consider the impact of her oeuvre. Examining the critic as artist, this article looks at her career, noting the subtle feminism that has evolved from her time at Art in America, through the Village Voice up to today with the New York Times.
Smith noted in 2013: "I think women were always tolerated as critics. That is different than as artists." Women and minority artists continue to be marginalized. Warranting particular focus are the ways artists are written about and their work displayed, particularly with regard to women and minority artists, influencing the impression and value to viewers, readers, patrons and ultimately, history. Susan Leibovitz Steinman states:
Feminist art critics are active collaborators with artists and com­munities, as opposed to the prescribed "norm" of aloofness. They write as social advocates for artists – women and men – who work against issues as diverse but interconnected as sexism, racism, ageism, censorship, homelessness, ecological destruction, and political oppression.1
This article analyzes her coverage of women artists and reviews her didactical reference to gender and social justice, to support the impact of her writing.2
What is "subtle feminism" in writing? Lucy Lippard argued keenly that feminist art is "neither a style nor a movement," but rather "a value system, a revolutionary strategy, a way of life."3
Steinman's scope of feminist art strategies:
...a commitment to a non-art constituency/audience, an inclusionary rather than exclusionary process; community involvement/participation; a community-based site for the work as opposed to an art-world site; frequent collaboration; a mass media (press conference) component; and an underlying critique of the patriarchal power structure.4
Though Smith started out focused on minimalism, in which artists' intent was aesthetically-driven, feminist ideals such as humanity and accessibility are consistent throughout her work.
Born in New York City in 1947, Smith was raised in Lawrence, Kansas, and earned a Bachelor of Arts in Art from Grinnell College in Iowa in 1969. Following an internship at the Corcoran Gallery of American Art in Washington DC, she was awarded a fellowship to participate in the Whitney Museum Independent Study Program where she met artist Donald Judd and became interested in minimal art -- perhaps as a young professional meeting, this esteemed artist swayed Smith.
She then worked at the Museum of Modern Art as a secretary where she became fascinated with Artforum. Showing great passion, she submitted a 10-page letter to the editor, regarding an article she disagreed with, a seminal event in her life and one that shaped her career. This led to her first publication. She quit the MoMA and became a writer. She wrote for Donald Judd and the Paula Cooper Gallery in the 1970s, contributing to Artforum and serving as a senior editor for Art in America.
In 1974, Smith discussed her writing:
...I do object to art that doesn't give you an immediate handle, in a visual way. If it seems unnecessarily difficult or obscure, I find it pretentious. Something has to engage you, and that by and large happens in an inexplicable way...Art that I find uninteresting...doesn't involve me for a number of reasons--it doesn't seem rich enough, human enough, accessible enough.5
Stressing human and accessibility, echoes a grounded, feminist sensibility. The artistic content wasn't feminist driven, though Smith's insight was.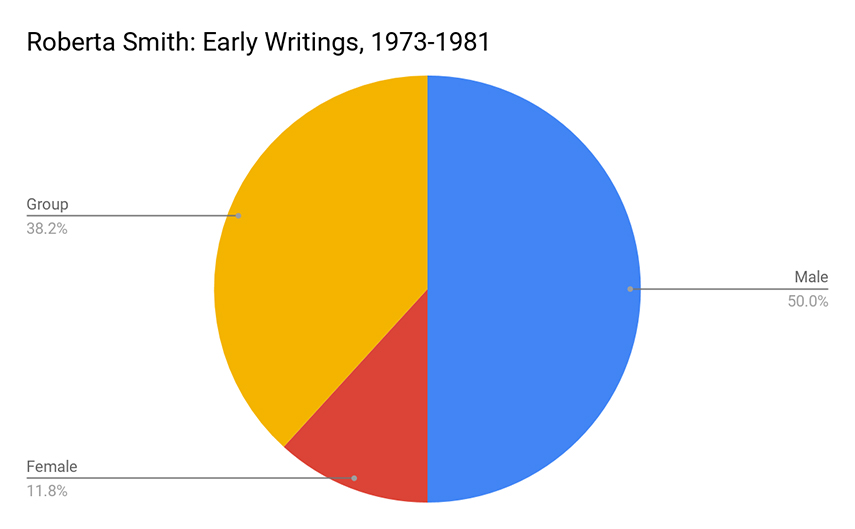 If Smith's early reviews were male-dominated (the group shows were mostly men), at that time, exhibitions were statistically male-dominated, around 90% looking at Guerilla Girls' early statistics.5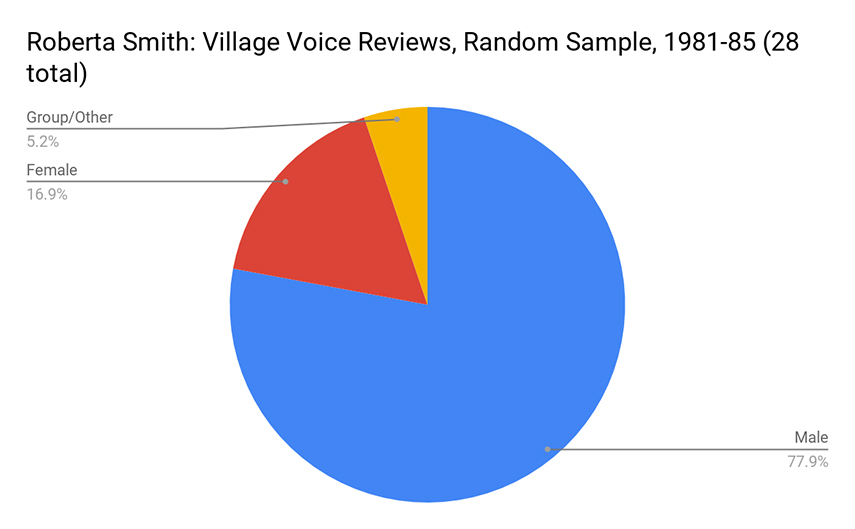 In 1981, she became Art Critic for the Village Voice. Looking at a random sampling, her break-down reflects exhibition statistics; 17% reviews dedicated to women artists. Still, her writing sways feminist.
A prime example is in a review of Difference: On Representation and Sexuality, a group exhibit. She directly remarks that "feminism and psychoanalysis...has sharpened the advanced edge of postmodernist art."6 She compliments the various perspectives (against traditional genius-artist perspective); the benefit of the "crash course for the interested but uninitiated;" "refreshing readability;" and the importance of "...multiple voices, and unspecified identities that actively implicate the viewer, never allowing a purely passive viewing of a perfectly resolved whole or conclusion." Her passion for active art is clear.
Similarly, she critiqued a retrospective of cubist Juan Gris: "...this could have been a messier, less monotonous exhibition, one that Gris himself might have liked less because it made him less perfect...Younger artists will identify with its complexity and may learn from its astutely distanced grandeur."7 Opposing the singular genius-artist approach demonstrates Smith's feminist leanings.
She moved to the New York Times in 1986 after subbing for another critic. She reportedly asked "could this happen more than once?" and her regular reviews began, exemplifying her determination.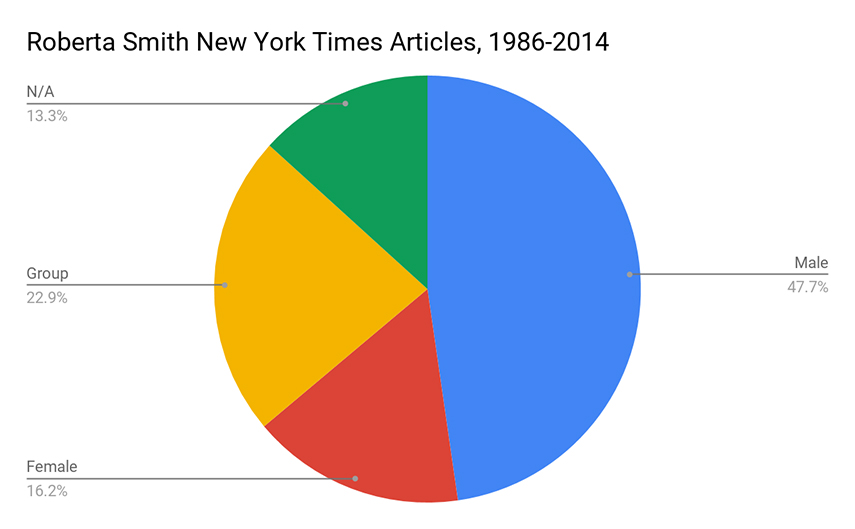 The above figure represents the random sampling of 900 articles tallied of 3,100 articles written by Smith between 1986 to 2014, consistently male-dominated.
The disparity could be due to editor assignments; it reflects the gender disparity of exhibitions. Of records, six percent (172) involve a feminist topic. Men far outweigh women in obituaries, which The New York Times is publicly addressing with their "Overlooked" series.8
1986. Her first year at The New York Times. Smith reviews a retrospective of Alice Neel. She deems Neel "an eccentric personality and an equally eccentric portraitist with undeniable power...Given the time and her gender...she proceeded along her chosen path much as Georgia O'Keeffe proceeded along hers: with almost unbelievable self-assurance."9 Smith's recognition of the impact of sexism is subtle-- rather than victimizing Neel, she is elevated.
1987. Smith reviews a Sherrie Levine "mini-retrospective," less impressed. "They don't make mistakes, but they also don't reach very high or very deep." Still, Smith notes, "The way the small-scale and delicate surfaces of this art make it both feminist and feminine is also interesting to think about."10 A direct positive statement towards feminism?--Yes!, "interesting" is positive, considering the mass of negative regard toward feminist art.11 "Interesting" implies depth, especially in regard to the "feminine" which people sometimes confuse. These oft-disregarded topics are "interesting" to Roberta Smith.
1988. Smith reviews an exhibit of 108 artists, 60 percent male, at the Museum of Modern Art. Smith wrote it presented "a not altogether unwelcome absence of certified masterpieces," indicating a contentedness without the usual "genius" artist suspects. Smith mentions the exhibit's inclusion of both household names and lesser known artists. She notes the ambitious range of issues encompassed and overcrowded, almost overwhelming the installation and issues sidestepped in the "gender" theme, including abortion and homosexual rights. Smith suggests "...one would have enjoyed seeing some of the Guerilla Girls' recent posters, with their scathing statistical art world analyses, among the ferment."12
1990. Smith writes a feature on the Guerilla Girls for the 5th anniversary of their first poster. Smith discusses the controversies around the Guerilla Girls' anonymity, shunning esthetic style, quality and mixed signals, as their posters are collected. Smith includes positive and negative quotes from curators and critics, impressively objective writing on contentious artists.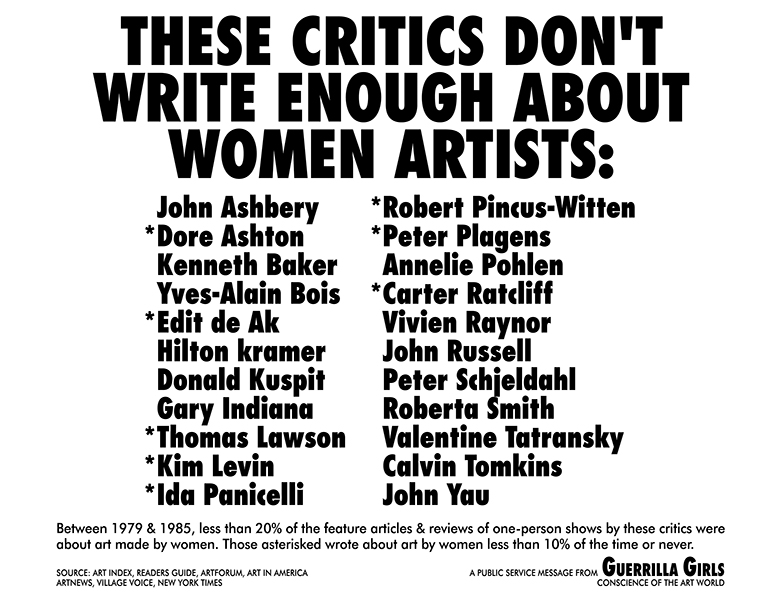 Of the poster that pointed fingers at her, only a year after she came on board the Times, Smith writes:
...I was chagrined to see my own name on a poster that listed 22 critics who wrote about women less than 10 percent of the time...As an art critic, I part company with them on their attitude toward the notion of quality, which they see as a non-issue...But the Guerrilla Girls are not art critics; they're social critics. And neither quality nor style has a place within their coolly statistical approach - although some of their impact seems to stem from the high quality of their posters.
Smith's conclusion was resoundingly feminist: "
There is plenty left for the Guerrilla Girls to do. Even now, the art world, centered as it still is on the idea of the male creative genius, remains an elite world. It is tempting to believe that true talent will always make its way to the top. But the Guerrilla Girls have demonstrated that differences in sex and race can make talent rise at very different speeds.13
Throughout the 1990s, Smith writes about several women artists and feminist issues.
1994. In her review of Sense and Sensibility: Women Artists and Minimalism in the 90's, Smith deconstructs the impact of display. She writes the exhibit "relegates the work of seven young women, whose sculptures and installations build on the strategies of 1960's minimalism and 70's post-minimalism, to a half-share of the museum's basement level. Each artist has been given her own small gallery, making the confinement solitary."14 While unhappy with the placement, she finds the display optimistic.
Smith points out how post-minimalism has been infiltrated with feminist consciousness, and these issues are "not given true breathing room in the Modern's exhibition." She concludes: "To be heard, to have an affect, art must be seen. And seeing in the most profound sense takes generous and intelligent allotments of space, as the installation of the David Rockefeller collection, upstairs from 'Sense and Sensibility,' demonstrates." She reflects on the placement, a feminist inquiry, sixteen years before Helen Molesworth pointed it out in "How to Install Art as a Feminist."15
The Early 2000's. More of Smith's writings refer to gender and feminism.
2011. A feminist article appears: "Helping the Modern Get Over Itself." Smith directly pens a feminist lean. She writes of the recent remix of the MoMA's galleries' organization, touting chief curator Ann Temkin as the leader: "You might say that Ms. Temkin and her team are trying to help the Modern get over itself, to play down its role as anointer and definer and keeper of the canon, and to soften its historic focus on linearity, male genius and art movements (or at least strictly defined ones) while excavating exciting, little seen treasure from deep storage. A very un-Modern-like phrase appears in wall texts at the start...telling us "there are countless ways to explore the history of modern art and the museum's rich collection."16
This recognition of the institution's impactful and privileged perspective, challenges the canon as feminists do. Smith compliments the new gallery devoted to Hannah Wilke, and ends with a feminist nod: "They give us a version of the Modern that we don't see enough: free, digging deep and thinking hard, foremost with the eyes. It speeds the heart to imagine more of these galleries ascending to this level of taut and reciprocal illumination."
2011. Smith becomes Co-chief art critic of The New York Times with Holland Cotter, the first woman to have the role. Cotter has been on the staff since 1998, and earned a Pulitzer for art criticism in 2009.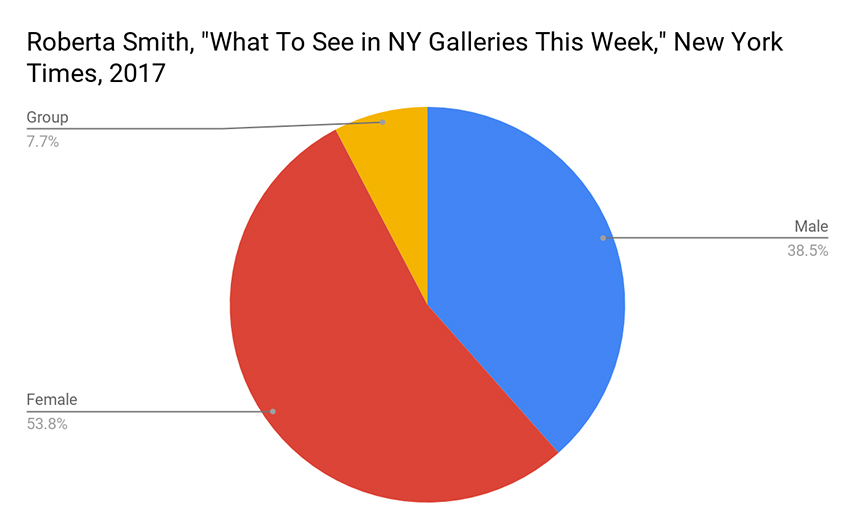 Smith's selections for picks of the week are slanted toward women; still when gallery representation leans heavily toward men. Smith's writing evokes an evolving feminist curiosity, evidenced in selection, social justice themes and didactics. An excerpt from 2011:
How many of the world's problems would be solved, or at least greatly reduced, if women had true parity with men? …Change begins with illumination — attention, pointing, identifying and generally shining lights in dark places. News organizations play a role in this. So, increasingly, does social technology communication. And so does art.17
This quote exemplifies Smith's feminist position. Furthermore, due to the visibility and position of the publication, her writing has impact, now, for artists, viewers, enthusiasts, patrons and others, and for the future of women and our documented histories.
In her words:
...criticism teaches people to be critical..it's like you're demonstrating one way of being critical within this certain area, and hopefully, it will get people to look critically...18
With clarity and personable voice, rather than a purely formal, academic perspective, Smith encourages audiences to find their own feminist and curious perspective.
Written by Sally Brown Deskins.
References:

Susan Leibovitz Steinman, "The Crime of Candor: Feminist Art Criticism," The Studio Potter, Vol. 20, No. 1, 1991
An interview with Smith was not conducted for an attempt an objective analysis. I recognize, at the same time, my own feminist bias for her work and that of women artists.
Lucy R. Lippard, "Sweeping Exchanges: The Contributions of Feminism to the ARt of the 1970s," Art Journal 39 (Fall/Winter 1980): 362-65
James and Caryn Faure Walker, "Activity of Criticism: Interviews with Roberta Smith and Lucy Lippard," Studio International, May 1975, 184-186
Guerilla Girls, "Guerilla Girls' 1986 Report Card," 1986
Roberta Smith, "Beyond Gender," Village Voice, January 22, 1985, 103.
Roberta Smith, "Juan Gris: Keeper of the Flame," Village Voice, June 12, 1984, 85.
Jessica Bennett and Amisha Padnani, "Overlooked," The New York Times, March 8, 2018
Roberta Smith, "Art: Alice Neel Show," The New York Times, Dec 19 1986, p. 1.
Roberta Smith, "Art: From Sherrie Levine, a Mini-Retrospective." The New York Times Sep 18 1987, p. 1.
The most notable example of an artwork being criticized for being feminist is the loads of criticism against Judy Chicago's The Dinner Party (1976-79). A prime example is Hilton Kramer's review when it was on view at the Brooklyn Museum in 1980: "For aficionados of feminist art, 'The Dinner Party' is the event of the year...For the rest of us--or for anyone more interested in art than ideology--the aesthetic pleasures to be derived from 'The Dinner Party' are...elusive….'The Dinner Party' reiterates its theme...with an insistence and vulgarity more appropriate for an advertising campaign than art...it is very bad art, it is failed art. It is art so mired in the pieties of a political cause that it quite fails to acquire any independent artistic life of its own. To this male observer, it looks like an outrageous libel on the female imagination." Hilton Kramer, "Art: Judy Chicago's 'Dinner Party' Comes to Brooklyn Museum: Art: Judy Chicago 'Dinner Party', The New York Times, Oct. 17, 1980, C1.
Roberta Smith, "Art: 'Committed to Print,' on Political Themes," The New York Times, Late Edition (East Coast) ed., Feb 05 1988.
Roberta Smith, "Waging Guerrilla Warfare Against the Art World," The New York Times, June 17, 1990.
Roberta Smith, "Space Is Spare for Women's Work at the Modern," The New York Times, June 24, 1994
Helen Molesworth, "How to Install Art as a Feminist". In Modern Women, Women Artists at the Museum of Modern Art. Edited by Cornelia Butler and Alexandra Schwartz. (New York: Museum of Modern Art 2010) p.499.
Roberta Smith, "Helping the Modern Get Over Itself," The New York Times, Sept. 2, 2011.
Roberta Smith, "Venus Rising from her Pretty Prison," The New York Times, Dec. 11, 2011
Christopher Bollen, "Roberta Smith and Jerry Saltz," Interview Magazine, Dec. 9, 2013

Featured image: Roberta Smith, 1965. Photograph courtesy of Grinnell College Special Collections and Archives. All images courtesy the author.