The practice of Rowan Renee, an American artist who occupies an important place in contemporary photography, has been drawn to liminal spaces, fluid and self-made identities, marginal subcultures and societal givens. In their work, they challenge and dismantles dominant codes and narratives of power and oppression. Peninsula Art Space will present their latest powerful personal project, photographs complex because of the questions they raise. A series of self-portraits called Bodies of Wood, explore their relationship with their father, a convicted pedophile who has spent his last years of life in prison. Through these images, Renee channels their physical and psychological trauma of sexual abuse and violence, in the attempt to disassemble this baggage and reclaim their power over it.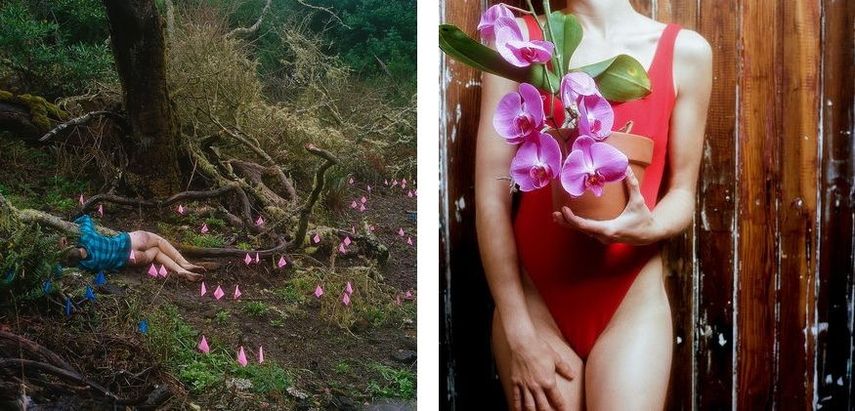 Speaking Out as a Political Act
The images were shot with Yashica camera on color film and printed as unique analog C-prints, showing unexpected uses of color, light and composition. Staging the scenes in the California landscape of redwoods, ocean cliffs or the historic houseboat and using a remote shutter release, Renee manages to capture their bravery and vulnerability at the same time without literal re-staging of events. By telling the story about their trauma, they deal with their memories trying to diminish the pain they carry. Working through a complex mix of emotions such as defiance, shame, rage and desire, Renee approaches the act of speaking out as a political act that extends beyond individual healing.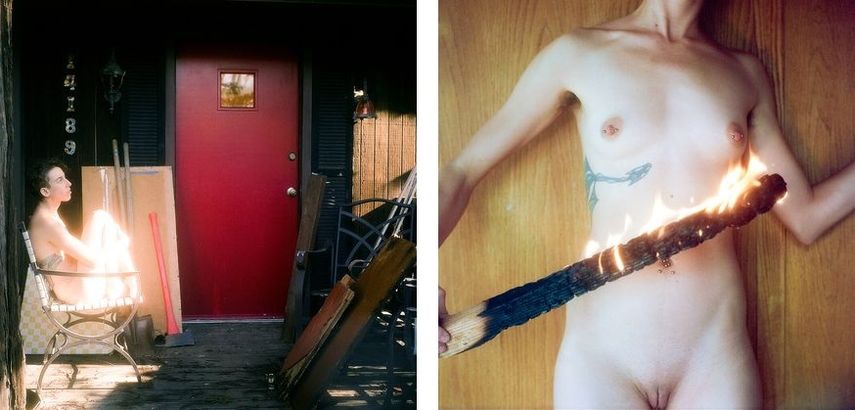 The Legacy of All Women
Through an emotional and strongly written piece that accompanies the exhibition, they explore their personal trauma and a family history of abuse through the experiences of their mother and grandmother. Telling the story of the artist Ana Mendieta, who was murdered by their husband Carl Andre, Renee addresses a man's position of privilege to shape, sculpt and transform woman's body brutally. The name of the exhibition is inspired by Andre's remark comparing wood as a material with a woman hacked and ravaged by men who continue to renew and give herself through this process. Positioning their story within the history of radical feminism and the work of the philosopher and gender theorist Judith Butler, they question the power of language that dangerously intervenes in the material world. Maneuvering between their own experience, a political and social struggle for gender equality and a gender neutrality as an alternative, they pose questions about abuse as a legacy of all women that defines their womanhood and the risk of raising a voice against it.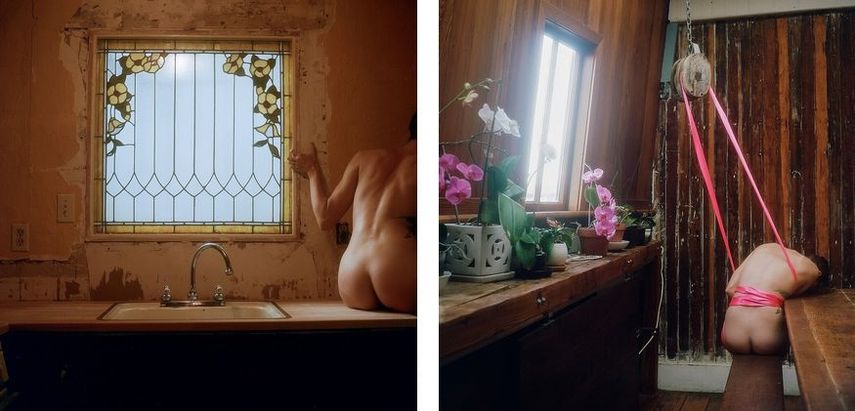 Rowan Renee at the Peninsula Art Space
The multi-faceted work of Rowan Renee confronts dominant discourses of power and oppression through photography, print, sculpture and installation. Exploring transitional identities and feminism, they have created powerful bodies of work such as Z, a photographic series exploring gender ambiguity, or Farm Ecstacies, exploring the simultaneous power and vulnerability of the female body. The exhibition Bodies of Wood will be on show at the Peninsula Art Space in New York from April 7th till May 15th, 2016.
Editors' Tip: Auto Focus by Susan Bright
Just as Rowan Renee, many artists have chosen a self-portrait as a way to send their message. The self-portraiture as a genre occupies a powerful place in the contemporary photography. The book Auto Focus explores the history of it and today's practices, featuring a stunning array of self-portraits by seventy-five most prominent contemporary photographers. The curator Susan Bright proved an in-depth guide through this genre, asserting issues of identity as a key motif of many of today's leading photographers. The book features lavish illustrations and it is organized in five chapters: diaristic and autobiographical images; pictures of the body; the use of masks and masquerade; the return to studio portraiture and the photographic album; and performance, both public and private.
Featured image: Rowan Renee - Bodies of Wood (detail), 2016. All images courtesy of Peninsula Art Space.