The world of things extends materiality to social and political life; all the ways that world-encompassing relations of power and production have thoroughly transformed appropriately and modified nature notwithstanding. Against all abstraction, considering the agency of things is to take them seriously, where their materiality is no longer additional or symbolic. In the wake of these contrasts, Rochelle Goldberg set her large installation at GAMeC – Galleria d'Arte Moderna e Contemporanea di Bergamo. No Where, Now Here, the first solo exhibition devoted to her work at a European institution, boasts a brown carpet measuring more than 200 square meters and spreading over the entire area of the exhibition space. The installation reveals a scenic monochrome platform for the presentation of a large work, titled No Where, Now Here, from which the exhibition takes its title and which develops the work presented by Goldberg this year at the Mirror Cells group exhibition at the Whitney Museum in New York. GAMeC also presents a new series of sculptural works and a space-encompassing wall-drawing.
Namely, invoking the agency of a cyclone in relation to a spatial revolution, No Where, Now Here is not to fit nature into a unified set of anthropocentric politics, but to enlarge the discussion of what constitutes politics, especially as ecological concerns have become issues of public "infections". Rochelle Goldberg destabilizes these categories, directing attention to the unstable border where the virtual and the real can co-exist. Goldberg's work enacts a threshold experience, undermining any finality, and paradoxically positing transformation as the ultimate form. The material contamination, dispersed across the surfaces, which include the gallery floor and additional leakage onto and around the sculptural works, permeates the boundaries of discrete objects.
Her sense of political geology involves two arguments, one new and one old. The old one is that, from a planetary perspective, life, no matter how diverse, is bundled with the forces of the earth. In times of hope and crisis, we are earthbound (as title No Where, Now Here suggests). Yet the time scale in which some events occur is so long compared to human history, where we experience life and bodies on earth as very stable (Hands Replace the Deck, 2016). The new argument, on the other hand, is that to reimagine geopolitics we must no longer think along asymmetries related to a geographical or cultural territories but about transversal planetary processes. By expanding scales, however, she certainly does not mean to offer a totalizing theory. On the contrary, as Co-Mingled at Pool (2016) represents, a politics unbound through the contingencies of geological processes must offer confrontation through specific practices and specific people's struggles. In fact, The ceramic works on display have a hybrid and organic appearance, poised between animate and inanimate, as if generated by continuous mutations and transformations.
Her vision is enacted through the use of tangled serpent-like coils that can assume a variety of forms. Additional works that continue this thread will also be on view. Including Hand's Replace the Deck, which sutures the haptic language of ceramic with contemporary materials in the service of connection: namely, fibre optic cables, illuminated by LEDs while hands in a variety of grasping positions try to take hold of them.
On the occasion of the Bergamo's exhibition, Widewalls met the Canadian artist, and examined in depth some of her practice peculiarities.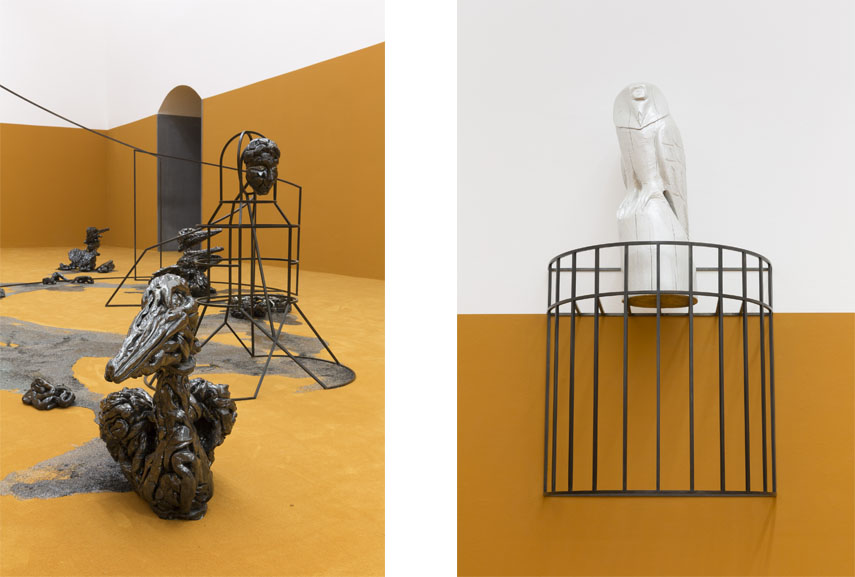 Rochelle Goldberg - Material as Form
Widewalls: You intertwined different materials (metals/ceramics, as well as warm/cold components) and realized new sculpturally independent artworks. Could you please tell me how the consistency of matter is represented?
Rochelle Goldberg: The consistency of matter in my work deliberately unravels. For my purposes material consistency is only consistent so long as we know what we are dealing with, but my interest is in dealing matter strange. For instance, a seed that signals growth is embedded with an unknown futurity because it forms an aggregate with foreign substances. Growth as we know it might be facilitated or perhaps the seed will respond to the situation as host for a tangential something else.
Widewalls: Do you apply ochre colour on the walls to recreate a landscape? Which kind of ambient -natural or synthetic- did you represent?
RG: I wanted to unground the space itself, to find something that might approximate the possibility of a neon-dirt. Colour in this instance is intended to manipulate the sensation of a landscape that can both anchor and levitate the space.
Widewalls: I personally figured your works out as compasses, in a suspended desert storm, how are your interventions supposed to be guiding or surprising the visitors?
RG: If one really takes the time to look, transmutation can be tracked through both temporal phases and material gradients. But each traced occurrence detours the next.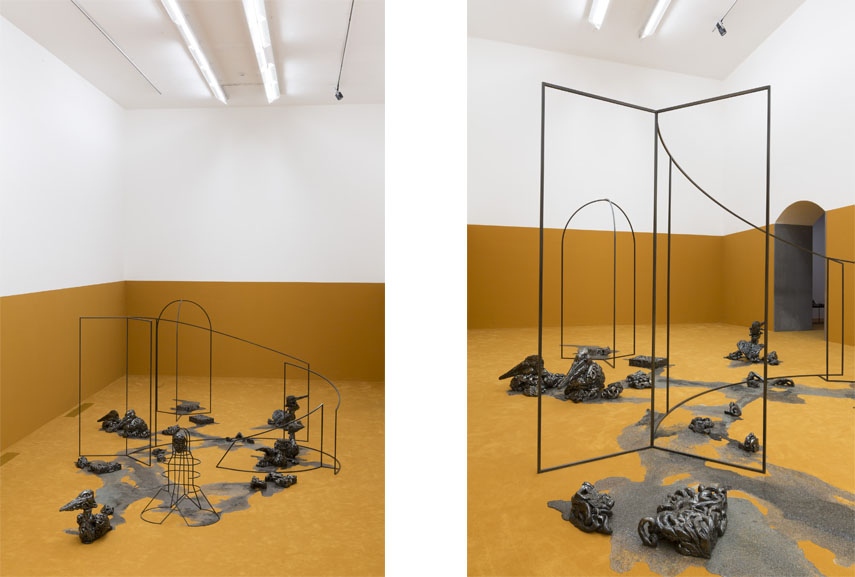 No Where, Now Here
Widewalls: Looking through your artworks and interventions, matter always become a trace of lacking. How would you define this the thickness, what does the materiality of matter mean in your practice?
RG: The matter of materiality is a substrate we can act on, and in turn can act on us. It goes both ways. That material presence itself can suggest its absence emphasizes the leakage between these two states. I tend to explore material frameworks that initiate an oxymoron status in order to dissolve it.
Widewalls: Very often, you define the omnipresent chia seeds as signals of a different kind of growth. Which other kind of elements/components could express a biopotential energy onto your work?
RG: Crude oil is another ephemeral material I often use or reference. In a way this murky substance is a biopotential corpse–the juice of a previous organic age exhumed as an energy source. Like chia, Crude oil has a traceable time-frame, although it occurs on a vastly larger scale.
Widewalls: Which kind of role does mankind play in No Where, Now Here? Where exactly, as visitors, should we stay?
RG: The participant can perceptually enter the world that work illicit so that the eye can pass through while the material body must remain at the gate.
Widewalls: Your practice boasts the synthesis of nature often combined with an industrial, a post-human presence. Which kind of analogies, connections or overlappings does your work maintain between nature and artifice?
RG: I suppose I take a back door approach and pursue where nature and artifice interact in secret. My works For Every Living Carcass I and II are an example of this. It's not clear where the what happened, happened. Reviving a corpse and bringing it into an animate state is in excess of nature as we have determined it. It's a quasi-fantasy that I can play out materially. It can also indicate that the animate and inanimate are blurry categories that co-mingle.
The fish here is served as fresh as it is dead and as dead as it is fresh.
Interview conducted by Ginevra Bria.
Rochelle Goldberg's No Where, Now Here is on view at GAMeC in Bergamo, Italy, through January 15th, 2017.
Featured images: Rochelle Goldberg - Hands Replace the Deck, 2016. Ceramics, fiber optic cables, resin, LED, plastic. Courtesy the artist and Miguel Abreu Gallery, New York. Installation view, GAMeC, Bergamo, 2016. Photo © Roberto Marossi; Composite Slip, 2016. Ceramics, fiber optic cables, resin, LED; Co-Mingled at Pool, 2016. Blackened iron, ceramics, resin. Courtesy the artist, Miguel Abreu Gallery, New York and Galleria Federico Vavassori, Milan. Installation view, GAMeC, Bergamo, 2016. Photo © Roberto Marossi.