Rodrigo Cortez's main gesture is re-position of old fashion icons in a way that they cannot serve as vehicles of desire and pleasure simpliciter. The way he deals with nostalgia is socially engaged. His works are on canvas, but usage of archetypical colors, and monochromatic figures are reminiscent of illustration and poster. The street art background of the artist himself is recognizable in his paintings and are up to the point and resonate with lots of people. Surrealism and pop-art vocabularies are storytelling devices and dictate deeper, hermeneutical mode of the consumption of these paintings.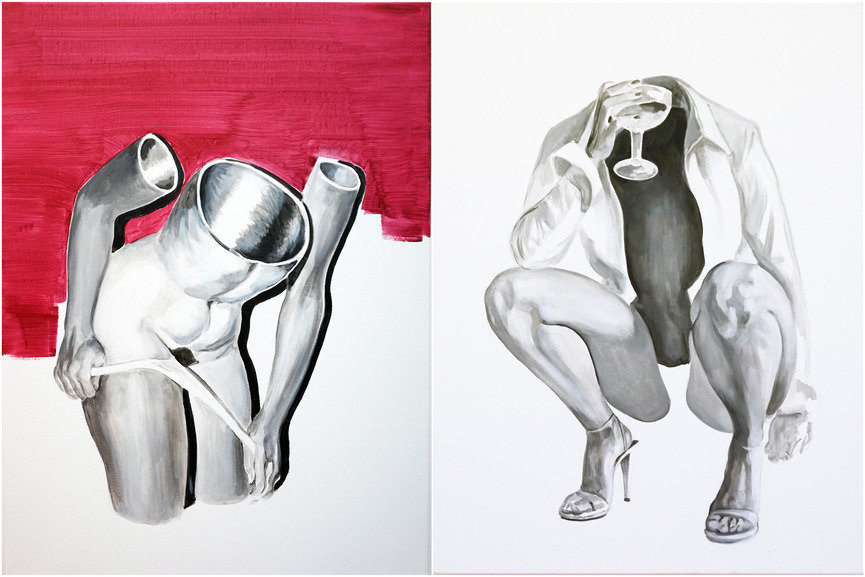 Mutilated Aesthetics
Appearance of women figures to some observers' emotional response will become increasingly positive and empathic, until a point is reached beyond which the response quickly becomes that of strong revulsion. They are presented as dolls, furthermore as dismantled mannequin figures with missing parts. However, in segments where appearance continues to become less distinguishable from that of a being, the emotional response becomes positive once again and approaches human-to-human levels of attraction. But repulsive reaction aroused by "dummy" parts will produce a feeling of uncanniness, and will thus fail to evoke the empathic feedback. Those disruptive strategies of mutilation function as a device of disillusionment and triggers reflection about cultural artifacts and their meaning.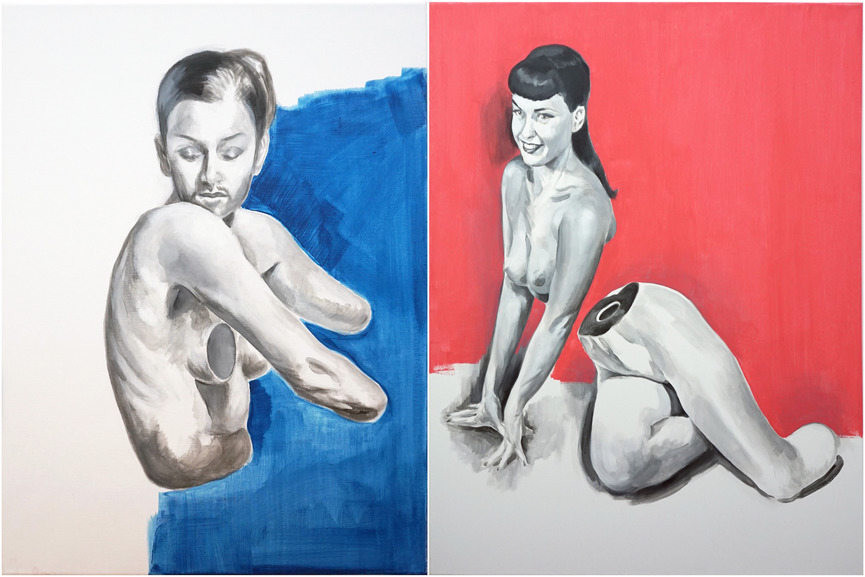 Bettie Page Parted-Up
Striking appearance of Bettie Page, a model from 50's, who tremendously influenced the US culture, was a significant choice loaded with meanings that are neglected. She is not only about pin-ups, bondage usage, bangs, but also about life under social pressure. Life that became marked by depression, severe mood swings, and many years in the mental hospital. In the age of recycling things from the past, hipster-like sensitivity is appealed by this cultural heritage. Contemporary tastes are reinventing what was once a serious contribution to fashion and pop culture, but that reinvention is blind in respect to its essence, namely, hardship and politics of liberation. Nowadays those artifacts and symbols are reduced to the level of fetishism. In order to make those compositions existentially authentic, RC also puts stress to the process of their production. Once we learn that he used only left hand to paint those works (even though he is right handed) the idea of result appears to be more experimental, dearing, then it would have been at first thought. This gesture exemplify faithfulness to the thorough and intellectually demanding flipside of apparent accessibility of the popular layers of the show.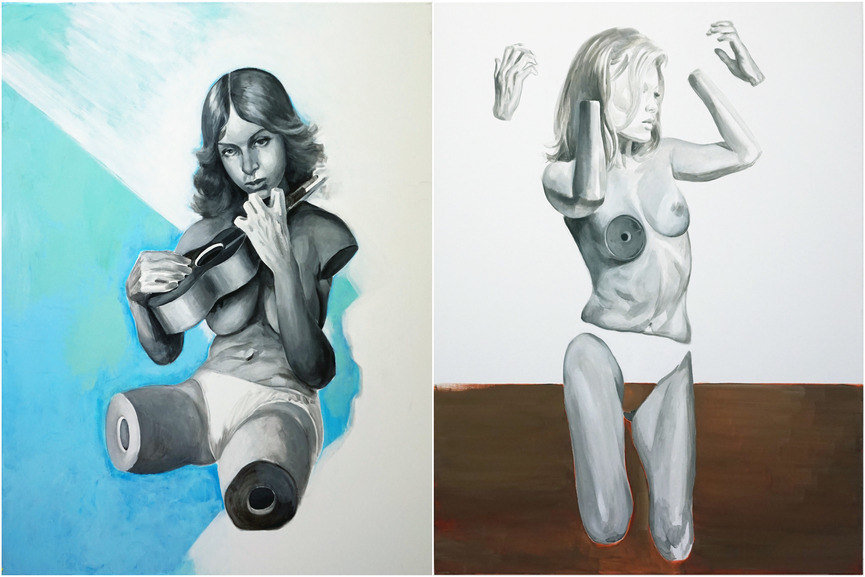 Amputated Life at Gallery Geo
Mostly known by his artistic name RC, Rodrigo Cortez will be having his first solo show. He lived in Bergen, Norway and studied painting and drawing in London and New York. In 2013 RC made his name on the street art scene after producing paste-ups with his work being well documented in the book Street Art Norway Vol.2. He has produced several murals that attracted the attention which led to a number of different group exhibitions.
The opening of the exhibition at the Gallery Geo in Bergen will be on February 13, and the price range of his works is $1052 - $1579 (8000-12000 NOK).
Sign up for My Widewalls and be in touch with all the news from the world of art!