"Is it an angel?" I ask Romain Froquet while looking at the canvas shape he was about to paint live at the 2017 Urban Art Fair. "It's a tree for me but for you, it could be something else, because it's abstract," he says back. His performance is a part of what Joël Knafo Art booth has to offer at the Paris event, aside from French street artist Levalet signing prints. Froquet brought a wooden board covered in white paint, ready to be turned into an artwork to be sold at the fair. "It is my way of giving back to the fair," says the artist, coming back to the fair for the second time.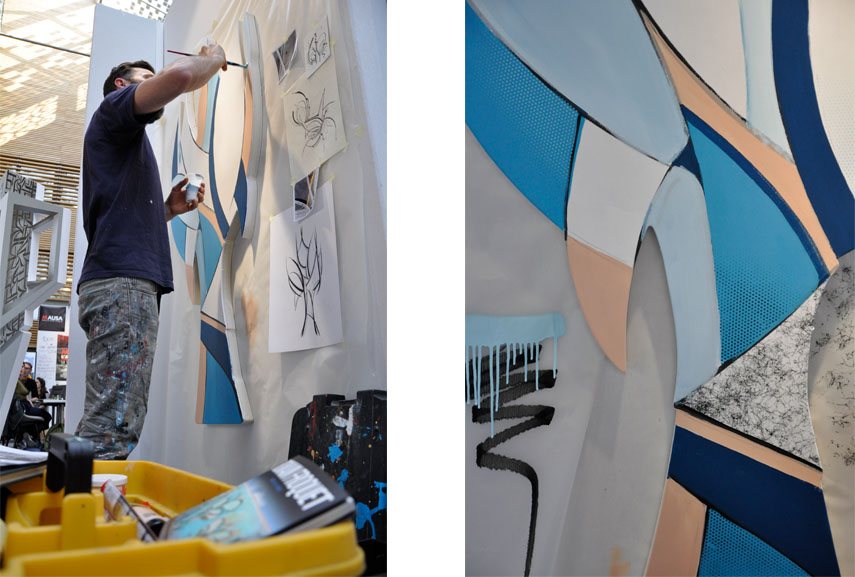 Giving Life to a Tree
Why a tree? "A tree is like a totem for me, a spirit within which I'm painting my usual black lines," says Romain Froquet. In fact, his performance for Joël Knafo Art booth is almost completely improvised. The gallery owner put his trust in the French artist, letting him paint whatever he wanted. Even the colors he uses are chosen "by chance". I wanted to paint something in red, but I changed my mind and chose blue. For me, it is the light; I try to put a lot of it in my work and the color helps me a lot." But working spontaneously isn't new for the artist. He's used to doing both, whether inside his studio, with drawings and paintings or out, while creating murals. A lot of his inspiration comes from the people, the moments, the light and the world around him. "Here, I have my shape ready, but everything that gets created inside is improvisation." The piece is executed in acrylic and spray paint, mixing stencils and traditional painting along with pieces of old newspapers for a great visual impact.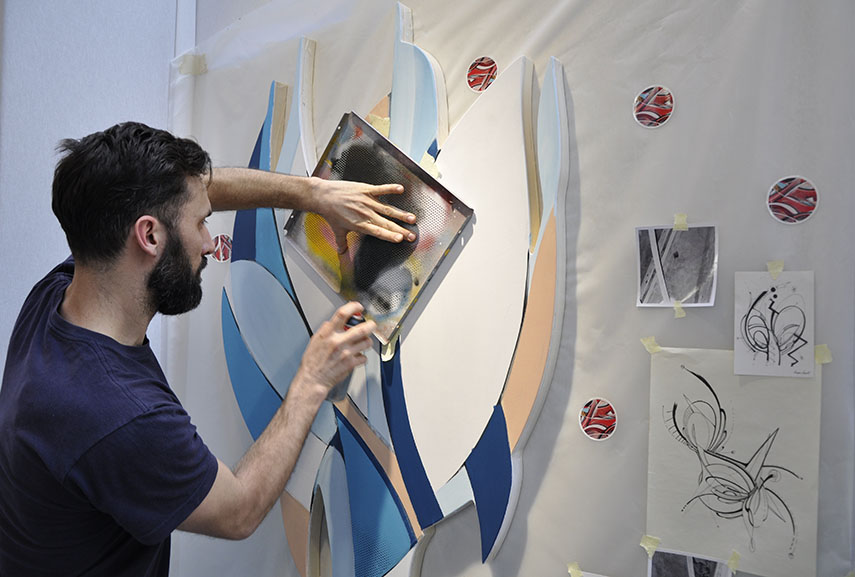 The Abstract Art of Romain Froquet
Romain Froquet could be described as a self-taught artist. He moved from Lyon to Paris some sixteen years ago, and became involved with the local Ninth Concept collective of painters like Alexone and MAMBO. From them, he learned the craft and adapted it to his own style, through the creation of paintings, drawings, collage on the street, murals… "The Ninth Concept was my art school," he proudly admits. Today, he incorporates all these techniques in his practice, which could also be represented by the piece at Urban Art Fair 2017. "The best school for me is to look at other artists and to feel things around me, so this event is the best opportunity for me to do so. This is how I learn. It's all about exchange."
All images copyright Widewalls.