For the most part of his artistic career, Romain Langlois studied human anatomy in order to reflect it in his work. In recent years, however, he turned to nature, dedicating his sculptures not just to its forms, but to its complex processes as well. Indeed, the versatile talent of this French artist lies in his ability to bind substance and reality, evoking the beauty of the world around us in an almost alchemist manner. Whether it's bronze, crystal, silver, stone, bismuth or wood, his sculpture employs materials that reveal the inner forces of elements like boulders, branches, trunks, rocks; luring us in to discover their secret life, their power, existence, emotion. Since 2013, Romain Langlois has also been collaborating with Eric Papon, a master of a rare process of crystallization of calcium carbonate called petrification, and together they have given life to breathtaking pieces at Les Fontaines pétrifiantes de Saint-Nectaire in France. This operation takes months and constant observation by the two craftsmen, resulting in extraordinary forms, shapes, colors that would otherwise take thousands of years for nature to create. In his interview for Widewalls, Romain Langlois talks about this intriguing process, his inspiration and the future of his mesmerizing sculpture.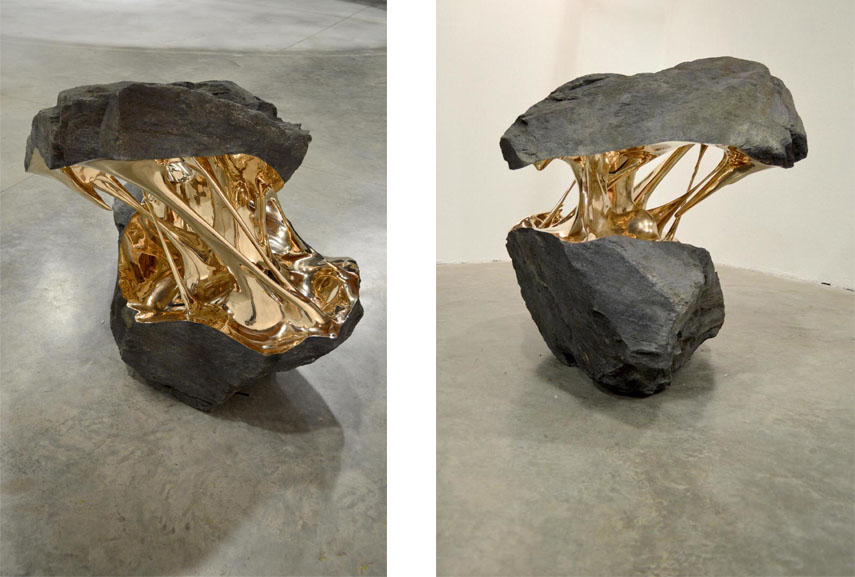 Romain Langlois - Becoming an Artist
Widewalls: It is impressive, what you managed to achieve learning to make art by yourself. Were there any moments you wished you enrolled for an artistic training? How challenging was it to do it on your own?
Romain Langlois: The art of sculpture is hundreds even thousands of years old. The different sculptures that have survived are proof and echoes of representations and beliefs of the different societies which produced them. Also each and every age has produced its masters. To be self taught is to recognize this heritage and to recognize that which constitutes the substance of this practice: to bestow upon a slab of bronze or stone a latent energy capable of resonating for centuries and millennia. This is one of the teachings of sculpture.
Now as far as going about it alone is concerned that requires you to exercise your own critical point of view, and a strong will to work tirelessly and to learn, learn ever relearning. That's how the memory and the knowledge of the gesture are instilled.
To be self taught is also to teach your own body to 'recognize', to establish a delicate connection towards the material and about the representation. Consequently it is a long and laborious process during which every setback is very much a learning experience. You can't put a price on that. The masters I have great esteem for no longer teach; you'll sometimes find one up in the mountains sculpting a few metamorphic rocks… Sculpture is an art which only happens when the body falls in line between the subject and the substance. And in this regard I feel I've followed the most wonderful of paths.
Widewalls: From sculpting faces and human bodies, you turned to portraying nature and its elements. Did they prove to be more satisfying, more interesting?
RL: Ultimately what I am looking for is to reveal the 'quintessence' of human being. I've understood that to achieve this it's not always enough just to put the human being at the centre of the representation. At times we need to look at what is going on around the subject, in his near environment. For there we find a human being's mirror, something that by reciprocity and interdependence he is nurturing with nature.
My sculptures only tell, reveal. In themselves they're of little importance. What's interesting to me is the effect that they generate, because belonging to our reality is brought to the fore in moments of doubt. What I show in rocks for example also reveals a part of our very substance. By a role of interdependence, what impacts one thing manifest itself in another.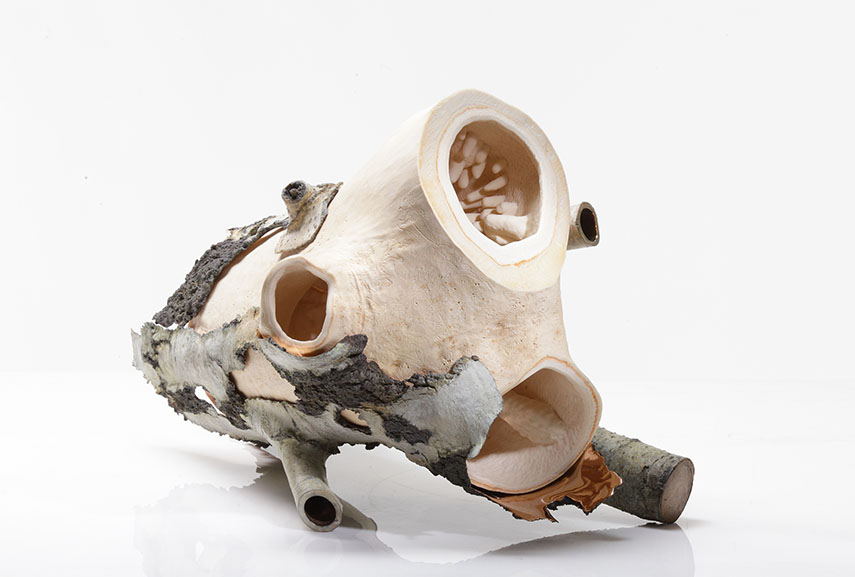 Transforming Sculpture
Widewalls: Why has your focus shifted towards the discarded waste? Does the fact that these materials were abandoned carry a significance for you?
RL: From now on we are part of a new geological age: The Anthropocene. In this context where human activity is gaining on all of Earth's geology which had prevailed up until now, the question of our belonging and of our interactions with our environment is central. Scrap material makes up our cultural sediments. What I wonder about, is our choice to conceal from our line of sight stuff we borrow from nature, transform and then use before finally returning it as landfill.
Why do we consider these materials lifeless when they're so charged with meaning and in some cases still continuing their natural cycle? I attempt for my part to give a new meaning to these scraps, to 're-offer' them for our viewing, like a latent life form under a layer of skin which transforms itself, that is caught in full motion. That for me is what belonging to what we consider 'life' is all about, a dialog from one being to another being made possible by a transmutation of matter.
Scrap material in its natural cycle, is expected to deteriorate and disappear: when I transform it into a bronze or calcite, which are both perennial materials, I extract it from this natural cycle and make it "timeless" while clearly displaying at what moment the cycle was interrupted...
Widewalls: What does the process of transformation of your materials look like? Why is it important that such operation exists in your practice?
RL: Transcend the nature of the materials used, enables a transformation of our point of view. This is where the doubt comes in. Learning to see, to see again and relearn our reality: that to me sometimes is the veritable alchemy, in the eye of the spectator.
Technically speaking the process is a long one. Nature and the hand of the artist come together, in turn, from the impression, to the mould to the production of a first trial, then another and another… Each stage imparts its will, all the way to the engraved bronze, polished then highlighted by a patina which gives the notion of an impression, time is quite essential. The chemical reactions are like for a painting, successive layers where both order and chaos coexist.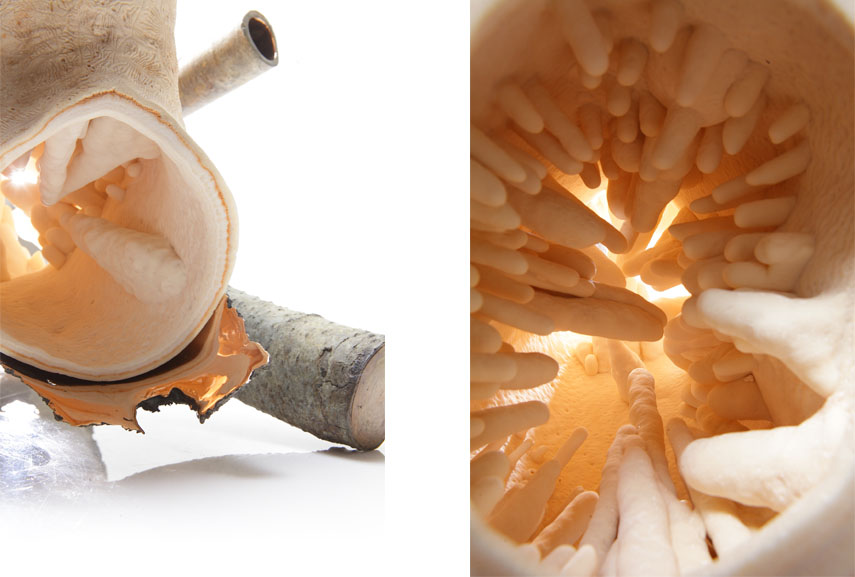 The Art of Petrification and Calcium Carbonate
Widewalls: Let's talk about calcium carbonate, which seems to have caught your attention as much as bronze. Why is it so fascinating? What does it provide for your pieces?
RL: We can attempt to create something which takes nature millions of years to do thanks to the geology of a specific area. That is what we are doing at the Fontaines Pétrifiantes de Saint Nectaire. The calcium carbonate content in the water deposits itself in crystallized form on the surface of a mould. What could be more poetic than creating rock out of water? But working with this technique you do run the risk of failure only after several months. It's worth the risk though because the end product is a clever cross between nature and the power of man.
My choice of materials is defined as much by what could make the subject emanate, as by their work quality. Calcium carbonate has the rock solidness of marble and a dazzle that's close to ivory. This extraordinary material is obtained in the cavities, the grottos… Therefore this material has the ability to plunge us into this collective imaginary of the grotto, the shelter of early man, unknown or forgotten origins, which takes us on a really quite unusual emotional journey...
Widewalls: In regard to this, what can you tell us about your collaboration with Eric Papon and the way you incorporated crystallization and petrification into your work? How did you contribute to each other's practices?
RL: Eric Papon is a master artisan in petrification, one of the last few, if not the last. For 8 generations this savor-faire has been fine-tuned and handed down. It's been nearly 9 years that Eric and I have been collaborating and discussing the calcite obtained through the petrification of bronze. Bronze is one of the rare materials that can coexist with calcite: straight from the foundry bronze is micro-porous, which allows the calcite to settle and give it body. To alloy calcite with bronze is to link water with fire and to find out that nature will need time, its implementation and its understanding.
The pieces on exhibition at the beginning of the year in the Musee des Arts Decoratifs are very much the result of this research which has enabled the emergence of new knowledge, a new approach to the implementation.
Our exchanges and practices have allowed us to reinvent ourselves respectively. As it is of the upmost importance to get out of ones comfort zone to be able to create these unique works which took 24 months to accomplish. It's a question of time: the time left to the process so that the metamorphosis can take place. During these months the channeled water circulates around the mould. Its circulation, every droplet, the quality of the deposit are parameters which must be attended to on a daily basis.
Widewalls: Because the final results of these processes are completely random, how do you learn from them?
RL: Firstly nothing is left to chance: 80% of the process is carefully controlled even if this is not reflected in the final result. I love the idea that people think it's purely natural, the fruit of chance. In the thick of the process, the practical and technical has to fade out, leaving nothing of the act to show through, rendering nothing visible.
However eventually chance will intervene in the process. And it's here where the requirements of the artist's hand stop, and another language takes over, that of nature. Putting nature back into the heart of creation, is hoping to find a reciprocity, an interaction, a link, to let yourself be surprised. Recognizing chance, is also about creating the right moment for it to express itself, letting go at a certain point in the creation process so that this 'universal' language can express itself. Creating stalactites or reactions between nitrates at the patina stage, is also about bringing out the notion of time as one of the constituents of the sculpture.
Widewalls: Bisected boulders, rocks, tree trunks and branches, all filled with inner energy reflected through these stretched stalactites. What do they tell us about nature and our relationship with it? Why is it crucial we know about this side of theirs?
RL: Principally, the practice of art offers a journey into human existence, into its origins, into its body, its beliefs and organizations, the manner with which we define ourselves as individuals, as a society. We could compare ourselves to single-celled organisms: we mutate, we adapt, we cross periods of stasis, but one thing is sure: we are living in interdependence with our environment. Consider this through the familiar elements in our surroundings (rock, tree), revealing their intrinsic substance, or setting them in motion, it's pure testimony to these interconnections.
When you show the energy, the substance of a rock, of a tree… you are allowing a reciprocity to be created between the work and the observer. My next project will even further explore this reciprocity as rather than working with stone or bronze, I shall be working directly with living cells (diatomaceous: single-celled and planktonic organisms). The living will become both subject and object: I am going to work on the living for the living, which will necessarily create an interaction of a completely different nature, and which will most probably get me to completely rethink my practice…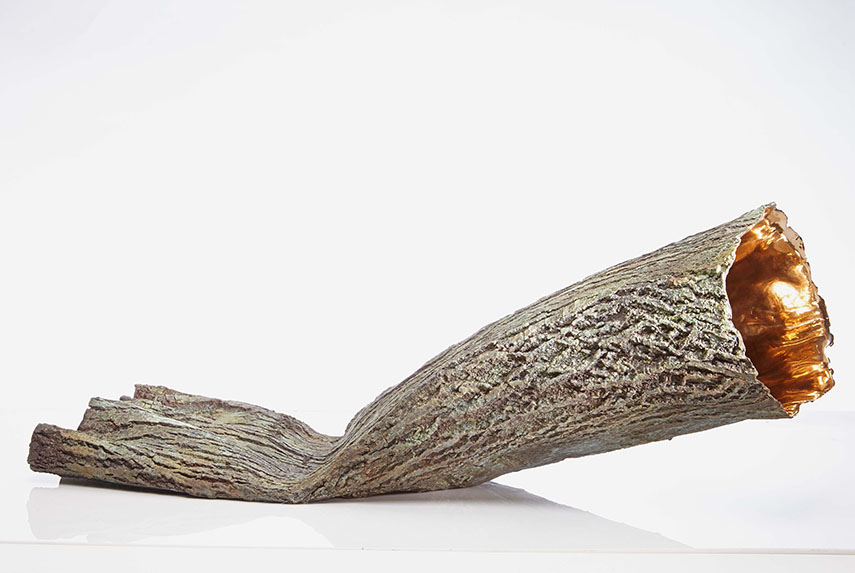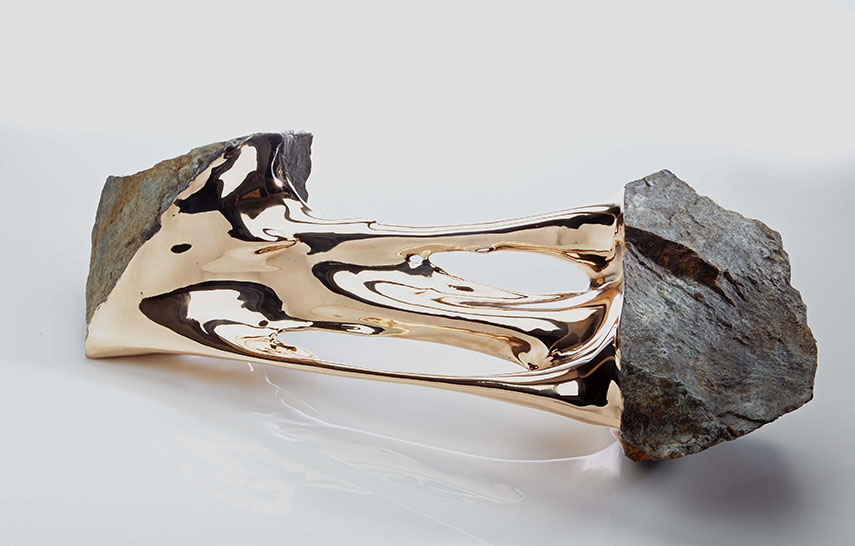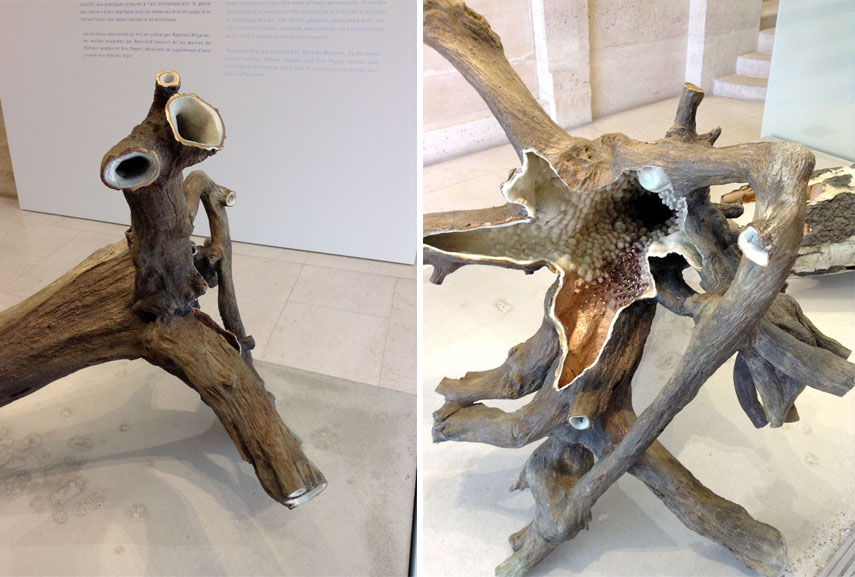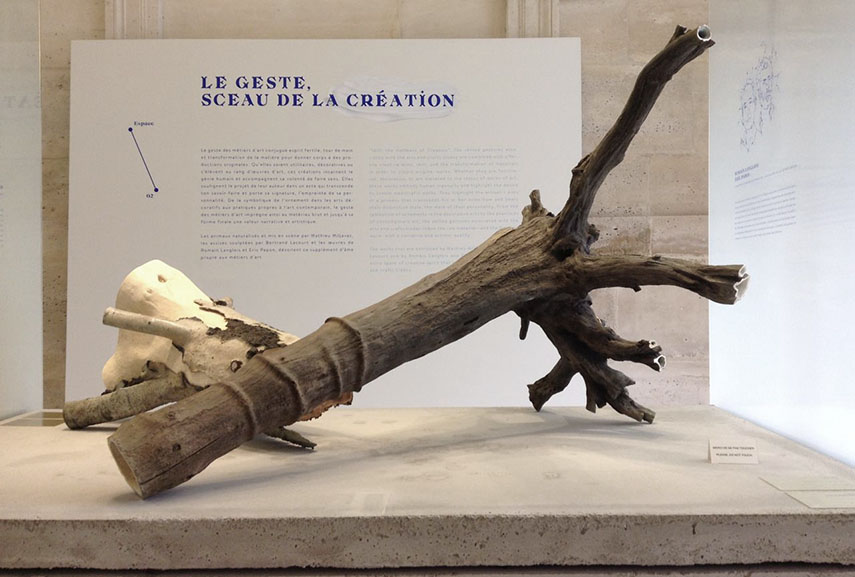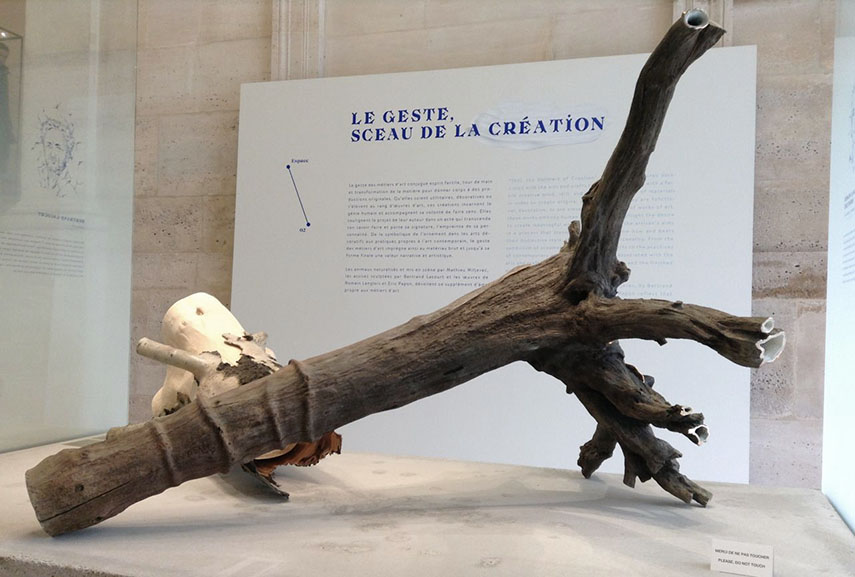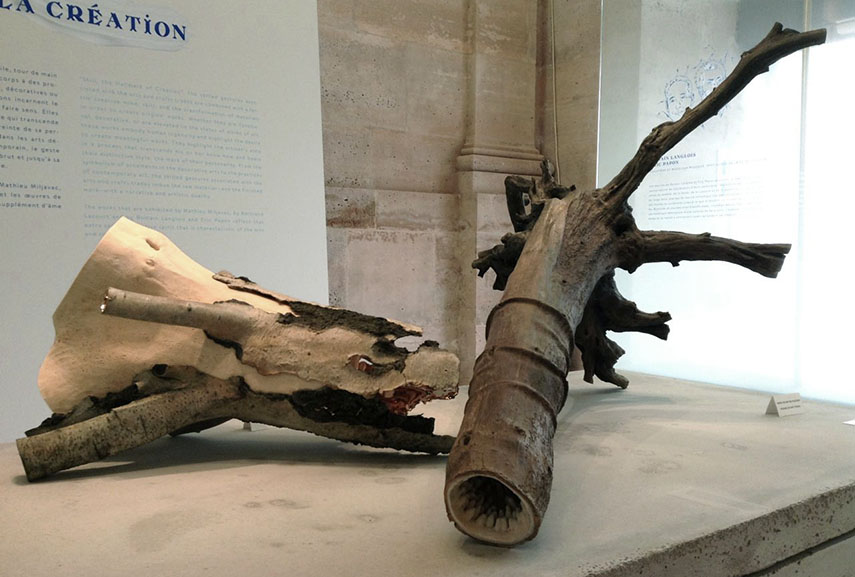 All images courtesy the artist and Artistics.