Last year in March a memorable group show was held in Berlin, organized by the non-profit Young Persian Artists (YPA) project. The name of the show was Hope Dreams Desire, and it featured four emerging artists from Tehran, who represent their concerns in a powerful and vibrant figurative manner. Romisa Sakaki, who took part in the exhibition, is one of the most prominent rising stars of Iran, and this year her works will be showcased in Berlin once again, in her first solo show overseas. The exhibition will be hosted by OPEN WALLS Gallery in Germany's capital, and curated by the enthusiastic founder of YPA herself, Mahsa Mergenthaler-Shamsaei.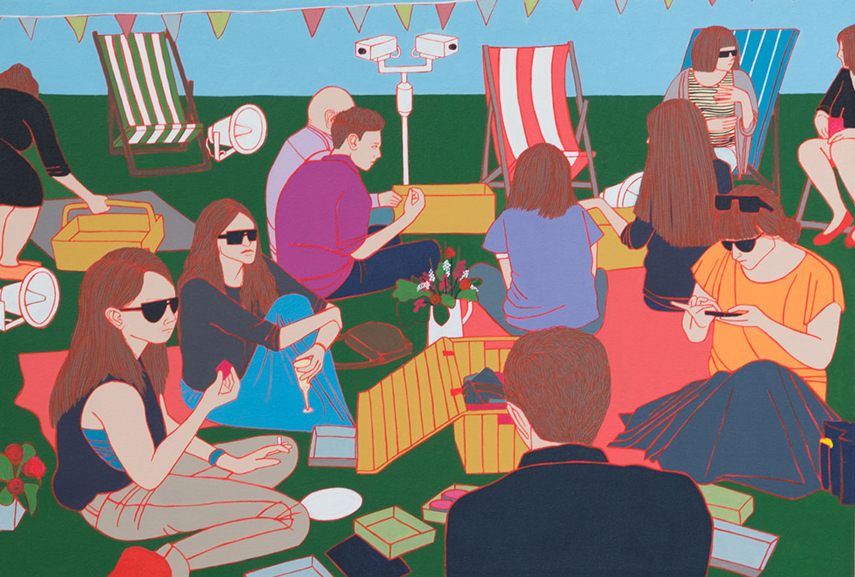 Life in the City
Romisa Sakaki's works are greatly inspired by the artist's own attempt to channel her fears and concerns into happiness, and to transfigure them. She depicts everyday life, moments of leisure and various random scenarios, but does not try to embellish the context in which they occur. On the contrary, her works are informative and the subjects in her paintings are each dealt with in the same course and amount of attentiveness. Therefore both the surveillance cameras (for example) and the people in the picture are equally important, which shows her objectiveness toward reality that is not always appeasing or poetic. Although her paintings display actual facts of the real world and are socially engaged, the way that they are articulated and produced is ultimately bright. They question life in the city and in the urban surrounding of her own, in a manner that is neither exaggeratory nor decorative, however the colors and the visual language that Sakaki deploys are very effective. More importantly, they reflect on human relations and the bonds that they consist of, which gives them a touch of intimacy and hopefulness.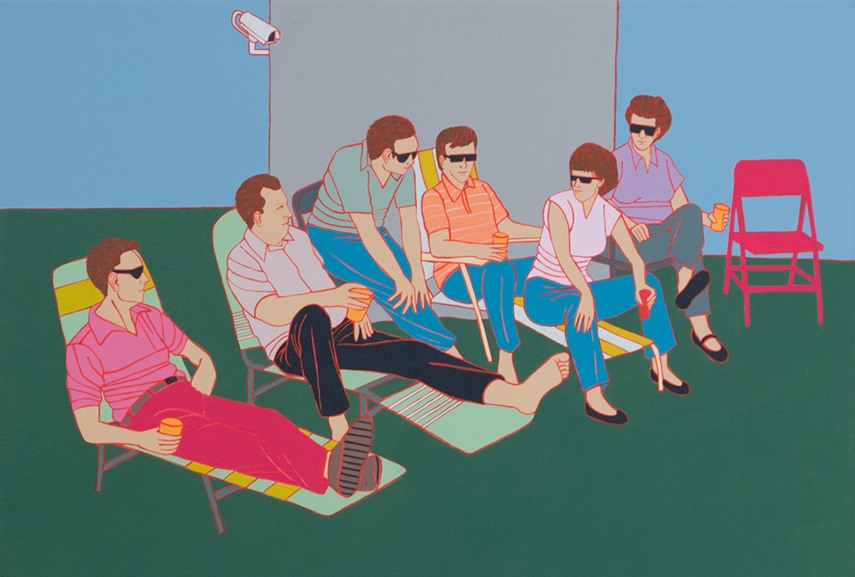 The Power of Color
One of the most important motifs of her work is color, which is not rendered simply as an inescapable part of the painting process. Colors that Sakaki uses are deliberately chosen and they contribute to the flatness and the transfer of symbolic meaning of all the instances in her paintings. In her series Grasslands for example, she uses red and gold to outline her protagonists and to mark their auras, and sharp, almost fluorescent tones to express unease. The color helps her accomplish the truthfulness of her representation, and also empowers the eye-catching nature of the painting.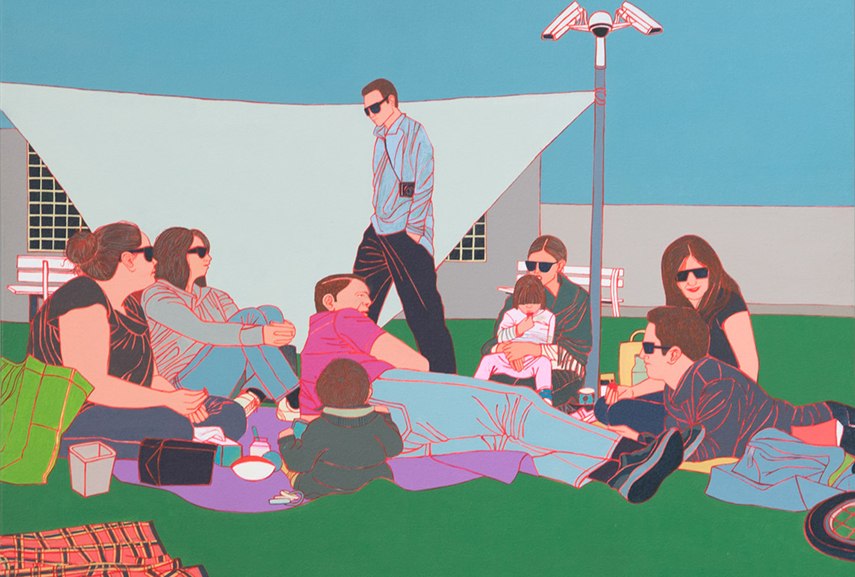 Romisa Sakaki's First Solo Exhibition in Europe
The best of Romisa Sakaki's works, from 2009 onward, will be displayed at OPEN WALLS Gallery in Berlin. This will be an outstanding opportunity to get in touch with the highlights of her ongoing artistic career, and to see how her approach has changed in this period – from monochromatic works on paper, to single-layered paintings that became her signature style. The exhibition will be on view from April 2nd through 23rd 2016, and it is appropriately entitled Selfies in the City.
Featured images: Romisa Sakaki - Grasslands, 2014, acrylic on canvas; Romisa Sakaki - Gaza, 2015, acrylic on canvas.