One of the most prolific and recognizable artists alive today, Ron English has bombed the global landscape with truly unforgettable images. Best known for blending stunning visuals with the bitingly humorous undertones of America's Premier Pop Iconoclast, he provides a cynical, humorous critique of American culture.
His latest body of work will soon be on view at Allouche Gallery. Titled Delusionville, the exhibition brings together more than 20 paintings created over the past three years, featuring English's iconic characters navigating metamorphic landscapes and grappling with delusions of ecstasy and heartbreak.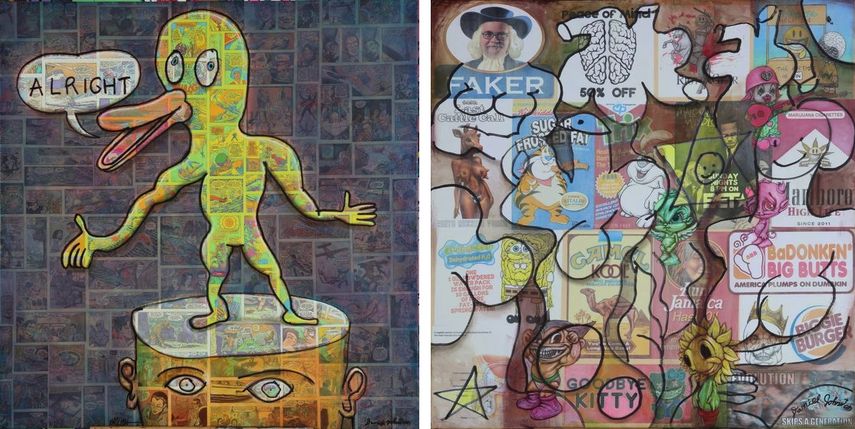 The Practice of Ron English
Mixing high and low art, from iconic superheroes to totems of art history, Ron English has coined the term "POPaganda" to describe this practice. One of the founding fathers of street art and one of the forerunners of Pop Surrealism, his practice spans a range of media, from painting and sculpture to toy design. He has been celebrated for highjacking advertising billboards and redoing them with the characters of his own.
English's creative universe is vast and it is populated with the most fantastical of characters, from MC Supersized, the obese fast-food mascot featured in the hit movie "Supersize Me," and Abraham Obama, the fusion of America's 16th and 44th Presidents, to three-eyed rabbits, utterly delicious cowgirls and grinning skulls. All of these characters have been appearing in his prolific and ubiquitous paintings, billboards, and sculptures.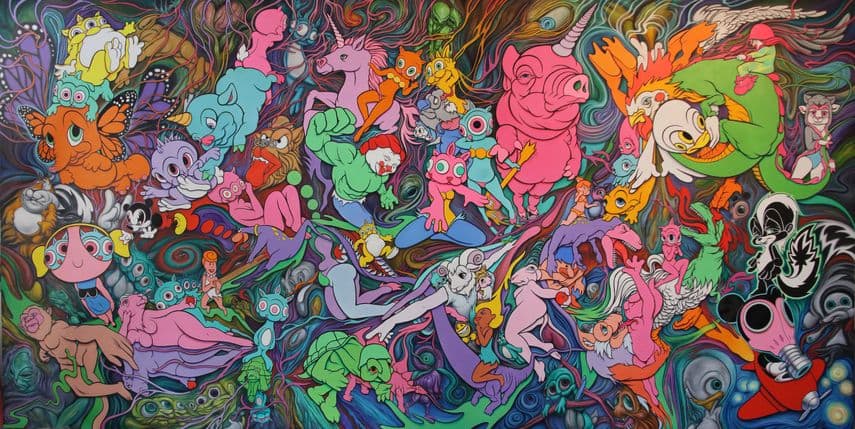 Delusionville
This latest body of work is an aggressive reinterpretation of pop culture through the eyes of an artist mesmerized by the spectacle of chaos. It also features a series of collaborative works with Daniel Johnston titled Rival Verses. A Texas singer-songwriter and visual artist, Daniel Johnston has been praised for both his compelling music and outsider artworks, often being described as a pure and childlike soul.
Johnston and English first met in Austin in 1983, and over the course of their thirty-year-old friendship, they have collaborated on both art and music countless times. The works which will be on view at the exhibition have been created between 2007 and 2018.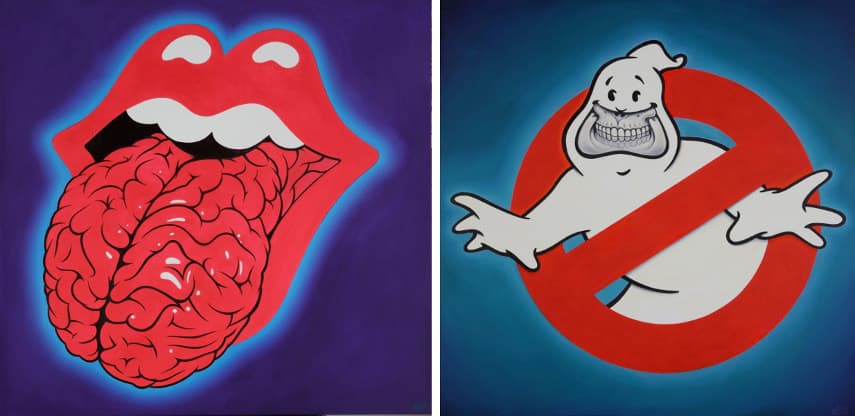 Ron English Exhibition at Allouche Gallery
With flawless techniques and endless inspiration, Ron English has definitely conquered the art world.
The exhibition Delusionville will be on view at Allouche Gallery in New York from October 11th until November 25th, 2018.
The opening reception will be held on Thursday, October 11th, from 6 to 9 p.m.
Featured images: Ron English - Three Eyed Spongebob, 2016; Grin Guard, 2018; Lightning Torsos, 2007; Pink Temper Tot Battles Mousemask Murphy, 2018; Shriner Monkey in Delusionville, 2018. All images courtesy the artist and Allouche Gallery.