The new Ron English exhibition Sugar High tackles the problem of bad food habits in the artist's recognizable manner. The solo show by the street artist will once again show the relevance of what started as a manifestation of a "typically american" counter-culture on a global scale. The theme of the exhibition is not new when it comes to Ron English. The fact is, however, that it hasn't lost its significance. Sugar High is a project on food education and health. Ron English is already known for his interest in mass production, branding and belief systems. Through his work, he tackles the issues of identity (both corporate and personal) and the relation between art and popular culture.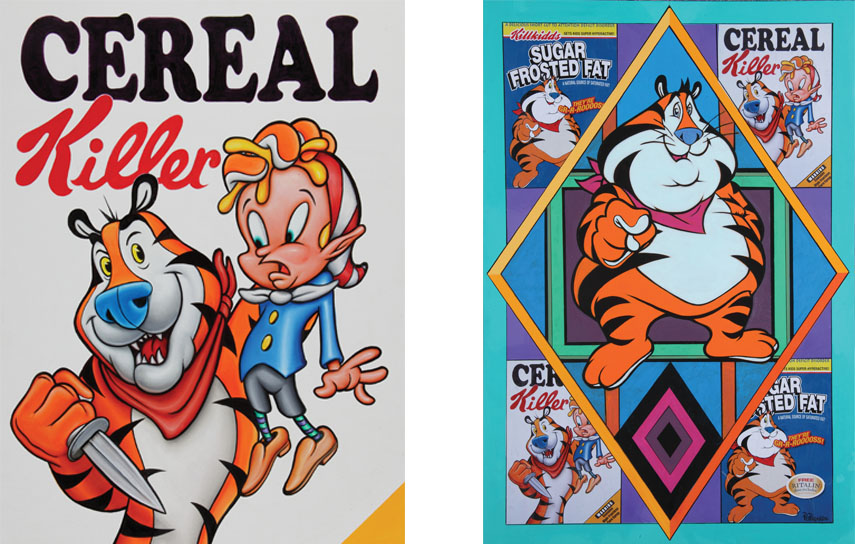 From McSupersized to Sugar High
One of the perpetual issues addressed in the work of Ron English food culture. Although containing some elements of Pop Art, his art is more subversive and critical – English himself refers to his work as POPaganda. Through his work, the artist harshly critiques consumerism and that critique is also voiced through English's new exhibition. In 2004 the artist was feature in American documentary Super Size Me for creating McSupersized – an obese version of the mascot of McDonald's. Food education is still a big issue and it has become global, as everything else. Ron English continues to explore the relation of our experience of food in relation to pop art and design. Since art can be used to advertise unhealthy food, there's a displacement between what we eat and how is it represented in the media. That's a perfect field for English's cultural re-appropriation.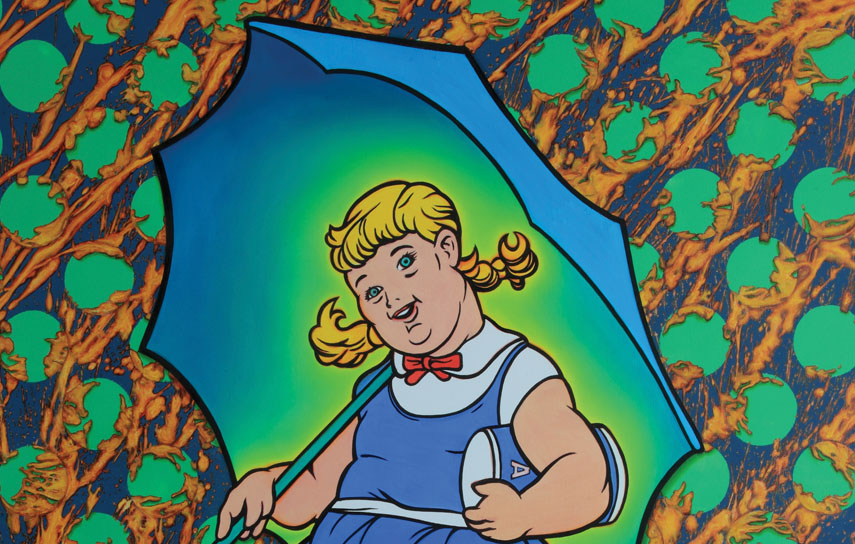 Uncle Scam Wants You to Eat Junk
Sugar High will feature a brand new work by Ron English, titled Uncle Scam's Last Breakfast. The piece presents a vastly different take on Da Vinci's Last supper, and represents English's point of view when it comes to healthy food issues. The central position in the image belongs to Uncle Scam – a play on Uncle Sam replacing Jesus Christ. Uncle Scam stands for the negative food habits originating from the USA. He can, therefore, be a successor to McSupersized. His apostles are cartoonish corporate icons also related to the processed food industry. That kind of grotesque and in-your-face critique is the force that characterizes all the Ron English's pieces exhibited in the Dorothy Circus Gallery.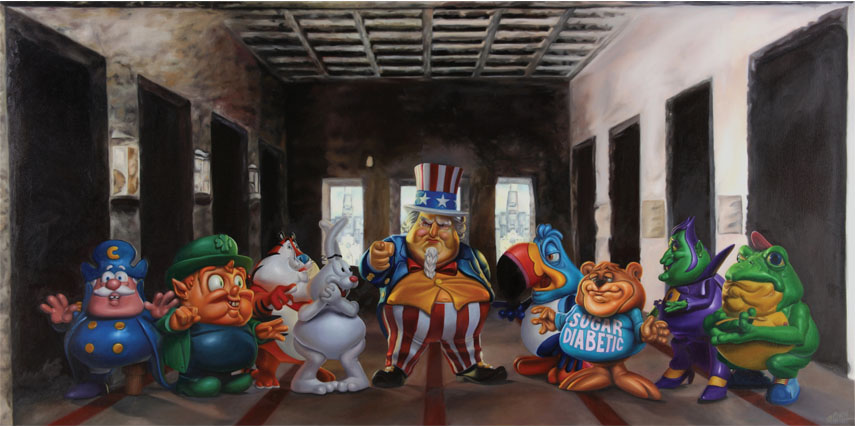 Ron English Exhibition Sugar High at the Dorothy Circus Gallery in Rome
Dorothy Circus Gallery in Rome is dedicated to promoting pop surrealism and new tendencies in figurative arts. It will host the new Ron English exhibition from Saturday, February 20th through Thursday, March 31, 2016. Ron English will attend the opening ceremony. Sugar High is an exhibition that tells a story of our world: prosperity brings abundance, and abundance lets us create unhealthy habits. So a good thing for the society in general can be a bad thing for us. Ron English's effort is substantial and evokes an educational awakening.
Featured image: Ron English - Uncle Scam's last breakfast, detail