Well-known Ron English paintings of Guernica will finally be displayed in an exhibition at Allouche Gallery in New York City. The show is titled Ron English / Guernica and it will feature eighteen new paintings by this prolific contemporary Pop and street artist. In the last two years, English has been filtering famous Picasso's Guernica through the lenses of contemporary art. As one of the most important art pieces of the 20th Century, Guernica is widely regarded as one of the most powerful anti-war artworks in history. For English, this painting serves as a never-ending inspiration for his work, resulting in more than fifty Guernicas that he created, giving them new meanings and symbols.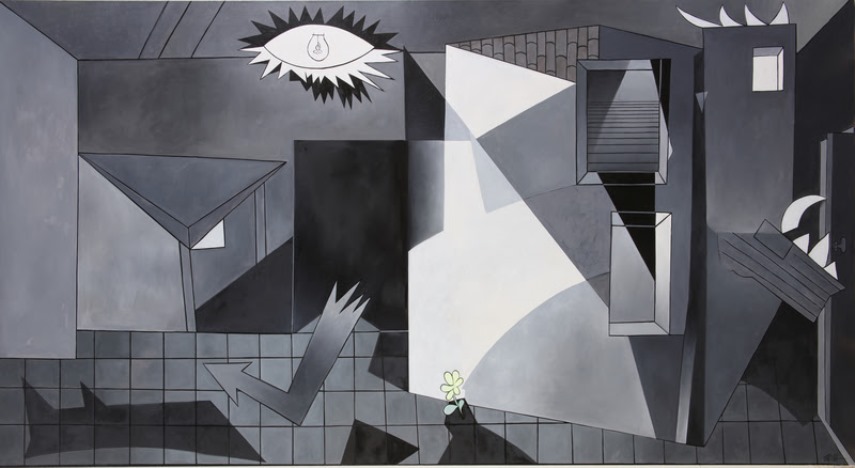 The Art of Ron English
Ron English is one of the founding fathers of street art and one of the forerunners of Pop Surrealism. He also creates sculptures, designs toys and paints. His art is often associated with the term POPaganda which serves to describe the artist's constant mixing of the high and low art. He became famous for his characteristic hijacking of billboards, in order to repaint them. English also worked as a ghost artist for other artists and was unaccredited. English was born in Chicago, and he is also known for unique use of color and comic book collage. But, it was culture jamming that made English famous. The artist joined forces with the Billboard Liberation Front on several occasions while frequent targets of the artist's work include Joe Camel, McDonald's, and Mickey Mouse. Recently, he refocused his culture jamming attention from billboards to another form of advertising; product packaging. Finally, English is also a painter, a fine artist, and one of the most significant parts of his oeuvre are his well-known Guernicas.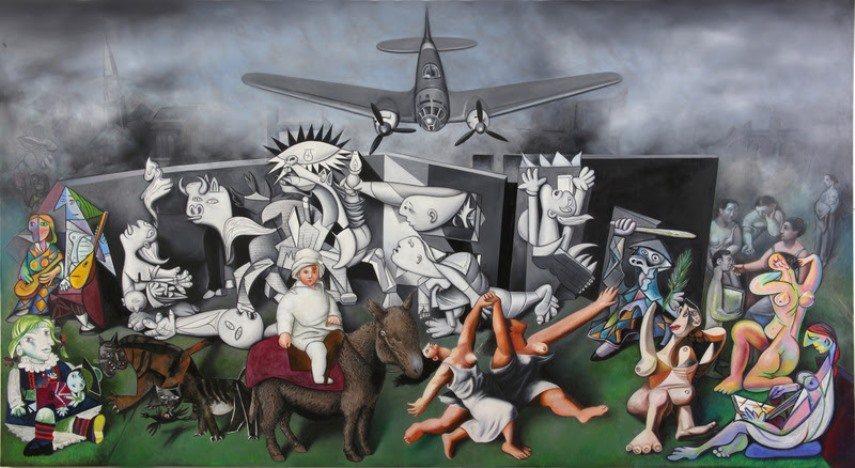 Guernicas
Ron English creates his own narrative to Pablo Picasso's 1937 painting Guernica. Guernica was painted in response to the savage destruction of the Basque town of the same name during the Spanish Civil War. On the other hand, English utilizes the modern war template to relay powerful messages about the circles of both destructions and creations. He has examined the template (Picasso's Guernica) from every possible angle. Every single piece that will be part of the exhibition Ron English / Guernica confronts the viewers with their own cultural biases that are embedded in consciousness. Being very aware of the historical and symbolical meaning of Picasso's masterpiece, English appropriates the work and create new paintings with universal and powerful messages. As the artist says: I don't believe I will ever exhaust the possibilities of the [Guernica] template, with its unending power to visually articulate the raging complexities of waste, destruction, horror and conquest, through its deceptively simplified narrative.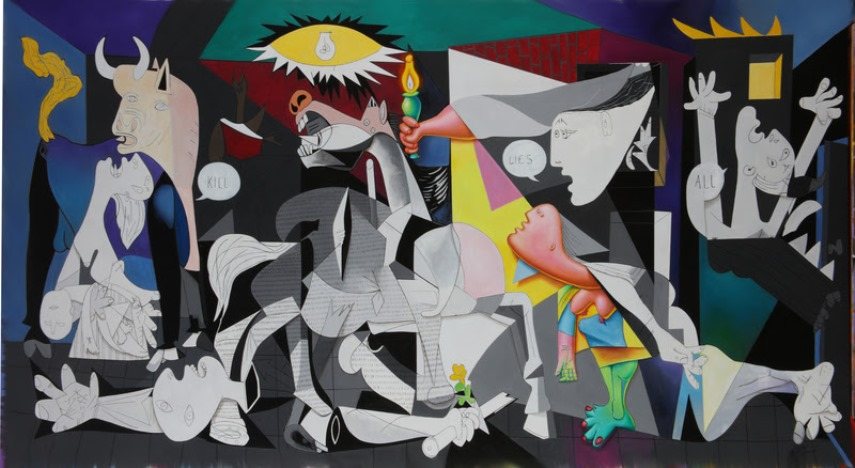 Ron English Paintings at Allouche Gallery in New York City
After two years of seeking out and connecting with a diverse range of makers, from street artists to abstract minimalist painters, Allouche Gallery opened the doors of its new location in the Meatpacking District on June 9, 2016. The gallery launches the new season with the show Ron English / Guernica. The exhibition will be on view from September 22 until October 19, 2016 at Allouche Gallery in New York. The opening reception is scheduled for Thursday, September 22, 6–9pm.
Featured Image: Ron English - Kill Lies All Guernica, 2015-2016, oil on canvas,detail. All Images courtesy of Allouche Gallery, NY