During a 2017 interview with Swiss curator Hans Ulrich Obrist, the American painter Ron Gorchov (1930 - 2020) offered the following advice to young artists: "Be desperate and patient." The seemingly oxymoronic statement perfectly encapsulates the attitude with which Gorchov, who died earlier this month, approached his practice.
Born in Chicago in 1930, his family moved city to city more than a dozen times during the Great Depression as his entrepreneurial-minded father sought work. Circumstances may have made them desperate for money, but his father taught Gorchov to see money as separate from purpose. His family was broke, Gorchov says, but never poor.
Gorchov worked as a lifeguard when he first moved to New York in the 1950s, and later taught art: jobs which gave him the time he needed to approach his art with the patience it deserved. His guiding principle was that artists should always be making work for the next century, not the century in which they live. His idea for moving painting forward into the 21st century was to combine it, in just the right amounts, with sculpture and architecture.
"To me," Gorchov said, "the essence of sculpture is mass. In architecture, you feel volume. And painting stresses surface." The "saddle-shaped" paintings for which he became renowned were his solution to the problem. As early as 1949, Gorchov had the notion that the painting world had become too attached to the idea of the rectangle, an attachment hastened by Piet Mondrian, who Gorchov reasoned had exhausted the shape. Gorchov considered various options to alter the flatness of a typical rectangular canvas, such as placing a tennis ball behind it to create a bulge.
It took him 19 years to develop the "saddle stretchers" he used to create his now-iconic convex, curved painting surfaces. His first saddle-shaped painting, which he made in 1968, is titled Mine—a double entendre referencing the fact that he saw the work as uniquely his, and also saw it as a potential gold mine full of undiscovered creative possibilities.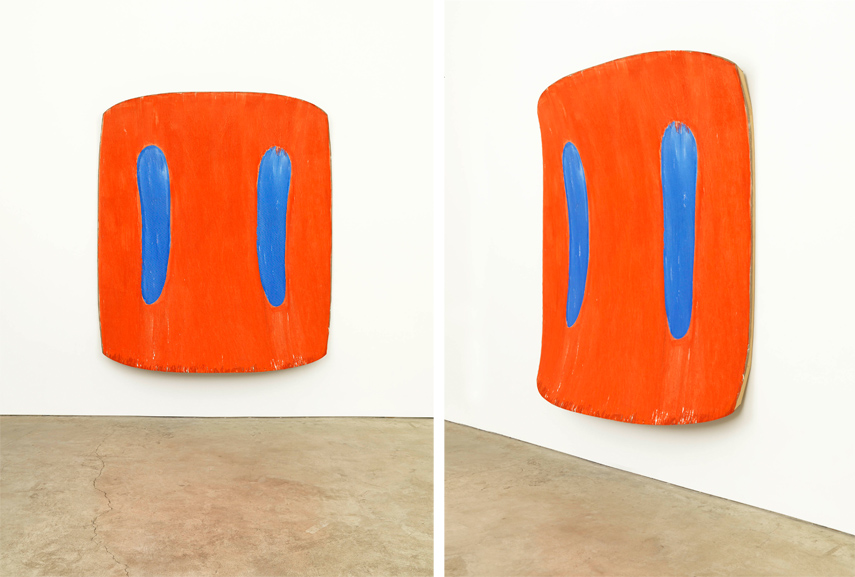 Abstract or Concrete
Most viewers consider the work Gorchov did to be abstract. However, his dealer John Cheim, Principal and Director of Exhibition at Cheim & Read gallery—which has a distinguished reputation for working with giants of abstraction such as Joan Mitchell, Milton Resnick, and Louis Fishman—asserts that Gorchov should not be viewed as totally abstract. "The shapes have a strong relationship with the work of Giorgio Morandi. Gorchov a not purely abstract painter any more than Morandi is purely figurative," Cheim says. Gallery Director Stephen Truax adds, "Ron would use things he saw and encountered in real life for the inspiration for the forms that he used in his abstractions."
One clue to the emotional content in his paintings can be found in the titles Gorchov gave them, which frequently reference classical myths, or stories from theological texts such as the Bible. However, Gorchov did not start out trying to paint a particular figure or scene from a myth. Rather, he painted in an intuitive, subconscious way, often painting the right side of the canvas with his right hand and the left side with his left hand. He thought about content after the fact.
"When I do a painting and I look at it," Gorchov once explained, "I have to ask myself, how did I feel when I did that? Because I was involved with making it, I don't know how I felt. So then I study the painting to figure it out…and I try to find a story that feels like how I felt."
This give and take between things seen in life, the subconscious act of painting, and the later analyses of feelings seems to me to be both abstract and concrete. It reminds me of how Jean Arp spoke about the true meaning of Dada: as the unpredictability, meaninglessness, and perfect logic of nature expressed through art.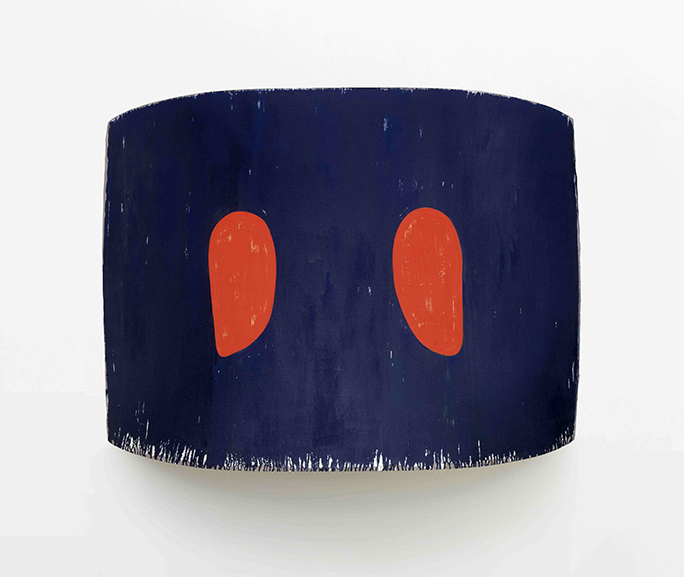 The Revolutionary Reformer
To me, there is something deeply American about the oeuvre Gorchov created. America is both a concrete thing, and an abstract concept, that is constantly torn between revolution and reform. When he first developed his saddle stretchers, Gorchov was being a revolutionary artist, one who was determined to subvert the centuries-old central conceit of painting: that it should be done on rectangular, flat surfaces. Even as he was developing his first curved canvas, in fact, the notion of flatness was once again being hailed by leading art critics such as Clement Greenberg as the goal of Post Painterly Abstraction, the latest trend in painting according to Greenberg.
Yet, after boldly undermining the structural systems of rectangles and flatness, Gorchov completely committed himself to his new system, and repeated it for the rest of his career, replacing the old normal with the new normal. What could be more American than ceding revolutionary impulses to the compulsion for endless reform, working within newly established systems to create endlessly intriguing variations?
Truly, once you see one Gorchov painting, all future Gorchov paintings you encounter are instantly recognizable as his. But this is not an insult. It is the same criticism one could give to nature, which also works within its own special systems to create infinite and beautiful variations. In fact, in the context of his relationship with the ways of nature, I feel that Gorchov best belongs in the lineage of Hans Arp—another biomorphic artist, who was part Dadaist, part Surrealist, and part abstractionist, but who always referred to his art as concrete. Gorchov created a body of work that is both cerebral and whimsical—completely idiosyncratic and yet instantly recognizable—and so also like Arp, I believe that puts Gorchov in his own special category. I am impressed with how Gorchov succeeded in his achieving his original guiding principle, reminding us through his example of how important both thinking and feeling are for artists who wish to be relevant not only in their century, but also the next.
Written by Phillip Barcio.
Featured image: Ron Gorchov, 2013. Photo: Michael Avedon. © Michael Avedon / AUGUST. Reproduced with permission.