Following the Expressionist tradition but still remaining innovative, Rosario Vicidomini art exhibition contains twenty oil on canvas paintings which will soon be presented at the Burning Giraffe Gallery. Titled Fremito a perdere (Shudder to lose), this solo show depicts the artist's quiet revelations; he aims for transparency but stays mysterious in his simultaneously minimalist and expressionist compositions. Rosario Vicidomini has shown his paintings internationally in group exhibitions but also solo shows, and he continues deepening his refined monochrome pictorial research of minimalistic objects.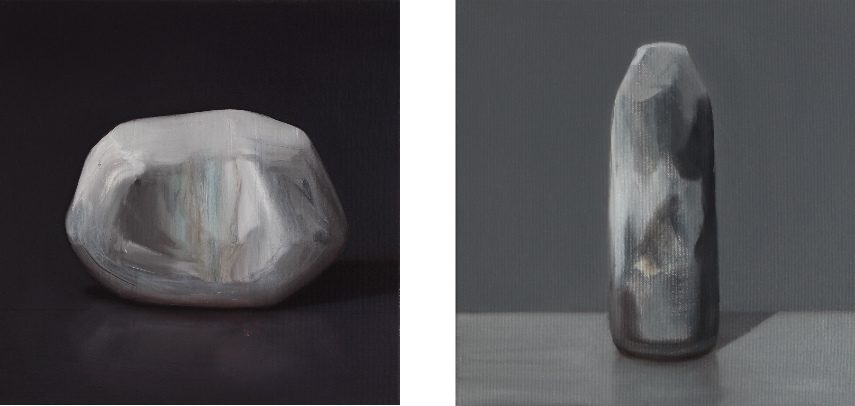 Minimalistic Calm and Expressionistic Gesture
Through an essentially monochromatic palette, Rosario Vicidomini manages to create an unusual coexistence of styles in the two seemingly opposite poles of his personality, which come alive simultaneously in his works. The passive and active, introvert and extrovert, the calm of Minimalism and the dynamic gesture of Expressionism all become intertwined and dependent upon each other. This combination is extremely rare in painting, being brought by Francis Bacon as one of the first in contemporary art who played with a monochromatic layer in the background which forms the strong and even violent expression in the front. Rosario Vicidomini pushes its boundaries even more by placing stones as central elements of the paintings, objects which usually do not possess extremely expressive qualities.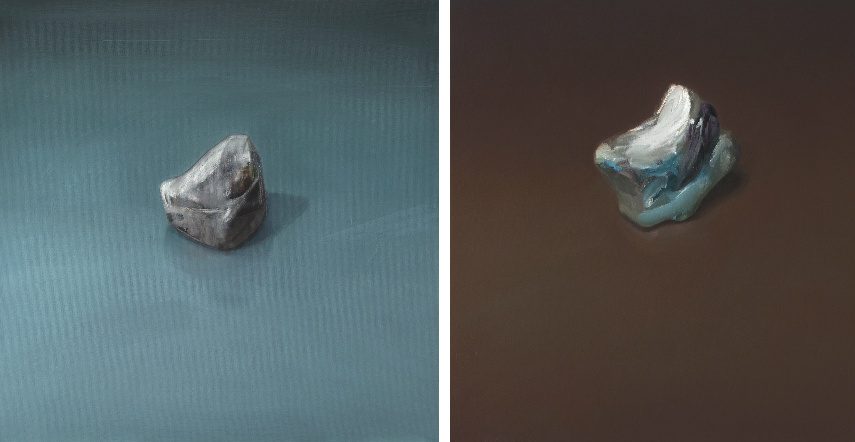 Stones as Condensed Forms of Expression
The artist is not trying to depict reality in his paintings, even though he uses stones as objects which fill up the central space. The focus is not on their real quality or meaning, but they condense the entire expressive momentum of his personality; they become like tiny volcanoes whose eruption became frozen in time, giving us a chance to finally take a closer look at the strength of its inner rhythm and vividness. Their color is usually very similar, with just a few exceptions, placing additional focus on the color of the background. The stones exist in order to give shape to the dynamic force present as a surface of the passive element in the background, they give the entire painting meaning and an unusual, unique quality enveloped with a contemplative atmosphere and a mysterious transparency.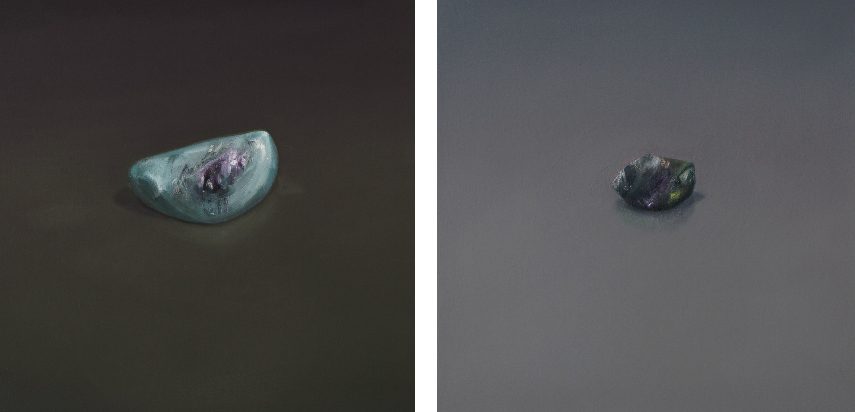 Rosario Vicidomini Art at Burning Giraffe Gallery
The Rosario Vicidomini art exhibition is a part of the COLLA project, the Turin-based art galleries platform. This extremely talented Italian-born German-based emerging artist is going to present his new solo exhibition Shudder to lose, after having his pieces shown in Hamburg, Naples, Budapest, Zurich and many more European cities. Some of the 10 presented oil on canvas paintings were specifically made for the occasion! The exhibition will be on view from April 27th until June 3rd, 2017 at Burning Giraffe Gallery in Torino. The opening will happen on Thursday, April 27th, from 6:30 pm to 9:30 pm.
Featured image: Rosario Vicidomini - clr8060c-7. All images courtesy of Burning Giraffe Gallery.