An artist in the front of the Pop Art movement, Roy Lichtenstein became famous for deceivingly simple works that appropriated from popular comic book characters, pulp fiction, and advertisement.
Drawing inspiration from the culture at large, Lichtenstein exemplified Pop Art's complex relationship with societal change and pop culture. Employing a distinct style of comic art and blending aspects of mechanical reproduction and drawing by hand, he was often accused of banality, lack of originality, and, later, even copying.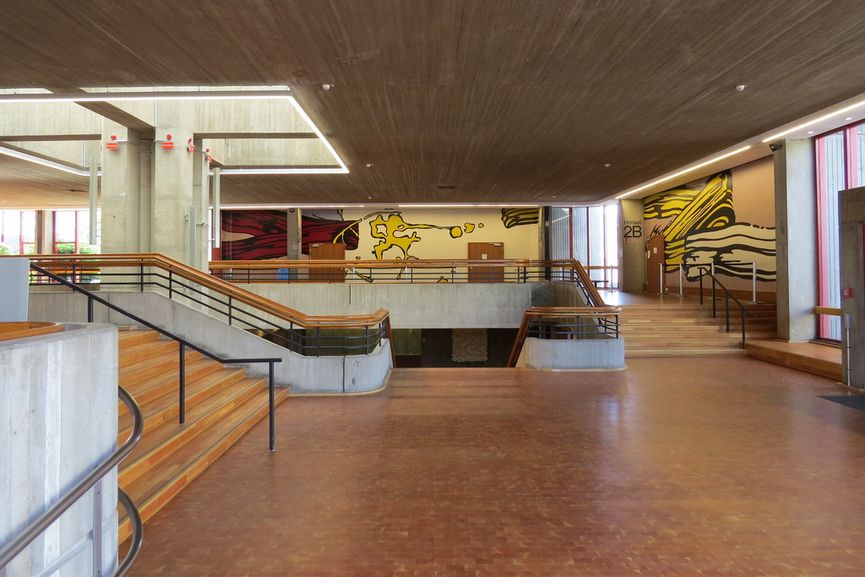 Roy Lichtenstein Pop Art Murals
By the mid-1960s, Lichtenstein began creating large-scale murals, his first of which was produced in 1964 for the World's Fair in Flushing, Queens. Throughout the 1960s and 1970s, he was commissioned to create a variety of public works, including Lamp in 1978 in St. Mary's, Georgia, Mermaid in 1979 in Miami Beach, Brushstrokes in flight in 1984 at Port Columbus International Airport and El Cap de Barcelona in 1992 in Barcelona, among others.
Let's take a look at six public murals by Roy Lichtenstein that you should definitely see.
Featured images: Roy Lichtenstein - Times Square Mural, 1990; Roy Lichtenstein - Tel Aviv Museum of Art Mural, 1989, via publicdelivery.org.
Roy Lichtenstein - New York World's Fair Mural (Girl in Window), 1963
New York World's Fair Mural (Girl in Window) is the first large-scale mural Lichtenstein created. He was commissioned by the architect Philip Johnson to paint a panel for the New York State Pavilion at the 1964 World's Fair in Flushing Meadows, New York. The work is installed on the outside of Johnson's circular Theaterama building.
Executed in both flat areas of color and the artist's signature Ben-Day dots, a technique that marked his signature Pop style, he depicted a smiling girl who seems to emerge through an open window from inside the building.
Drawing his subject matter from other sources, Lichtenstein translated the image into his own idiom.
University of Dusseldorf Brushstroke Mural, 1970
Created in 1970, the mural at the University of Dusseldorf features elements from Roy Lichtenstein's famed Brushstroke series. Questioning the revered status of the painterly mark and fundamental beliefs about the artistic process, he took the essence of painting – the brushstroke - and framed it within the Pop idiom.
Depicted with drips and set against a field of Ben-Day dots yet again, it represents a gesture of control rather than spontaneity, that was celebrated during the era of Abstract Expressionism.
Roy Lichtenstein challenged this notion of artistic authority by reinterpreting these spontaneous marks in a commercial, mass-produced way.
The series is regarded as the most significant one from his long and prolific career.
Roy Lichtenstein Mural with Blue Brushstroke, 1984–86
In 1984, Roy Lichtenstein was commissioned to create a large public work in the Equitable Tower in New York City, now known as the AXA Center. Although he started sketches that same year, the strategizing took some time after that. The mural was finally completed in 1986 with the help of his assistants and it was a subject of the book Roy Lichtenstein: Mural With Blue Brushstrokes.
In this mural that features a cacophony of images, Lichtenstein copied and reworked a variety of elements from his previous works as well as a few works of other artists, such as the door, a part of the mirror and a beach ball from Girl with Ball held up by Léger-like forms, with the top part of the ball acting as a sunrise.
In this hedonistic view of earthly insignificance, a light blue brushstroke represents a waterfall. Lichtenstein used 18 colors, instead of five he normally used. Extending beyond the frame, it is regarded as his first imperfect painting.
Bauhaus Stairway Mural, 1989
During the 1980s, the Creative Arts Agency commissioned the master architect I. M. Pei to design its new headquarters in Beverly Hills. When the Postmodern building was completed in 1989, Roy Lichtenstein was asked to create a large-scale mural, one that now punctuates the atrium topped by a low, conical glass tower which opens it up into an enormous sunlit communal space.
The 27-foot high mural is based on Oskar Schlemmer's Bauhaus Stairs from 1932, a painting with major symbolic importance in modern art, embodying the vicissitudes of twentieth-century political and cultural history.
A limited-edition poster of the mural was created to commemorate the completion of the work and every CCA agent was given a signed example.
Tel Aviv Museum of Art Mural by Roy Lichtenstein, 1989
A vast mural, measuring 23 by 54 feet, this painting is located in the Tel Aviv Museum of Art in Israel. Created in 1989 as a gift from Lichtenstein to the museum, it features a potpourri of figures sourced from the artist's own work, as well as from Picasso, Oscar Schlemmer, Marc Chagall and Alexander Archipenko.
Marc Scheps, the director of the museum, described it at the time as "art about art about art", as it depicts "a whole century in art and all the exchanges between figurative and abstract".
However, the museum was criticized by local artists for choosing Lichtenstein to paint the mural, as they argued the wall should have been made available to Israeli artists.
Times Square Mural by Roy Lichtenstein, 1990
The 53-foot-long enamel-on-metal painting, Times Square Mural hovers over the Times Square subway station. Created in 1990, this retro-futuristic vision of antigravity trains and space-age architecture captures the spirit of the subway and its linear movements and dynamic energy while being internally framed by fragments of 19th-century-style subway architecture.
Referencing his earlier work, this mural presents a compilation of ideas Lichtenstein accumulated over a lifetime of research into the semiotics of modern art and culture. As previous works, it also incorporates elements from other artists' work, including the old Buck Rogers comic strips and a series of drawings of the architectural detail of the subway.
While created in Lichtenstein's distinct Pop Art style, it provides a vision of a modern utopia, celebrating both past and the future.
All images via publicdelivery.org, used for illustrative purposes only.