The eleventh borough of Berlin, Lichtenberg, has had a tumultuous history, as the seat of Stasi, Wehrmacht and Soviet Military Administration, but today it may be transforming into a peripheral artistic and cultural quarter. One of the spaces aiding the positive shift is the CORPO 6 Galerie, a project started by Fabio Campagna founded in 2012, oriented toward holding artist residences and presenting novel tendencies in art and identity research in diverse media.
CORPO 6 announced a presentation of a new project by Rub Kandy, opening on March 21. Rub Kandy has spent time at the gallery space, working on his conceptual presentation and creating site-specific works, while the final realization of his exhibition will be an integral part of the Urban Portraits and Seme projects.
The exhibition will be on view at CORPO 6 through April 18, 2014.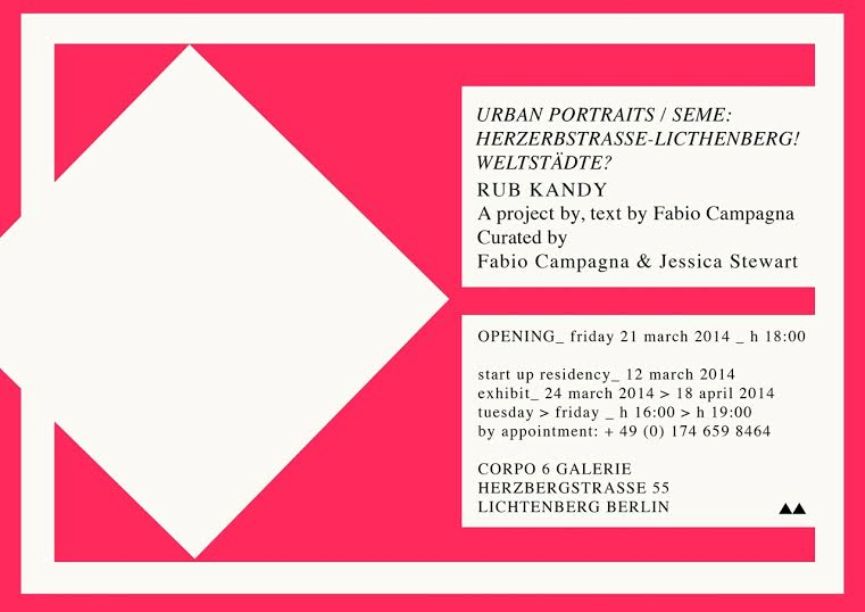 Urban Portraits
Rub Kandy used the CORPO 6 space as an experimentation platform and a base for interventions in the close Lichtenberg environment. As guided by the frame projects, the artist achieved the final expression of his individual vision related to the question of personal and environmental identity, specifically addressing the issues of urban outskirts. By living and creating within the gallery space, the artist changes the interior as well as the exterior of the residential area.
Part of the action of Rub Kandy at CORPO 6 will be the development of site required interactions making a part of the twelfth issue of Urban Portraits project. In these works, the artist wil question the set values of urban identity in a series of installations and urban art installments, actively changing the urban portrait of the neighborhood.
SEME concept is an independent initiative aiming to redefine galleries and art spaces into residences for artists. The project is international and as one of its goals it has the shift in the dull and accepted aesthetics and concept of the existing urban environment, which makes it closely related to the Urban Portraits Project.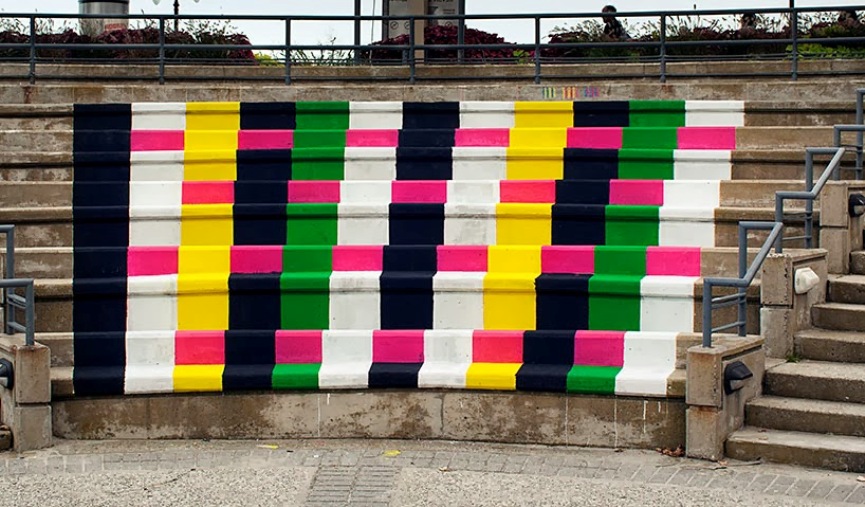 Rub Kandy
Rub Kandy, known as Mimmo Rubino is an Italian artist from Rome, who expresses his engaged views in multiple media. He creates regarding the immediate surroundings as a backdrop, intervening in the public space, exploring the possibilities of balance of tangible and visible aspects of human identity.
Rubino's works is cut and curated precisely, to the final layer of meaning, as it deconstructs the expected visuals of urban setting, it also makes a piercing social commentary. Making the crossing in between different media as natural as it could possibly appear, Rub Kandy also removes the threshold keeping the doors between what is conventionally seen as street art and more traditional contemporary art practice, usually bound to an exhibiting space.
Rub Kandy is a prolific multi-media artist who created worldwide. Based in Rome, his work stretches to New York, and even to Panama.
The exhibition and urban interventions are realized as a collaborative project of Fabio Campagna and Jessica Stewart, who provided audio and video materials.