The exhibition space of the Visiva - La Città dell'Immagine in Rome will become a location for 50/50 selected artworks of thirty international street artists from May 9 - 15. The project is born as collaboration between Jessica Stewart and Rub Kandy who selected the works of street artists of different styles and backgrmounds. The exhibition includes artworks by the following artists: Alex Senna, Alice Pasquini, Borondo, BR1, Cancelletto, Cuoghi Corsello, Diamond, Elfo, Eltono, Evan Roth, Fra Biancoshock, Gio Pistone, Giulio Vesprini, Hogre, Hopnn, Hyuro, Icks, JB Rock, Kristofoletti, LNY, Mateus Bailon, MP5, Mr. Klevra, Murphy, Nemo, Omino71, OX, Patrizia Pecorella, Seacreative, Toni Bruno and UNO.
Pure vs Sold
The show leaves behind well worn discussions such as its roots from graffiti and hip hop or the longstanding argument of "pure" street work versus what's "sold" in the gallery. Instead, the exhibition takes stock of the current state of street art through the selection of a wide variety of artists, sometimes incongruous in style, yet connected through a common thread of exchange, support, and self-generated collaborations that help define this genre of art - an ethical code that brings artists together in wide-ranging projects.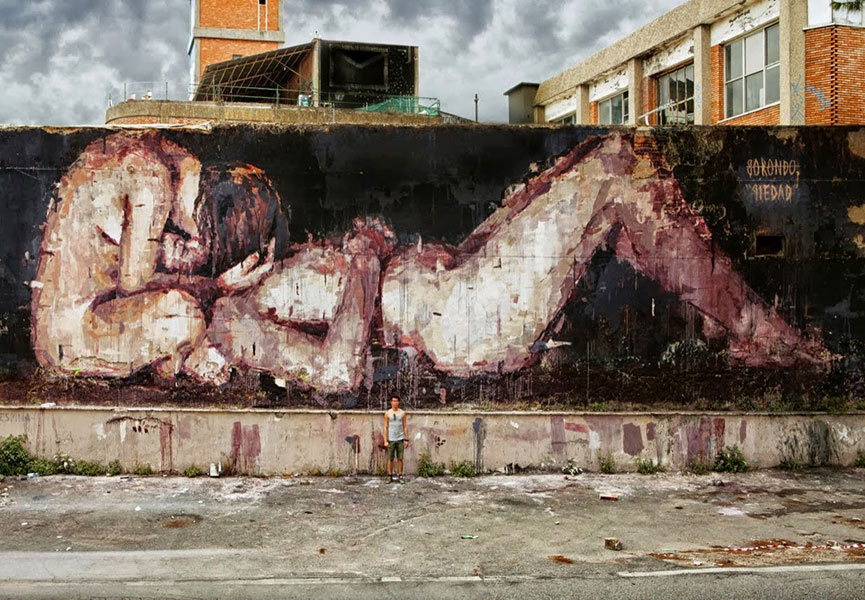 About the Curators
Jessica Stewart is an art historian, journalist, and photographer. Since 2009 she has been documenting the street art scene in Rome via her website RomePhotoBlog.
Rub Kandy focuses on art and visual communication. In 2011, following the controversy over the installation of a work in iron bearing the inscription "WORK WILL MAKE YOU FREE" on a pedestrian bridge in Rome, he is accused of "dissemination of racist and Nazi ideas [...] " an offense in respect of which he claims innocence. While awaiting trial he began to notice both the insults and support he has received. From this support, in particular that of many artists, the idea of ​​dressing up as an exhibition curator was born as a way to bring together quality artwork and sell them according to the formula 50% Artist, 50% legal fees for Rub. 50/50, in fact.

About Visiva
Visiva - La Città dell'Immagine is housed in a valuable industrial archeological site of the early '900. The cultural center consists of 3 art galleries, a "museum one book", a school of photography, film and graphic design, and artists' studios. The entire area is a rare example of independent cultural growing that involves the entire Via Assisi, until it becomes a street dedicated to art and culture.