Susanne Vielmetter Los Angeles is proud to present their fourth solo exhibition with Ruben Ochoa. The title Tripping the Light Fantastick is a quote from a poem by the famous John Milton and it is a clever wordplay that basically summarizes Ochoa's oeuvre. The artist is known for his playful utilization of various everyday materials, and this exhibition is the prime example of his masterful creations. Ruben Ochoa is no stranger to using concrete, steel and the floors of galleries to construct works that distress the viewer's encounter with the environment. For this exhibition, Ruben Ochoa will show his latest series of paintings made from rust and acrylic on linen, as well as his works on paper and steel floor sculptures.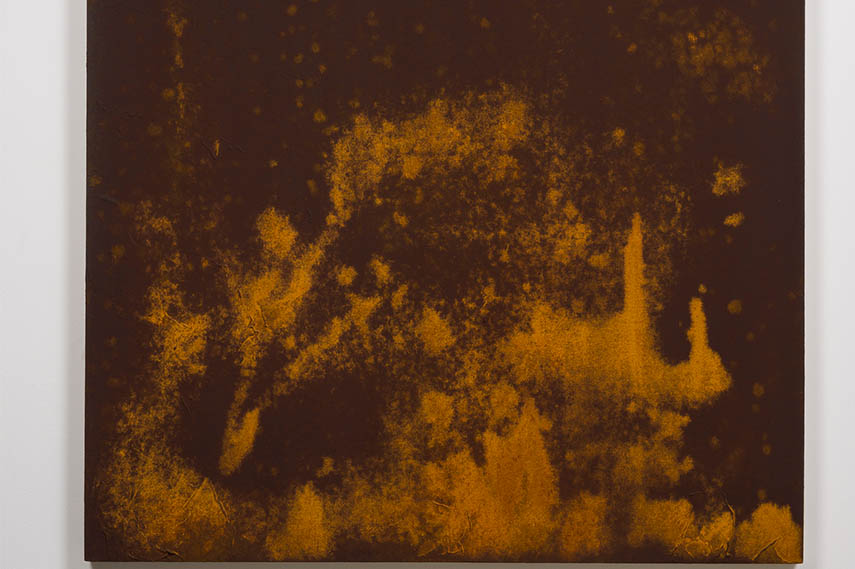 Ruben Ochoa's Rust
Rust is probably the last material one thinks of when someone mentions art and painting, which is specifically why Ruben Ochoa is interesting to the viewers. His bold manipulation of odd materials that even construction workers shy away from is what makes him fascinating to the public. Ochoa's witty use of Milton's quote as the title for his exhibition alludes to the compounding of sculptures and paintings with a silver lining, or, a rust lining in his case. The viewers can imagine the rust, scattered along the linen, almost like the stars floating in the Milky Way. Ruben Ochoa approaches the rust as a pigment and produces dynamic compositions that manage to utilize the unforeseeable nature of this medium. The effect of iron oxide and its reddish-brown color on the canvas reminds of the observable deterioration of the built environment. It is a byproduct of a harmless substance that designates class differences in a city. In this manner, Ruben Ochoa's use of rust summarizes the social element while at the same time emphasizes its materiality and a possibility of its restricted cultural importance.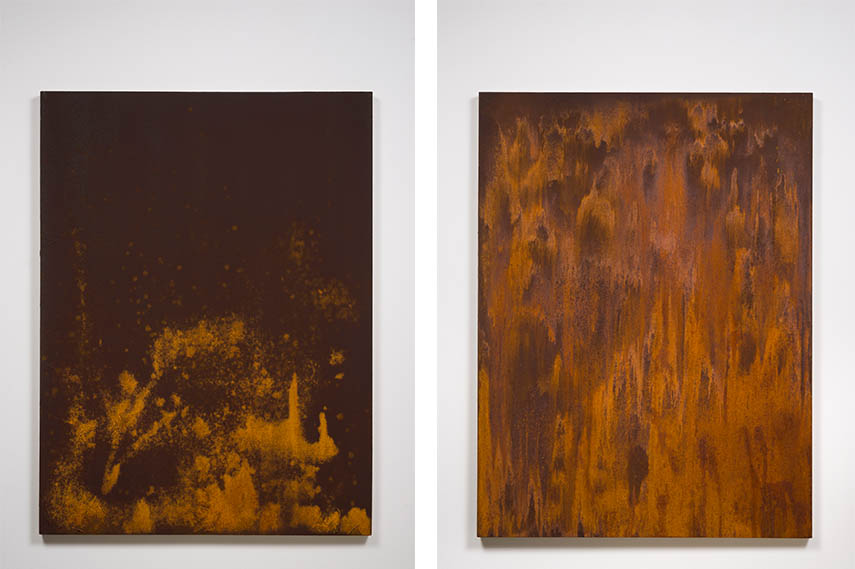 Ruben Ochoa's Versatile Artistry
Ochoa does not only work with rust and paint. He has also created a number of sculptures in juxtaposition to his latest paintings, namely a series of welded and maneuvered sheets of steel that amalgamate geometric and organic shapes and lines. These sculptures continue Ochoa's conversation with form and formlessness. The second-floor installation seizes the footprint of a gallery bench and it is placed alongside the set of smaller-scale rust works on linen and paper. The sidewalk-esque steel configuration appears to have been impaired by an accordion band. Ruben Ochoa wittily investigates the spatial relationship between the viewer and the lot by interposing a humorous ode to the prominently voluptuous nude provided in less amenable angles in his Olympic Blvd.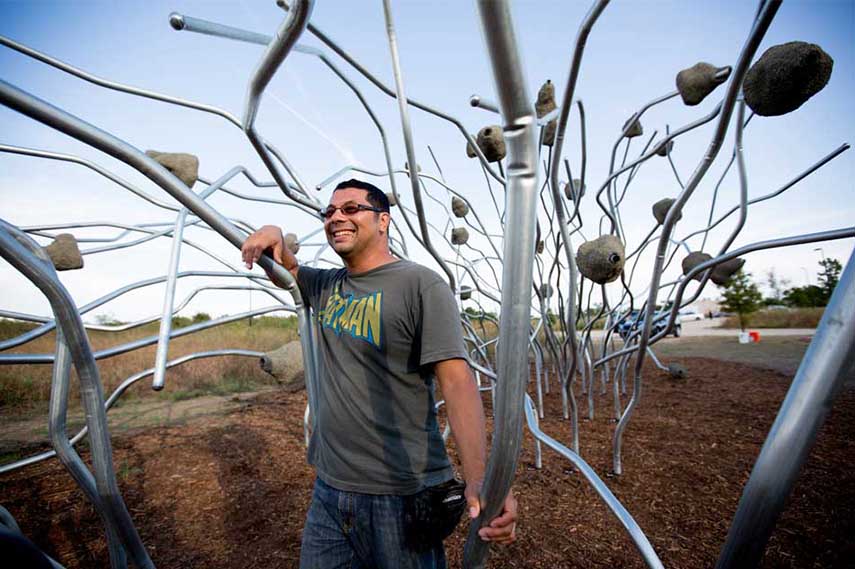 Tripping the Light Fantastick at Susanne Vielmetter
Ruben Ochoa is an artist whose works have been exhibited many a time all over the world. He will show his new series Tripping the Light Fantastick at Susanne Vielmetter Los Angeles Projects. The exhibition has been on view since March 12th and will be displayed until April 16th, 2016. Susanne Vielmetter is located at 6006 Washington Blvd in Culver City, 1 block west of La Cienega at Sentney Avenue. Gallery hours are Tuesday through Saturday from 10 AM to 6 PM and by appointment.
All images courtesy of the gallery unless stated otherwise.
Featured image: Ruben Ochoa - Dreaming of the people, 2015, Rust on linen, 18" H x 24" W (45.72 cm H x 60.96 cm W), Gallery Inventory #OCH301, Courtesy of the artist and Susanne Vielmetter Los Angeles Projects, Photo: Robert Wedemeyer