The Black Mountain College was a notable educational facility that accumulated avant-garde legacy at the center of their approach. Under the guidance of figures such as John Cage, Merce Cunningham, Jacob Lawrence, and others, the next generation of prolific artists was formed with Ruth Asawa being one of them.
Asawa's delicate multidisciplinary practice profoundly inspired by nature is infused with the meticulous explorations of the form usually expressed through sculpture, drawing, and print. Along with art production, she also paid a great deal of attention to art education believing it is a transformative element that has to be nurtured by society.
To revisit her domains, David Zwirner decided to organize the first survey of the Asawa's work outside the United States that will mostly focus on her wire sculptures works on paper.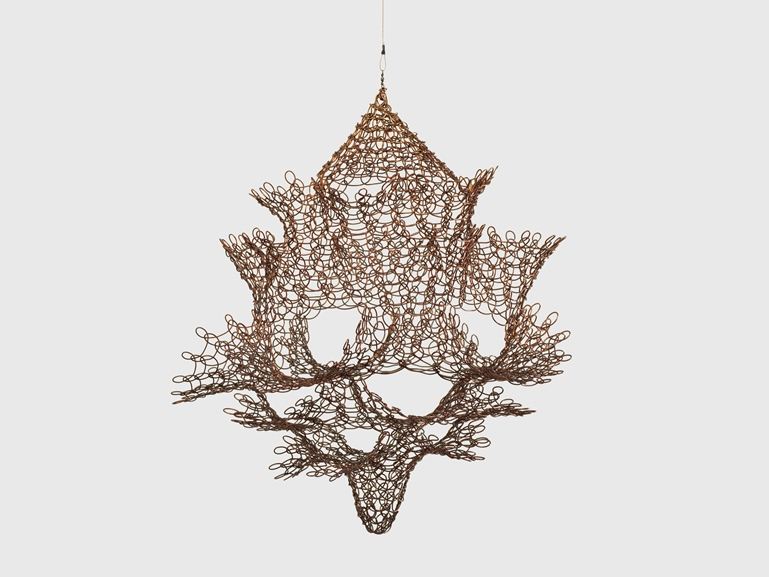 The Contemplative Nature of Ruth Asawa's Practice
These astonishing hanging wire sculptures present the recurrent series that Ruth Asawa has been producing since the late 1940s. These dynamic and visually challenging objects that expend the notion of sculpture, show Asawa's continuous interest in transparency and light. Although she experimented with other mediums, it seems that the ideas expressed with wire pervaded through other, equally simplistic works based on gestural repetition.
The forms reminiscent of cells, tissues, membranes or other complex modular systems found in nature stand at the core of her aesthetic that eventually evokes contemplative and transformative potentials.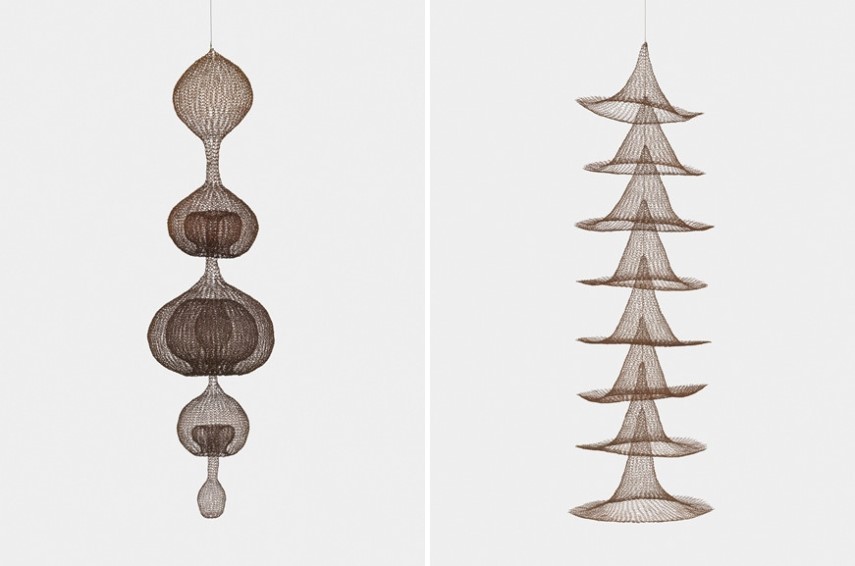 The Installment
The examples of Ruth Asawa's looped-wire sculptures that she started producing while still a student at the Black Mountain College will be on display. These structures were initially a result of the craft of making wire baskets that Asawa learned from local craftsmen during her trip to Mexico in 1947. The miniature spheres, nested shapes, and open window forms that are suspended from the galleries ceiling individually or in clusters will reveal the artist's immense skillfulness in both technical and conceptual sense.
The tied-wire sculptures that Asawa started producing in 1962 will also be on view, showing how she handled the limitations caused by the inability to draw a desert plant whose branches split exponentially as they grew.
The visitors will have a unique chance to see a rare work on paper inspired by the classes Asawa attended with Josef Albers in his Basic Design class at the Black Mountain College when she used the 'BMC' laundry stamp to produce dazzling corrugated compositions.
The installment will be rounded with vintage photographs of Asawa and her works by noted photographer Imogen Cunningham, who was the artist's close friend and supporter for more than twenty years.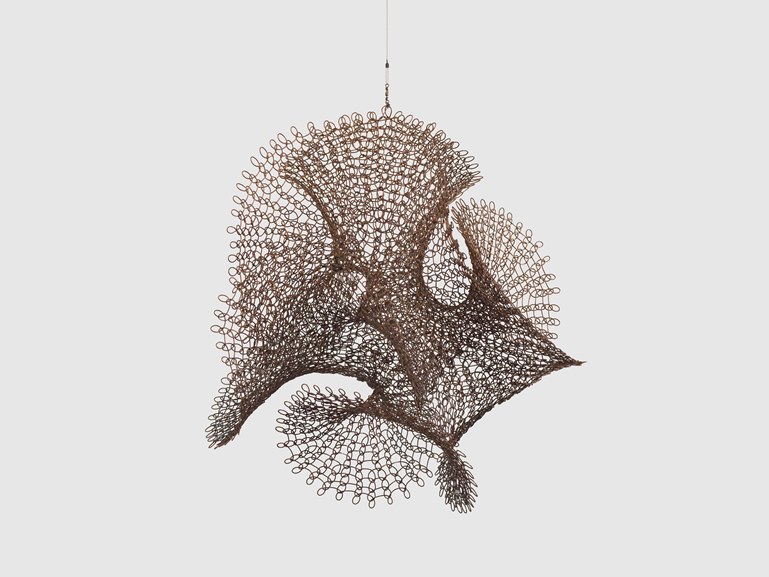 Ruth Asawa at David Zwirner
It seems that the upcoming exhibition will provide a fine insight in the lasting practice of Ruth Asawa by accentuating her unpretentious, yet pioneering approach to reimagining the medium of sculpture and constructing visually impeccable oeuvre saturated with sensuousness, melancholy, and to a certain extent, intriguing mystery.
Ruth Asawa: A Line Can Go Anywhere will be on display at David Zwirner in London until 22 February 2020.
Featured image: Ruth Asawa - Untitled (S.371, Hanging, Tied-Wire, Closed-Center, Multi-Branched Form Based on Nature), 1965 © The Estate of Ruth Asawa. Courtesy The Estate of Ruth Asawa and David Zwirner.