The world, in the eyes of the artist Sabine Hertig, is a big montage of information. Seeing herself as a collector, Sabine Hertig, for her second solo exhibition Scrap continues with her practice of cutting and gluing different images that she finds and feels a connection with. Central to all her work is a need to describe and present, with the use of a collage technique, the everyday situations of a modern man. The artist's work interprets the confusion and chaotic nature of the world around us, and comments on the overexposure and massive image production as a new landscape that is drowning and chaotic.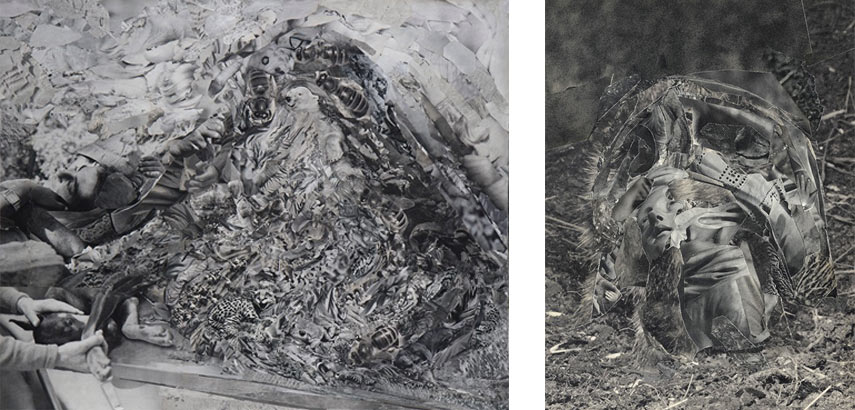 Landscape painting
The Romantic Movement in art intensified the existing interest in landscape art and as its prominent element made the wild and remote lands. The wild nature, the uncontrollable beauty, was an inspiration for many paintings and poetry of that time. What landscape, or better to ask, what land is presented in the latest collages of Sabine Hertig? Her landscape is formed with the images of grilled pieces of fish, crowds of people and withered flowers. Polar bears swim and appear from a collage of water and both men and animals hide behind the walls and thicket. These bizarre scenes move in an almost surreal way, the narrative element in the foreground, and produce a feeling of fragmentation that is also autonomous. At the heart of Hertig's new collages are movement and a strange feeling of balance. All is set in motion, swirling up in a painterly manner to paint-like formations and architectural elements, while every confusing part seems to fit perfectly together. Also evident is the widening of images that Hertig uses for the production of her latest collage pieces, and we see the increasing use of imagery found in books on cooking and animals. The landscape that the artist confronts her audience with is both challenging and at the same time recognizable in the feeling of organized chaos that it reflects.
The Collage
The accumulation of a variety of media appears as a homogeneous imagery in Hertig's work. In her previous monumental pieces, the use of paint and brush was evident and used as an additional element. In her latest pieces, on the other hand, the use of the brush is now a means of retouch or is not used at all. It is with the use of different images that Hertig suggests the color and the movement. This quality of her work shows that to the artist, collage is more than just an instrument, but a medium of descriptive thinking about the world that has become a montage of information itself. Hertig gives a unique interpretation of the collage technique that in return suggests an interpretation and symbolism to the fragmented world and a fragmented modern man.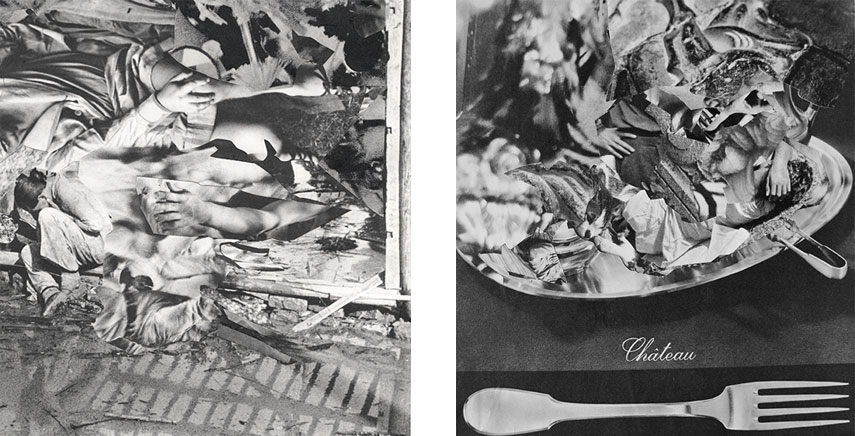 Sabine Hertig Exhibition at Stampa Gallery
Continuation of her interest to the collage technique and the development of her landscape series, make up Sabine Hertig's second solo exhibition Scrap at Stampa Gallery in Basel, lasting between April 5th and May 28th, 2016.
Besides her usual colored, large- size works, Hertig, for this occasion, has produced a new body of work, Black and White collages, that are based on a precise composition and elaborated light guidance, that aims to subtly manipulate the observer's view. Sabine Hertig's celebrated collage works, comment upon our world and show the bizarre elements that make up all of our lives put together as a homogeneous image.
All images courtesy of the artist and STAMPA Galerie, Basel. Featured image in slider: Sabine Hertig - Mirror No.1, 2016, Analogue collage on wood, 62 x 81 cm.