One of the most famous street art galleries in London, Lazarides is starting off this year with a new solo exhibition by a Californian creative, Sage Vaughn. This contemporary urban art exhibition is titled Nobody's Home, presenting paintings of Vaughn's signature butterfly and dainty imagery, shifted into a new setting, via media new to the artist and by the differently rendered concept of wildlife he generally explores in his work. Nobody's Home will open on January 31, and it will be on view through March 1, 2014.
Nobody's Home: Urban Art
Nobody's Home phrase serves as more than a title, it was an associative inspiration for the artistic investigation conducted through latest activity of Sage Vaughn. He expresses his view of the material and the abstract meaning of the phrase by depicting still interiors, as a result of the dullness of mass consumerism. Vivid representations of birds dwell in lifeless spaces, metaphors of the perfect home designed to the latest fashion, without any sign of uniqueness or personality. Stylish furniture is arranged in a soulless installation, as the colorful birds interrupt the viewer's calm, and catch the attention, changing the sterile scene completely. These compositions stand as a contemporary urban art critique of the fake and over-designed life setting, which he contradicts with his fluttery little beings as symbols of freedom and transformation, breathing new life into mindless domiciles.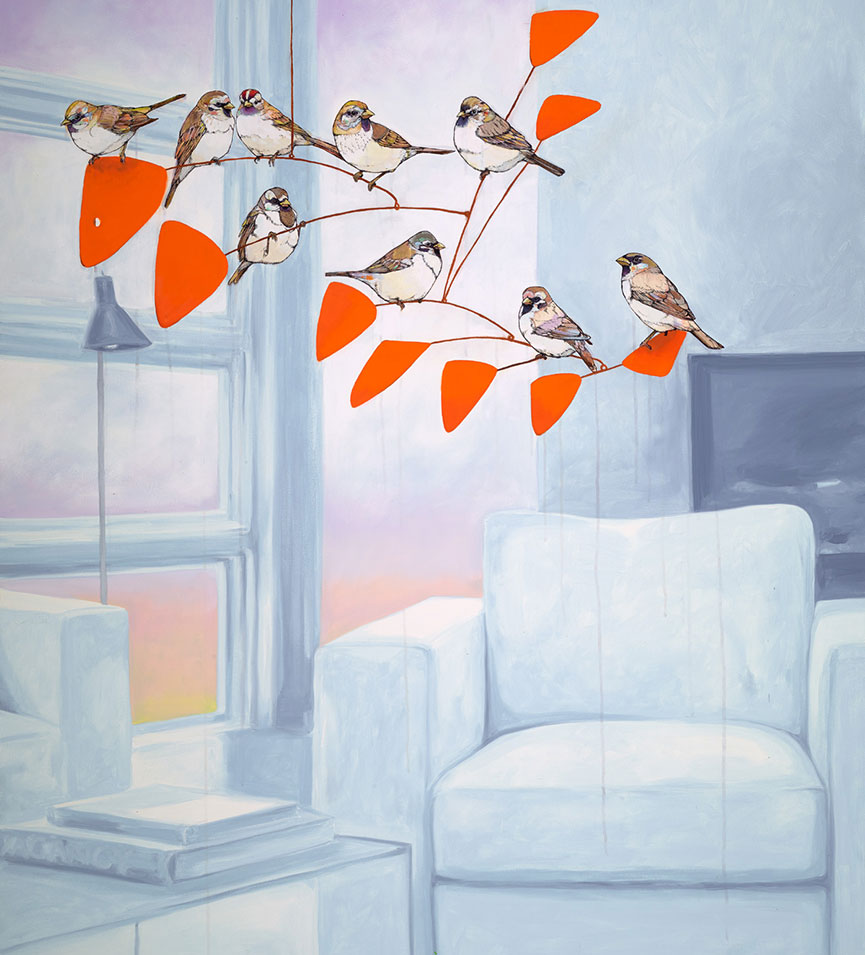 Sage Vaughn's paintings exude a high degree of romanticism and subtlety, while retaining the pictorial quality never turning towards kitsch. The emotions arisen from his canvases encompass hopes and dreams of a young life, as well as its losses, conveyed with intense and tactful language, addressing the individual as well as the community. Both light and dramatic, his paintings, sculptures and installations, contain nostalgic symbols of the happy past broken by the ugly nails of adulthood reality. One year ago he displayed artwork made of stained glass for the first time. Dripping is a common denominator of his paintings, as it revokes his past as a street artist and it alludes to constant circles of life in nature. Some of the most known pieces he created are his Butterfly ring paintings, where butterflies are arranged in circle, similar to a mornful wreath, while the classical mythology states they  are symbols of optimism.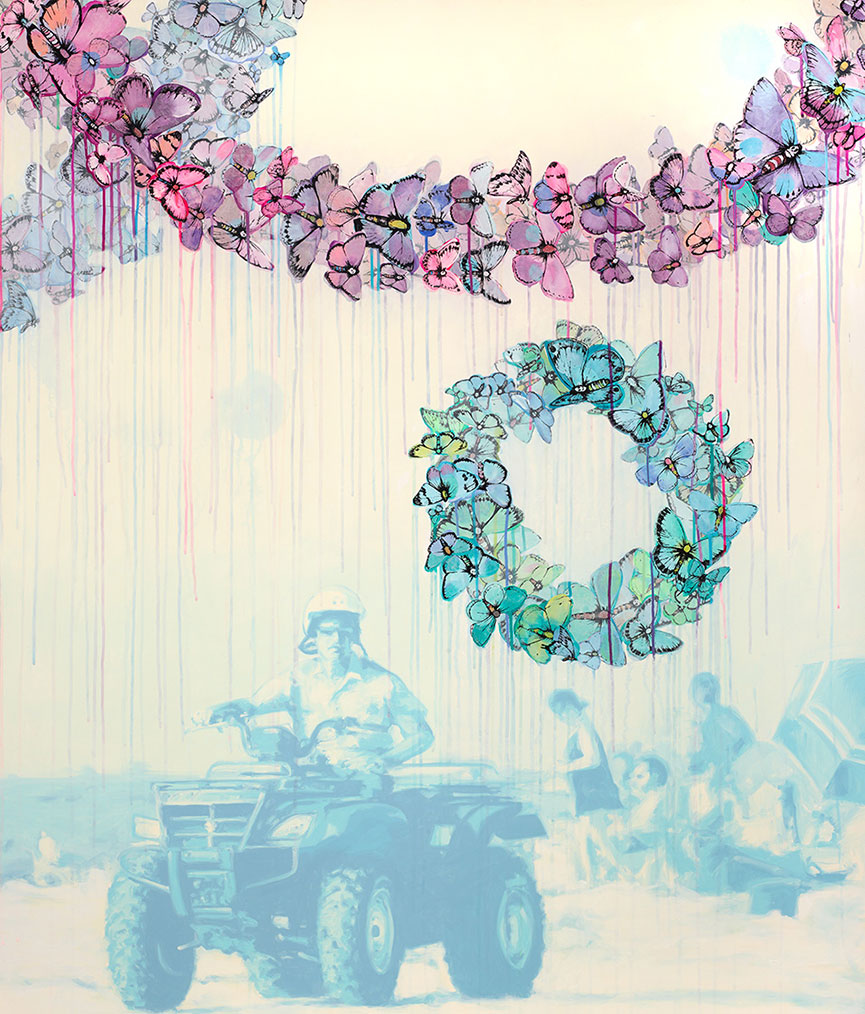 Sage Vaughn - Background
Sage Vaughn was born in the heart of the USA to a family of naturist hippies, learning to be at peace with nature from an early age. He was sketching animals at the local zoo with his father as a very young child. As an established artist, he decided to emphasize the beauty and valor of the natural world by setting it against a clinical, post-industrial landscape. His interests lie within the wild side of life, often overlapping the civilized with the wilderness. His work often contains strong and a deliberately shocking messages hidden within the idyllic pictures of garden birds. He admitted to have painted while wearing night vision goggles, in order to see the world as most of the animal kingdom members do.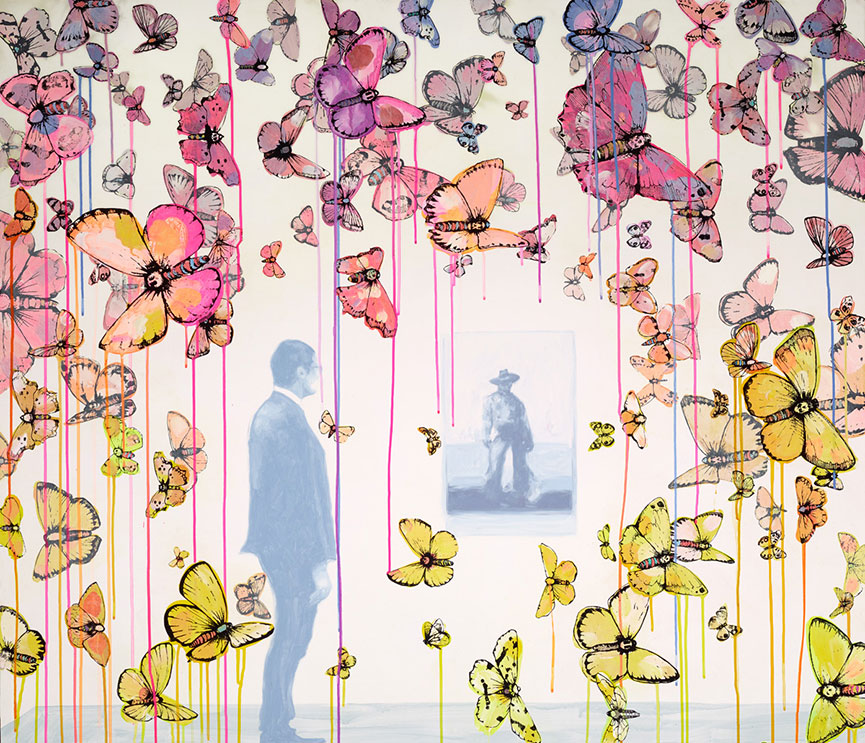 Sage Vaughn created artwork for the album cover of Red Hot Chili Peppers' single Monarchy of Roses in 2011 in collaboration with photographer Michael Muller. In 2012, he had a very successful exhibition at MOCA Gallery's Transmission event, curated by Vaughn's hero Mike Diamond, a founder member of Beastie Boys. He already exhibited with the contemporary urban art galleries, and in 2011 with the street art gallery in London - the Lazarides.