After going to Paris to complete a giant mural titled High hopes in the 13th district of Paris, a Polish street artist Sainer has succeeded to execute a first solo exhibition in the city of light. This street art exhibit was hosted by Galerie Itinerrance, and titled Neverland, in perfect accordance with the artist's surrealistic approach. It lasted for almost a month, from November 22 through December 20. The exhibition presented new canvas pieces by Sainer, as well as his latest drawings and sketches done for mural projects. All art was sold out quickly after the opening night.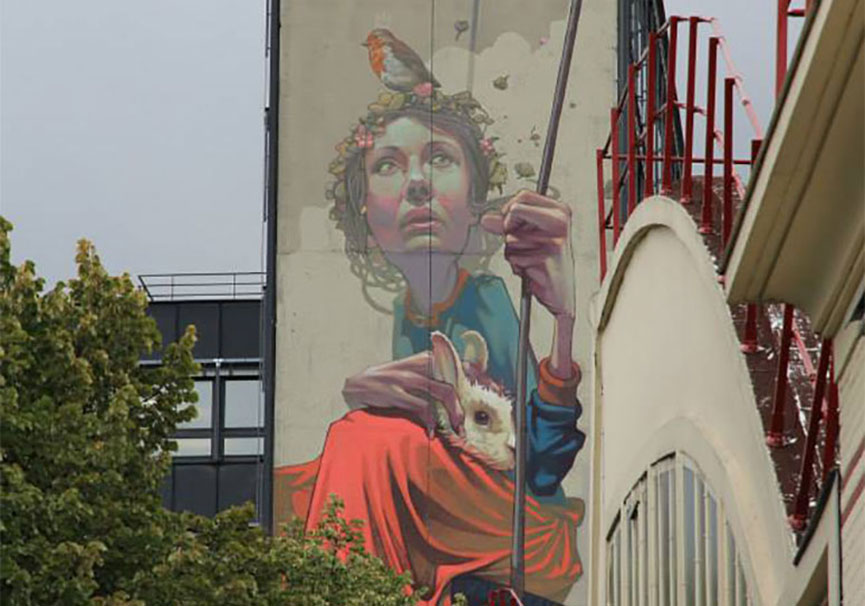 Etam Cru
Polish graffiti whiz, Sainer is a member of a duo, famous in the graffiti movement, called Etam Cru with his fellow artist, Bezt. Their illustrative and imaginative style became largely popular across the globe, and the pair set off on painting murals in many countries. Although they are quite prolific in mural execution, the two artists continue showcasing their studio works in numerous exhibitions and published prints. They owe their success to an exceptional degree of mutual compatibility, and the talent to transpose their dreamlike pictures from huge scales of murals onto much smaller canvas or paper. Individually, their expressions slightly differ, but Sainer's art showcased at Itinerrance depicted much of the cru's manner, shown through oneiric imagery intertwined with fragments of naturalism.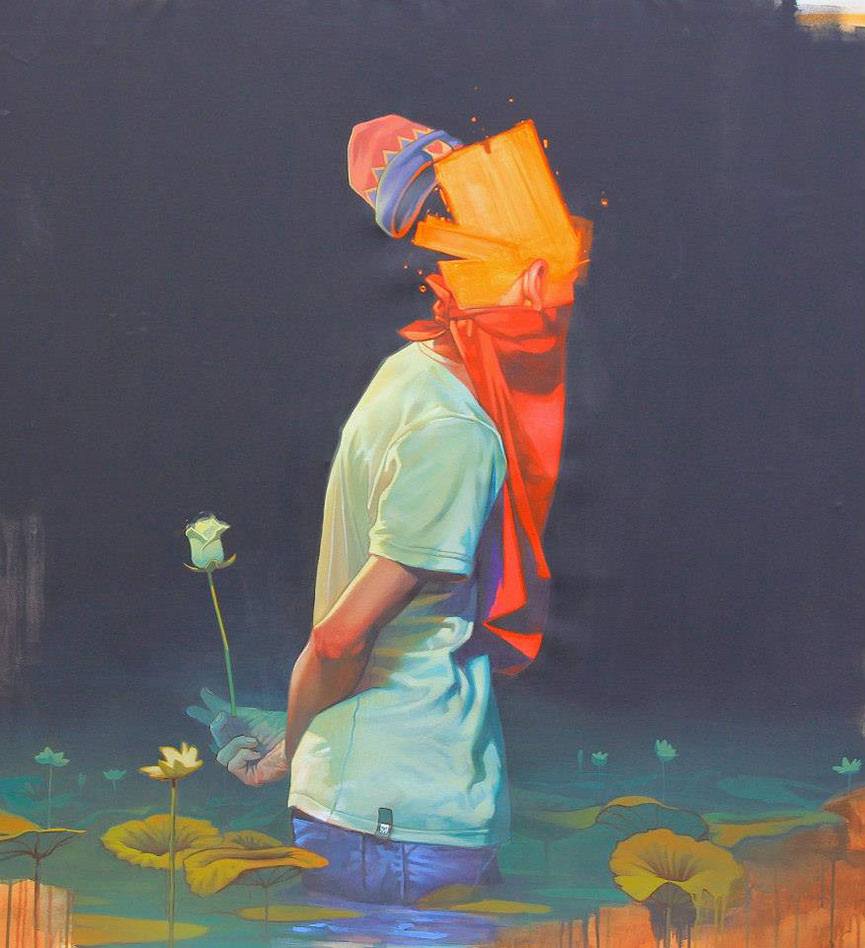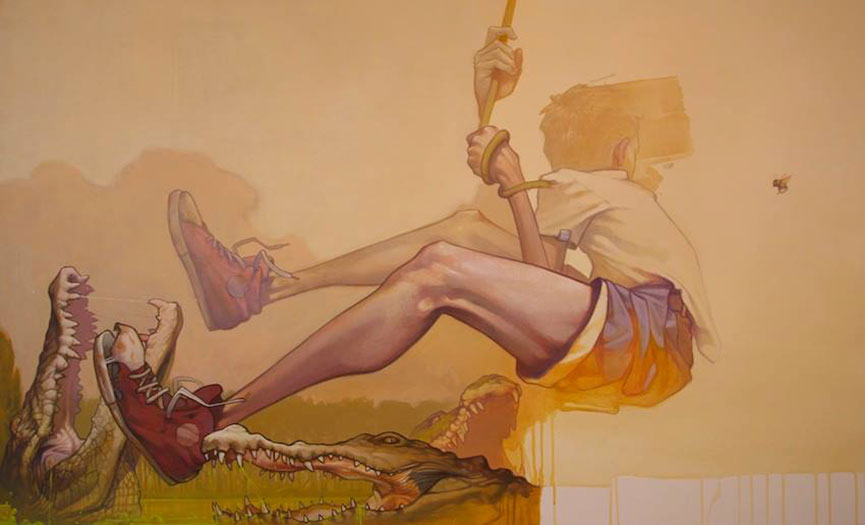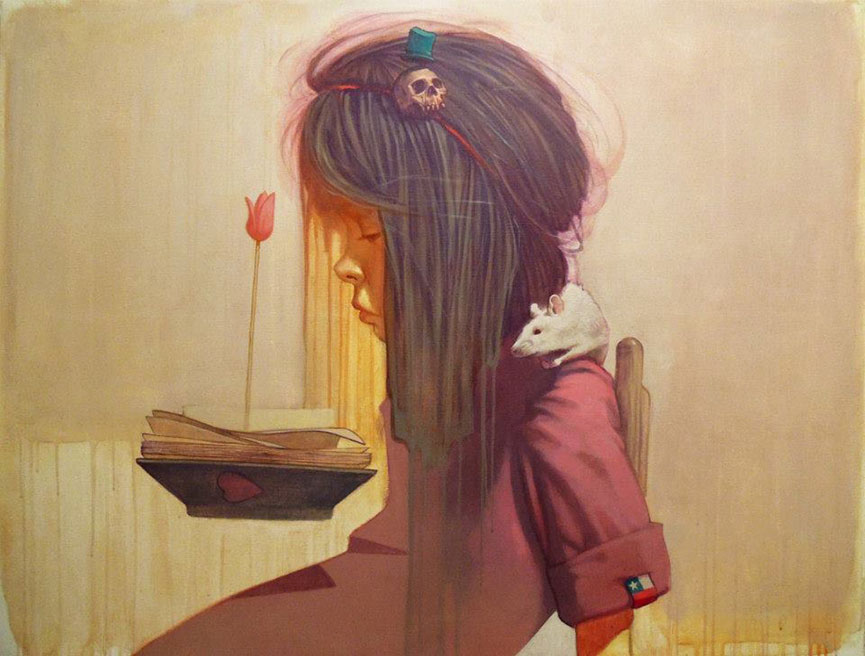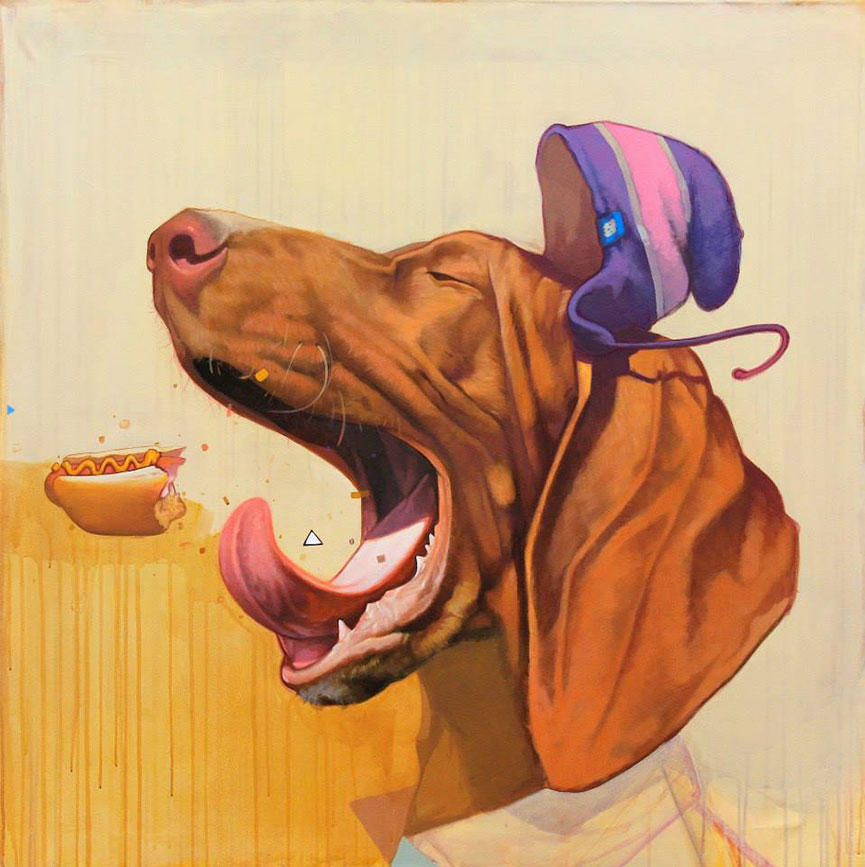 Neverland
Sainer's fruitful year is well completed by an exhibit showing off the elaborated compositions and contemplation that went into artwork creation. The usual imagery of his art is present, arranged through a superior sense of lighting and juxtaposition of plans. The imaginative illustrator addresses questions related to the young population, placing main characters in difficult, shady situations, and portraying the feelings born out of these circumstances. Viewer is open to a bundle of anxious sentiments conveyed by the paintings, interwoven in the misty surface of the painting. The tension and hardship of lonely, scared or addicted characters bursts through the visually softening cloud of the picture's foreground, distorting their bodies, melting their skin and disintegrating them. Overlap of reality and illusion comes from daily escapes of troubled youths into the realm of dreams, as it delivers a powerful message and has an enchanting influence on an observer. Softened contrasts of complementary pairs of color add to the pictorial quality of Sainer's artworks. Sketches and drawings exhibited together with canvas paintings represent studies of his executed works, and some are used as basic elements for mixed-media collage. The preparation drawing for his wall work Backyard Kingdom is also on display, and it has been published as a limited edition print as well. Admirers of Sainer's work may enjoy this array of drawings, perhaps even better than his chromatic pieces, as they reveal the great talent for design and the mastery of line as his foremost expressive means.