During her rich and varied career, the American photographer Sally Mann has been taking hauntingly beautiful experimental photographs that explore the essential themes of existence: memory, desire, mortality, family, and nature's overwhelming indifference towards mankind. She explored architecture, landscape and still life, but she is best known for her black-and-white portraits of her immediate family and documentation of the American South.
It is the southern United States that gives unity to her vast body of work. Drawing on a deep love for that area and a profound awareness of its complex historical heritage, Mann tackled its history, identity, race and religion, going beyond geographical and national boundaries.
The upcoming exhibition at Jeu de Paume in Paris will chart the entirety of the artist's career, exploring her relationship with her native region and its continuing influence on her work. Titled Sally Mann: A Thousand Crossings, it shows the legacy of the South as both homeland and graveyard, refuge and battleground—continues to permeate American identity.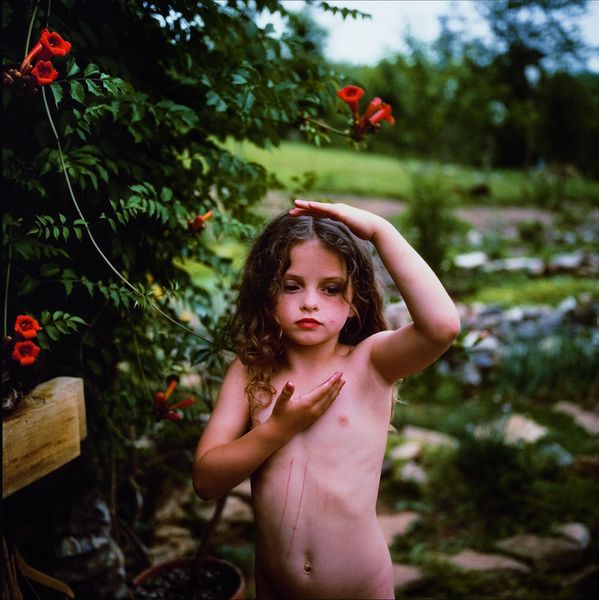 Sally Mann Photography
One of America's most renowned photographers, Sally Mann has produced a compelling oeuvre, always remaining close to her Virginia roots. Born in Lexington, Virginia, the artist herself once explained that living in the South means "being both nourished and wounded by the experience."
To identify a person as a Southerner is always to suggest not only that her history is inescapable and profoundly formative, but that it is also imperishably present. Southerners live at the nexus between myth and reality where that peculiar amalgam of sorrow, humility, honor, loyalty, graciousness and renegade defiance plays out against a backdrop of profligate physical beauty.
Featuring many previously unknown or unpublished works, the exhibition at the gallery Jeu de Paume will be on view from June 18th until September 22nd, 2019 and it will travel internationally until the beginning of 2020. It is arranged into five interconnected parts, which we will review below.
Featured images: Sally Mann - Gorjus, 1989, Gelatin Silver print. Sayra and Neil Meyerhoff © Sally Mann. All images courtesy Jeu de Paume.
Family
The first part of the exhibition addresses Sally Mann's best-known series - the intimate portraits of her family. Capturing ordinary moments in the daily lives of her three children, Mann created images which convey a sensual beauty, with hints of violence, sexuality and distress, refuting the traditional clichés of childhood, and evoking a preference for disturbing visions. The majority of these photographs have been part of her seminal series Immediate Family, exploring the struggle between a child's dependence and the need for autonomy.
Attracting controversy at the time, Immediate Family was highly influential for generations of younger photographers. It embodies the individuality of her own family yet ultimately taking on a universal quality.
Featured images: Sally Mann - Easter Dress, 1986, Gelatin silver print. Patricia and David Schulte © Sally Mann; Bloody Nose, 1991, Silver dye bleach print. Private collection © Sally Mann; Bean's Bottom, c.1991, Silver dye bleach print. Private collection © Sally Mann; On the Maury, 1992, Gelatin silver print. Private collection © Sally Mann.
Land
The exhibition continues with a series of landscapes of the American South - suffocating swampland, fields and dilapidated houses that Sally Mann discovered while traveling through Virginia, Georgia and Mississippi. Much more than simply soil and water, Mann treats the landscape as an animate potent being.
Describing this landscape as both "alluring" and "repellent... like fruit on the verge of decay", the photographer unites the region's sublime beauty with its melancholic past in strangely static photographs. The series of work she brought back from Virginia look like the visions of a sleepwalker, while the works from Georgia and Mississippi have an austere, desolate quality.
Featured images: Sally Mann - Deep South, Untitled (Fontainebleau), 1998. Gelatin silver print, printed 2017. National Gallery of Art, Washington, Promised Gift of Stephen G. Stein Employee. Benefit Trust. © Sally Mann; Deep South, Untitled (Scarred Tree), 1998. Gelatin silver print. National Gallery of Art, Washington, Alfred H. Moses and Fern M. Schad Fund. © Sally Mann; Deep South, Untitled (Stick), 1998. Courtesy of the New Orleans Museum of Art- Collection of H. Russell Albright, M.D. © Sally Mann.
Last Measure
The third section of Sally Mann photography brings together a series of photographs of the former Civil War battlefields, in which she asks us to consider how the history of this era weighs on us today. Leaving out the human figure, the photographer depicts desolate places haunted by a ghostly human presence. Evoking the dark atmosphere of the Civil War that lies buried in the contemporary landscape, she imbues her work with historical consciousness.
In this series of work, as well as the one in the previous section, the artist used a large format, old lenses and the old, 19th century, wet collodion plate process. The use of the older photographic techniques allowed her to create a wide range of photographic effects, including flare, haze, streaks and blurring that make the South a place of memory, defeat, ruin and rebirth.
Featured images: Sally Mann - Battlefields, Fredericksburg (Cedar Trees), 2000. Gelatin silver print, printed 2003. Waterman:Kislinger Family. © Sally Mann; Battlefields, Cold Harbor (Battle), 2003. Gelatin silver print. National Gallery of Art, Washington, Gift of the Collectors. Committee and The Sarah and William L Walton Fund. © Sally Mann; Battlefields, Antietam (Starry Night), 2001. Gelatin silver print. Alan Kirshner and Deborah Mihaloff Art Collection. © Sally Mann; Battlefield, Antietam (Black Sun), 2001. Gelatin silver print. Courtesy of Edwynn Houk Gallery, New York. © Sally Mann.
Abide With Me
The fourth section explores the racial landscape of Virginia through a series of tintypes on the Great Dismal Swamp and the surrounding waterways Mann produced between 2006 and 2015. Depicting a marshland which served as a refuge for large numbers of runaway slaves, this series considers how slavery and segregation had left their mark on the landscape of Virginia and, in turn, shaped the artist's own childhood and identity. Using the tintype process, Mann creates a liquid-looking surface that reflects the local geography.
This section also includes an image of Virginia "Gee-Gee" Carter, a black woman who worked for the artist's parents for fifty years and helped to raise Mann, as well as large-format portraits of black men.
Featured images: Sally Mann - Oak Hill Baptist, 2008-2016, Gelatin silver print. Collection of the artist © Sally Mann; The Two Virginias #4, 1991. Gelatin silver print. Private collection. © Sally Mann; Blackwater 17, 2008-2012. Tintype. Collection of the artist. © Sally Mann; Blackwater 3, 2008-2012, Tintype. Collection of the artist © Sally Mann
What Remains
In the final section, the exhibition brings together works which once again portray Mann's family in images dealing with mortality and the passage of time. Although constantly exploring these subjects throughout her oeuvre, she was further awakened to an interest in them after a horse-riding accident in 2006 which resulted in the horse's death and Mann being immobilized for months. This experience inspired an astonishing series of self-portraits.
The section also features ghostly portraits of her children and intimate photographs depicting in detail the physical changes in her husband who suffers from a degenerative illness.
Featured images: Sally Mann - The Turn, 2005. Gelatin silver print. Private collection. © Sally Mann; Was Ever Love, 2009. Gelatin silver print. The Museum of Fine Arts, Houston, Museum purchase funded by the S.I. Morris. Photography Endowment, 2010. © Sally Mann; Semaphore, 2003. Gelatin silver print. The Museum of Fine Arts, Houston, Museum purchase, 2010. © Sally Mann; Jessie #25, 2004. Gelatin silver print. National Gallery of Art, Washington, Promised Gift of Stephen G. Stein Employee. Benefit Trust. © Sally Mann