Exploring queer lives from a non-privileged perspective seems more than relevant today as we witness a major political turmoil amid the COVID-19 pandemic and the proliferation of economic crisis. To speak about matters of sexuality, race, and class at the same time is important for a proper understanding of the processes that very often do not catch our attention.
Reasonably, these things are easier to explore in visual arts, and such an agenda can be quite bold and political, as it is the case with the painterly practice by Pakistani artist Salman Toor. This promising individual explores the status of the queer diaspora through the lens of classical portraiture that seems at the same time nostalgic, yet contemporary.
Toor's intriguing and intimate oil-on-panel paintings are soon to be on view at The Whitney Museum within his first grand solo exhibition titled Salman Toor: How Will I Know.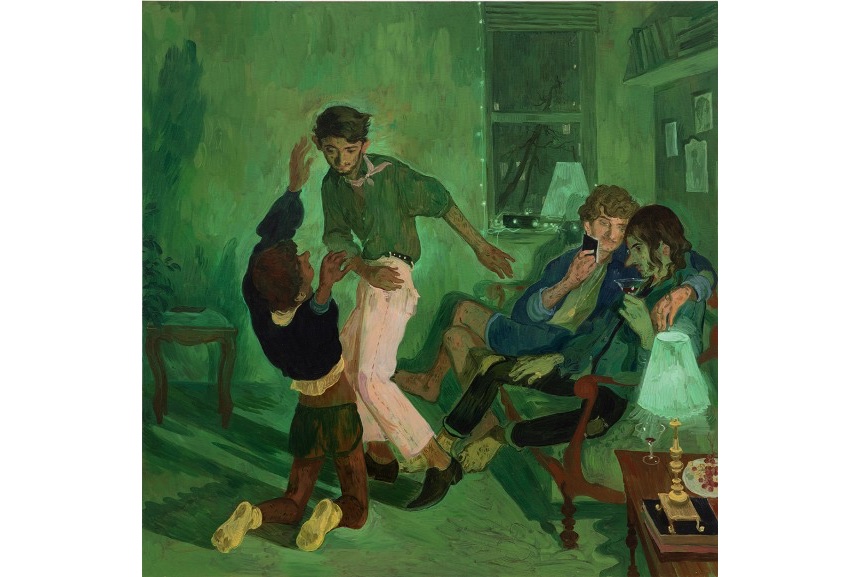 The Engaged Figuration
Smoothly yet skillfully, Salman Toor reasserts the representational canon of figurative painting by combing the linear softness reminiscent of Elizabeth Payton and David Hockney with the expressive rawness and traditions of Indian painting to depict queer Brown men living between New York City and South Asia.
Christopher Y. Lew, Nancy and Fred Poses Curator, and Ambika Trasi, curatorial assistant organized this exhibition to underline Toor's apparent painterly uniqueness and show his effort to speak about the marginal subjects. Trasi said:
Toor's tender depictions of friendship and solitude while at leisure reflect on our hyperconnected present and yet still feel incredibly timeless. Painting his characters as though haloed in divine light or as well dressed dandies, his work pays homage to 'chosen family' and the importance it has for the communities that he references.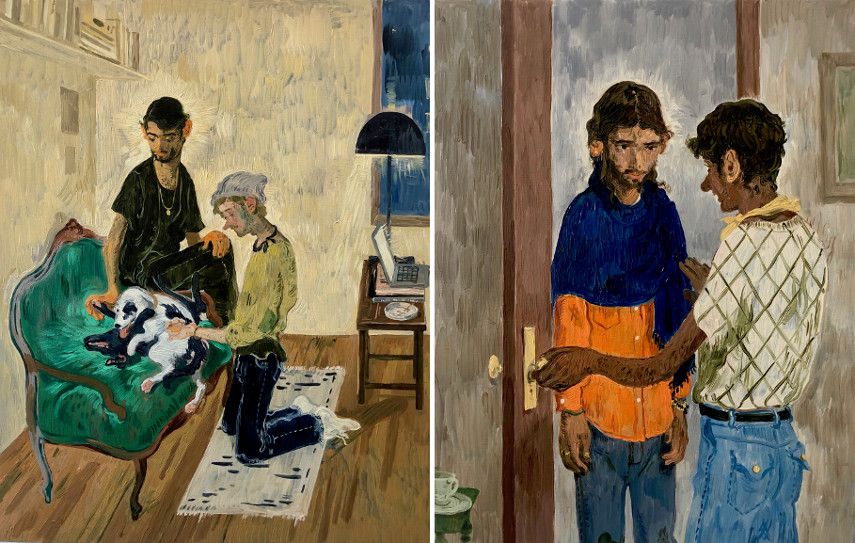 The Sensitive Queer Narratives
The imaginary figures on Toor's works act as versions of the painter and himself, and so they embody the range of emotions affiliated with stereotypes and judgments projected on them by in everyday life. The muddy and a bit intense atmosphere is achieved with specific coloring, especially through hues of green.
While one group of works depicts playfulness and communal spirit of the figures playing with puppies, binge-watching period dramas or dancing in cramped apartments, another group of works reflects sort of a contemplative, melancholic sentiment; for instance, one painting depicts sad men standing with their personal belongings in front of immigration officers.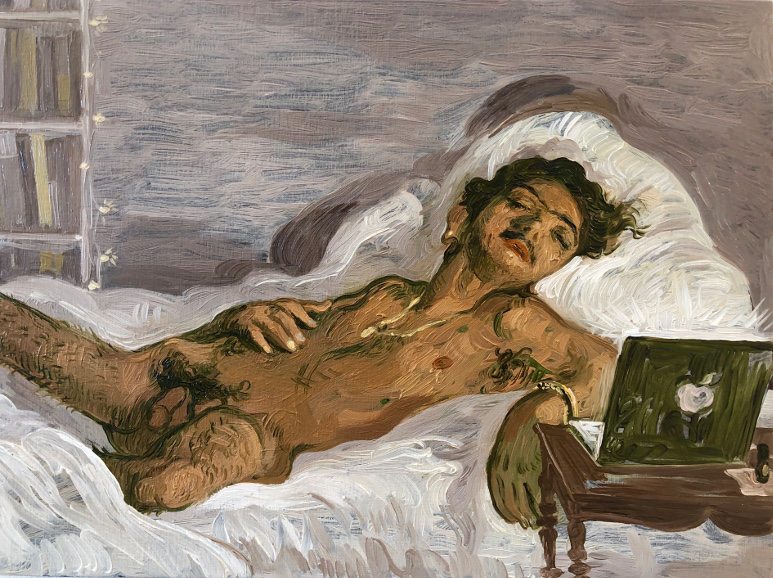 Salman Toor at The Whitney
Salman Toor: How Will I Know will be on display at the Whitney Museum of American Art in New York from November 13, 2020 to April 4, 2021.
Part of the Whitney's emerging artists program, it is on view in the first-floor John R. Eckel, Jr. Foundation Gallery, and it is accessible free-of-charge.
Featured image: Salman Toor - Bedroom Boy, 2019. Oil on panel, 12 x 16 in. Image courtesy the artist.