Salvador Dalí didn't like spinach. He didn't like to eat it, and, in general, he didn't like its shapeless and degrading form. He linked it to Liberty. Connecting food with philosophical concepts is just one of the quirks of Dalí's approach to it, of which perhaps the ultimate expression is the Salvador Dalí Cookbook, titled Les Dîners de Gala.
Recently re-published, the book is much more than a simple collection of recipes. Adorned with unique and recognizable Dalí's illustrations, we would be much trailed to try to make some of the recipes. They are old school, and made by some of the leading French chefs, making them difficult to prepare without some proper culinary prowess. However, the real charm of the book is not in its exquisite recipes but in marvelous illustrations by one of the leading figures of the European Surrealism.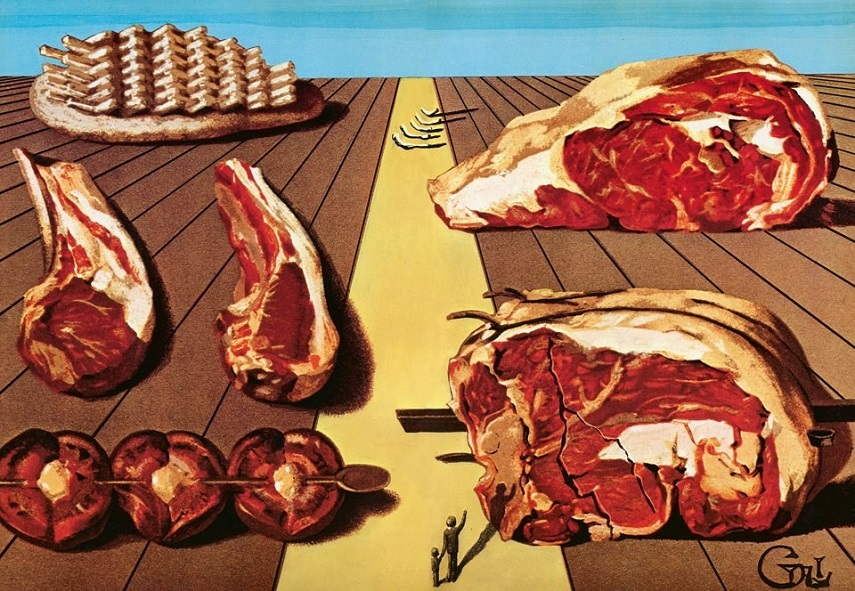 The Pleasures of Love / The Pleasures of Taste
Sex and food have been closely intertwined throughout the centuries. Palatal pleasure and the sexual one seem to go hand in hand, as different cultures ascribed aphrodisiac properties to different types of nourishments. Globally recognized with this property are chocolate, chili, and oysters, while others, such as animal testicles, are considered to increase sexual potency, with special cookbooks dedicated solely to them.[1]
However, sex and food are not linked only through the food's biochemical effects, but food is also a part of a set of social practices, and has often been read through social taboos, or norms. Eating testicles may have a certain ring of taboo to it, while chocolate cake can have both celebratory and romantic connotations.
Moving back to Salvador Dalí and his famous cook book, we see that his relationship with food transverses many of the above mentioned stereotypes. Dalí himself described Les dîners de Gala as "uniquely devoted to the pleasures of taste … If you are a disciple of one of those calorie-counters who turn the joys of eating into a form of punishment, close this book at once; it is too lively, too aggressive, and far too impertinent for you."[2] The cook book was created with both the passion for food, and the passion for Gala, the artist's longtime lover.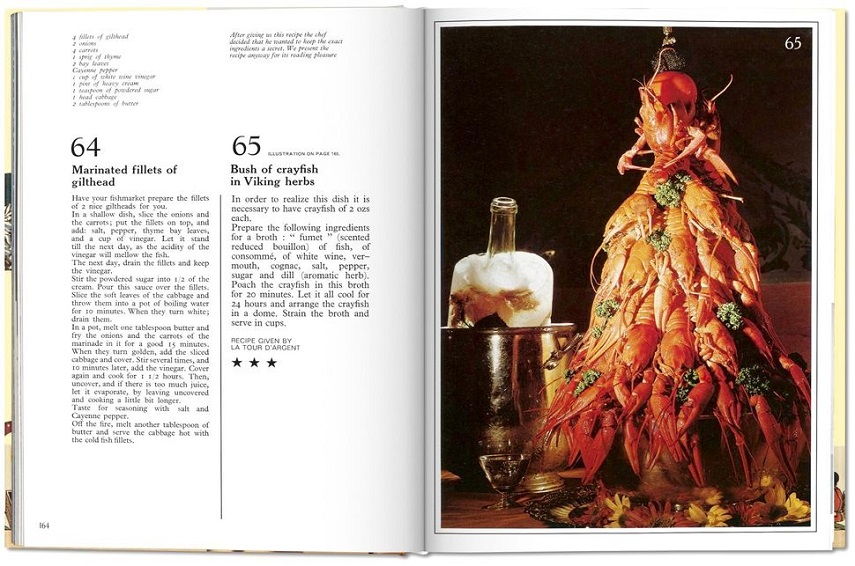 Les Dîners de Gala
The cookbook consists of 136 recipes compiled by Dalí and Gala, divided in 12 chapters. It was first published in 1973, and some critics considered it the swan song of the artistic genius. Dalí died in 1989 at the age of 85, and the cookbook was a venture into something different near the end of his career, which came as a substitute for a formal artist memoir.[3]
Instead of charting the story of his life, Dalí picked out a form of a cookbook through which he offered us a glimpse into lavish dinner parties he and Gala organized over the years, mixed with his artistic imagination. Together with the guests they used to wear costumes; sometimes monkeys would decorate the dining rooms, and aliments of the highest quality were served from often unusual tableware, such as satin slippers.[4]
Up until the recent reprint, the book was a rarity and it is assumed that only 400 original copies exist today. The chapters reflect the eccentricity of the whole piece, with titles such as Prime Lilliputian malaises for recipes with meat; aphrodisiacs were listed under I Eat GALA, while vegetable dishes can be found under Deoxyribonucleic Atavism. Alongside Dalí's illustrations the book also features photos of the artist consuming different dishes or sitting surrounded with them.
Between Pleasure and Pain – Visual and Gastronomic Erotica of the Cookbook
Joan of Arc's torso gushes blood from the wounds of amputated arms, as she is posed on a tower of crayfish. A swan with human teeth sits on a pastry, while Portuguese bread crumbs are 'sodomized'.[5] Hardly palatable scenes, but the inherent violence and oddity of such images tell us more about the attitude to food by its author. The food is never just a nourishment. It is filled with social and political meanings we are usually not aware of, or which we often overlook. For Dalí, however, food was an endless source of symbolism and a metaphor for sex, politics, pleasure and pain.
The images in the cookbook oscillate between violent and gratifying ones. The two extremes are also often mixed, as pleasure and pain seem to inform each dish through an exquisite visual expression – a shaving razor is hanging above the fried eggs in a pan; a laying naked woman showing in a form of a fish is prodded by red shrimps below her.
Erotica of the images translates into recipes as well. The thin line between pleasure and pain here is transformed into duality between repulsion and appeal, where boiled brains are mashed into avocado toast, frog pasties are fried, and thousand-year-old eggs are cooked with garlic and vinegar. However, not all is repulsive. There is also an assortment of more common recipes, such as lamb shoulder in béchamel, a champagne sorbet, or roasted lamb leg flavored with brandy and madeira.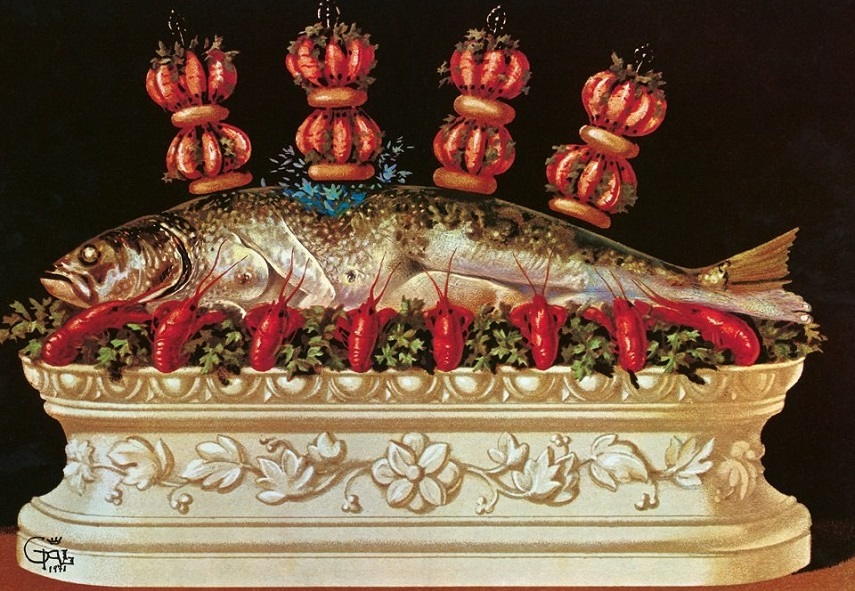 Disgust, Beauty, and the Philosophy behind It
As a child Dalí proclaimed that he wishes to be a cook, and later in his life food played a pivotal role not just in his personal but also in artistic expression. Beauty came to the artist in two forms – as Gala, and nourishments that would not give in easily to his palate. Therefore, he tried to pick up as solid forms as possible, through which this beauty could be manifested – eggs, urchins, and lobsters. As he would state: "Beauty will be edible… or will not be at all". He wanted to consume what he loved – including his wife's face or Antoni Gaudi's architecture.
Devouring beauty in search for perfect forms on conceptual level led Dalí to appreciate gastronomy and to link his aesthetic and philosophical attitudes to it. He once wrote that "it does not seem enough to devour things with our eyes…our anxiety to join actively and effectively in their existence brings us to want to eat them." On the opposite end of such musings was food that lacked solidity but also concepts he could not define in solid, enticing ways. We already mentioned spinach, which for him represented "that detestable, degrading vegetable". He only wanted to consume intelligible and clear forms and spinach was lacking both of this qualities. Liberty for him follow suit of spinach as it also escaped a definitive conceptualization.
Regardless of his attitude to food, Dalí's cookbook is a unique gastronomic and artistic work which brings together emotions and ideas that could not be found mixed in this way in any other art form. Creating pleasurable and painful visual erotica, he mixed it up with taste, producing a piece of art that is enticing and revolting on both intellectual and corporeal level at the same time.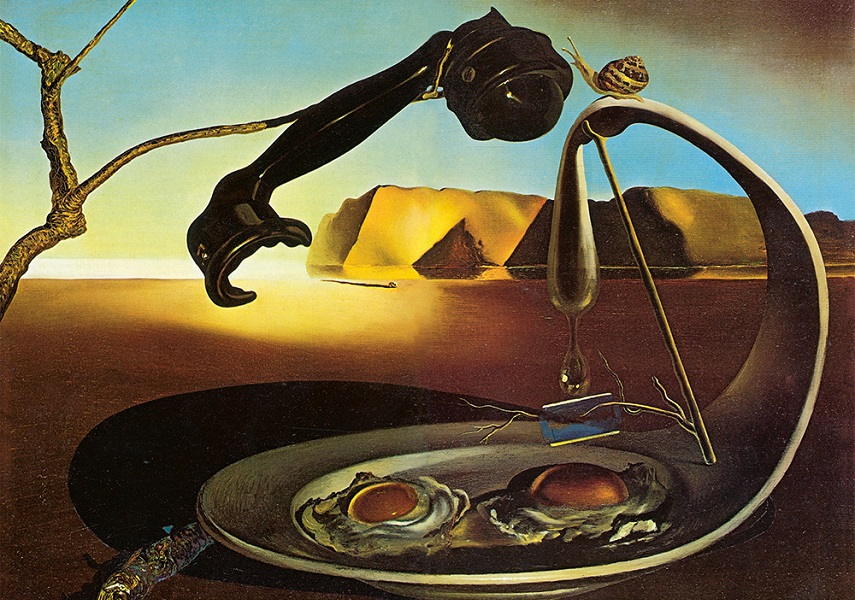 To Conclude, a Recipe from the Salvador Dalí Cookbook - Enjoy!
CASANOVA COCKTAIL
The juice of 1 orange
1 tablespoon bitters (Campari)
1 teaspoon ginger
4 tablespoons brandy
2 tablespoons old brandy (Vielle Cure)
1 pinch Cayenne pepper
This is quite appropriate when circumstances such as exhaustion, overwork or simply excess of sobriety are calling for a pick-me-up.
Here is a well-tested recipe to fit the bill. Let us stress another advantage of this particular pep-up concoction is that one doesn't have to make the sour face that usually accompanies the absorption of a remedy.
At the bottom of a glass, combine pepper and ginger. Pour the bitters on top, then brandy and "Vielle Cure." Refrigerate or even put in the freezer. Thirty minutes later, remove from the freezer and stir the juice of the orange into the chilled glass.
Drink… and wait for the effect.
It is rather speedy.[6]
Editors' Tip: Dalí: Les Dîners de Gala
Food and surrealism make perfect bedfellows: Sex and lobsters, collage and cannibalism, the meeting of a swan and a toothbrush on a pastry case. The opulent dinner parties thrown by Salvador Dalí (1904–1989) and his wife and muse, Gala (1894–1982) were the stuff of legend. Luckily for us, Dalí published a cookbook in 1973, Les diners de Gala, which reveals some of the sensual, imaginative, and exotic elements that made up their notorious gatherings.This reprint features all 136 recipes over 12 chapters, specially illustrated by Dalí, and organized by meal courses, including aphrodisiacs. The illustrations and recipes are accompanied by Dalí's extravagant musings on subjects such as dinner conversation: "The jaw is our best tool to grasp philosophical knowledge."
References:
Smillie S., (2008), Cooking with balls: the world's first testicle cookbook, theguardian.com [March 26, 2017]
Stewart J., (2016),

Salvador Dalí's Eccentric Cookbook Is Being Reissued for the First Time in Over 40 Years

, mymodernmet.com [March 26, 2017]
Rhodes M., (2016), You Can Finally Own a Copy of Salvador Dalí's Wild Cookbook, wired.com [March 26, 2017]
Ibid.
Hayman S., (2016),

Salvador  Dalí's Surrealist Cookbook is here for Your Acid-Fueled Dinner Parties

, saveur.com [March 26, 2017]
Popova M.,

Salvador Dalí's Rare, Erotic Vintage Cookbook

, brainpickings.org [March 26, 2017]
Featured image: Salvador Dali. Image via thisiscolossal.com. All images used for illustrative purposes only.