California Deserts is a land of hidden oases and canyons, towering snow-capped mountains, and sweeping panoramas that conjure tales of early California and the Old West. In the wind-swept lands near the Salton Sea, you will stumble upon a little known gem and a true sensory feast that is the Salvation Mountain. Set against the dramatic vista of this hostile desert environment, it is a colorful, unique monument that represents a small glimmer of hope, a message of love in an otherwise hopeless place, and proof that nothing is impossible if you set your mind to it.
A literal man-made mountain 28 years in the making, covered in half a million gallons of latex paint, Salvation Mountain is the life's work of Leonard Knight, a local resident with an unwavering passion and intense dedication to spread one simple message - "God is Love" - to anyone who would listen. What started as a small monument made of dirt and painted cement became, over time, a sprawling adobe and hay-bale mountain complex, with peripheral structures made of telephone poles, tires, and car windows, as well as art cars and sculptures. Painted in a patchwork of stripes and color blocks of whatever paint was donated that week, it stands as an eclectic vision in a desolate wilderness.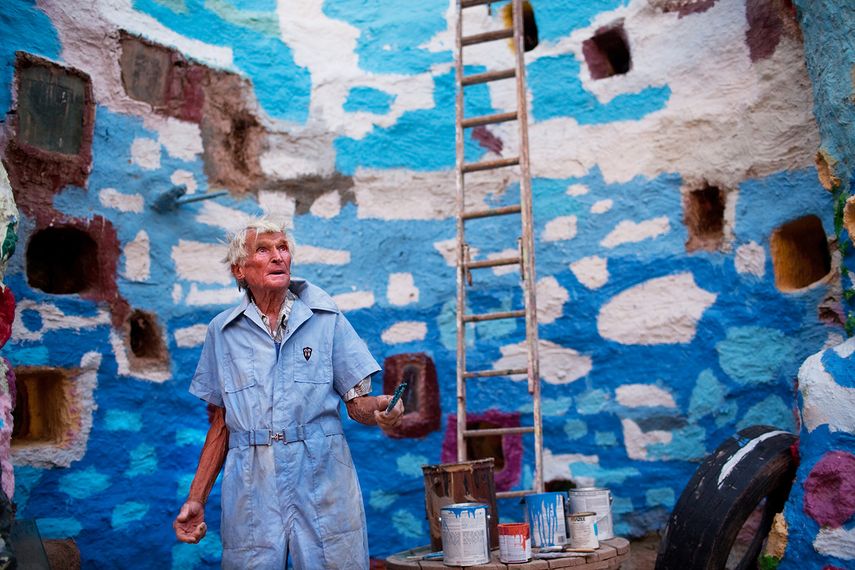 Leonard Knight - A Man On A Mission
Born in Vermont in 1931, Leonard Knight was a drifter until a religious epiphany struck in 1967 while visiting his sister in San Diego. She would always talk about the Lord and it sort of bothered Leonard who has never been a man of faith. In an attempt to escape her sermonizing, he went out of the house to sit in his van when he, all of a sudden, began repeating the Sinner Prayer from the Bible. As he recalled, this was the moment he accepted Jesus into his heart and he hasn't been the same ever since.
Returning to Vermont with a sense of love, vision and purpose, he wanted to share his unbridled enthusiasm with the world. This vision came into shape when he decided to build a hot air balloon to get people to see the Sinner's prayer and spread the love of Jesus. For years, he sewed relentlessly, buying fabric when he could, raising money by cutting cord-wood, picking apples, or whatever odd jobs he could get. After 14 years of unsuccessful attempts to get his balloon in the air, he had to admit defeat.
However, Knight was no quitter. He came up with a new idea of building an eight-foot balloon out of cement in Niland, California. He only intended to stay for a week to finish this new project, but he never left. While the cement balloon was another failure, he came to an idea that would end up being his life's work and the pinnacle of his life's purpose - to build a mountain. With no running water or electricity at the site, it took a lot of devotion and determination to make his vision a reality.
Starting with a bucket, some adobe clay and water, his monument grew taller and taller, as he packed old junk found at the dump onto its sides, filling it with sand and covering it with cement and paint. After four years of work, the mountain fell down due to the instability of its sandy surface. Thanking the Lord for showing him his mountain was not safe, he started once again, but "with more smarts". Over the next several years, he rebuilt his mountain using adobe mixed with straw to hold it all together, creating a colorful spectacle and a living prayer in a desolate wilderness.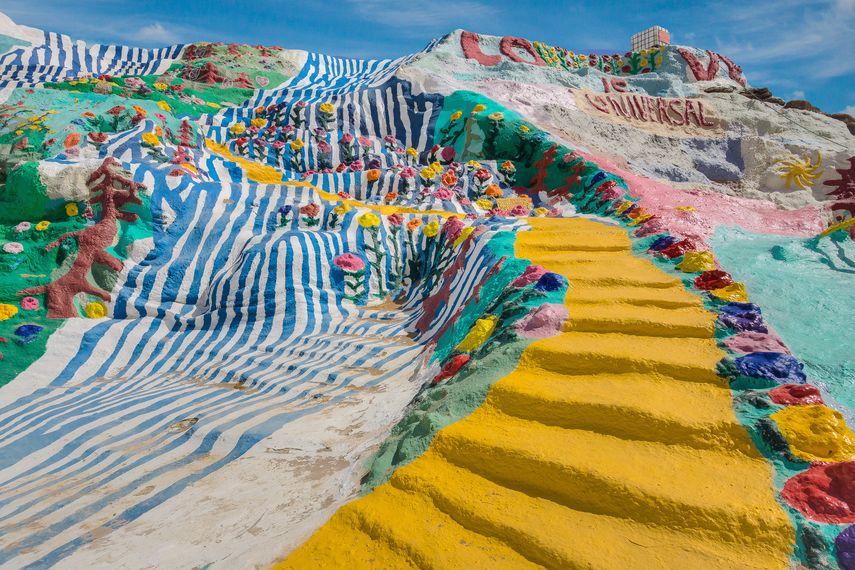 Salvation Mountain Over the Years
Located at the entrance of Slab City, known as "the last free place to live in America," near the town of Niland, California, Salvation Mountain gained much notoriety over the years. People from all over the world began coming with donations of paint, which Leonard used very liberally. He estimated that he had put well over 100,000 gallons of paint on his mountain.
On several occasions, Knight had to fight for the rights of the land where the mountain resides. In 1994, the county decided to start collecting a user fee in Slab City, where a community of "snowbirds", local squatters and a strange breed of rugged, solitary individuals occupied the old dismantled and abandoned Fort Dunlap World War II Marine training base for free. With that in mind, they declared Salvation Mountain a toxic nightmare and threatened to bulldoze it. With the help of local residents, snowbirds and members of the art community, Leonard gathered hundreds and hundreds of signatures to submit soil samples to an independent lab in San Diego for testing, which revealed it was contaminants-free. The unusual installation was declared a work of religious art and made immune to destruction.
In 1998, Leonard decided to create a hogan, a domed-shaped home of adobe and sticks used by the native Navajo with an idea to make it his home. He stacked the bales of straw up to form a 10-foot high domed room and covered the whole thing with adobe and painted and adorned it in his typical style. He never, however, moved into it, still preferring to live in his truck. Continuing to add to the mountain over the years, he created the museum as well. Modeled after his original semi-inflated hot-air balloon, it is comprised of several large domed areas supported by beams that Leonard built from old tires, wood scavenged from the surrounding desert, and adobe. Visitors to the mountain brought him other supplies like car windows that he build into the museum to let the light in. The elaborate structure contains many pictures and artifacts from the beginnings of the mountain and small gifts given by friends and visitors.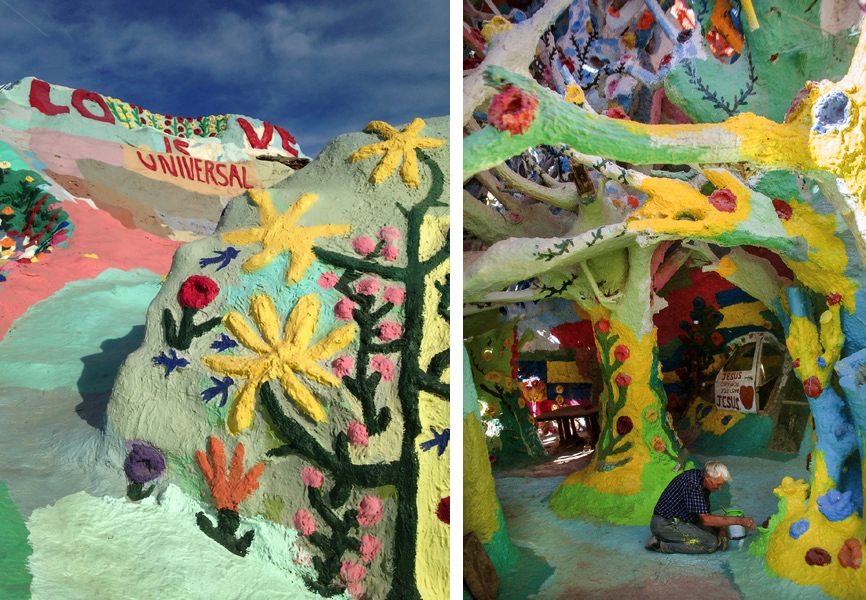 A Colorful Spectacle in the Desert of California
Salvation Mountain is the labor of love and an artistic testimony to one man's faith. With a simple mission to share his religious fervor with the world, Leonard spelled it out in paint on his mountain. The result is a five-story high, 150-foot-wide ingenious labyrinth of crannies and caves, complete with Technicolor biblical messages decorating the walls and accompanied by an exuberantly painted folk-art jumble of flowers, trees, waterfalls, suns, bluebirds, and many other fascinating and colorful objects. Even the surrounding vehicles were absorbed by his creation. Visitors can take a vibrant yellow brick road to get to the top of the mountain for the most epic views of the desert badlands. Bright and vibrant, this living piece of art is a true spectacle. It's also a national treasure in a county that doesn't have a whole lot in the way of positive tourism.
Salvation Mountain was Leonard's passion which consumed him until his death in 2014. Leonard may be gone, but his powerful message of love still lives on. People from all around continue to make a pilgrimage to the site. Since the mountain requires almost daily maintenance, a nonprofit group called Salvation Mountain Inc. has taken over the task of preserving the mountain for future generations to enjoy.
 Editors' Tip: Middle of Nowhere: Religion, Art, and Pop Culture at Salvation Mountain
Pilgrims travel thousands of miles to visit Salvation Mountain, a unique religious structure in the Southern California desert. Built by Leonard Knight (1931-2014), variously described as a modern-day prophet and an outsider artist, Salvation Mountain offers a message of divine love for humanity. In Middle of Nowhere Sara M. Patterson argues that Knight was a spiritual descendant of the early Christian desert ascetics who escaped to the desert in order to experience God more fully. Like his early Christian predecessors, Knight received visitors from all over the world who were seeking his wisdom. In Knight's wisdom, they found a critique of capitalism, a challenge to religious divisions, and a celebration of the common person. Recounting the pilgrims' stories, Middle of Nowhere examines how Knight and the pilgrims constructed a sacred space, one that is now crumbling since the death of its creator. Be sure to visit it while you can.
The Story of Salvation Mountain
 Featured images: Salvation Mountain, Niland, CA. Image via Creative Commons.