Japan is a country with rich history. Often marginalized in the global context, Japanese history has produced amazing tradition and culture that serve as inspiration for a number of great contemporary artists (if you like Japanese art, be sure to check out our article about 10 young contemporary artists from Japan). There are numerous important events that marked the Japanese history, but two of them were crucial – they were transformative moments in modern history of Japan. These events are: the arrival of Commodore Matthew C. Perry's naval fleet in Edo (Tokyo) Bay in 1853 and Japan's victory in the war with Imperial Russia in 1905. Drawing inspiration from these important historical events, amazing American artist Sam Durant created great pieces of art that will be exhibited at Blum & Poe in Tokyo. Sam Durant exhibition is entitled Borrowed Scenery.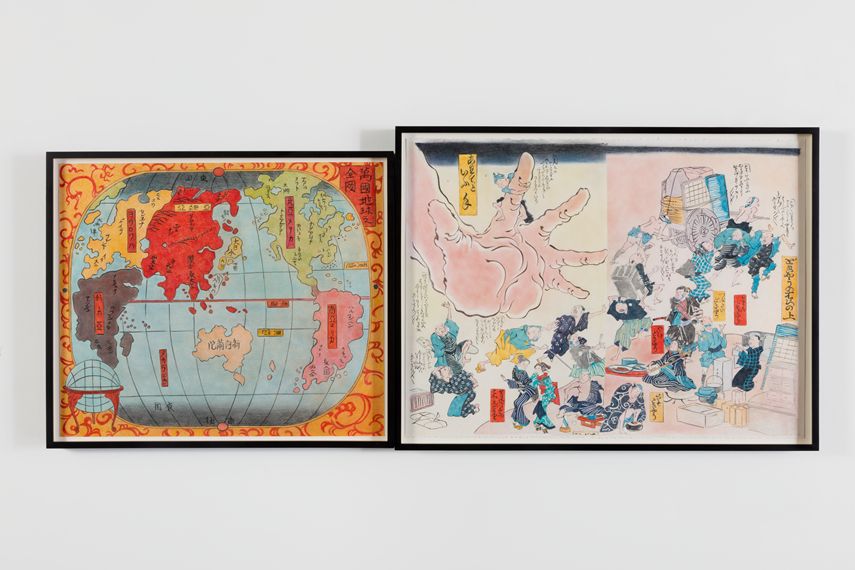 Examining Social, Political and Historical Issues
Sam Durant is Los Angeles-based artist who examines social, historical, and political issues through sculpture, installation, photography, and drawing. He was born in Seattle in 1961, and has exhibited widely across the US and internationally. The works in this exhibition derive from two transformative moments in modern Japanese history that we mentioned above. A suite of drawings and prints refers to the infamous encounter in which Commodore Perry forced Japan into negotiating a trade agreement with the United States by threatening a military attack. Perry was accompanied by William Heine, an artist who documented the encounter. Durant uses Heine's work to symbolize the role of the artist in the political realm, the role of culture and identity in forming meaning, and his own position as an American artist making work for a Japanese audience (conceptual art movement is particularly interested in how identity forms the meaning). Durant pairs the image that Heine produced with Japanese depictions of the same scenes, thus comparing American and Japanese perception of the same event – three scroll prints were created on this basis. Two sets of drawings, Americans and Borrowed Scenery, also mimic the scroll format but are less narrative.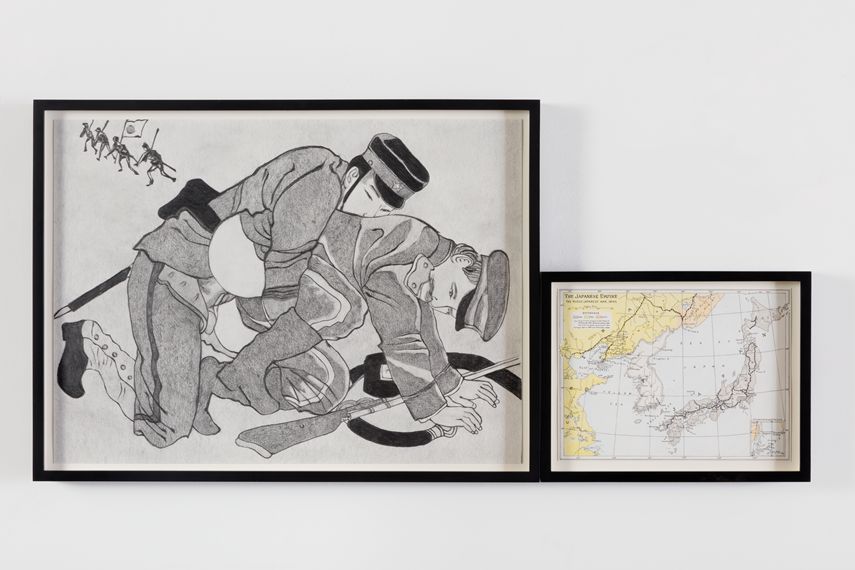 Borrowed Scenery
1850–1900, Map of the World, America and Russia portrays both American and Russian soldiers along with a map of Japan surrounded by foreign ships. It depicts a Japanese awareness of being an island nation at the crossroads of history and modernity. The diptych, 1853–1900, Map of the World, Japan Centered, pairs a Japan-centered world map with a metaphorical image of an enormous hand reaching into Japanese life and people's reactions to this intervention, ranging from jubilance to repulsion and indifference. 1905, Japan Defeats Russia, Empire, refers to the first defeat of an imperial power by an Asian country since the beginning of European colonial domination. The event can be linked to the independence struggles that have been fought around the globe during the 20th century and continue into the present.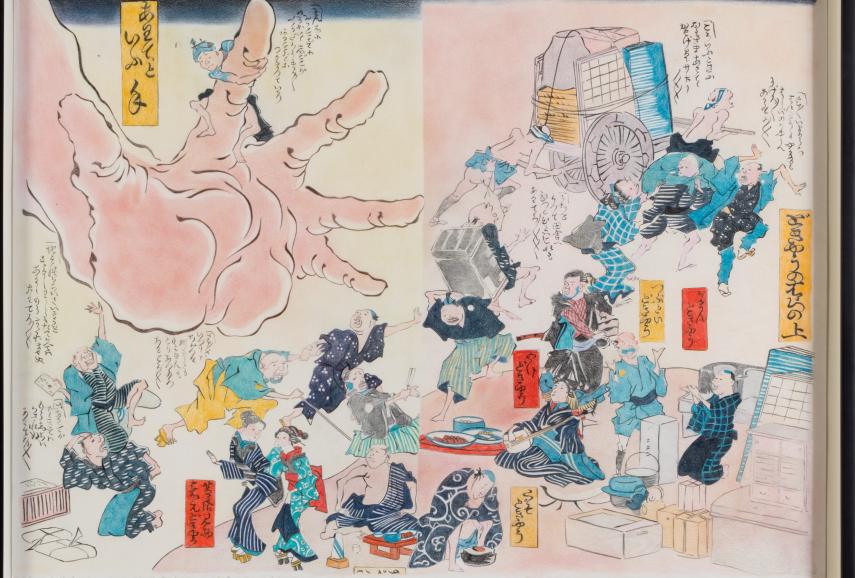 Sam Durant Exhibition at Blum & Poe Tokyo
The Borrowed Scenery will be Sam Durant's tenth solo exhibition with the gallery. The exhibition will certainly attract a lot of art lovers and art enthusiast. But, it will also be interesting for those who enjoy history, geography, political history. Durant perfectly examines all the complexities of opposing narratives that operate around important events in the modern Japanese history. So, don't miss this show. The Borrowed Scenery exhibition will be on view from November 28, 2015 until January 16, 2016 at Blum & Poe Tokyo. The opening reception is scheduled for November 28, 6-8pm.
For more great exhibitions, sign up for My Widewalls! It's free of charge!
Featured Image: Sam Durant - 1905, Japan Defeats Russia, Empire, detail, 2015.Graphite and colored pencil on paper. Images courtesy of Blum & Poe.