Western societies have become surroundings of pessimistic existential situations. There are instances when one looks around and sees only the negative aspects of human demeanor toward nature, toward others or, simply, towards beauty. This darkness is a powerful, but seductive, force of inspiration for artists. And that is fine. But, today, we have a story of a man who has decided to focus on the light in all that darkness… Sam Flores' work will be featured at FIFTY24SF.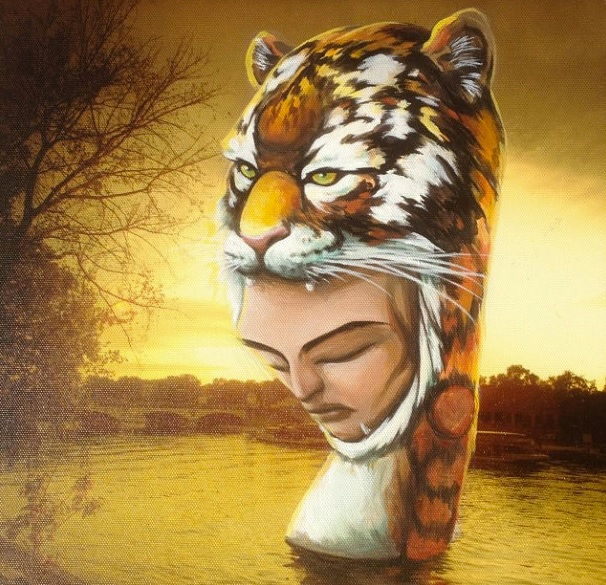 This is Sam Flores…
Sam Flores is an urban and street artist originating from Albuquerque and currently living and working in the Bay Area (be sure to check out the exciting cultural spaces of the Bay Area and more in 10 Urban Art Galleries in California). He is the owner of a brand Twelve Grain for Upper Playground. It is quite interesting to explore the various sources of inspiration and influences on the work of Sam Flores – his aesthetics is an extraordinary articulation of Japanese Edo period landscapes, pop surrealist environments and, most recently, Mexican pulp comic art as well as classical portraiture. Flores is a self-thought artist who has built a successful career and a devoted base of followers over the years. With the heritage of graffiti and street art still visible in his fine art expression, Flores' visual language conveys a unique spirit within the art scene. It addresses characters and genres such as natural beauty, melancholy, the feminine form and innocence…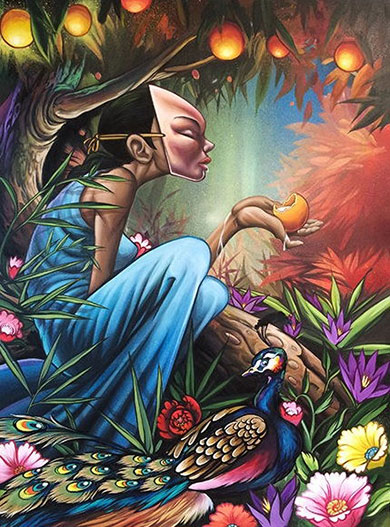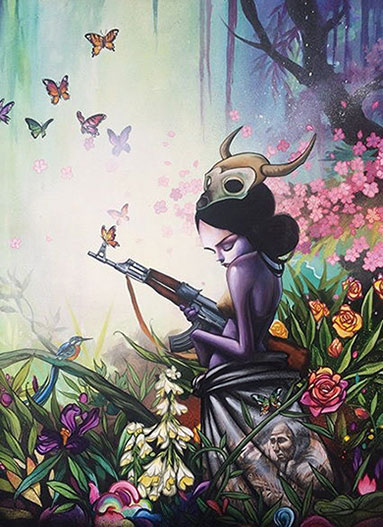 FIFTY24SF Doesn't Stop
There has been so much amazing stuff going on at FIFTY24SF in the recent period. During spring, we were able to see an amazing show by Nychos, the street explorer of anatomy (read more in Street Anatomy). When the tropical month of August arrived, we were able to see a glimpse into Nordic mythology (read more in The Wolfbat's Back in San Francisco). And finally, as the fall came, we had a chance to admire a calligraphic spectacle (find out more in Usugrow's Inkflow). These have been only some of the interesting activities in Fillmore Street. In December, the festival of inspiring art continues with Sam Flores…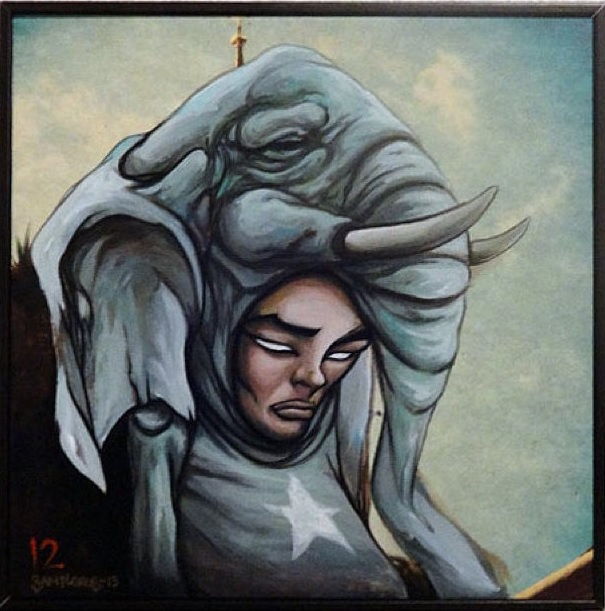 A Light In The Darkness
As asserted by the artist himself, A Light In The Darkness is an exploration of balance. A journey set between the notions of light, dark, good and evil. "No matter how dark things get, the most important thing, is to be able to hold on the vision of that light, in order to keep hope and faith alive." says Flores about the exhibition. In a certain way, the show articulates a clearly personal viewpoint with an universal subject matter, becoming more and more relevant in the postmodern societies. A Light In The Darkness opens on December 6th 2014, at FIFTY24SF.
Explore the significant subject matter and themes with your favorite artists – create a FREE profile via My Widewalls!