Known for her remarkably detailed drawings that merge shared cultural experience with personal narrative, Samah Shihadi details the complex and often challenging reality of a female, Arab artist residing in Haifa, Israel. The selection of 22 works, predominantly charcoal on paper, span from 2012 until 2019 and are rooted in the rich tapestry of the artist's life, interwoven with themes of gender, personal and cultural identity, displacement and memory.
Spellbound draws together self-portraits as well as portraits of prominent female figures in Shihadi's life and the rural and urban landscapes that have come to define the artist's existence. Yet, despite the undeniable socio-political backdrop, Shihadi's works are united by an overarching theme of the mysticism, reflected in the exhibition's title.
"I identified something very interesting in her work," says Spellbound's curator, Emanuela Calo. "Beyond the obvious discourse, which has been already been done and still remains the basis of everything, I realised that there was an undercurrent of mysticism within her works. 'Spellbound' encapsulates magical thinking and notions of the surreal. Shihadi's works are embedded with the beliefs and traditions from all kinds of religions from Islam to Christianity, and Judaism as well as the longstanding rituals that spawn from this place."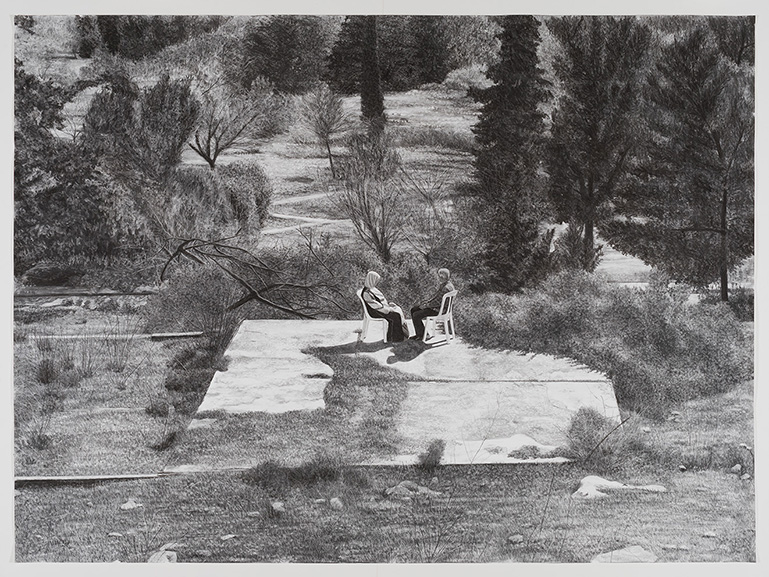 Spellbound
Playing with different iterations of gender, Samah Shihadi imagines female figures as priestesses or sorceresses, connecting womanhood with myth and mutability yet she dwells upon mortality and destruction.
Life-size self-portrait, Between Life and Death (charcoal on paper, 2019), for example, depicts Shihadi's enchanted figure draped in white cloth, which according to the artist is the same material used to cover the dead, or to sew bridal dresses. Here, she could be read as a mythological goddess or priestess, at once symbolising death and purity, new life and the future. The skull she holds before her womb recalls the works of an artist Shihadi admires, Georgia O'Keeffe. In her 1931 painting Cow Skull: Red, White and Blue, O'Keeffe used the skull to embody America's identity, as she perceived it when staying in New Mexico while Shihadi views the cow skull as a symbol of victims and sacrifice, especially related to women. "It's the shape of the uterus, but it's not alive," the artist explains.
At once wonderfully beautiful and unsettling, Shihadi's work sidesteps the coldness typically associated with the field of figurative realism, there's the sense of the surreal, a form of escapism and liberation through imagination. Another selected work, Mother and Daughter (charcoal on paper, 2019), sees the mulberry tree imbued with a sense of magic and nomadism. The tree has grown to magnificent proportions yet it has been planted in a barrel which suggests the possibility of moving it to another place. Shihadi's grandmother planted the tree in the place where her house once stood and, according to the artist, her spirit remains there. Since the death of her grandmother, Shihadi says that the tree has become a place where the family gathers to unite with her memory, pray, eat its fruit and absorb the powers of the soil and the tree. The tree thus became a magical-natural object of belief in perpetuity and of transmitting messages to other worlds.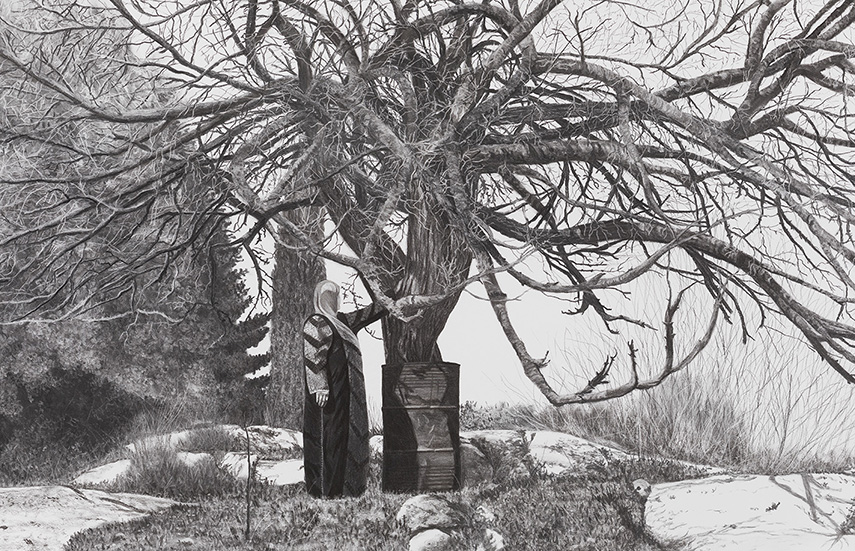 Samah Shihadi at Tel Aviv Museum of Art
It's apparent that Shihadi draws influence from the impactful female figures of the art world from Shirin Neshat to Frida Kahlo and the aforementioned Georgia O'Keeffe. Women who have equally been challenged by their social circumstances and have turned to art to contest the myth of womanhood.
"​For me it's not only about showcasing my work but also opening up dialogues, presenting new perspectives and sparking new ways of thinking," says Shihadi. "Palestinian traditions, narratives and stories are the foundations of my work and this exhibition offers a privileged chance to stimulate greater social understanding through my art."
Spellbound will be on display until October 21 at Tel Aviv Museum of Art and has been curated under the Haim Shiff prize, an annual award which Samah received in 2018. The award, established in 2008, includes both a monetary prize and a solo exhibition at the museum and aims to support artists in the field of figurative realism.
Written by Laura Cherrie Beaney.
Featured images: ; Shade of the Past; Untitled; Landscape. All images courtesy the author.