Located in the sunny capital of New Mexico, Santa Fe art fair is one of the finest and most popular shows in America and worldwide. From July 7th till July 10th, 2016 the fair will organize its 16th edition marked with numerous novelties and new interactive programs for participants and visiting audience. The upcoming Art Santa Fe 2016  will encompass over 50 participants from various parts of the globe including Russia, Uruguay, Japan, and of course the United States. The fair that's as popular among collectors as it is among visitors not only contributes to the second largest market in the United States, but it was also voted fourth in the Best Art Festival category by USA Today readers. Last year, the fair was acquired by Redwood Media Group, a company which produces several famous shows such as Spectrum Miami and Artexpo New York, which raised many questions about the changes that new owners may bring to the fair. Santa Fe art fair director Eric Smith was kind enough to answer our questions and reveal future plans for one of the world's finest fairs. Read all about the acquisition and new programs in an exclusive interview bellow.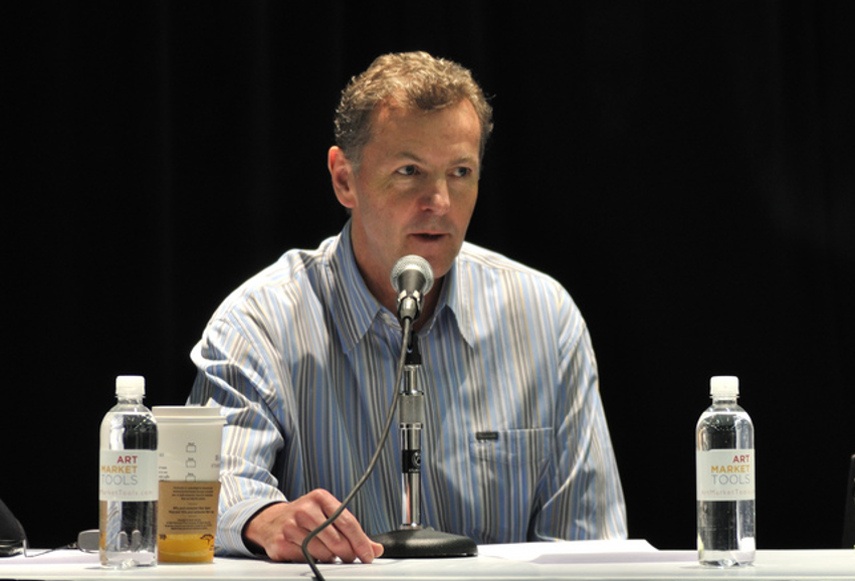 Redwood Media Group - New Owners of Santa Fe's Favorite Fair
WideWalls: Redwood Media Group acquired Santa Fe fair in January 2016. Why was this event selected to join your growing family and what changes should we expect at this year's edition?
Eric Smith : When my dear friend Charlotte Jackson decided that she had taken Art Santa Fe as far as she could and needed a larger entity to take the reins, I jumped at the chance to welcome Art Santa Fe into Redwood Media Group's circle of art shows. While the show under our leadership will honor audience favorites, we've also added new programming to excite the crowds, such as interactive Art Labs, inspiring Art Talks and Meet the Artist events, and the Spotlight Artist Program. With Redwood Media Group's vast expertise in producing fine art shows, we are confident the Santa Fe art community will really enjoy what we are planning for this year and years to come.
WW: Redwood Media Group now operates six shows in different cities in America. What are the similarities between these fairs and what are the singularities that make Santa Fe's event unique?
ES: At Redwood Media Group, we're passionate about helping artists, gallery owners, publishers, and framers to succeed. In today's changing marketplace, it takes a combination of talent, drive, networking, and marketing to thrive. That's where we come in. Bringing artists and industry professionals together is what we do best! We offer the exposure and help our exhibitors want and need to grow their business through the fine art exhibitions we produce. Art shows serve an important purpose in the art market by bringing the art buyers and sellers together in one place for a concentrated period of time. All of our shows are similar in that regard. Santa Fe is a unique market and an internationally recognized art and culture destination. We believe that these aspects together will continue to make Art Santa Fe a successful, highly regarded and anticipated show.
Santa Fe Fair Official Video
Art Santa Fe 2016 Edition
WW: The curatorial theme of the 2016 event is "HORIZON". Why did you choose the horizon as the main topic for this year's edition?
ES: Each year, we select a curatorial theme for our shows to inform and construct the programming and events, as well as highlight the works the exhibitors will be showcasing. The Art Santa Fe curatorial theme for 2016 is [HORIZON]: Discover the dawning of a new innovation, a world of international artistry and originality stretching as far as the eye can see. This year, [HORIZON] will influence the show's array of special programming—including Art Labs, Art Talks, Meet the Artist events, and the Spotlight Artist Programs—all informed by the curatorial theme.
WW: The fair hosts several artist-centric programs including the Spotlight Artist Program and LaunchPad Program. What are the goals of these two programs and is the artist-centric approach the best starting point for organizing a fair ?
ES: We have always believed that by supporting independent artists, whether established or emerging, it is important to give them the opportunity to showcase their work on an international stage in our shows. Over the decades, Redwood has become known for providing the venue for independent artists to be discovered—not only by gallery owners and art publishers—but by collectors and enthusiasts in search of exciting new works. The Spotlight Artist Program provides collectors a focused look at several cutting-edge artists who will each be creating a site-specific solo exhibition. The LaunchPad program highlights one emerging, unrepresented artist who has been selected to create a site-specific exhibition at the show.
WW: Numerous galleries apply every year, but very few are selected to participate? How do you make a selection from such a great number of applicants and what are the criteria that they have to fulfill in order to be featured at Santa Fe fair?
ES: To be considered for participation in Art Santa Fe, you must have previous experience working with galleries and trade buyers. All exhibiting companies and artists are required to submit a portfolio or website for review. Our Exhibitor Committee consists of four art industry professionals with outstanding reputations in publishing and artist development. A wide array of media is on display at Art Santa Fe, including paintings, photography, sculpture, glassworks, and more. We do not accept jewelry, tapestries, or any sort of arts and craft works. Art Santa Fe 2016 will feature over 50 exhibiting artists and galleries from the southwest region, the U.S., and the whole world. Some of our international exhibitors this year hail from Russia, Uruguay, the Netherlands, Japan, and Colombia.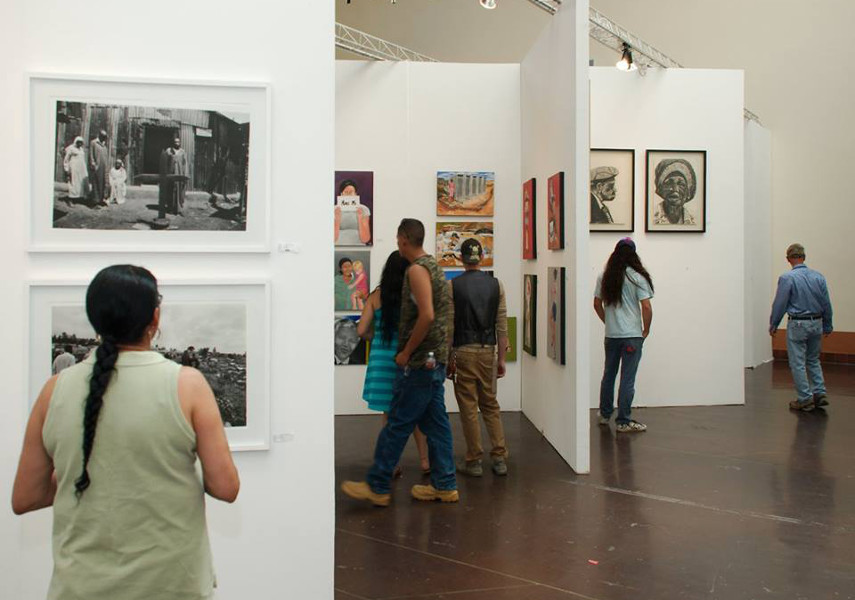 Santa Fe Trifecta : An exciting and Versatile Series of Events
WW: Santa Fe fair is the first of three shows that form Santa Fe Art Trifecta. What are the challenges and what are the benefits of being a part of such a vast network of organizations?
ES: The three major arts organizations that present the Santa Fe Art Trifecta came together four years ago to jointly present the summer's most diverse and exciting art event. The Trifecta is an extraordinary alliance between three highly original arts organizations: Art Santa Fe, a Spectrum contemporary art show; the International Folk Art Market | Santa Fe, an annual event by International Folk Art Alliance; and SITE Santa Fe, a contemporary art center designed for the production and presentation of artistic and curatorial innovation. We work together throughout the year to create and execute the collective marketing and media plan. It's a collaboration that works. As the show that begins the Santa Fe Art Trifecta, Art Santa Fe enjoys the timing, strength, and attraction that the three shows generate during the ten days of the Trifecta.
WW: Santa Fe is the second largest market for fine artworks in the United States and the home of over 240 galleries. Is it hard to meet the expectations of residents who live in the city with such extensive and deeply rooted cultural tradition?
ES: Art Santa Fe was recently named the #4 Best Art Festival by USA Today readers and attracts a wide audience from all over the country in addition to the local residents who enjoy the show. And in fact, it is the residents that reach out to Art Santa Fe year after year for our Volunteer Program. We'll have over 100 volunteers with us throughout the show, assisting in the oversight and production of the show. And, of course, we gain valuable insights from the locals who volunteer. We have also learned from the volunteer and other local residents that the excitement for Art Santa Fe 2016 is building and they are looking forward to the impact of Redwood's ownership of the show.
WW: As an experienced art fair organizer, you are familiar with the popular trends of today. Could you give us a brief overview of the American art market? What sells at the American fairs today and how do you see the future of the market and the future of Santa Fe fair as its integral part?
ES: At our shows, art of all types is sold: contemporary, modern, landscapes, figurative, plus a diverse range of sculpture and high-end glass. I see shows playing a more important role in the art business as a whole. Many galleries report that they are producing 40-50% of their annual revenue at art shows. Our goal is to make Art Santa Fe a summer destination over the next three years. There aren't a lot of high-quality art shows held during the summer—our goal is to attract more and more visitors to Santa Fe in July.
Featured image : Santa Fe fair 2014, Images via Art Santa Fe Facebook page unless otherwise credited