Through photographs created in a raw storytelling style, the artist Sarah BahBah openly explores the internal voices of young contemporary females. A Palestinian artist who grew up in Australia, Sarah has taken Instagram by storm, taking her followers on a whirlwind of quasi-narrative series-based shoots, all exploring emotional freedom and the power of embracing indulgence. Emotionally introspective and honest, her work carves the way for women from all around the world to embrace themselves and their emotions.
The artist's work was recently on view at Lawrence Alkin Gallery in Mayfair, London in her first UK solo exhibition. The 2018 exhibition titled SPLASH featured a selection of her viral cinematic photographs, illustrating themes of sex, love, romance, heartbreak and coming of age. In these works, Sarah explores the universal but rarely captured experience of oversaturated, intense feelings and imperfect relationships. Her characters express a wide range of emotions lived by contemporary youth.
We had a chat with Sarah BahBah to find out more about this show and her work in general. In an exclusive Widewalls interview, the artist talks about her latest body of work, about acknowledging and sharing private life moments, her working process, childhood trauma, the empowerment of women, contemporary art in the Instagram era, and much more.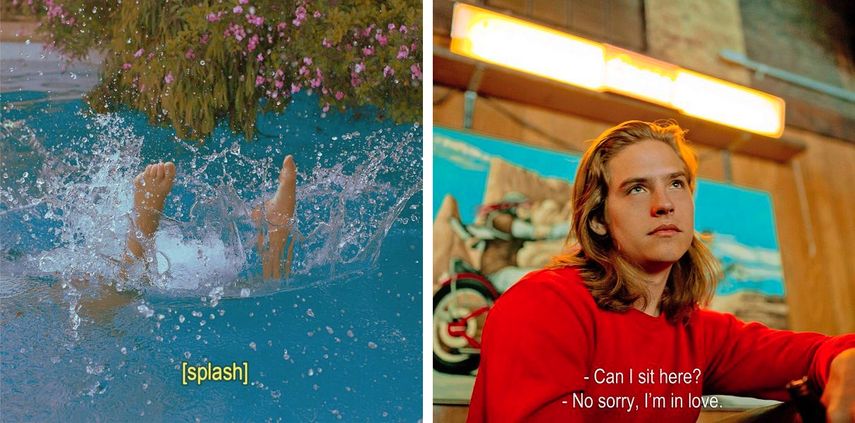 The Exhibition at Lawrence Alkin Gallery
Widewalls: Your work had its debut in London with an exhibition at Lawrence Alkin Gallery titled SPLASH. Could you tell us more about this body of work?
Sarah BahBah: My art comes from a very personal and precious space. Although the explicit narrative within my art changes, I maintain a few central themes. I focus heavily on honest expression, told from the innermost thoughts of my protagonist.
My work projects a reality where experiences are navigated by a transparency of true emotions and desires. The world that I create in my art is made up of indulgences, intimacy, and cleansing from shame and trauma.
My work reads as empowering because of how little these themes are discussed publicly. Because these themes are continuously present in my art, they have become distinctive to my practice.
Widewalls: The art you make explores the intimate psyche of millennial women and tackles themes of sex, romance, heartbreak and coming of age. Why do you think it is important to acknowledge and share these private moments within the human experience?
SB: It is important to represent the intimate moments because that's what makes us human. Because these moments are formative and normal, but females and femmes are taught to be shameful of their indulgences and experiences. Society acts as if we do not have our own narratives. That we exist as secondary characters in this world for the male gaze.
Females and femmes know innately such heights of joy and pleasure, and such lows of pain and sorrow, and it's about time that the experiences that make us are acknowledged and respected.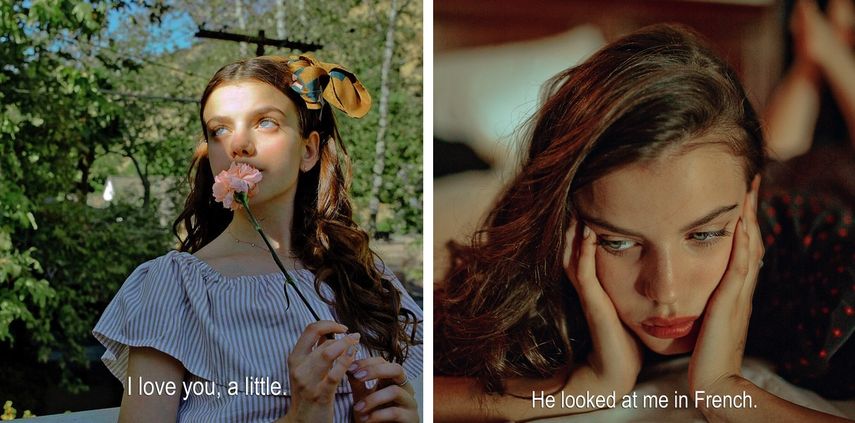 The Working Process
Widewalls: Accompanied by dialogues, your cinematic photographs create a raw visual narrative. Could you tell us something about your working process?
SB: Everything I create is something that I have felt before. A lot of my process is spent internally reflecting - connecting my emotions with this reality and potential realities. Colour is also a very big thing for me.
As I am a very visual and spiritual person, it catches my attention in the most primally connected way. By working with and accentuating the colours already on set, I strengthen the relationship between the art and myself.
Widewalls: Your recent series "I Could Not Protect Her" deals with your trauma of surviving sexual abuse as a child. How challenging was it to expose yourself in this way?
SB: A lot of my life energy has gone into suppressing my memories of childhood sexual abuse, but it was not very healthy for me to pretend like the trauma never happened. It seeped into my life in insidious ways, until I was a shadow of a person. Vocalising my history was not easy, but the destructive life I had been living was not sustainable either.
I knew for some time that I had to release this energy, but I took my time getting there. I wanted to make sure that I was consciously working through my grief. My intentions for honesty and my relationship with my art really helped my decision to go public.
The toughest part was, and still is, how to maintain accountability and support from my family, who I still really love.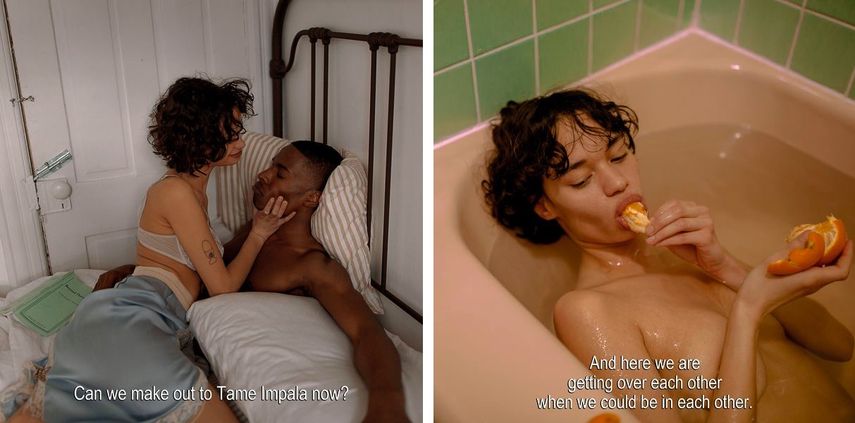 Empowering Women to Embrace Themselves and the Power of Instagram
Widewalls: How do you think your work contributes to the empowerment of women regarding the relationship with themselves and their sexuality? 
SB: I think my honesty and attempts at expressing my innermost desires brings comfort to other women, because we have all had these experiences and these impulses before,  but we have been taught to ignore them. It is powerful to represent women showing pride in their vulnerabilities and sexuality, especially when women are usually represented as overpowering or weak.
I really focus on creating a world free of shame and guilt, and in doing so, giving women the confidence to do the same. By portraying the beauty in exploring our desires my work advocates for women to nourish themselves by acting upon their indulgences.
Widewalls: Your Instagram account has earned an impressive following, becoming one of the most shared accounts on the platform. How do you see the role of social media in the world of contemporary art?
SB: I think it has really shaken up the world of contemporary art. People are really taking advantage of the ease to create and curate on social media.
Social media has made it easier for the public to view and appreciate art, but it has also helped artists grab the attention of museums, galleries and art buyers. The world of likes and shares has become a sort of currency in the art world, really changing how we "network" and what opportunities are afforded to which artists.
Although popular art on social media may still be viewed as a trend, it should be acknowledged as an important resource for the contemporary art world.
Featured image: Sarah BahBah - From the series "I Could Not Protect Her" (detail). All images courtesy of the artist.