The students and collectors of Sax Berlin have dubbed him The Master. And that he is. Born in Manchester in 1953, the artist set out on an artistic journey as early as at the age of eighteen. This journey took him all around the world, starting in Greece, and then on to Morocco, India, Nepal, Pakistan, Afghanistan, Iran, Turkey, and beyond. In 1978, he emigrated to New York, where he has been sketching on the street and in elevators for eight years as a contemporary of Haring, Warhol and Basquiat.
During his travels, Sax Berlin absorbed the culture, art and architecture of these different parts of the world, establishing a recognizable visual language in his painting and showing impressive talent and artistic prowess. As a self-taught artist inspired by antique and modern painting techniques, he was bold enough to change his style a multitude of times, creating an eclectic body of work that reflects his unique talent. This earned him a comparison to Picasso, whom he describes as his spiritual father who teaches him in his dreams.
Since 2012, Berlin has been working from his studio in Cornwall or his caravan retreat. He continued to travel and learn, studying the methodology of Buddhist art in Nepal and 10th Century Spanish frescos in Spain. Recently, the artist has been shifting his interest towards an exploration of Neo-Expressionism, describing it as his "Sharp Edge 21st Century New York Style." In these recent oil works, the influence of his 1980s experiences in New York is evident, making a full circle by reinventing his original style. Painting tirelessly for decades, Sax Berlin has cultivated a unique eclectic contemporary voice represented in an extensive body of works and various techniques that continues to captivate collectors worldwide.
We talked to this multitalented artist about his beginnings, his diverse body of work created across several stylistic phases, his working process, his shift to Neo-Expressionism and much more.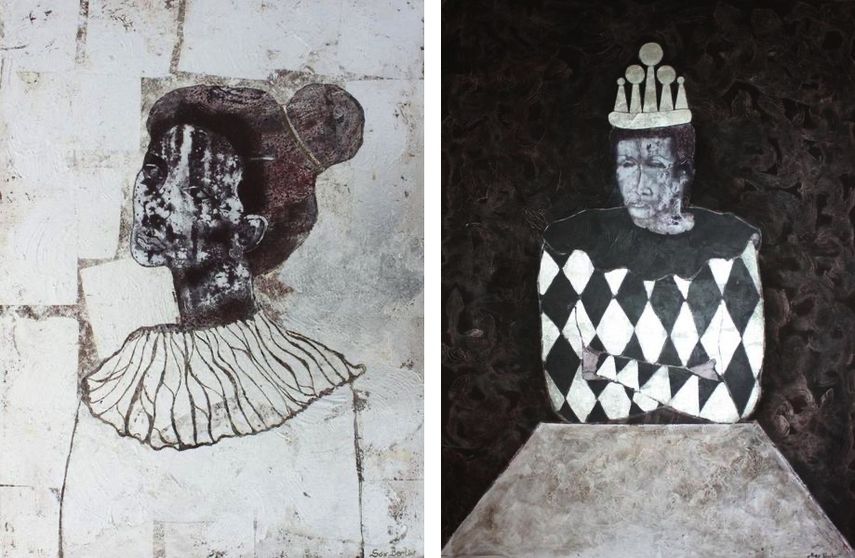 A Range of Cultural Influences
Widewalls: You have devoted your life to absorbing art and culture of different cultures, traveling extensively throughout Europe, Asia and North America. How have these experiences influenced and shaped your work?
Sax Berlin: My karma to become the most diverse painter alive, with a prodigious creative output in several wings of study is dependent on my field studies from NYC to Kathmandu in my formative years and the assimilation of the arts of these cultures. We are the artists of the future who are transcultural and citizens of the world. We are the artists of the future who will bring Peace through fellowship.
Widewalls: While living in Manhattan in the 1980s, you have been sketching extensively on the streets of New York. What was the street art scene like back then?
SB: In Manhattan in the summer of 1980 Haring was chalkin' the Subway, Basquiat was getting his plan together and Sax Berlin had just moved to the Upper East Side.
The first time l noticed Basquiat he was selling hand painted T-Shirts to Rastas in Washington Square Park in 1979. I tried to befriend him but he was suspicious that first time of the white boy with the English accent. I was fresh from Cornwall...a creative just arrived to be influenced by the cultural hotbed of the City. Following John Lennon.
Haring was reaching the denizens anonymously with his blank space pieces and Sax Berlin was answering underground with the Manhattan collection. Basquiat was the worst painter ever and he knew it but would use it to his advantage and had the charisma to pull it off and the drive to communicate. The punk era emulated the skilless and he was the Jonny Rotten of Art. A singer that couldn't sing, a painter who couldn't paint. He was the King of No Kings.
Seeing Haring's work in the subway inspired me to become part of it. Before then l was a traditionalist. A few years later l met him when l was sketching on the corner of St Marks and 3rd avenue and went in his house close by which had drawings up the walls and around the door jams. We recognised each other as peers
In 1980 the New York City style was already evolved by anonymous creatives on the subway trains and each artist adopted and adapted it to their needs. In retrospect Basquiat gets the credit for an entire generation of exploratives.
But on the street itself there was very little art besides the tags and cushion script. Downtown there was The Shadow who created life size Shadows with a large brush drip fashion and there was the Saint who created life size stick figures of the Saint in doorways.
As Basquiat and Haring began to receive acclaim Sax Berlin remained true to the street preferring to extend his anonymity and create in his basement apartment in Astoria undisturbed. While he continued his eight year research Project Street Level as a bike messenger.
By 1988 Basquiat needed to dry out and Sax Berlin took a break from the City taking his work to England where he was acclaimed the most advance artist in Britain. But immediately contracted a virus in his eye and had to lay low for years and never returned to NYC with his Manhattan collection. A few months later Basquiat who was to become the plaything of Warhol had died of over exploitation and Haring was to die soon after. Sax Berlin never re-emerged......... until now.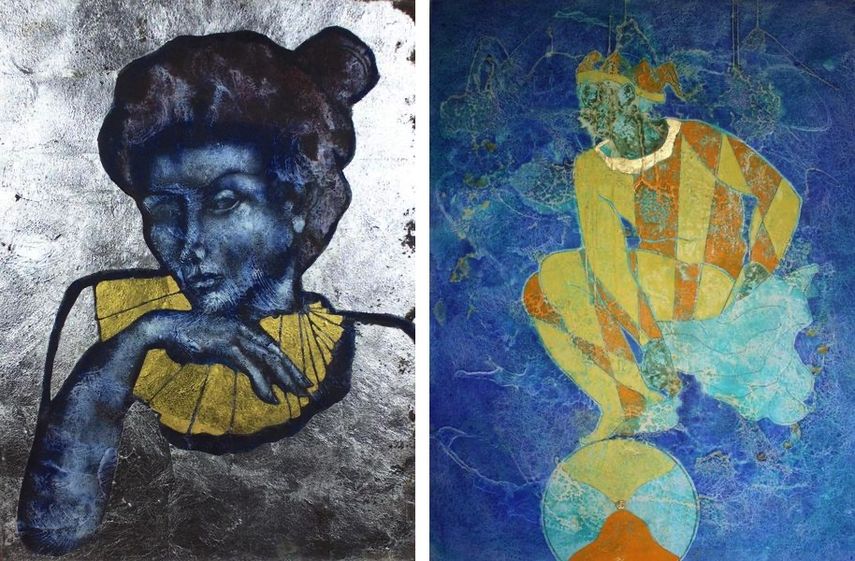 A Multifaceted Body of Work
Widewalls: Your body of work is eclectic and it can be divided into eight distinct stylistic phases. Could you tell us something about these stylistic transformations and what inspired them?
SB: My body of work to date can be divided into nine distinct collections.These collections have come together over a 39 year period. Each collection is still 'live' and l dip in however lm inspired. I can be working on up to six styles concurrently. Each collection has a history of study, research, invention and innovation too involved to mention here.... but concisely.
1.Project Street Level. Eight years working on the streets of Manhattan as a bike messenger living in the fast lane creates the Manhattan collection. Initialised in 1980.
2. Drawing on my early travels and study of world art, study of the Tarot and a dream in which Picasso gave me a lesson in technique creates the Fools collection. Intialised in 1989.
3. Teenage studies at the Parthenon in Athens and an education in Greek and Roman art creates the High Classiccal collection. Initialised 1993.
4. Early Studies in Kathmandu in 1974 and a continued interest in Tibetan art creates the Images of Enlightenment collection. Initialised 1994.
5. A childhood fascination with the sculptures of the Cyclades and a challenge from my wife to paint better than Modigliani created the School of Paris collection. Initialised 1999.
6. My Trading Shoe Leather Tour in 2004 lead to St Remy where l decided to get into the mind of Van Gogh and created the Divisionist collection. Initiated 2004.
7. Studies of classical geometry lead to discoveries of natural occurrences in geometric perfection which creates the Spatial Relations collection. Initiated 2008.
8. A drive to create opulence and magnificence with hand ground pigments and precious metals creates the Neo-Nouveau. Initiated 2009.
9. l was tired of being the Master. Tired of my skill and excellence and wanted to turn it all on its head. And a challenge to return to the cutting edge made it all complete and creates the Sharp Edge 21st Century Neo Expressionist New York City Style. Initiated 2018.
Widewalls: The majority of your oeuvre has a very textural quality due to the use of hand-ground pigments. Could you tell us something about this working method?
SB: Creating masterpieces using hand ground pigments, ground marble and other ground stone including volcanic rock gathered by myself on Mt Vesuvius is a very delicate operation needing years of study and experience. Through my experiments l have created a plethora of textures that can compete with the finest paintings of any age. I set as my standard the quality of craftsmanship adhered to by great Masters through the ages setting new standards for Modern art.
Widewalls: In your more recent body of work, you have been exploring Neo-Expressionism, moving to acrylic. How did these dynamic and vibrant paintings come to be?
SB: I went to Nepal seeking a Tibetan painting Master to absorb his knowledge and gain his lineage. But the situation took a change in events when l met a young America who tried to convince me to return to the avant guard. I went to the top of a ten thousand foot mountain and sat there contemplating for ten days and when l came down l was ready for my return to the cutting edge. Intending to invent and evolve a Slash and Burn technique that went beyond the cutting edge into the Sharp Edge 21st Century Neo Expressionist New York City style.
And a New technique, acrylic, which compared with the hand ground pigments of other collections is an absolute walk in the park.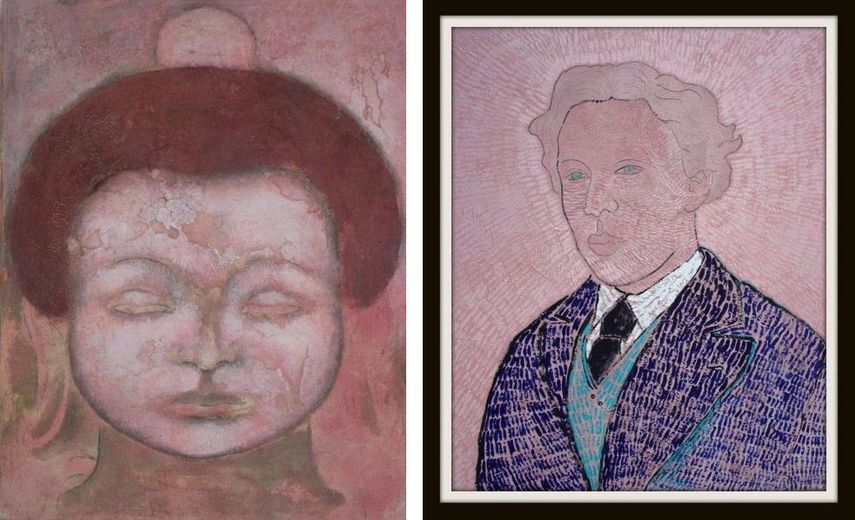 A Contemporary Picasso
Widewalls: Your work has often been compared to that of Pablo Picasso. How do you see this comparison?
SB: l am the Man with the Billion Dollar Hand. The skill of it is unbelievable. The diverse body of work that is being created by it will be celebrated through the ages. It is capable of the finest craftsmanship and exceptional creativity but it also has a social conscience that insists on creating awareness and helping Humanity. This is why lm often compared to Picasso who came and taught us how to work but nobody listened.... until Sax Berlin.
Widewalls: What's next for you? Any future plans and projects you would like to share?
SB: Right now I'm in Spain where I've created studios in the desert, by the sea and in the mountains. Creating a Spanish collection bringing the influence of 10th Century Spanish frescos to Street Style.
My next move is to Manhattan where I'll get back in the fast lane with my finger on the pulse of the City, paint on the streets and return to my halls of study in the Met, Moma and the Goog.... and see what evolves.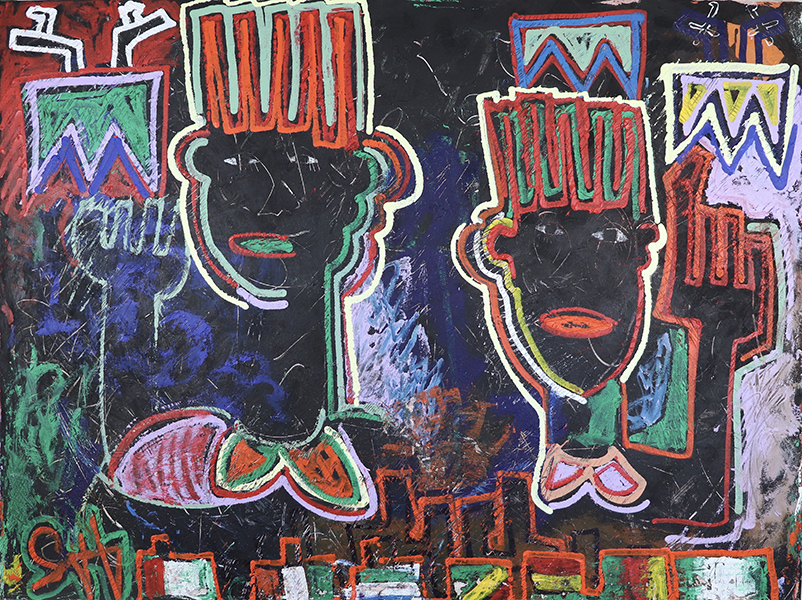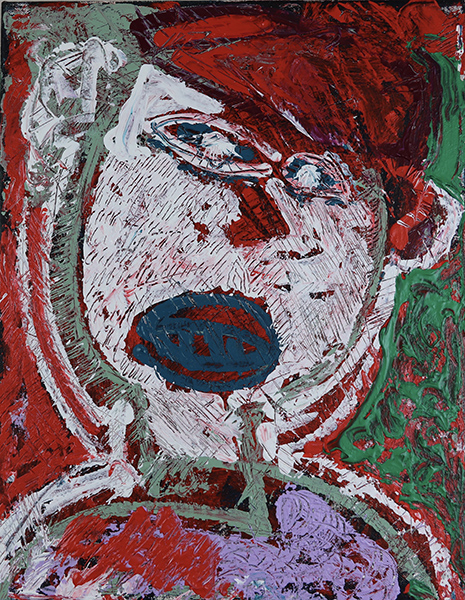 Featured images: Left: Sax Berlin - SAMO in Shades, 2019 / Right: Sax Berlin - Everyone Eekwal, 2019. All images courtesy White Court Art.