Passionate about philosophy and questions that one might call existential, the French artist Saype often explores the problems surrounding the human being. Through his works, he aims to share his vision of the world and invites us to question our deep nature, our spirit, and our place on earth and in society. His latest art exhibition will soon be on view at David Pluskwa Gallery. Titled What Traces?, the exhibition will feature his latest series of work that explores the relationship between man and reality. Executed in meticulous detail, his hyperrealistic paintings could be easily mistaken for photographs.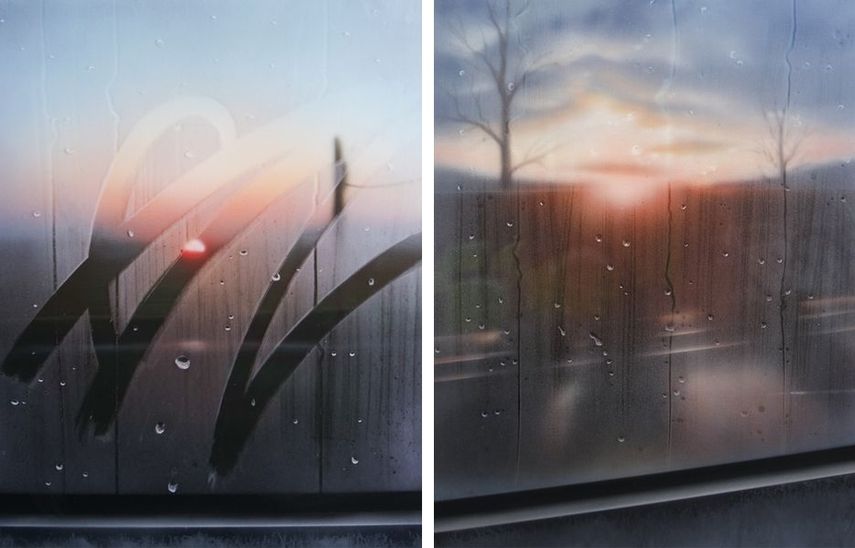 The Practice of Saype
Born as Guillaume Legros in 1989, Saype has recently found his home in Moutier in Switzerland. A self-taught artist, he began painting Graffiti at the age of fourteen. Very soon, he started working between the street and the studio, already exhibiting his first works in a gallery at the age of sixteen. To create his non-format painting, the artist uses plexiglass which he paints on different planes that are subsequently assembled, bringing a new dimension to his work. A pioneer in the field of grass painting, an artistic current between Land Art and Graffiti, he has been making gigantic ephemeral faces in the landscape since 2013, with 100% biodegradable paint that he makes himself. In 2015, the artist created a larger biodegradable grass fresco in the world, covering 10,000 m2 in Leysin in Switzerland.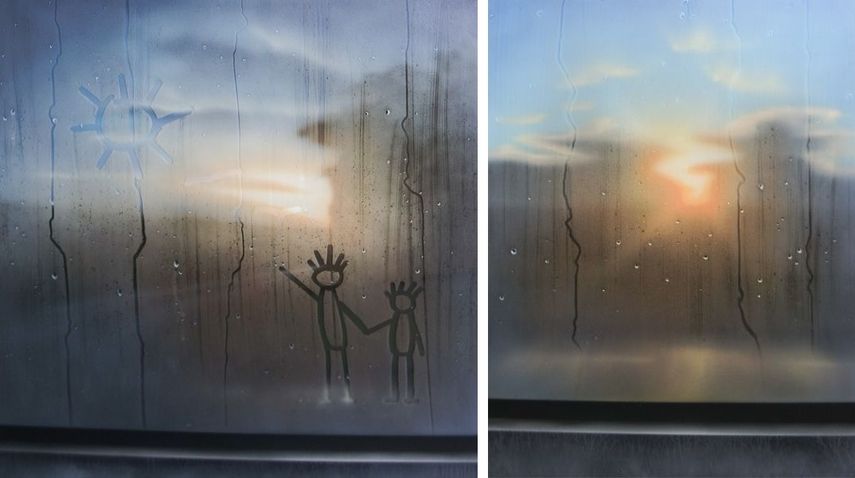 Traces on the Windows
Known for his paintings that balance between Impressionism and Hyperrealism, Saype takes us into the metros of our metropolises to contemplate of landscapes seen through the window of a train. Exploring the relationship between a man and reality, the latest body of work is focused around the traces a man has been leaving almost instinctively by various means of expression ever since the dawn of time. These paintings depict mist-dotted windows covered with sparkling water droplets where anonymous people have left fingerprints, children drawings, and scratches. Behind these traces, the external landscape appears and the time seems to stop. The photorealism of these works opens the way of imagination and travel, from shadow to light...
Saype Art Exhibition at David Pluskwa
Located in Marseille, David Pluskwa Gallery is an exhibition space for Contemporary and Urban Art. It represents a roster of international artists who are at the crossroads of different movements, from Narrative Figuration and Free Figuration to Street Art. The exhibition What Traces? will be on view at the gallery from June 9th until June 24th, 2017. The vernissage will be held on Thursday, June 8th from 7 p.m. The artist will be present.
Featured images: Saype - 13h22, Paris, 2017 (detail); Saype - 6h41, Delemont, 2017 (detail). All images courtesy of David Pluskwa Gallery.