Determination, anger, stubbornness and belief - these are the core values and the things that got this amazing artist through life. The Scarlett Raven interview we have prepared for you today will answer all the burning questions you have about her remarkable work. A Central St. Martins graduate, British painter Scarlett Raven reveals some of her most intimate thoughts and feelings with us, as she talks about her years in art school, her first exhibition, and the struggles that made her the artist she is today. Our conversation will provide you with an insight into the artist's mind, her creative process, and her inspirations.
In the spotlight? Her latest exhibition entitled The Danger Tree, inspired by the Battle of the Somme and presenting her augmented reality art – quite a unique concept, fascinating to the audience around the world. Raven is one of the young British artists who are definitely taking over the world one painting at the time. In her own words: "A thousand words doesn't begin to cover it", and it is a statement I agree with completely, given the fact that her augmented art pieces are so intricately executed, so complex, and so powerful, that they leave absolutely no one indifferent.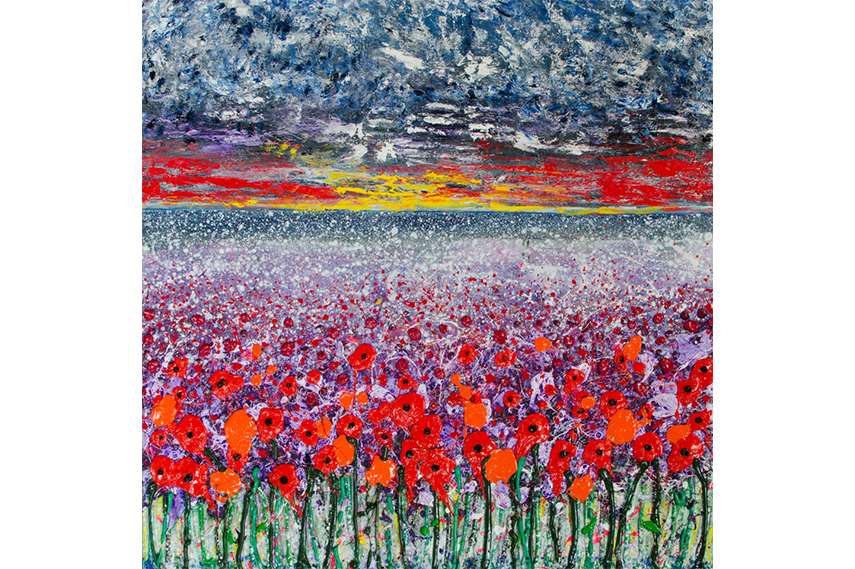 Education and Freedom to Become a True Artist
Widewalls: Even though you graduated from Central St Martins, you consider yourself to be mainly self-taught. As we know, sometimes formal education does not provide what we really need, so how did you manage to take the best of both worlds and develop your unique technique and style?
Scarlett Raven: At art school they spend the first two to three years breaking the students apart, in the hope that they can put themselves back together for the last year when they have to go out into the real world. I heard somewhere many art students never pick up a paintbrush again after leaving art school and I can believe that. [At] St Martins [they] were very anti-painting at the time I was there. However, it offered me an incredible space to paint in central London and I was amongst really inspiring artists. It didn't matter that some of the teachers didn't understand or like me. Frankly I didn't understand or like myself much either.
It was my anxiety that really prevented me [from] fully absorbing all St Martins had to offer. A lot of people really blossomed there. It was just a really painful time for me personally. I've had an anxiety disorder since the age of seven and I didn't know it, and it was really starting to take its toll. I found it difficult to be around anyone, so I would go into the University and paint when it was empty at night.
During the day I'd go to another studio off-campus in a garage next to my house so that I could hide away. I had to pack all the paintings up at the end of each day so the owner to get his car in at night.
Art had always been my lifeline and the sicker I became the more I clung onto it. I know that this hardship made me the artist I am and I know it's why my career is where it is now. I'm obsessed by painting and by materials. They mean everything to me. They offer me a strangely comforting security.
What upsets me about that method of teaching is that the musicians, actors, painters and poets that I know rely on their art as their set of eyes on the world. They literally interpret life through their art. Most of them have done this since they were a child and it's all they know; it's their lifeline.
I think that to have that taken away from you and broken apart in the hope that you can fix yourself back together is horrific. In some cases such as mine, it's rather like having a wheelchair taken from a paraplegic and simply telling them to walk. It can be cataclysmic to have your prop removed.
I know it's not the individual teachers fault. It's the fault of the curriculum or just the mentality of a system, but the teachers are all artist themselves [so] they should know better than anyone how important the work is to an individual. They employ psychology, yet fail to recognise that it's not an exact science, so in my case, breaking me down was a lost cause as there was nothing to undo, so they atomised me.
In some ways, I really missed out. But in other ways, it was a blessing. I learnt how to fend for myself, to stand up for my paintings. As my insecurity grew, so my belief in my paintings magnified. It became my identity. This determination, anger, stubbornness and belief in my work gave me my first solo exhibition in Cork Street while I was in my second year at St Martins.
Widewalls: Your paintings are truly magnificent and leave a great impression on the viewers, especially when they realise that your works go beyond being two-dimensional.
SR: I have always painted very sculpturally, in thick layers with many different mediums. I use nature to symbolise emotions, to describe what its like to be human, to feel, to be afraid, to be happy. I suppose I'm searching for my own purpose.
I painted a piece at St Martin's called Poppy Field and had wanted to develop it further for a long time and then, years later, it just felt like the time was right. In 2014 I did a show called The Eleventh Hour which consisted of 33 paintings exploring the symbolism of the poppy. One of those paintings was to change the way I work forever.
I'd already been experimenting with artificial flowers, acrylics, inks, rocks leaves, shells, soil, sand, wood, cloth, wire - introducing new materials, anything I could find.
The Eleventh Hour show was the first exhibition I painted on canvas - before that I'd only used wood. The canvases were lighter and easier to work with. I instinctively started stitching the artificial poppies through the canvas, soaking them in paint. Embedding them in the paint. I wanted the paintings to feel alive, to feel as if they had a pulse running through them.
It was then that I started experimenting below, as well as above, the surface of the painting. This was the first time I introduced the element of augmented reality to my work, in a work called The Eleventh Hour No 1. Using a digital medium, I was able to show the viewer the creative journey from blank canvas to final painting.
I'd been experimenting for a while with documenting my work process. My friend, digital artist Marc Marot, encouraged me to take it one stage further and allow that process to become accessible within the painting itself by allowing it to be unlocked digitally. We call it Augmentism.
In the creation of the work for my new show, The Danger Tree, that process – and my collaboration with Marc - has evolved even further beyond the canvas, as exhibition-goers will be able to see first hand.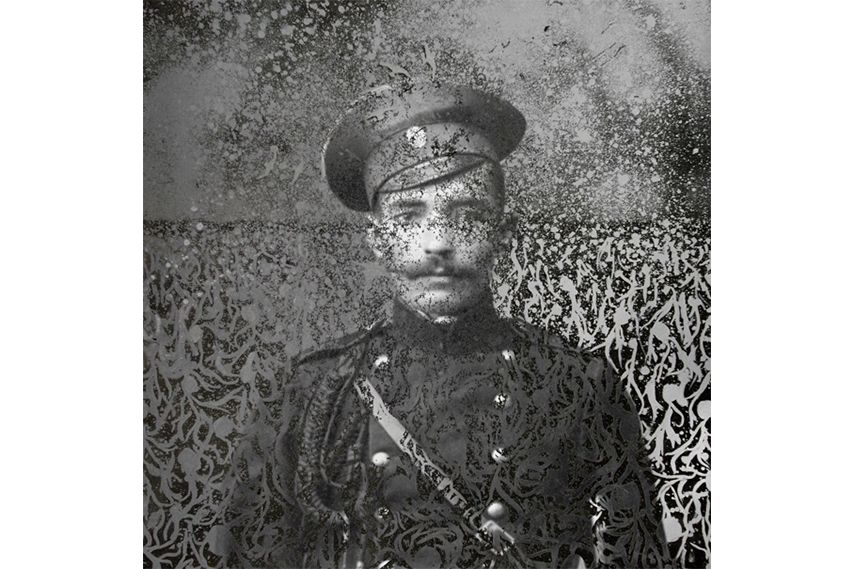 The First World War - The Danger Tree
Widewalls: You are one of the rare artists that address the First World War. Can you tell us the story behind this decision?
SR: I paint emotively and I suppose I'm drawn to heavy emotive subject matters. The Great War offers such a huge range to explore. I think being alive is pretty hard at times and then you add all the other pressures and things that are out of your control. I'm interested in humanity, in the individual voices, the souls and their deep importance to the world. Remembering and honouring lives has become very important to me and to my paintings.
My father played a really important role too. A few weeks before he died the day he travelled to France to honour those who lost their lives in the Battle of the Somme. He collected soil and sent it to me with a letter describing how important this soil was. He encouraged me to physically put it in the layers of my paintings. And this is what I've done for this new exhibition, The Danger Tree.
Widewalls: Can you tell us more about The Danger Tree project?
SR: My father was fascinated by The Danger Tree. He went on his personal pilgrimage to find it. It was a point on the landscape during the Battle of the Somme that the Newfoundlander regiment headed for, seeking shelter. Only it turned out to be an easy target for the German Artillery and most of the regiment lost their lives in that spot.
They were amongst the first soldiers into No Man's Land. Eight hundred men went over the top at 8:45am on 1st July 1916 and within thirty minutes, only 64 were still standing.
The tree was named the Danger Tree by the soldiers even before they went over the top. I focused on this tree because it is a symbolic microcosm of the whole war. It humanised it for me and broke it down into 30 minutes of utter pointless carnage that destroyed not only the lives of the participants and their loved ones but eventually even a country. (Newfoundland went bankrupt as a direct consequence of that tiny battle. It lost its British Dominion status and was taken into Canada)
I visited that exact spot, the one my father visited weeks before he died. I felt an immense sense of loss, but also a huge connection with my father and with the past. I was deeply struck by the fact that amongst those awaiting the whistle that sent them to their death were not soldiers, but people: trembling poets, painters, musicians, librarians and teachers.
What really resonated with me were the poems from the First World War. Because of my dyslexia, I struggle with reading and understanding, but the poems were effortless to read. They really moved me. I got completely and utterly captivated, so much so that I had to paint them.
Augmentism has allowed me to do this. For The Danger Tree exhibition, I've further developed the elements of augmented reality further. Every painting in The Danger Tree exhibition is now fully augmented, allowing the viewer to look beneath the surface of the works, to see the layers of work and inspiration that have led to the final piece.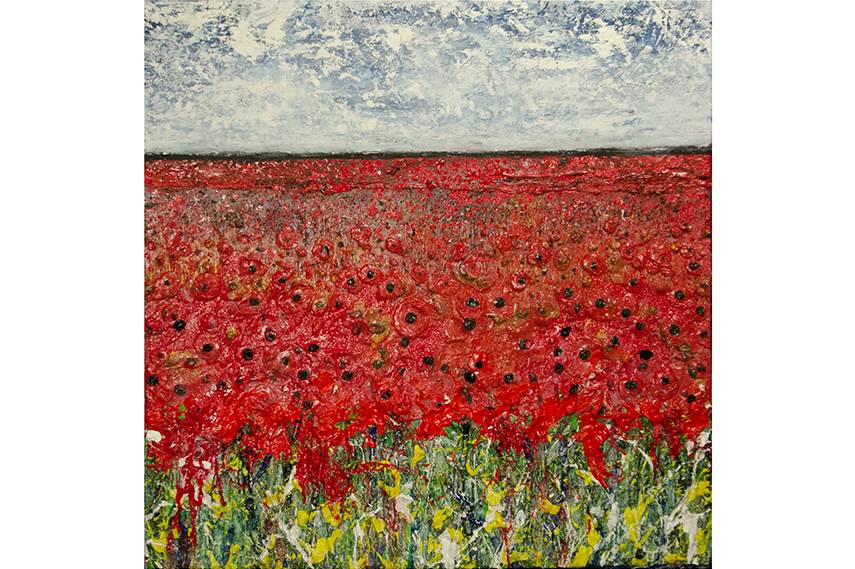 The Connection to Van Gogh, Music, and the Future
Widewalls: You have been compared to the great master Van Gogh. How do you feel about this and do you think that this comparison puts additional pressure on you to deliver fascinating pieces each time?
SR: I have my dark moments if that's what you mean. I think most artists do. I'm not afraid of others criticising me, only of my own criticism of myself. There are moments when I question what is the point in painting and those moments are the darkest moments of my life. I feel worthless and insignificant. I put the pressure on myself. As a child, I felt very disconnected with the world. It was partly to do with my dyslexia which meant I had trouble keeping up with everyone else. Then I looked at the work of Van Gogh and Frida Kahlo and I suddenly felt very connected, like I had a purpose.
Widewalls: How did your love of music influence your artistic style?
SR: Because I'm not a musician I can listen to music and enjoy it. It's completely freeing. It's heavily emotive listening to someone playing and singing their heart out. And it feels like people have ripped their hearts out and put it on a plate just for you to listen to. That's what good music feels like. I love the immediacy of it. The way it lifts you, takes you away and throws you against a wall. I want to capture that in my paintings.
Widewalls: Many years from now, when you look back on your career, what would you like to see?
SR: I'd like to be seen as an Augmentist. For changing the way people experience art.
Scarlett Raven's exhibition The Danger Tree opens in London 1st-31st July, Riverside Unit, New Capital Quay, London SE10 9FR. The exhibition will then tour the United Kingdom. For further information visit her official website.
Note: to unlock the layers beneath Scarlett's paintings, download the free Blippar app onto your phone or tablet and point your device at her artwork.