Following a successful opening night, SCOPE Miami Beach has opened to the public and is receiving thousands of eager visitors seeking the latest in contemporary art. The 17th edition of SCOPE features 140 exhibitors from 25 countries and 60 cities.
This excitement is also shared by exhibitors (new and returning) who are welcoming the opportunity to show their clients and potential buyers new additions to their gallery portfolio.
Even in the digital age, nothing replaces the opportunity to establish a personal relationship between artist and art lover.
SCOPE Miami Beach 2017 Exhibitor Highlights
Gallery 38
Gallery 38 (Los Angeles), a newcomer to the fair, was named by LA Weekly "The Center of the Burgeoning West Adams Art Scene in Los Angeles."
Gallery 38 is presenting works by King Saladeen. King Saladeen comments: "My inspiration comes from a place so deep within that the only way to express it is through art."
The colors in his paintings possess a vibe that grabs the viewer. Step in close because you can feel his soul and share his message.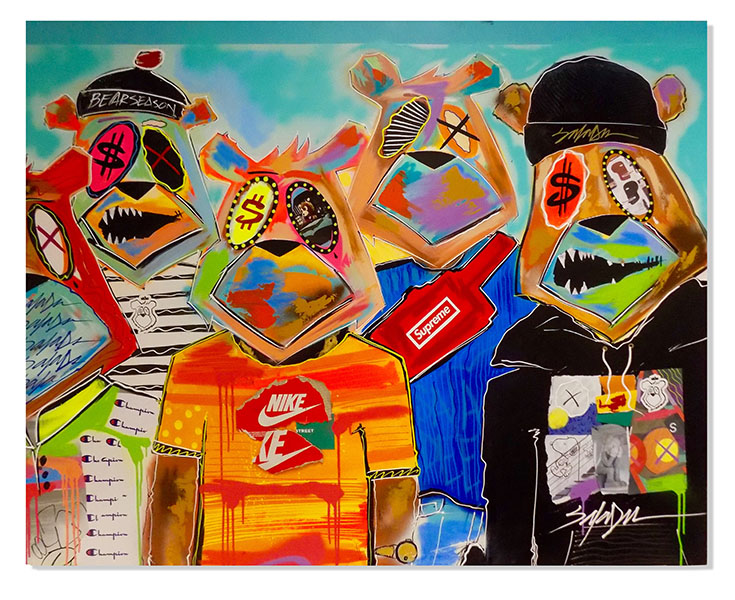 Urg3l
Urg3l (Madrid) is another newcomer to SCOPE Miami Beach and has created a thoughtfully curated exhibition space.
The creative mission of the gallery is to teach art in a direct and closer way where although the final destination does matter, the journey and where it leads you is far more important.
Here is a rare opportunity to see JiGen paintings by Baruc Corazón. Although his works have been described as soul paintings or shamanic paintings, Baruc refers to them as "shadow paintings", where he abandons every intent to let manifestation happen, "because in painting shadows, the Real emerges."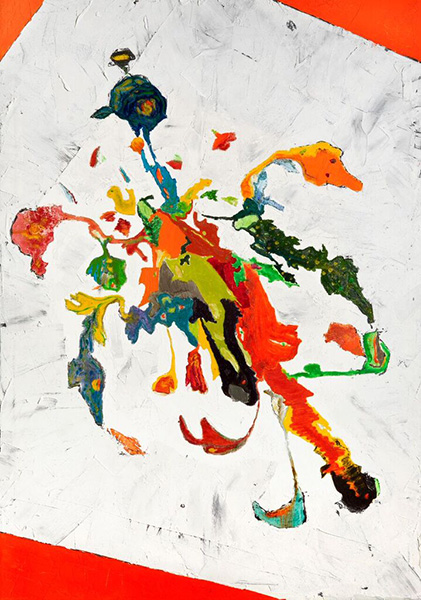 Gallery We
Also new, Gallery We (Seoul, Korea) is introducing the works of well-known Korean artist, Heung-Woo Shin.
The artist depicts a colorful celebration of life where tiny figures crowd the canvas, but coexist amicably in what the artist describes as "humanity, harmony and music."
Heung-Woo Shin uses flat silicone on canvas where each painted human figure possesses its own personality: each character has both a technical and metaphorical dimensionality.
Heung-Woo Shin states that he is "tired of everyday modern people living a prehistoric life with the healing of the song and the song of the appeal."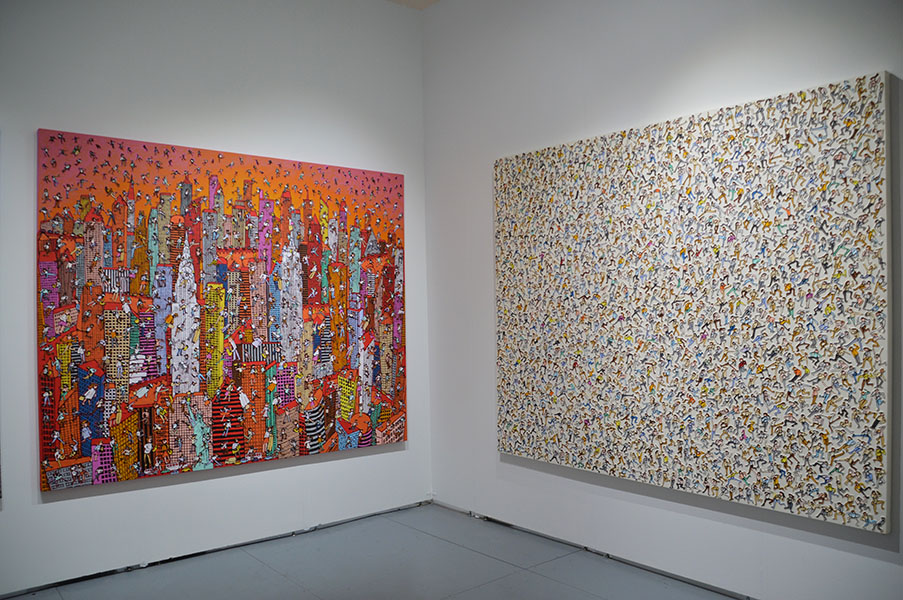 Galleri Ramfjord
Galleri Ramfjord returns to SCOPE Miami Beach with new works by Danish artist, Siri Gindesgaard.
Her oil on linen paintings are breathtaking. She draws inspiration from music and dark films, rising and falling on a wave of deep emotions - battling through chaos to find tranquility.
In her book (also available at the Galleri Ramfjord's booth), Gindesgaard writes: "It is the feared that is the pulse of the images and driving force of it all."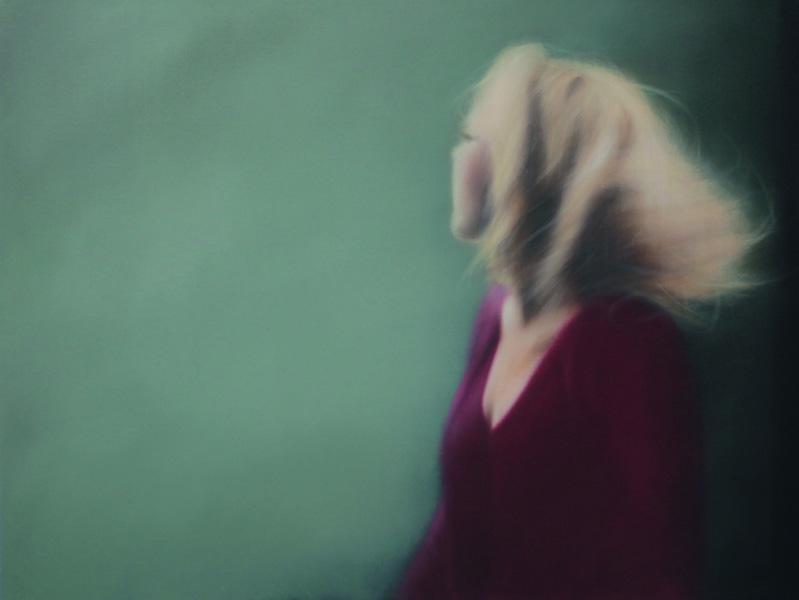 Barbara Paci Art Gallery
Barbara Paci Art Gallery (Pietrasanta, Italy) is presenting works on paper by Sara Lovare and Andrea Collesaano.
Collesaano, who lives and works in the coastal town of Forte dei Marmi, draws inspiration from the sea, nature and animals.
A highly precise attention to detail and the use of ink on paper stained through a process called "invecchiatura" infers to a world shrouded in melancholy and retrospection.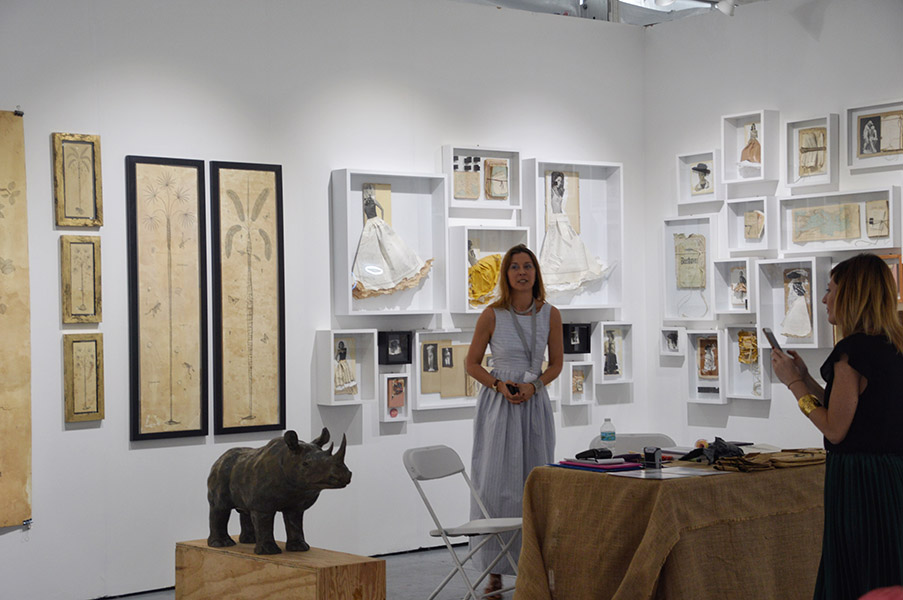 Anthony Brunelli Fine Arts
Anthony Brunelli Fine Arts (New York) has a hyperrealist sculpture by artist Jackie K. Seo (Korea) and spherical sculptures by Martin C. Herbst (Austria) on debut.
Owner Anthony Brunelli is an internationally renowned photorealist painter represented exclusively by the Louis K. Meisel Gallery in New York City.
Brunelli and his brother John they are committed to creating quality relationship by being communicative with the artists they represent.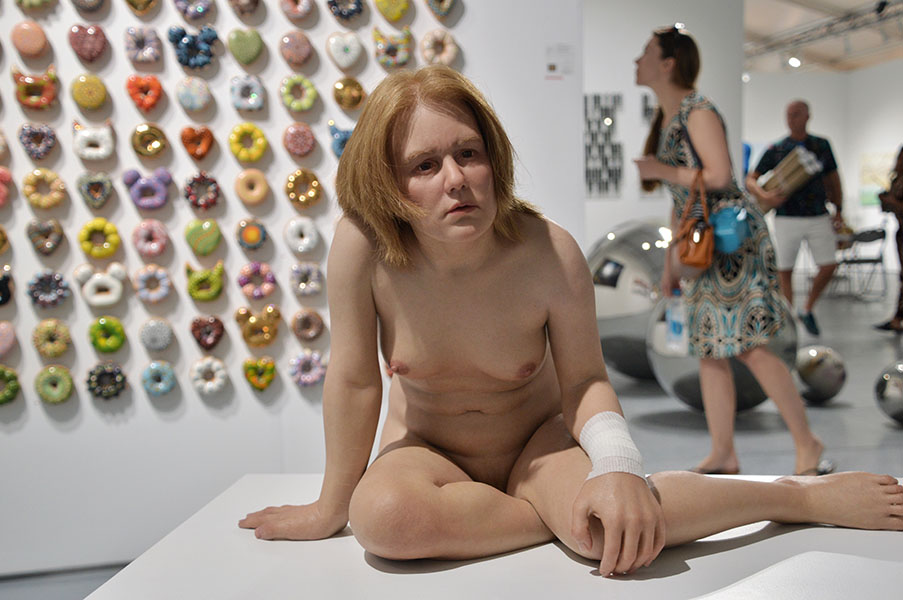 The Melech Collection
SCOPE Miami Beach has collaborated with The Melech Collection, launched by six-time NBA All-Star Amar'e Stoudemire who has curated a 40 foot installation for SCOPE's Special Programs.
As a philanthropist and strong supporter of emerging artists, Stoudemire commissioned Brooklyn artist Steven Cogle to create a site-specific work focused on the contemporary artist's role in creating a future history.
It is Stoudemire's desire to make art accessible and affordable for emerging artists.
SCOPE Miami Beach opens at 11:00 a.m. to 8:00 p.m., and continues through Sunday, December 10th.
Featured images: SCOPE Miami Beach Exterior 2017, Photo Credit Lisa Morales; Gallery View of Evan Lurie Gallery (Indiana), Photo Credit Lisa Morales. All images courtesy the author.