Now in its 18th edition, SCOPE Miami Beach continues its mission to provide a platform of discovery. Following a highly successful opening night, thousands more visitors will enter the fair's beachfront pavilion each day and visit a diverse range of over 130 contemporary exhibitors.
Here are some galleries presenting at SCOPE for their first time.
Line Dot Editions (Booth F17) presented Keyed In by Chicago artist Max Sansing. Keys infer Sansing's key collection that was passed on by his late father, who had acquired many keys through his work with the Chicago Transit Authority. Sansing paintings merge acrylic, oil and spray paint. Bold colors and a recurrent fire motif are seen in his work. Each subject's gaze turns inward and away from the observer, but the calm and introspective expression finds a way to connect and draw viewer into Sansing's world.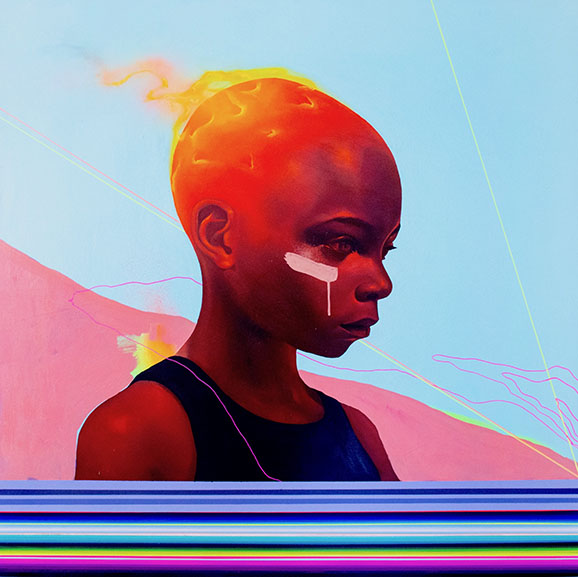 Emmanuelle Grelier Contemporary Art (Booth A17) presents a thoughtfully curated exhibition of paintings and works on paper by artists Beatriz Guzman, Catena, Gigi Mills, Hormazd Narielwalla, Gail Postal and Luiz D'Orey. Each artist, explains Emmanuelle Grelier, tells a story of humanity and timelessness. Each work offers hope and understanding in a world that is chaotic and uncertain.
Oil artist, Gigi Mills shadowy silhouettes blend into the natural landscape and subtle layers give texture and depth to what appears first to be flat and geometric. Mills' world is an imaginary one, but yet a beautiful place to escape for a while and dream.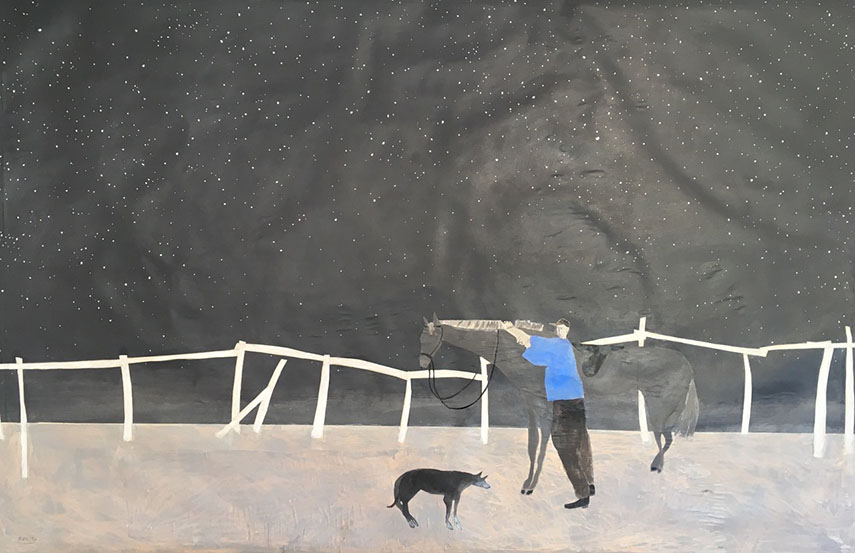 HAZA (Booth F03) exhibits works by Bin Feng, a photographer and multimedia artist. Feng places himself as the central character in his images. He is caught between two worlds: where he came from, Shanghai, and his current life in the US. Feng must come to terms with the feeling of being a perpetual outsider. Cinematic mise-en-scene, dramatic lighting, along with a touch of Hollywood romanticism imply that Feng is using his art as a means to overcome his struggle. And, as in all art, the message serves as a conduit to others who may find themselves in similar circumstances.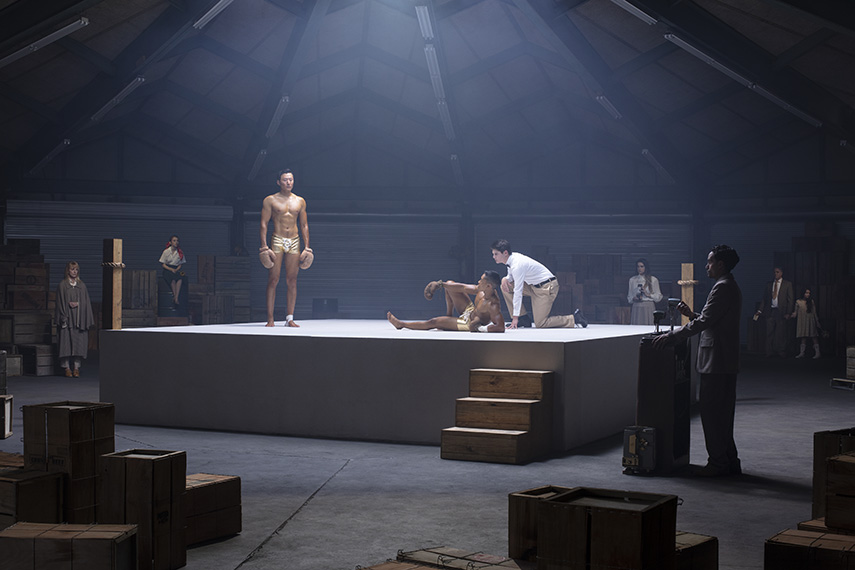 Untitled Space (Booth B13) presents watercolor works by Fahren Feingold and neon glass sculptures by Indira Cesarine in partnership with ArtHelix + SHIM. Empowering feminist themes are often the point of departure for Cesarine's multi-sensory series. Her artwork questions the place of humanity in context with contemporary civilization and is often influenced by autobiographical content and women's history at large. Feingold brings an ethereal state to her unique paintings depicting the female form. Her watercolors featuring bold feminine nudes reference imagery from early 20th century French erotica, 70s & 80s American vintage magazines, and today's Internet girls.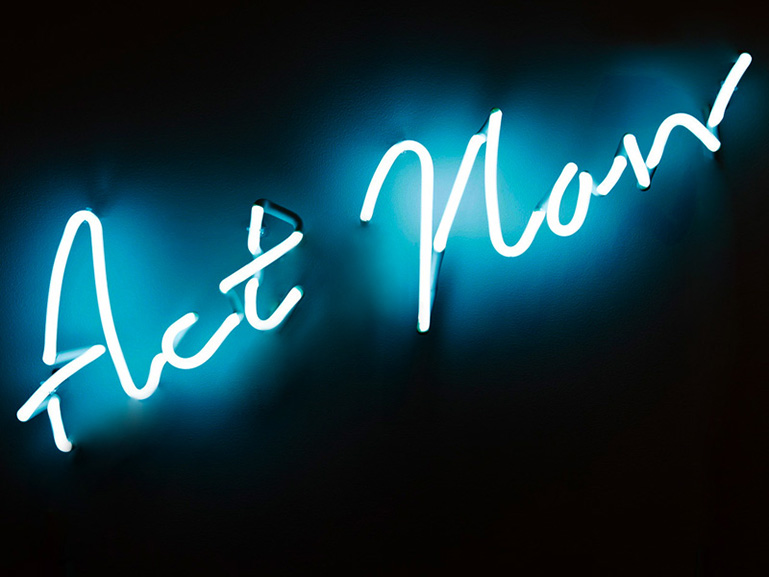 Featured image: SCOPE Miami Beach 2918 Exterior. Photo Credit Lisa Morales.