From Lost in Space to the Jetsons to Jurassic Park, it seems that popular culture has been fostering the space-age perception of the future. Drawing from this notion, the artist Scott Listfield creates works featuring a lone astronaut exploring the present that is peculiar in ways unimagined in 1957, when Sputnik was launched. The character seems lost in a landscape cluttered with pop culture icons, corporate logos, and tongue-in-cheek science fiction references.
Listfield's latest body will be on view at Hashimoto Contemporary in New York City, as a Spoke Art show. Titled Quarantine, the exhibition brings together a new series of paintings which chronicles the adventures of the artist's central protagonist.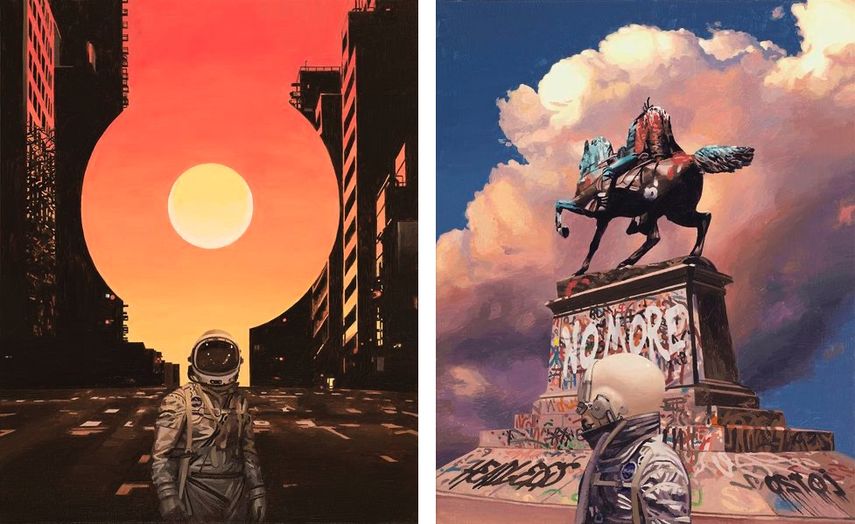 The Practice of Scott Listfield
Growing up in Boston, Scott Listfield graduated from Dartmouth College living abroad. After returning to America, he couldn't shake the feeling that he was an alien in his own land. After watching 2001: A Space Odyssey for the first time, he began painting astronauts and, sometimes, dinosaurs. His body of work speaks about this feeling of being an explorer, of not quite feeling at home in the world you live in.
While loneliness is one aspect of Listfield's works, it is more about exploring a new world on one's own. It is about a feeling that you've stumbled onto something magical or important or meaningful, all by yourself. At this point, at least for a moment, one gets to sit back and feel like a tiny observer of a strange big stupid world.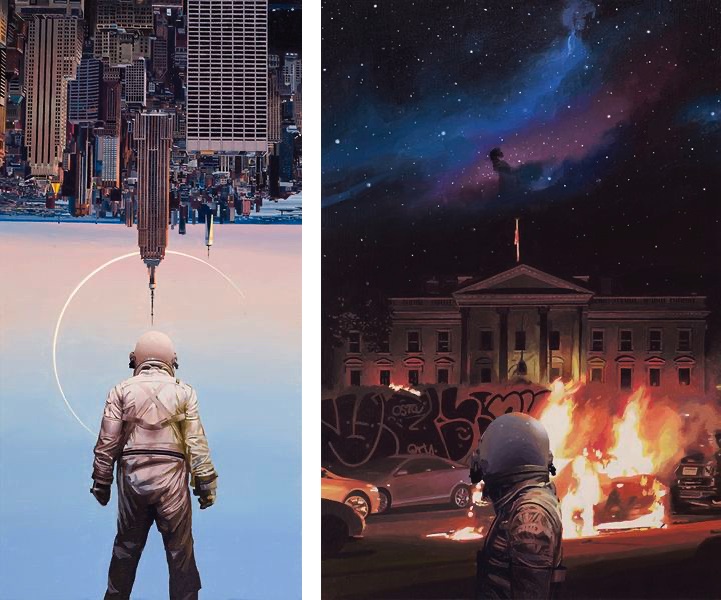 Quarantine
The artist's second exhibition with the gallery brings together works featuring the lonely astronaut navigating the landscape reflective of our current world. The works are imbued with symbolic references to the COVID-19 pandemic, protests in response to the murder of George Floyd, and general unease over the American political climate abound.
The artist began working on the series during lockdown, when the real world began looking more and more like one of his paintings. Although it is good as an artist to feel like you're in the zeitgeist, the feeling of predicting a fairly bleak present can be very uneasy. This body of work is the result of exploring the darker depths of his own mind.
And so in these new paintings, the astronaut that roams my work wanders through deserted cities literally tipping and falling. Where gravity has its own free will. Bits and pieces of a recognizable pop culture landscape fall through these scenes sideways, toppling along with statues. Things break. Things burn. But the astronaut, like us, keeps going.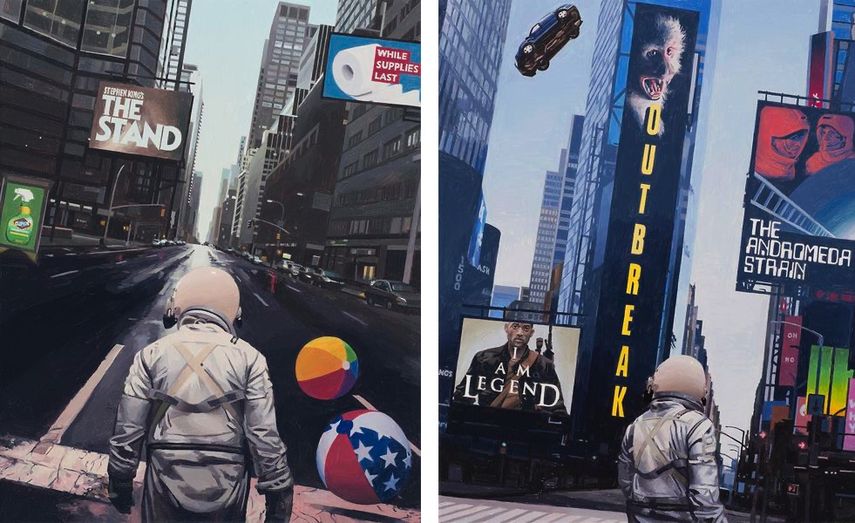 Scott Listfield Exhibition at Spoke Art
Organized by Spoke Art, the exhibition Quarantine will be on view at Hashimoto Contemporary in New York from September 19th until October 10th, 2020.
The gallery will be open by appointment only.
Featured image: Scott Listfield - Taxi, 2020. All images courtesy of Spoke Art/Hashimoto Contemporary.