It can be argued that the actions of a single art collector in New York City on October 18, 1973 acted as a catalyst for shaping the contemporary art market as we know it today. The Scull Auction at Sotheby Parke Bernet, which featured works gathered by Robert Scull, a New York taxicab impresario and passionate collector of Abstract Expressionist and Pop Art, "heralded the beginning of the new art market and paved the way for the hyper-commercialized art market focused on promoting and selling contemporary art," according to Doug Woodham in his book Art Collecting Today.
Spanning three generations of American art from Abstract Expressionism to Pop Art and Earthwork, the Scull Collection was quite extraordinary and unusual. Robert Scull and his wife Ethel were a constant presence on the New York social scene of the 1960s. Pursuing their passion for collecting contemporary art, they befriended artists and supported their careers, often acquiring works straight from their studios.
They had an eye for it all. By the 1970s, the Sculls had assembled a singular collection of art over about 20 years. The 1973 auction of 5o works from their collection was the first blockbuster art sale in history, drawing a crowd that jammed the Madison Square Garden. It was an auction which departed from the norm in many ways, bringing significant changes to the way the contemporary market operates.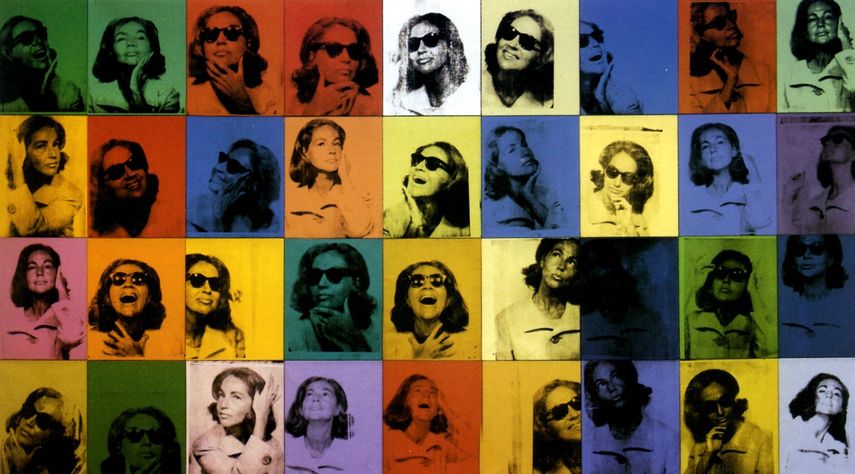 The Collection of Robert and Ethel Scull
Born on the Lower East Side in 1916 to Russian-Jewish parents, Robert Scull's life had humble beginnings, as he worked a range of jobs to help his family make ends meet. However, he later married well, as Ethel's family owned and operated a Taxi fleet company called the Super Operating Corporation. Using excellent marketing skills, he turned the taxi company into a household name in New York, rebranding it as the Sculls Angels. This financial success enabled the couple to pursue art collecting. Known patrons of the arts, they had access to the best work their artist friends produced, as well as insider tips on who to follow.
They began acquiring major works by leading Abstract Expressionist artists in the mid-1950s such as Willem de Kooning, Clyfford Still, Mark Rothko, Robert Rauschenberg, and Barnett Newman. Always on the lookout for the new, they began collecting Pop Art, becoming first owners of many works now considered masterpieces including James Rosenquist's monumental F-111, Andy Warhol's 200 One Dollar Bills and Ethel Scull 36 Times, and Jasper Johns' Map. Having a great passion for Jasper Johns, at one point they owned 22 of his major works, including the iconic Painted Bronze (Ale Cans) from 1960, the 1961 sculpt-metal The Critic Sees, and Double Flag, which Scull commissioned in 1962.
Their legendary posturing and overt flaunting of their phenomenal art collection made the Sculls the icons of the New York art world and social scene. Once asked by an interviewer about accusations that he and his wife bought art for investment and for social-climbing, he remarked: "It's all true. I'd rather use art to climb than anything else."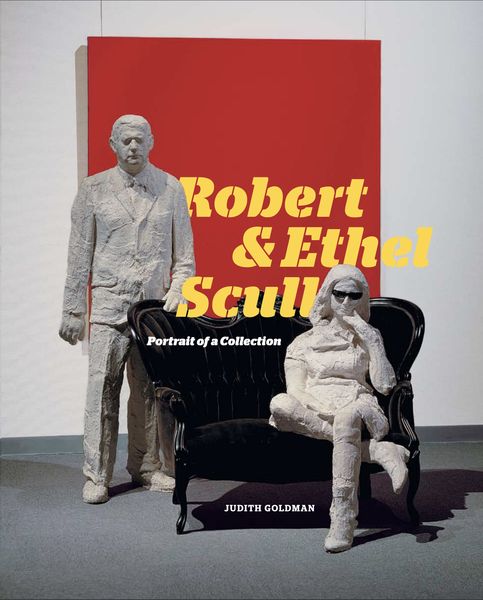 The 1973 Scull Auction
Deciding to sell a sizeable part of his collection in 1973, Robert Scull selected fifty artworks, naming the sale A Selection of Fifty Works from the Collection of Robert C Scull. The auction was to take place at Sotheby's, which was the only major auction house in the city at the time. Robert managed to negotiate a sale agreement with Sotheby's which also involved a guarantee, which the auction house normally used to win consignments for Old Masters, not contemporary work by living artists.
The auction was accompanied by a lavish catalog in the form of a hardbound book, with multiple foldout pages illustrating the works, as well as presale exhibitions organized in Switzerland and many other locations which were often followed by afterparties which brought together the creme de la creme of the art world. However, when the auction was first announced, many were enraged, accusing the Sculls and the auction house of exploitation of artists.
The night of the auction was quite a spectacle, bringing together both collectors and activists who turned to protest outside the entrance to the auction house. The Sculls arrived in a chauffeur-driven taxi, with Ethel wearing a black dress emblazoned with the Sculls Angels logo. It only took one hour to sell the collection, lot after lot being sold for record prices. In total, the sale brought in $2.2 million, just above the high estimate.
Artist & Critic with Don Gray, Robert Scull, Art Collector
The Shifts in the Contemporary Art Market
This high-profile auction changed the art market forever. This was the first time that Post-war and contemporary art were put on a map, price-wise. In the 1960s and 1970s, the work of the Abstract Expressionists was still fresh and the Pop Art movement was starting to take off. There was significant interest in these works, but collectors didn't know where to buy them. The Scull Auction provided them with this chance. Works sold for many multiples of their purchase prices, setting record sales for living artists. The auction proved convincingly that contemporary art was a highly bankable commodity.
A massive PR campaign surrounding the auction was another novelty for the art market. Already known as a brilliant publicist with respect to his taxi business, Scull generated significant publicity for his auction, setting a new standard for contemporary art auctions. The lavish catalog itself was a rare investment for living artists. CBS news reported on the auction, and a documentary film crew was in tow, making the auction a major media event.
Finally, selling artworks for many multiples of their purchase prices, the auction highlighted the gap between what artists earned selling their work and what a collector could make by selling the same items. For example, Thaw by Robert Rauschenberg, which Scull purchased for $900, went for $85,000. Rauschenberg confronted Scull after the sale accusing him of profiting from him "working [his] ass off." Scull famously replied that he was working for him too, explaining that he hoped the higher prices would eventually rebound back to the artist. However, the sale started a debate over whether artists should receive royalties on sales of their work, which, nearly half a century on, still hasn't happened in the U.S.
This single event has set the art market on a seemingly unstoppable upward trajectory, slowing down only during the odd recession or market crash and always emerging only bigger and stronger than before.
Featured images: The installation view of the Robert Scull collection at Acquavella Galleries. Left to right: Myron Stout - Hierophant, c. 1955. Lent by David L. Davies; Frank Stella - Slieve Roe, 1964. Lent by Thompson and Caroline Dean Collection; James Rosenquist - Study for Expo 67, 1967. Lent by Barbara and Richard S. Lane; The installation view of the collection at Acquavella Galleries. Left to right: Jasper Johns - Target, 1961. Lent by Stefan T. Edlis Collection; Andy Warhol - Large Flowers, 1965. Lent by Glentstone; The installation view of the collection at Acquavella Galleries. Left to right: Philip Guston - Untitled, 1958. Lent by Museu Coleccao Berardo; Clyfford Still - Untitled, 1952-T, No. 2. Lent by Detroit Institute of Arts (Founders Society Purchase, W. Hawkins Ferry Fund). All images used for illustrative purposes only.