Known for his handmade thread installations and geometric drawings, Sébastien Preschoux creates hypnotic and complex productions that force the viewer to question their perception.
On the other hand, Marc C. Woehr is known for his sculptural geometrical wooden relief constructions and monumental city paintings.
The visual worlds of the two artists harmonize and contrast at the same time. Both of their work is graphically abstract and uses clear forms to create picture compositions, while circles and curved shapes that feature in Preschoux's works and the straight lines, diagonals and corners of Woehr are just among the many contrasting elements.
The art of these two artists is now joined together in the exhibition at Pretty Portal. Curves and Corners will show works on canvas and paper, as well as reliefs made of wood and cardboard.
The Practice of Sébastien Preschoux
A self-taught French artist, Sébastien Preschoux creates intricate string installations and geometric drawings featuring a perfect confusion between a digital and human production. He makes all his works by hand, commenting on today's generation that disposes images at an industrial rapidity.
His work is inspired by Op Art and the values of the teaching of the Bauhaus school centered on the fundamental value of manual labor. Over time, his works became more and more complex.
Preschoux's works are not easily reproduced and are often temporary. His yarn installations arise from his graphic work and from the observation of the sunlight in nature and are made permanent by the photographic lens of his photographer friend Ludovic le Couster.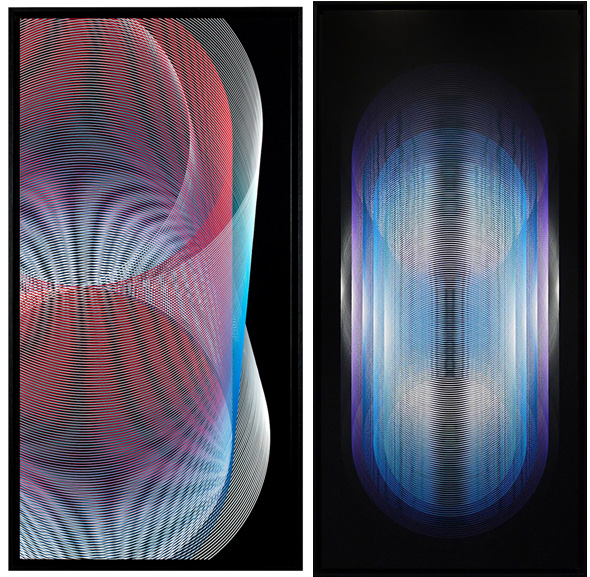 The Practice of Marc C. Woehr
A German contemporary artist, Marc C. Woehr creates geometrical abstract works that call to mind representatives of the Russian avant-garde, such as Kazimir Malevich and El Lissitzky. Mainly executed in white, black, gray, red and orange, his fragile, multi-layered wood reliefs are developed firstly on a computer and then cut out by laser.
Woehr graphically processes places he's visited with a bird's eye view through varying media and techniques, creating layered representations of the city's architecture referenced only through the names of his works. The artist rotates, layers and arranges these building blocks into architectural structures that seem to work their way out of the canvas.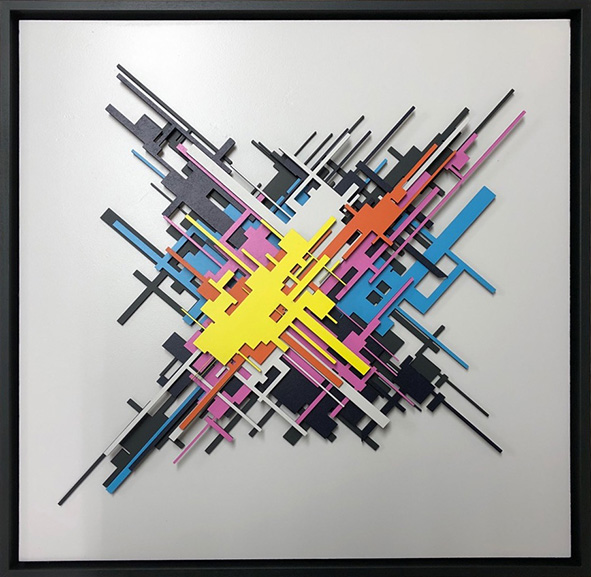 Sébastien Preschoux and Marc C. Woehr at Pretty Portal
While the gallery has already exhibited Woehr's works in the past, this will be an inaugural show for Preschoux with the gallery.
The exhibition Curves and Corners will be on view at Pretty Portal in Dusseldorf from October 9 until November 20, 2020.
Sébastien Preschoux - In The Studio
Featured images: Artwork by Marc C. Woehr; Sebastien Preschoux - Kamakumba. All images courtesy Pretty Portal.