A pioneer in the heart of Manhattan's Lower East Side, a neighborhood with a rich history of art and culture, Woodward Gallery has been bringing art to the community through public exhibitions since 1994. Throughout all these years, their mission remained the same - to promote gallery artists, provide rare, blue-chip offerings, and enhance private collections through their vast national and international networks and relationships.
This year, the renowned gallery celebrates its 25th anniversary. This important occasion will be marked with a special show taking place at the Down Town Association. Titled Sedecim, the group exhibition will bring together works by sixteen distinctive artists: Willem de Kooning, Natalie Edgar, Richard Estes, Paul Gauguin, Richard Hambleton, Keith Haring, David Hockney, Robert Indiana, Franz Kline, Roy Lichtenstein, Margaret Morrison, Kenji Nakayama, Terence Netter, Robert Rauschenberg, James Rosenquist and Andy Warhol. Each of these extraordinary artists is celebrated for harnessing the power of the materials and ideals of their time to challenge the conventional wisdom of art.

De Kooning, Edgar, Estes, Gauguin, Hambleton, Haring, Hockney and Indiana
A leading figure of Abstract Expressionism, Willem de Kooning is known for lusciously gestural oil paintings which were very loosely based on figures, landscapes and still lifes. His 1967 painting featured in the show elevates waves of color to an abstract mountain ridge.
Another proponent of Abstract expressionism, Natalie Edgar is known for her multi-layered paintings which demonstrate sensibilities of color, space and rhythm. Also a representative of the New York School, Franz Kline created works that confidently show action and movement with little color or discernible forms.
The audience will have an opportunity to see David Hockney's series from the Six Fairy Tales from the Brothers Grimm, haunting and scary, yet beautiful black and white illustrations characterized by the artist's ample use of negative space; Shadowman by a conceptual artist and a godfather of street art, Richard Hambleton; raw and primitive woodblock prints by Paul Gauguin; the vibrant figures of Keith Haring; and Robert Indiana's interpretation of the words LOVE and HOPE.
Lichtenstein, Morrison, Nakayama, Netter, Rauschenberg, Rosenquist and Warhol
The audience will also have an opportunity to see, minimalist landscapes by the former Jesuit priest Terence Netter which offer serenity, but also a range of Pop Art masterworks. One of the most famous artists of this new bold genre, Roy Lichtenstein combined cartoon figures and text into a parody.
On the other hand, James Rosenquist adapted the visual language of advertising and pop culture to the context of fine art. In his pre-pop work, Andy Warhol created a whimsical series of society recipes catering more to the artistic than the culinary.
One of the central figures in the development of post-war American art, Robert Rauschenberg expanded the former boundaries opening the possibilities of experimentation for further artists. While Richard Estes is known for his masterfully rendered photorealist cityscapes, Margaret Morrison tantalizes us with her realist oil paintings of decadent Italian beverages. 
Finally, Kenji Nakayama is celebrated for his precise multi-layered stencils that unite organic flora and urban scenes.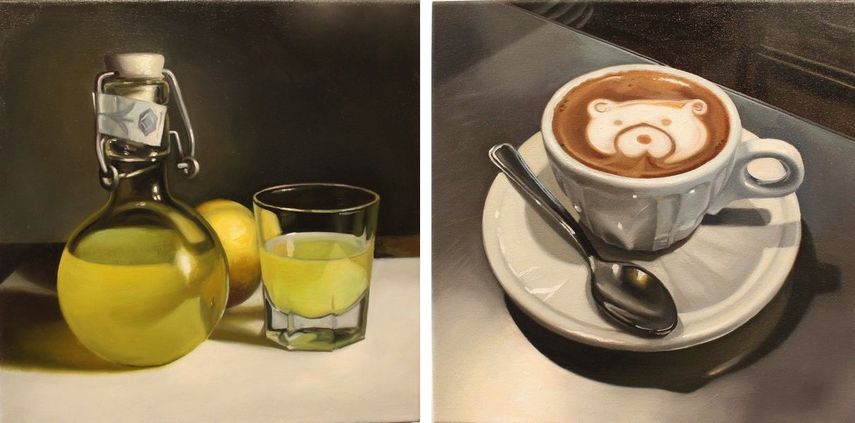 The Group Show by Woodward Gallery
Working in a range of genres and styles, these sixteen artists represent over one hundred years of art.
Presented by Woodward Gallery, the exhibition Sedecim will be on view at Down Town Association in New York from November 22nd, 2019 to January 24th, 2020. The opening reception will be held on December 6th, from 6 to 8 p.m.
Featured image: Natalie Edgar - Mountain Rhythm #8; Mountain Rhythm #14; Mountain Rhythm #10; Mountain Rhythm #24, 2000. All images courtesy of Woodward Gallery.