The artist duo Ella and Pitr has, since they started working together, completely change the perspective on urban and street art. Their approach to outdoor art has broken the already illegal art by marking art on every possible and impossible location. From train stations and grounds, rooftops, car parks, school yards, to drawings in the sand, the snow or in the fields – their art has for a while now become a true definition of the famous quote that stated that art knows no boundaries. Working together since 2007 under the name "Les Papiers Peintres", in a quite a short time the energetic duo has become widely known among the urban art community first in their home country France, and then across the world. Their unusual and very creative art connects to the audience in many ways, which led to numerous international projects and exhibitions. They even introduced a new concept in their art that led to a very successful and creative year full of interesting and exciting pieces. Ella and Pitr will enter 2015 in big style – by organizing their exhibition in Parisian Galerie Le Feuvre, where they will present a new direction in their work, oil paintings, but featuring their signature characters…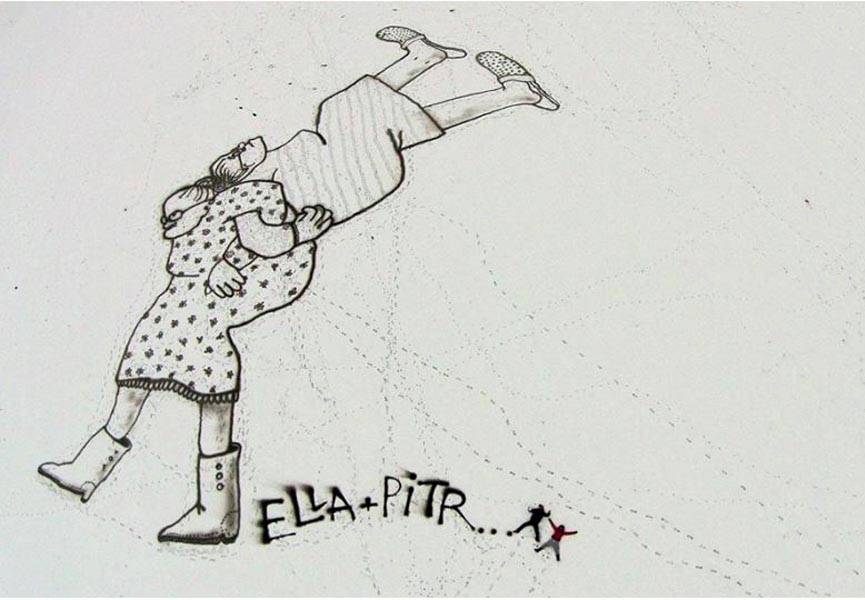 Characters Barely Contained Within the Frame
Not only their art aims to fight conventions and the traditional approach, the dimensions of their work, which go up to 60 feet enabling it to be seen only from air, seem to only approve this fact. However, two opposite feelings overwhelm the viewer when it comes to the art of Ella and Pitr. First one, and probably the more obvious one, is the idea of total freedom, as the artists are drawing in an environment almost without physical borders like a beach, a field in snow, a car park etc. Yet, the other feeling, maybe hidden and not quite visible is the weight of captivity of their characters in these same circumstances. It seems like here, they are faced more than ever, with the fact that they are stuck were they are. This second idea is the main theme of exploration in their latest exhibition entitled See You Soon Like The Moon, which is a very personal project that further more examines the question of borders and freedom, as well as artists' desire to link the worlds of the street and the work in the studio.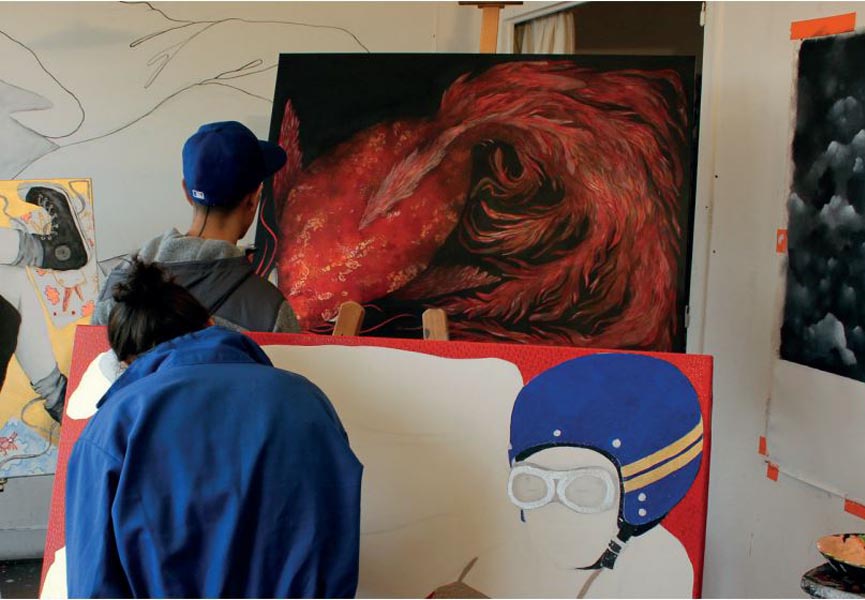 On View Until February
Their new works show oil painted human characters or animals, usually asleep and imprisoned between the limits of the canvas. The painting becomes a rooftop or a schoolyard. It has its own confines and imposes them to the artists.
See You Soon Like the Moon opens January 15th in the presence of the artists at Parisian Galerie Le Feuvre and it will stay on view until February 14, 2015.
If you want to know more about Ella and Pitr and their upcoming projects, sign up for My Widewalls today!