When I met them in Paris and asked them about the future, graffiti artists SEEN and RISK revealed a line-up of shows throughout Europe and that they are working on a project together. When two legends of this caliber set their minds on something together, it's bound to be spectacular. First to offer their works on view is Galerie Nicolas Xavier, in an exhibition titled Three the Hard Way, reflecting on the artistic power of these two figures on the American artistic scene. For the very first time in a few decades of their careers, they will put their works on display together and celebrate their friendship this way as well.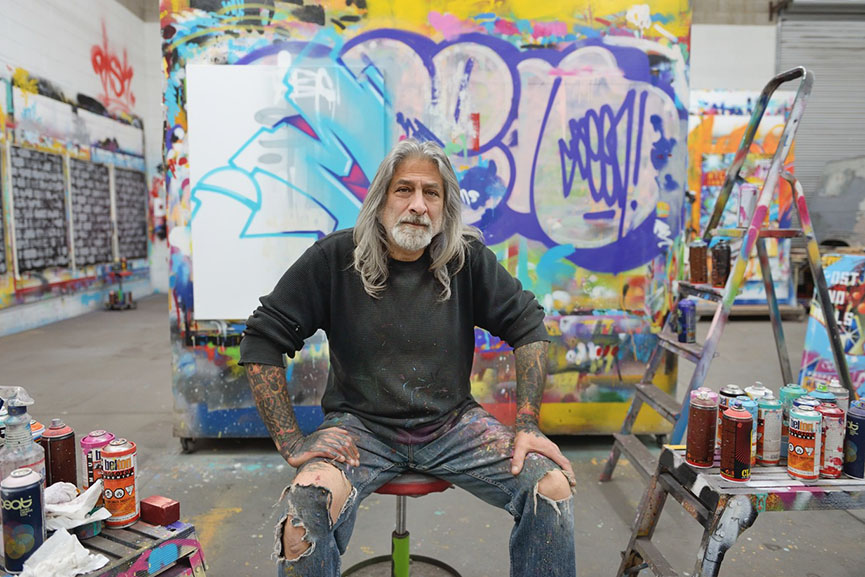 The Historical Significance of SEEN Graffiti
Born in the Bronx in 1961 as Richard Mirando, SEEN became involved in art early on, painting on subway trains when he was just a teenager. In fact, his art began circling the Big Apple, turning him into somewhat of a legend already. In 1981, only 20 years old, he participated in P.S.1's New York / New Wave, a flagship exhibition at MoMA. His works also caught the attention of the likes of Keith Haring, Andy Warhol or Jean-Michel Basquiat. SEEN was a part of seminal works in the history of street art, including the "Style Wars" documentary and Subway Art book, and has come to influence whole generations of graffiti artists to come. Ever since, he became a multi-talented artist of an international fame, working with many mediums including sculpture. In his last series of works, SEEN breaks the boundaries between the imagination of his childhood and the iconic aesthetics of NYC Graffiti even further, in order to unite them.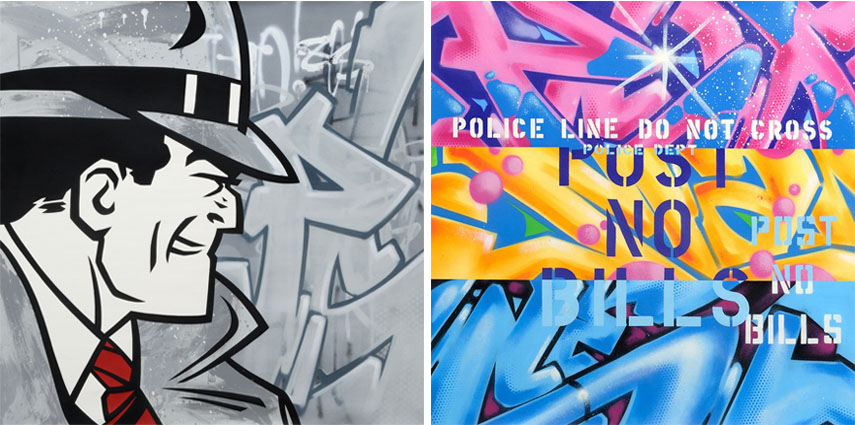 RISK - Becoming A Graffiti Artist
On the other side of the US, RISK aka Kelly Graval took Los Angeles by storm. He grew up in Louisiana, spending much of his time doodling and lettering. His passion for lines and colors then merged and fit perfectly with the rising graffiti movement, leading him to become the founder of the West Coast artists in 1985, together with Rival. But apart from being a graffiti artist, RISK is also a photographer; his images for Hot Road magazine feature those of musicians like the Red Hot Chili Peppers, Michael Jackson and Ice Cube, and introduced him as the producer of music videos as well. His first solo exhibition came late, in 2008, but since then, he's been a favorite for numerous galleries and even museums. With its creative approach, RISK constantly reinvents itself, multiplying his projects with other artists, always seeking new media to inspire a vibrant movement of colors; for this is the real subject of his experiments. In his newest paintings, RISK proposes a game of declination in which color hides to reveal itself better.
Three the Hard Way at Galerie Nicolas Xavier
Bound by years of friendship, SEEN and RISK both went through unique artistic journeys, tackling popular culture and the world of graffiti alike, all the way keeping a connection with their roots and the style of their origins. Three the Hard Way, a joint exhibition of works by SEEN and RISK, will reveal their latest works of art, and will be on view at Galerie Nicolas Xavier in Montpellier, France, from May 6th through June 3rd, 2017. The opening reception will be held on May 5th at 7pm.
All images courtesy Galerie Nicolas Xavier.