One of the most famous, interesting, eccentric and talked-about personalities in art history, Salvador Dalí combined avant-garde subject matter with academic style, paving the way for generations of artists to come. In addition to his works on canvas, Dali produced works on paper for reproduction using drypoint, etching, woodcut, and lithography. Flowers were one of the recurring motifs in his work, featuring many of his most famous symbols and showcasing his sense of humor and imagination.
Many of these works will now be on view at Marie Selby Botanical Gardens (Selby Gardens), as part of the Jean & Alfred Goldstein Exhibition Series which explores the use of nature and flowers by major artists. Sourced from the collection of The Dalí Museum in St. Petersburg, Florida, the exhibition titled Salvador Dalí: Gardens of the Mind will include ten colorful photolithographs of flowers by Dalí alongside works from American photographer Clyde Butcher's series Visions of Dalí's Spain. Dalí's vision will be further evoked by plant displays inspired by these imaginative works.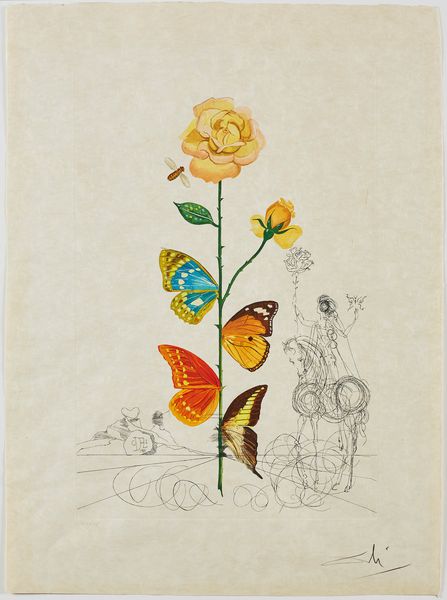 Salvador Dalí Flowers
In 1968, Salvador Dalí took inspiration from the floral artwork of Belgian Pierre-Joseph Redouté, creating a series of works that offered him a chance to exercise his more humorous side. Adding many surreal elements from his imagination, he made the flowers come alive with their spirits from within.
The resulting series titled FlorDalí from 1968, 1969, and 1981 features a surrealist interpretation of flowers, from a rose which sprouts butterfly wings instead of leaves and lily's similarity to a gramophone horn simulating a music-themed composition to a common dahlia morphing into a unicorn-like beast, anemones growing forks and gladioli wearing hoop earrings.
In addition to this celebrated series, the exhibition will feature artifacts and photos that put the artist's life, work, and relationship with nature into context, as well as photos of Dalí's beloved Catalonia by renowned nature photographer and local Sarasota County resident, Clyde Butcher.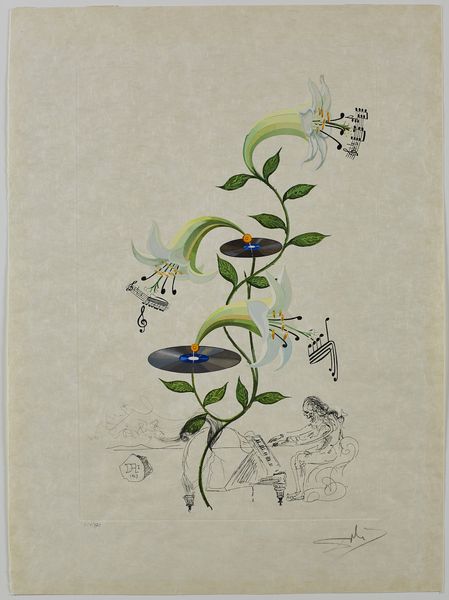 Dalí's Flowers at Selby Gardens
As Dr. Carol Ockman, Curator at-Large for Selby Gardens and Robert Sterling Clark Professor of Art History at Williams College, explains, the exhibition "will provide a fresh and playful perspective on one of the most famous artists of the 20th century."
The exhibition Salvador Dalí: Gardens of the Mind will be on view at Selby Gardens in Sarasota, FL from February 9 until June 28, 2020.
Selby Gardens will also present Dalí-themed lectures, performances, family programs, special tours, school curricula, and additional programs that complement the exhibition. Dalí merchandise will be for sale in the Garden Shop and food venues will offer a thematic menu.
Featured image: Salvador Dalí - Marguerite (Chrysanthemum frutescens) Floridali (Flor Dalinae), 1968. Photo Lithography with drypoint etching Collection of The Dalí Museum, St Petersburg, FL (USA) 2019; © Salvador Dalí, Fundació Gala-Salvador Dalí, (ARS), 2019.