In 1839, a man by the name of Robert Cornelius took the very first example of self portrait photography in history. An amateur chemist, he took this photo by removing the lens cap and then running into the frame where he sat, or better yet posed, for a whole minute.[1] Some 180 years later, we can still talk about the phenomenon of taking your own photo, although in a very different light since now it is all about snapshots and high quality cameras built in our own phones. One thing, however, hasn't changed - it is still all about the self-consciousness, the exploration of the inner being, a sense of control over your own aspects and your own art. In fact, this urge to present yourself to the world has prompted the Oxford Dictionaries to announce "selfie" as their word of the year in 2013, saluting the massive saturation of such imagery thanks to social media websites. Luckily, when it comes to artistic purposes, self portrait photography was never so blatant. Throughout the medium's history it had a lot of influence and many times it proved to be a serious game-changer of the scene at large.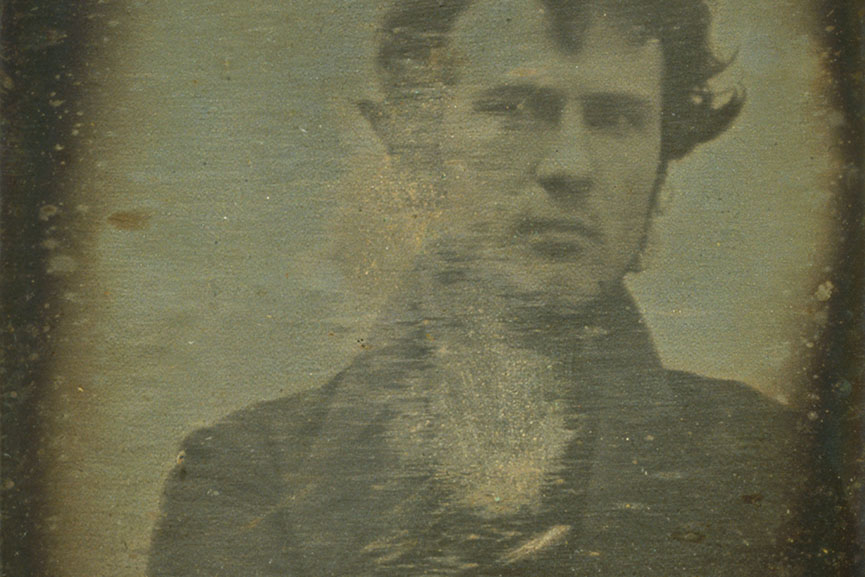 The Significance of Self Portrait Photography
The human figure has always been one of the most documented forms in art, which is of course why portraiture has always been one of the most popular genres in whichever medium. For many photographers, particularly the beginners, nothing could be more accessible than their own bodies.[2] With themselves, they can experiment in the ways they can't with anyone else, and the feeling of independence couldn't be greater, as they also serve as their own directors, location scouts, hairstylists, makeup artists, lighting and fashion designers, even digital editors. The artist becomes the sole owner of his artwork and his vision is being evoked in its purest form. With this in mind, it is also clear that self portrait photography is intrinsically and inherently linked to the concept of identity. Even though the interpretations of oneself - and oneself through others - can be perceived as deeply personal, they can still be related to, meaning they are still universal as they speak to both their creator and their viewer on a variety of levels. These photographs are bound to tell a story, many stories even, whether they were staged or were made spontaneously.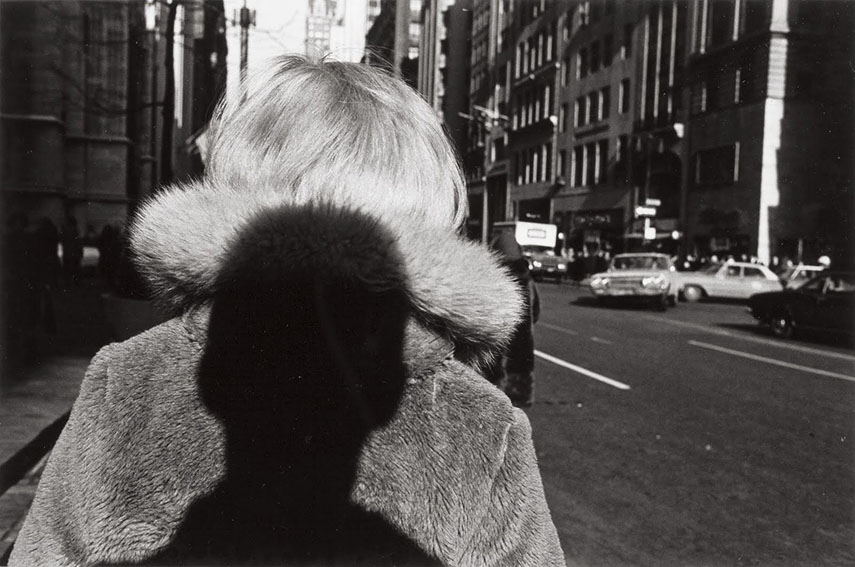 Self Portraits vs Selfies - What's the Difference?
While it may seem that the terms "selfie" and "self-portrait" refer to the same kind of imagery, today's complex relationship between photography and smartphones appears to have made a distinction. These two efforts to establish and embellish a definition of one's self overlap at times, but the differences, when described, become quite logical. When it comes to photographic image in particular, we're talking about (almost) the same medium - the camera. In the case of selfies, this usually means the "small" one built in our phone, though the quality of the pictures they produce is constantly and considerably on the rise. However, it is necessary to say that self-portraits are conceived as a carefully composed study of different elements that is meant to last and be seen as art. This does not appear to be the case with the selfies - they are usually taken in a snap and deleted soon after if the results are unsatisfactory, and were usually meant to be posted on whichever social network in order to demonstrate where we are, what we're doing, who we think we are, and who we think is watching.[3] Surely, selfies taken with a smartphone for artistic purposes can and do become artworks in some cases, which is where the two worlds of self-portraiture collide, but it seems that the only way vernacular photography as such will ever enter museums and galleries is through their visitors.[4]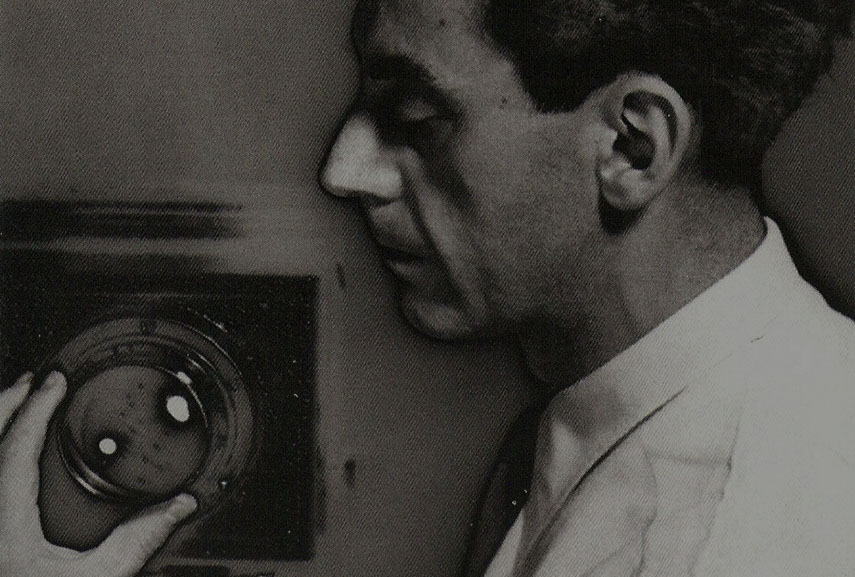 Famous Self Portrait Photographers
Through the works of the greatest self portrait photographers, we can witness the visual creation of a literary work. They live and tell their own narratives firsthand, crossing the line between private and public while offering us their intimate moments. Their approach varies and offers different angles and perspectives, and their imagery set many standards for this genre of image-making, leaving a legacy of an immense value. Instead of a mirror, paint and a canvas, they just use a camera to get to know themselves and the relationship they have with the world around them in an inspiring manner, answering Aristotle's famous advice to "Know Thyself".
Self Portrait Photography - The Portraits of Robert Mapplethorpe and Andy Warhol
Vivian Maier
Perhaps we can only know something about the mysterious Vivian Maier is through her recently discovered magnificent portfolio of self-portraits.[5] A woman who made a living as a nanny walked the streets of New York with a camera, predating modern projects like Humans of New York by decades and living completely incognito from the art world. By combining street photography with self-portraiture, Vivian Maier used to catch her own reflection in shop windows, mirrors, through shadow on the sidewalk with an exquisite eye for detail and composition. During her lifetime, her work was unknown and unpublished, while today it enjoys a lot of attentions and is being exhibited worldwide.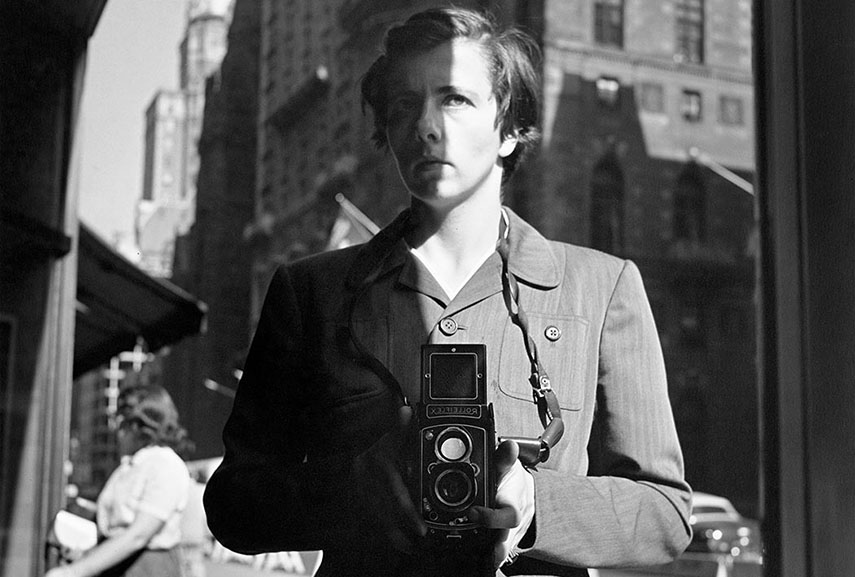 Deana Lawson
For Deana Lawson, self portrait photography is a pivotal part in the life and career of an artist in the field. She makes a picture of herself at least once a year, as a declaration of who she is visually and who she aspires to be.[6] Her work addresses black culture, intimacy, family, and has more than often used the body to convey selfhood, as well as personal, political, and historical identities. For Deana Lawson too there is a fine line between self-portraiture and selfies. "A selfie is a smaller branch of self-portraiture—quick and less considered. A self-portrait considers the interiority of the artist; it's a moment for self-reflection, to pause and to look at yourself."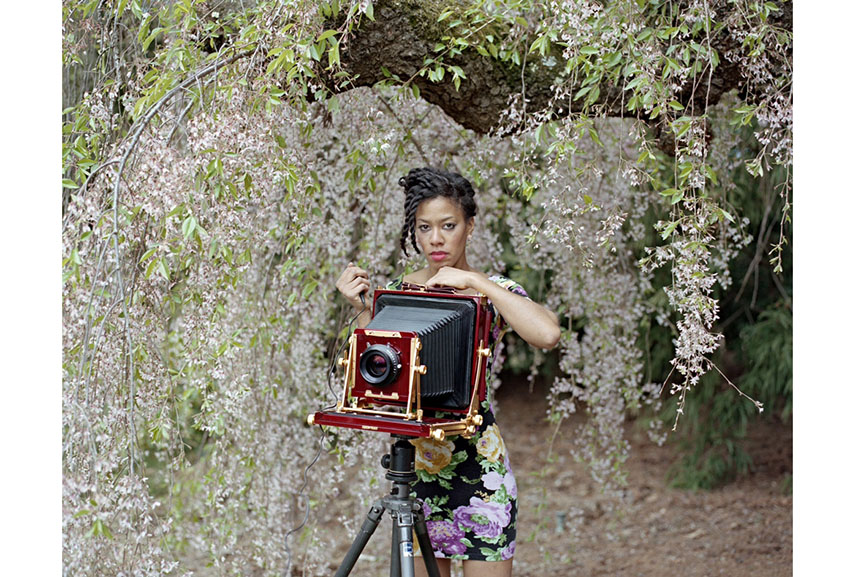 Andy Warhol
An eccentric as he was, Andy Warhol was Pop culture. As much as he liked depicting the icons of entertainment, he was a fan of himself too. Perhaps the strongest statement of this were his famous Polaroids, mainly those created in 1979 when Polaroid Corporation invited him to work with their latest large-format camera. These shots were indeed an exploration of self, giving us an insight into a different Andy Warhol from the one we know, as they reveal his insecurities regarding his passing age and beauty. He loved drag and so he assumed the persona of movie-star idols like James Dean and Marlon Brando. His photo-booth images were proclaimed "pure theater" by the late art historian Robert Rosenblum.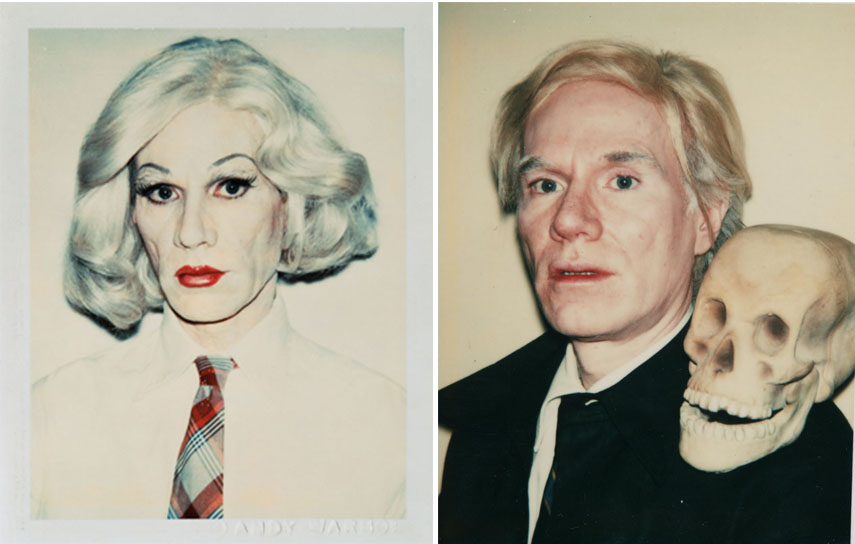 Jun Ahn
With an interest in symmetry and gravity, South Korean-born Jun Ahn poses for her own pictures from atop high buildings, both in the United States and her homeland. Definitely not afraid of heights, she gets permissions to access skyscrapers where she then sets a digital camera to take many pictures at high shutter speed. With this, Jun Ahn wants to capture an existing moment which could not be perceived with naked eye because it happened too fast. For her, only the camera has the ability to capture the hidden beauty of the world as it shifts between reality and fantasy, truth and fiction. Responding to critics, Jun Ahn says she is always trying to be careful when shooting.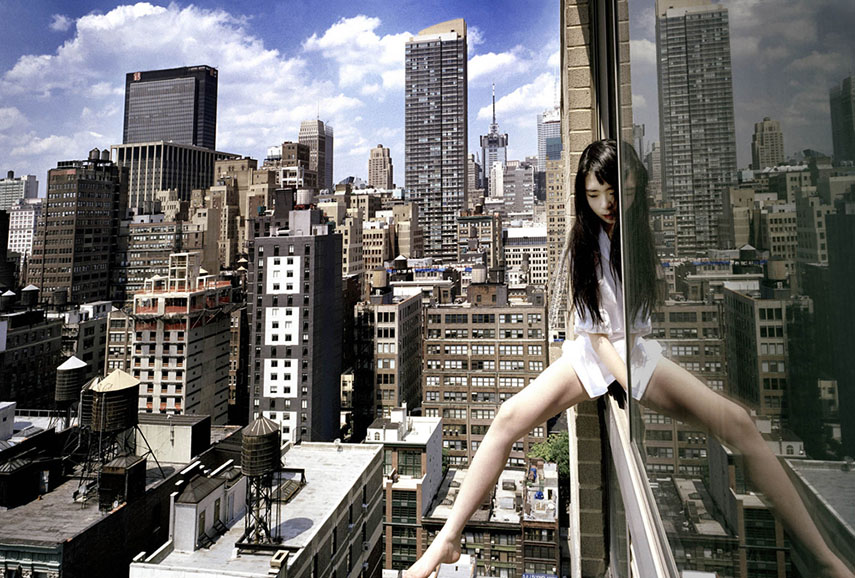 Robert Mapplethorpe
If there's anything Robert Mapplethorpe is famous for, it's the provocative bondage and nudity portraits, lower shots and his self-portraits. All executed in haunting, minimalistic, elegant black and white, with contrasts as deep as the model himself, the pictures show him as the devil with horns, evoking both Christian and Greek mythology, as a woman, as a terrorist holding a rifle. At times macabre and morbid, especially in the series he took just before his death, Robert Mapplethorpe played with the concept of gender and conventions related to them, blurring the line between "male" and "female", as well as hedonism and sexual desire, something that happens to be the theme of perhaps his entire artistic oeuvre.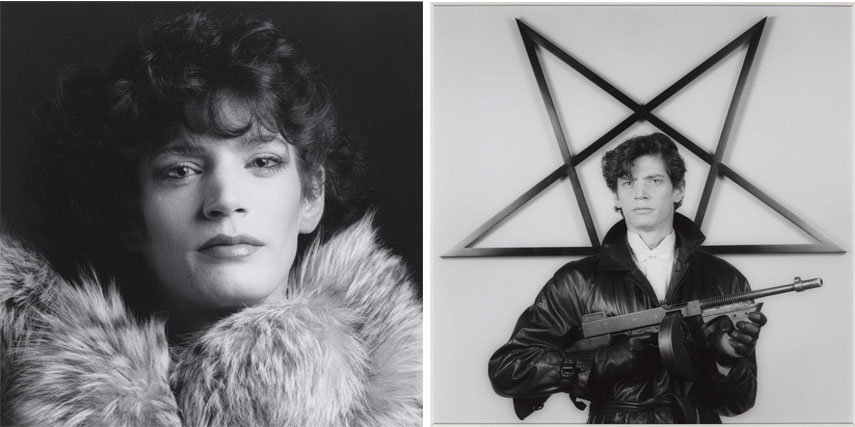 Liu Bolin
Although photography enters last in the creative process of Liu Bolin, it plays the most significant role. It takes an entire team of people who help the Chinese artist paint himself in order to literally blend in his background, and the final shot of it all represents the crown of it all. Employing a variety of concepts, from the Buddhist notions of illusion and Taoist practices of stillness to belonging to a society and the nature of surveillance, Liu Bolin sends a strong message which always features himself, even though he is barely visible. Photography serves to capture him from the right angle and to immortalize the transient nature of his self-portraits, as though they were once in a lifetime phenomenon.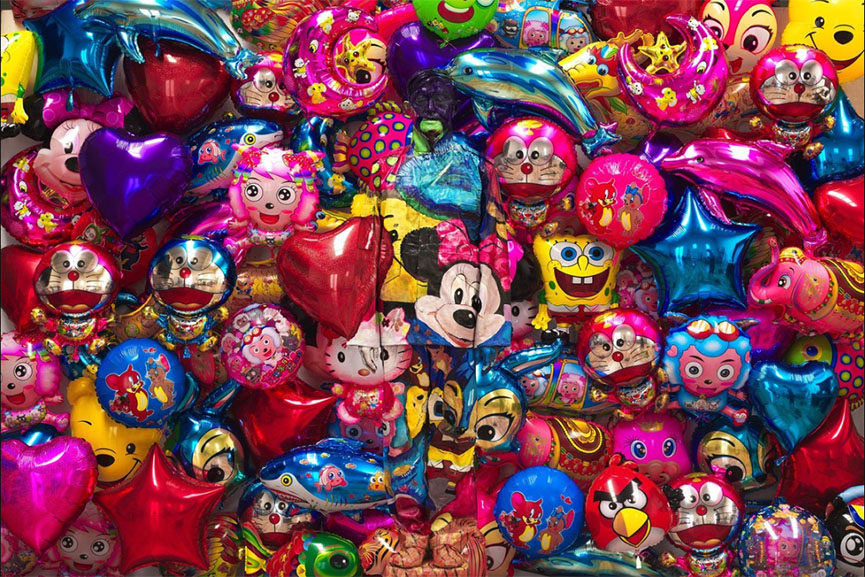 Francesca Woodman
Francesca Woodman's highly evocative self-portraits influenced entire generations of artists for their intimacy and poetry. Troubled and lost, she committed suicide at the age of only 22, leaving behind a body of work which shows us the kind of honesty that catches your eye and provokes your thoughts on another level. Seeing Francesca Woodman's imagery, especially if you're aware of her tragic fate, is rather painful, as it paints a picture of a girl looking for herself, even though her family always described her as someone fun to be around. Nevertheless, her self-portraits could be perceived as one of the mirrors to her soul, as they are so obviously very personal and intriguing.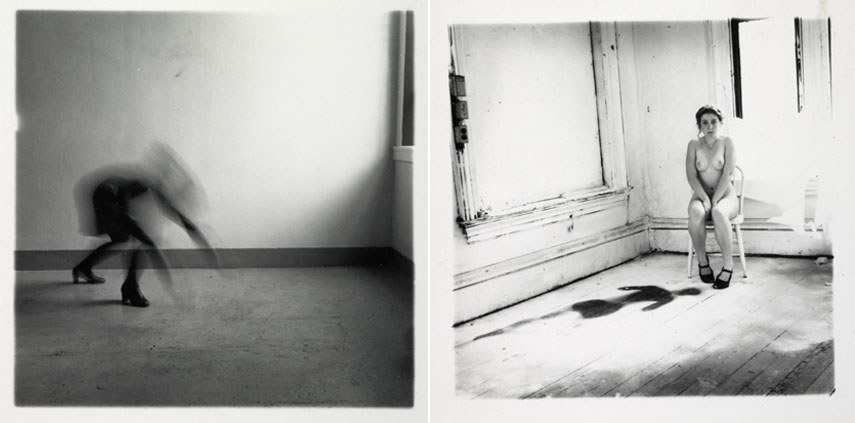 Carrie Mae Weems
Arguably the most famous photographic project that Carrie Mae Weems produced to date is The Kitchen Table series, an investigation of a single domestic space. In it, the artist staged scenes of "the battle around the family" between men and women, lovers and friends, children and parents. In the process, she tackles sexism and racism in part through the means of personal history and the appropriation of archival images. Although the series began as just an exploration of a young artist, it evolved to hold historical significance. Even though it was made in the early 1990s, its contemporary feel and meaning is what still makes it relevant and celebrated around the world.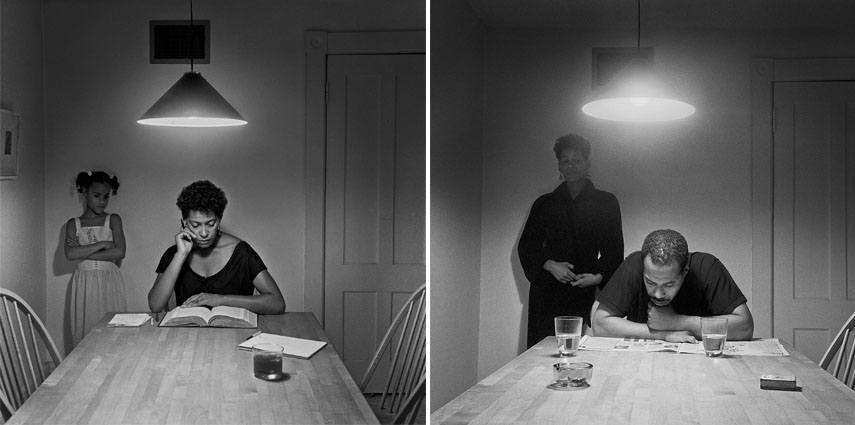 Trish Morrissey
During the creation of her groundbreaking project entitled Front, Trish Morrissey would approach complete strangers on the beach and ask if she could temporarily become a part of their family. She would take over the role of a woman within that group, usually the mother, wearing an item of her clothing as a talisman while the woman photographs them under her instruction. With these images, Trish Morrissey employs bravery and focuses on the issues of identity in a series that oozes with tension and trust. In them, we examine family experiences and national identities, feminine and masculine roles, and relationships between strangers along with the artist herself.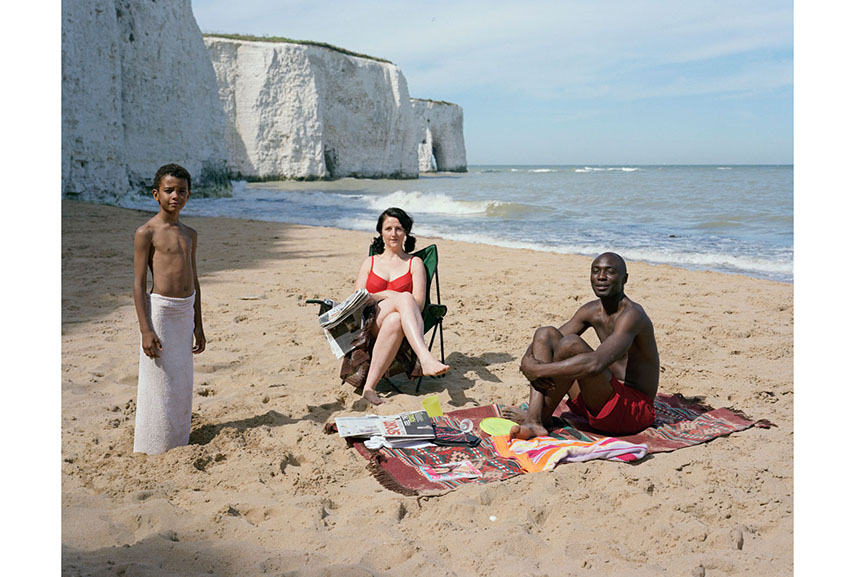 Cindy Sherman
Finally, the queen of "me, myself and I", Cindy Sherman has redefined what it means to make self-portraits, starring in absolutely all of her photographs. However, she insists none of them are autobiographical; in fact, it is rather hard to recognize her when she is not assuming one of her roles, be it a movie star, a model of a famous painting, a victim of abuse, an unusual centrerfold or even a corpse. Her Untitled Film Stills of invented movies call out on cliches and introduce Cindy Sherman as her own photographer, model, make-up artist, costume designer and narrative creator. Her camera always lied yet revealed striking truths, the never-ending versions of her. "I'm good at using my face as a canvas… I'll see a photograph of a character and try to copy them on to my face."[7]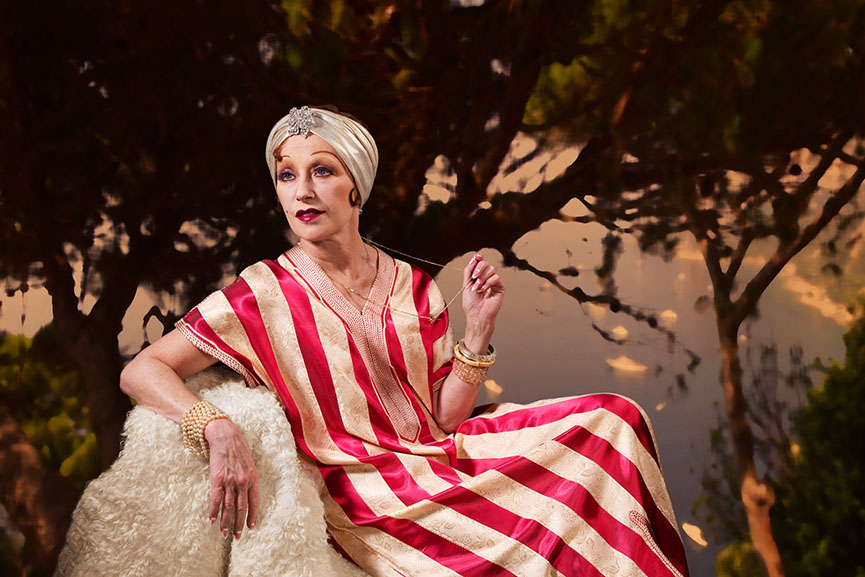 Tips - How to Take a Good Photo of Yourself?
Apart from the fact that people usually take pictures of themselves to satisfy the Narcissus within, many others use them to tell stories, in the manner of the greatest self photo-makers out there. Certainly, it takes vision and the knowledge of the techniques in order to create truly thought-provoking and alluring self-imagery. Since the photographer is also the model, many rely on the help of a tripod and a remote or a timer to capture still pictures at the right moment. Many artists also recommend the use of camera's burst mode, so there would be many pictures to choose from since they can't be seen while shooting. Another important aspect is the lighting, whether artificial or natural, as it will define the contours of the face, for instance, or put emphasis on some body parts rather than others.[8] To discover one's style is to experiment with shadows and light, depending on the idea the photographer might have. Even if we're talking about analog photography and film, which limits the number of shots taken, it is probably necessary to take as many as possible, because the progress of facial expressions, bodily gestures and overall emotion can be tracked and modified.[9] The artists are free to choose and design the setting, costumes and of course the narrative as they see fit, which is why this genre of photo-making is one of the most embraced today.
Editors' Tip: Auto Focus: The Self-Portrait in Contemporary Photography
This lavishly illustrated, accessible survey is organized into five thematic chapters: diaristic and autobiographical images; pictures of the body; the use of masks and masquerade; the return to studio portraiture and the photographic album; and performance, both public and private. An informative illustrated introduction explains the history of the photographic self-portrait from the 1840s to the late twentieth century, providing an invaluable context for the recent surge in artists' images of themselves. From intimate photo of introspection and those that consciously challenge notions of ethnicity and sexuality to dramatic, stylized photographs of dreamlike scenarios, Auto Focus shows how one of the longest-established artistic genres continues to fascinate artists today.
Sources:
Anonymous. Robert Cornelius' Self-Portrait: The First Ever "Selfie" (1839)), The Public Domain Review [August 16,2016]
Armishaw, H.M. The Philosophy of Self-Portraiture in Contemporary Art, Holly Marie Armishaw - Contemporary Artist [August 16,2016]
Saltz, J. (2014) Art at Arm's Length: A History of the Selfie Vulture [August 16,2016]
Stephan, A. (2015) What's the Difference between a Selfie and a Self-Portrait? The Getty Iris [August 16,2016]
Maloof, J., Maier, V., Avedon, E. Vivian Maier: Self-Portraits, powerHouse Books, Brooklyn NY, 2013
Wender, J. (2014) Seeing Themselves: Photographers: Self-portraits, The New Yorker [August 16,2016]
Hattenstone, S. (2011) Cindy Sherman: Me, myself and I, The Guardian [August 16,2016]
Jan Kamps, H. Selfies: Self-Portrait Photography with Attitude, Ilex Press, 2013
Marx, N. Self Portrait Photography Tips, Digital Photography School [August 16,2016]
Featured images in slider: Vivian Maier - Self-portrait, New York City, c. 1950s; Tarek Al Ghoussein - Untitled 2, 2003; Nobuyoshi Araki, from "Grand Photomaniac Diary, 1990-1999; Ilse Bing - Self-Portrait with Leica, 1931; Cindy Sherman - Untitled #462, 2007-08; Weegee (Arthur Fellig) - Self Portrait in Police Van. c. 1940, detail. All images used for illustrative purposes only.