The exhibition In Our Nature of Seonna Hong paintings in Hashimoto Contemporary is a solo show of new paintings of the artist that follow her previous explorations of landscape frequently reduced to geometric and expressive abstraction. Materials used this time range from acrylic on canvas as well as found materials on which Hong paints her often child-like environments. In addition to canvases, the show will feature small vignettes painted on paint chips where title of each color add expressiveness to the compact worlds she creates.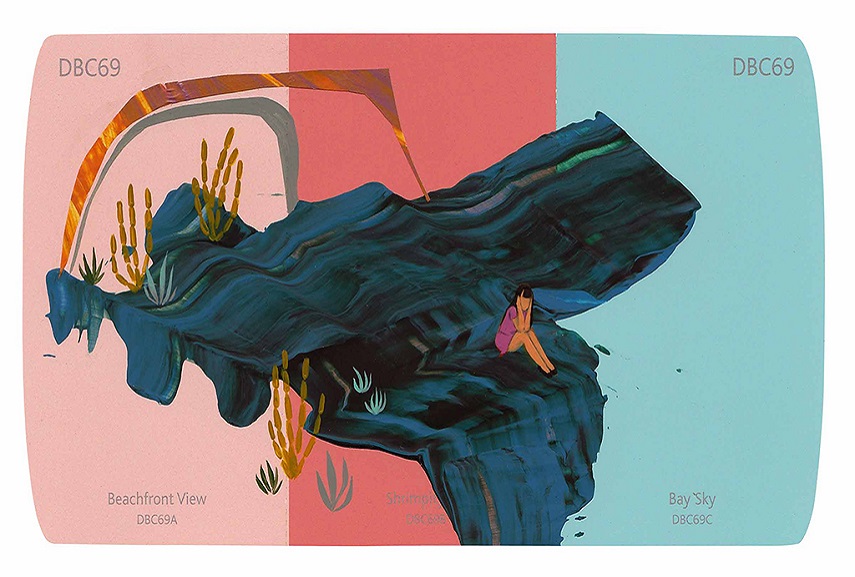 Seonna Hong Paintings of Assembled Realities
Characteristic of Hong's work is a mixture of different styles with general effect being one of whimsical, naïve and expressive worlds on the verge between figuration and abstraction. In her work 3 Second Rule figures of boy and a girl are standing in front of a flat horizon of color. In contrast to the size of the painting their figures are dwarfed, but distinct enough to create an atmosphere of child play and mysteriousness. They are surrounded by blocks of color which denote landscape but are generic and on the brink of pure geometrical abstraction. Disinvestment from a more detailed rendering of surroundings is realized through repurposing of dried paint. Reality of a painting is assembled from swirls of dried acrylic that were previously painted on a different surface, peeled, and collaged onto a final piece. Dream-like worlds of her small vignettes on color chips which drift between different shades of color are bold experiments with context and resourcefulness where reused materials and colors are integrative and expressive parts of each piece.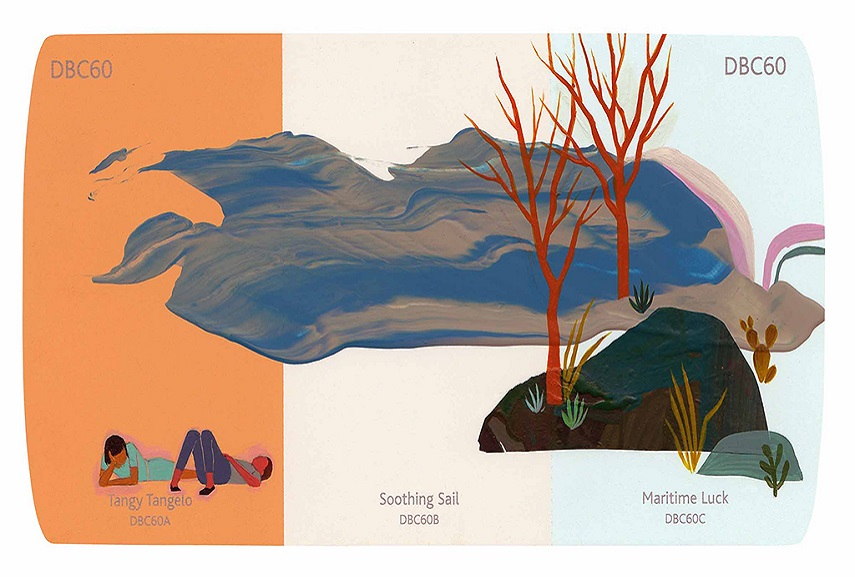 Emmy-winning Artist of Quiet Narratives
Seonna Hong hails from Southern California and currently her home is in Los Angeles where she lives and works. She graduated with B.A. in Art from Cal State University Long Beach and continued her investment in visual culture and education through teaching art to children. Over the years her profile as a painter and animation production artist increased, and her unique aesthetics was awarded with an Emmy in 2004 for Individual Achievement in Production Design for her work on My Life as a Teenage Robot. Two years later she received Joan Mitchell Foundation Grant. She has strong background in fine arts and illustration and continues to develop her practice and to exhibit her paintings around the world, including at some prestigious venues such as Kaikai Kiki Gallery in Tokyo, Japan. With her paintings being often autobiographical and submerged in quiet narratives where dramatic effects lack from both the story and execution of the paintings, she strives to create "bridges of shared experience" between her artworks and the viewers.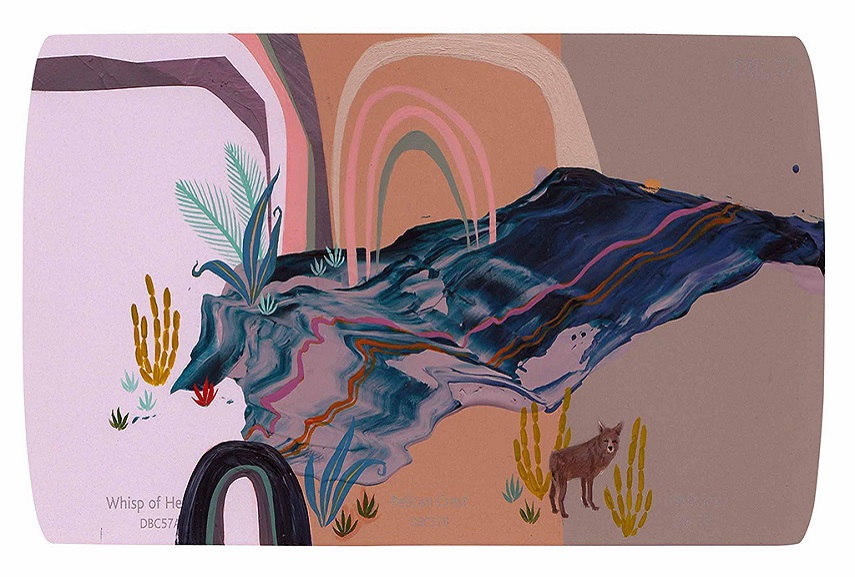 Seonna Hong in Hashimoto Contemporary
Hashimoto Contemporary is located in San Francisco. With monthly rotating exhibitions and an eclectic roster of new contemporary artists, Hashimoto Contemporary focuses its programs on paintings, installation-based work and sculpture, and is present at different international art fairs from Miami, New York, to San Francisco and Los Angeles. The opening of the exhibition In Our Nature of Seonna Hong paintings will be on Saturday, October 8, 2016. The evening reception with the artist in attendance will be from 6pm-10pm. The exhibition will be on view until October 29.
All featured images by Seonna Hong in the following order: Brotherhood of Man, Future Nature, 3 Second Rule, In Our Nature, Inner Body Experience. All images courtesy of Hashimoto Contemporary.