The always fascinating and wonderfully dark Dorothy Circus Gallery in Rome, is celebrating the new Roman spring with the announcement of two new solo shows that will run concurrently. April will see solo exhibitions by both Zoe Byland and Seven Moods at the Dorothy Circus Gallery, both connoisseurs of the avant-garde figurative contemporary international scene. Zoe Byland and Seven Moods exhibited recently in the group show Lacrima Aquarium, dedicated to the theme of water, at the Acquario Romano Museum along with 33 renowned artists from the pop surrealist scene. The solo exhibitions of Zoe Byland and Seven Moods are linked by a nocturnal theme, inspired by early photography and the film noir era, with Zoe Byland presenting work under the title Head in The Clouds and Seven Moods under the title Nocturnalia. The Dorothy Circus Gallery was recently home to the beautiful Even a Doll Can Do It exhibition by Kazuki Takamatsu and Mutatis Mutandis by Veronica Montanino.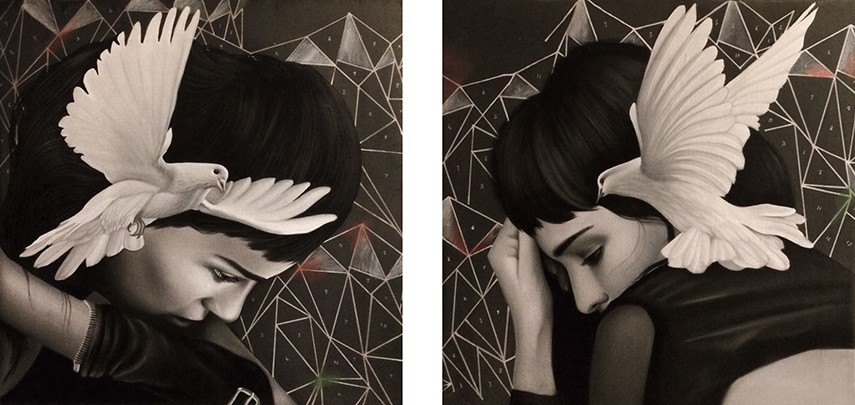 Seven Moods – Nocturnalia
Seven Moods, aka Marco Pisanelli, is one of the leading artists in the Italian New Surreal movement and will present 8 new oil paintings in this solo exhibition for Dorothy Circus Gallery, Nocturnalia. Seven Moods is an artist that makes up imaginary dream worlds that live in his soul, full of colours, places and smells from a parallel dimension to reality. The other worldly characters that appear in the works of Seven Moods, appear from the darkness and creep onto the canvas, enveloping the viewer to become part of their dreams and stories. The Nocturnalia solo exhibition reveals a beautiful cast of characters with a vintage aesthetic, a cast from a film noir crime scene, black against white. And of course, as with all good crime scenes, everything happens at night, the new body of work by Seven Moods is draped in darkness, illuminated by star light and assisted by a range of animals with symbolic meanings. Perhaps also take a look at the works of Anton Van Dalen in Anton Van Dalen at P.P.O.W. and the Freaks and Americana at Corey Helford article.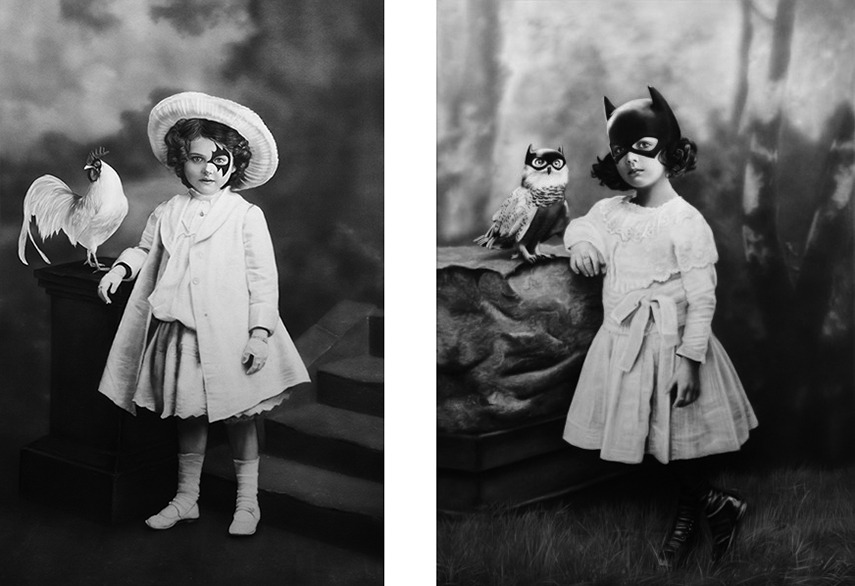 Zoe Byland – Head in the Clouds
Swiss born artist Zoe Byland also presents 8 new paintings in her Head in the Clouds solo exhibition for Dorothy Circus Gallery. Zoe Byland takes us into her bizarre world, rooted in vintage photography that explores the themes of historical and contemporary portraiture, beautifully crafted on canvas with acrylic paints and airbrush techniques. The paintings of Zoe Byland recall the time of polite girls in their best dresses posing for the family portrait, however, she subverts our expectations with an air of mystery in the works, as we find the young girls joined by an array of strange additions. The strange world of Head in the Clouds features one girl with fish swimming around her head, in another, three girls have what appear to be goldfish bowls on their heads with a parrot flying overhead, while another has rock band Kiss style make-up on her eye and is accompanied by a cockerel. A beautifully bizarre collection of images for those who like their art draped in a world of mystery and on the dark side. You may also enjoy the work of Mark Ryden in The Gay 90's: West and the work of Marco Mazzoni in Immune.
Join Zoe Byland and Seven Moods in their dark worlds at Dorothy Circus Gallery in Rome, for their solo exhibitions Nocturnalia and Head in the Clouds that run between 11th April, 2015 and 23rd May 2015.
For all the latest exhibition news sign up to My Widewalls today!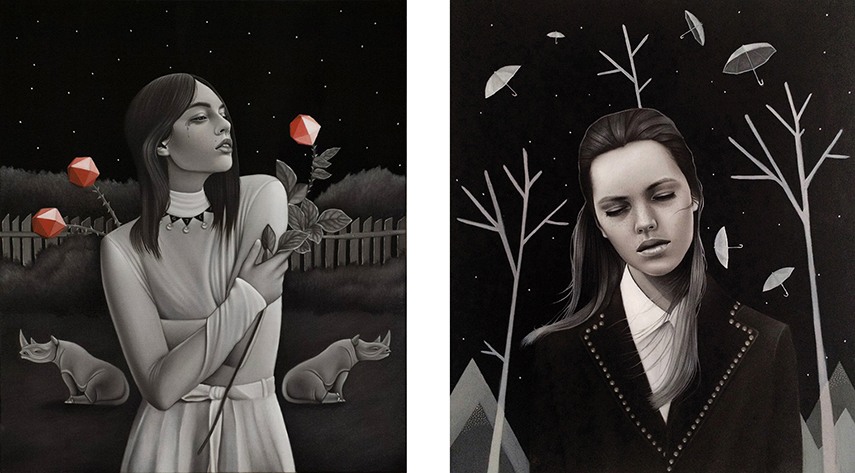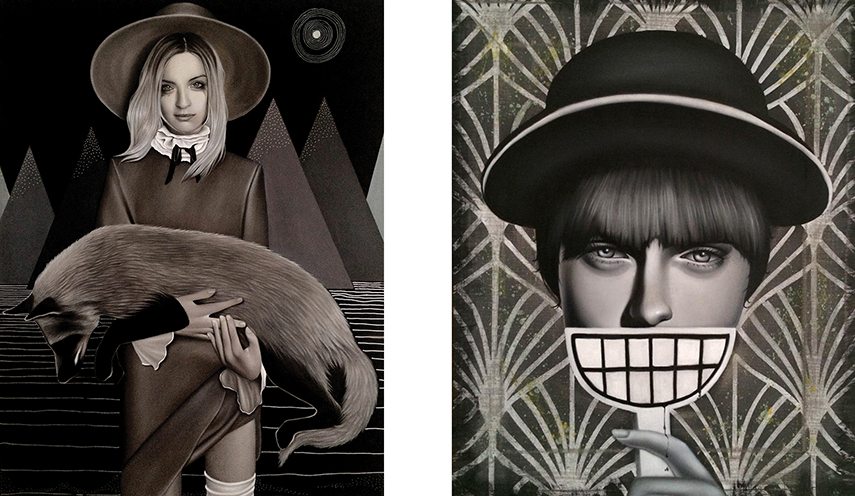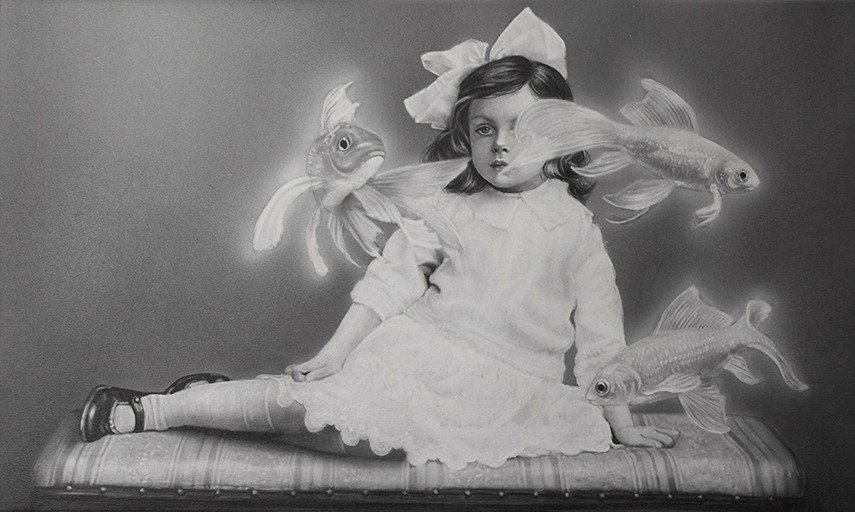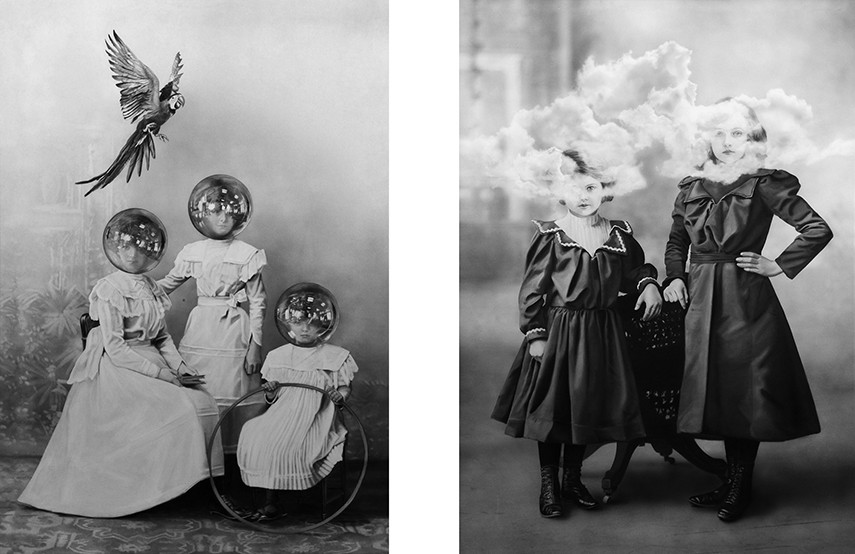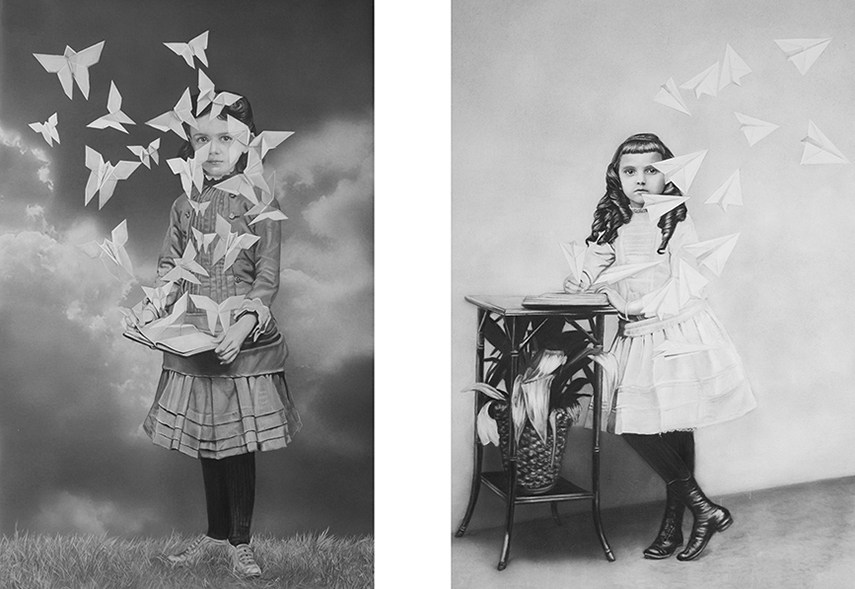 All images courtesy of Dorothy Circus Gallery.