A contemporary American painter, Shara Hughes is known for her vivid invented landscapes populated by riotous bursts of flowers, floating moons, gnarled trees, and blazing sunlight. Referencing various movements, such as Symbolism, Fauvism, and Surrealism, her works defy conventional depictions of light and space. These dream-like landscapes are characterized by bold, clashing colors and shifting perspectives, opening up a fantastical world that functions as a portal of psychological discovery and reflection.
Hughes' current exhibition at the Garden Museum in London, on view until May 24th, 2021, brings together a group of new site-specific paintings and works on paper. Exhibited in the Nave, a vast space at the heart of the Museum, the works reinvigorate and reimagine a more specific element of her painterly trope. They center on a number of flowers, from the umbrella orchid to poppies, painted on a grand scale.
In an exclusive Widewalls interview, Shara Hughes talks about her new series of works, her interest in nature and botanical imagery, her working process, and much more.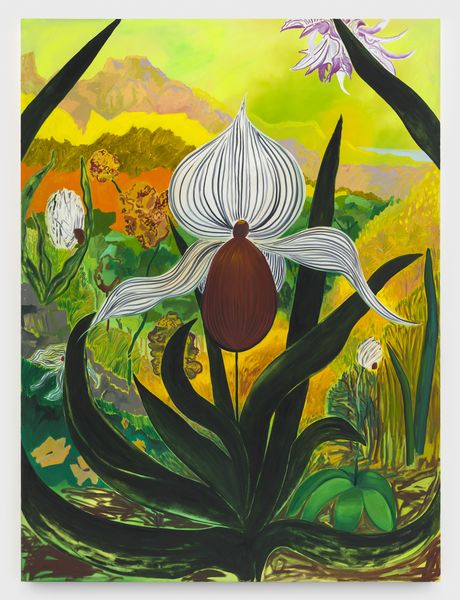 Shara Hughes at the Garden Museum
Widewalls: For this new body of work, you took a more pointed approach to the imaginative landscapes that have defined your practice so far, resulting in a series of site-specific paintings and works on paper. How did this body of work come to be?
Shara Hughes: Actually, I've started thinking about flowers as the subject within the landscapes for a few years. However, this show really uplifts them to a larger scale.
The new flower paintings for this show had more of a specific meaning to me, with the types of flowers they are and how they are portrayed. I thought about some of the smallest flowers such as the Umbrella Orchids (which in reality are about the size of a quarter), which appear in Hard Hats, large and domineering and almost scary, while the poppies in Pop are more in action, as if popping off the surface. The large flowers in the space feel as if you are looking up to these regal figures for answers, as if you were going to church.
The works on paper function in the opposite way than the paintings. While the paintings are an enlarged, zoomed in portrait of flowers within the landscape, the smaller works on paper are a zoomed out, more intimate depiction of landscapes. I like having them both in the same space working in different ways.
Widewalls: The works will be exhibited in the Nave, a vast space at the heart of the Garden Museum, which has not previously been used for exhibitions. How do your works respond to this space?
SH: I love this space for the works. The vastness of the Nave and the way the paintings are hung within the arches lends the work to being looked up to.
I really thought about how the work would sit and compete with the beauty of the structure. I saw the stained-glass windows and loved how at different angles you will be able to see the colors beaming through the windows onto the walls.
When you see Pop, this reflection is happening at the same time and it feels as though the painting is popping out from the edges of the canvas into the church all over the walls. The light changes throughout the day which is really beautiful.
The works look different at all times of day. Something that's specifically different is that you can see the paintings floating which allows the backs to be shown. They almost feel, as if they are being lifted up to heaven like angels.
I love that they become illusions and objects at the same time, but also compliment the space nicely and it doesn't actually feel like an intervention into the space, but it brings an active calmness that allows you to not only admire the paintings but the church at the same time.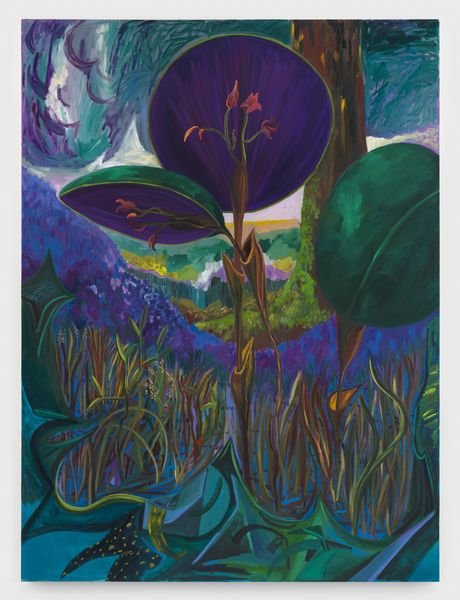 Landscapes and Botanical Imagery
Widewalls: You are known for dream-like colorful landscapes characterized by bold, clashing colors and shifting perspectives. How did you first become drawn to nature and botanical imagery?
SH: I started working on landscapes when I moved to New York in 2014. Before getting into the landscapes, I was painting made-up interior spaces that had more to do with a specific narrative that correlated to what was going on in my personal life.
I believe letting go of the narrative of the painting, before I started painting, really opened up the work into a whole new world.
That's where the landscapes started to evolve. The landscapes allowed me to be as free as I wanted, while allowing the narrative to appear when it needs to. I think it becomes a balance of being in and out of control.
Widewalls: These kaleidoscopic landscapes are scenes created entirely from your imagination. Could you tell us something about your working process?
SH: I usually start working with the canvas on the ground with water-based paint or dye because I can work fast and cover the surface quickly. This is usually, when I work completely abstract. From there, I will put the painting on the wall and think more about where this painting will take me. I imagine the entry and exit of the space and work intuitively until the landscape unfolds itself.
With this show in particular, I knew I wanted to work with specific flowers, so I researched what the flowers generally looked like and went from there, once I could see how the landscape was unfolding. I like working this way because it feels really honest and direct, without any preconceived expectations.
Widewalls: It has also been suggested that the works reflect the turbulent human mind, reaching deep into human psychology. Could you tell us more about that?
SH: I've always worked in a way that reflects our inner perception rather than what we actually see in real life. I think our mind does the same thing all the time. Many of the landscapes reflect some kind of anxiety or unknown space that exists inside you. When I'm using flowers or trees, they are often stand-ins for figures, or sometimes self portraits.
I think there is space for the viewers to bring their own interpretation in, how they relate to what kind of landscape they see or feel when looking at the paintings.
Future Plans
Widewalls: Whose work has influenced you along the way and who are the artists you appreciate now?
SH: Oh gosh, so many to list. Recently I've been looking at the group of seven in Canada. And I'm always appreciating some of the American modernist landscape painters like Arthur Dove, Milton Avery, Georgia O'Keeffe, and Marsden Hartley.
However, I think about all types of painters, so I don't stick just with landscape painters. It's always been more about the painting than the landscape.
Widewalls: What is next for you?
SH: Next, I will open a show of Sun paintings at [Galerie] Eva Presenhuber in Zurich at the end of May.
Then I'm traveling to upstate New York to start working on a 40-foot-long painting for the Yuz Museum in Sheng Hai. I'm looking forward to seeing how that project will turn out since I have never made a landscape in the landscape orientation. I've only made portrait-orientated landscapes, so it should be an interesting challenge. And the scale is enormous, so that's another feat to tackle that I'm looking forward to.
I'll be putting together a show at the CAM St. Louis that opens September 3rd, so it will be quite a busy year.
Featured image: Shara Hughes. Courtesy of the artist and Pilar Corrias, London.