Facebook status updates, tweets, texting acronyms - to a millennial (and generations beyond) these make up an important part of the everyday, to the point where people communicate through memes exchange alone.
Because such is the world we live in, certain aspects of contemporary art are very much influenced by internet trends as well - if you take a look at the work of Shawn Huckins for instance, you'd think it's a series of memes; 18th and 19th century paintings overlaid with texts like OMG, LMFAO, ROFL, UGH. Those who are more art savvy will perhaps also recognize a portrait of George Washington behind it, or one of Lincoln, or even connect the pastel-colored image of a snowy mountaintop with a bold white writing on it to the iconic works of Ed Ruscha.
In another Huckins series Atheneum for example, we also see portraits bearing the battery low symbol, the freezing MacBook wheel, or the gray and white checkerboard pattern like the one used in Photoshop. But don't let these fool you, for what you are looking at is actual paintings, acrylic-on-canvas replicas of historical portraits from the White House Historical Association Website. Even the writings and symbols come from the Internet itself; which leads us to believe that Shawn Huckins is an anthropologist of sorts, one that delves deep into past and present alike, drawing unexpected conclusions visually interpreted in quite a unique way.
We go behind these explorations and findings with Shawn Huckins, in an exclusive interview for Widewalls.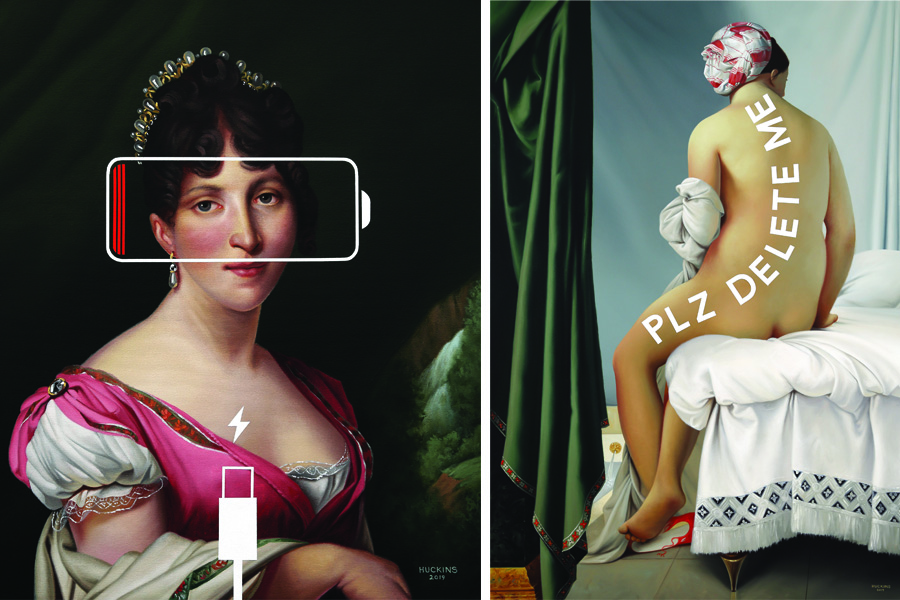 Shawn Huckins, The Painter
Widewalls: What comes first, the painting or the writing (both in conceptual and technical sense)?
Shawn Huckins: It's hard to answer since my process is split into two parts. One day, I will research paintings and the other day I will research text phrases. Both are separate processes. I'd much rather do the former, as searching for texting is pretty exhausting since 99.8% is fluff and it drives me crazy to sit a computer for extended periods of time.
But in an attempt to answer, it happens both ways. I can have a painting first and then search my long list of potential text to find that perfect phrase to match with it. Or, if I'm really excited about a particular text phrase I want to use, I will search my image records for the perfect painting to match with it.
Some factors that come into play when pairing the text to an image is whether the portrait is male or female, the expression on their faces, their stance in the painting, or whether it's a landscape. I mostly do portraits, but occasionally will do landscapes to fit with the text (usually having to with environmental issues).
Widewalls: How do you find the writings? Is it random or do you have particular sources on social media?
SH: My primary source for text is social media from random people all over the world. I never use my own text, as I feel it would be too contrived and I want to accurately record 'technological-speak' from other people. I may edit the text phrases to flow better, or to look better compositionally on the painting, but the overall theme is retained.
Widewalls: And what does pairing them with the images look like? Do you try different options out first or is it "pairing at first sight"?
SH: It's hard to explain, but it's not rocket science either. It's just whatever feels right. I describe it as when a painting 'speaks' to me. And if they're quiet, I will redo something to try to make it talk, or abandon it completely.
I'm working on a painting right now which isn't quite speaking to me yet, so I need to figure it out before moving forward with it. I think the 'speak' is a quality that every artist has, but simply put, it's a gut feeling.
Historical Paintings and American Portraits Go Meme
Widewalls: You seem very interested in the American history. Where does this fascination originate?
SH: I was born and raised in New England, so the beginnings of the nation where founded in the area where I was immersed in. As a young child, my favorite subject in school was history and I loved learning about American historical roots, the folk tales, and all the traditions that began in the area where I grew up.
My artwork has always dealt with 'Americanness' is some fashion, whether it's mass consumerism, or the fading architecture of main street. My latest body of work, which I've been doing for about a decade, takes on my love for American history.
Widewalls: Your paintings seem technically demanding: how would you describe the creative process of making them? What happens first, and what happens last?
SH: Everything begins on the computer. Once I find that perfect text to marry to an image, I will play around with composition and font style on the computer until I find a composition that works. Once I'm satisfied with the layout, I will draw the painting onto white canvas, as well as draft out the text. The text will get masked off with tape before any paint hits the canvas.
From here, I employ traditionally methods of painting where I can complete a warm under-painting to establish lights and darks and to give a nice 'glow' beneath the painting. The under-painting is followed by finalized layers of paint with glazing used in some areas.
Once the entire painting is finished, I will remove the tape to reveal the bright white text masked at the very beginning of the process.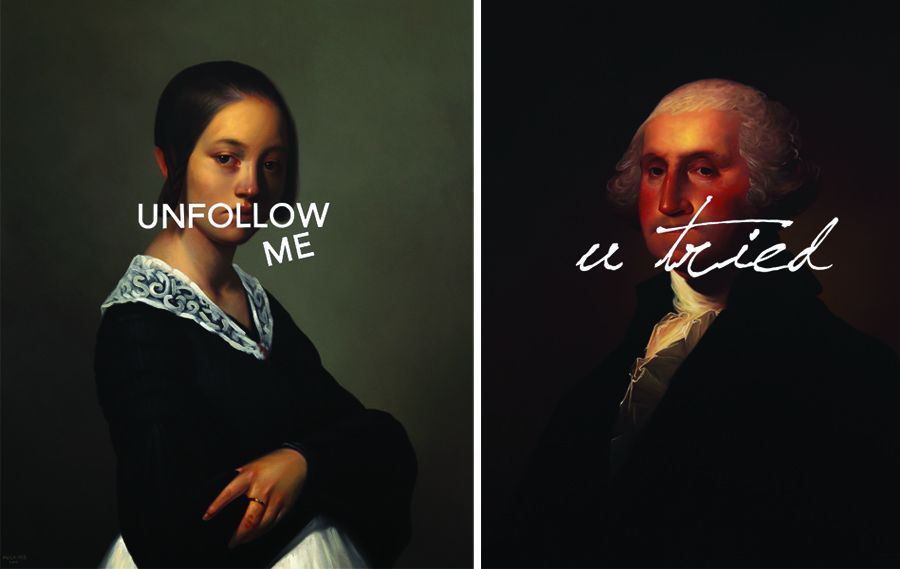 Digital Futures
Widewalls: You have quite a social media base yourself. How do your paintings do once you put them up on Instagram? What is their interaction with the internet like?
SH: My paintings are very 'meme-able,' so they get shared and re-posted a lot which is a plus to getting my work shared. Being that I am commenting on language used in technology, it's a great fit when the finished work gets immersed where I source my material… sort of like the life cycle of the painting is complete.
The only down-side is people often confuse my paintings for digital works. They see my work and immediately think I'm digitally manipulating the original painting when, in fact, I'm recreating the entire piece with paint, including the lettering. I often post details of my work, so people can see the texture of the canvas and understand these are actual tangible paintings.
Widewalls: With your work, you are creating this juxtaposition of the Old and the New. Are the viewers to decide which side they are on? Do you have a side you are rooting for yourself?
SH: I'm an old soul myself, so I prefer the old traditions of painting and society class. Technology, as great and helpful as it is, is ruining our human one-on-one interactions with each other. I grew up just before cell-phones came to mass market, so I was able to learn how to resolve conflicts with conversation and not hide behind a tiny screen. I wonder if empathy (especially with today's youths) is being lost and masked with our abundant phone use.
Widewalls: How do you see the evolution of (internet) communication from here on out?
SH: In some ways, I feel that internet style communication (or 'digi-speak' as I like to call it) has peaked and while it's still being used, the internet has been around for a while now, so it's not viewed as special or 'new' as it was a decade ago. I also see signs of people trying to focus on better writing and communication skills, since the internet has encouraged the shortening of phrases.
I'm hopeful that communication will improve, as the fad to use 'LOL' and 'OMG' becomes less relevant.
Widewalls: What's next for you?
SH: I'm working on a new body of work which will debut in June at a solo exhibition at K Contemporary here in Denver.
I also have a two additional solo exhibitions scheduled for this year. One at Stephanie Chefas Projects in Portland in October, and second at Modernism in San Francisco in November. I will also show new work from my new series at these two shows.
Featured images: Shawn Huckins portrait; Shawn Huckins - Evening Glow At Lake Louise, Hey Siri, How Do I Leave The Planet?, 2019. Acrylic on canvas, 60 x 84 in (152 x 213 cm); Washington Crossing The Delaware, Critical Drinking, 2019. Acrylic on canvas, 62 x 96 in (157 x 244 cm); Smut Still Life With Fruit And Canary (Nature's Bounty, White House Art Collection Erasure No. 28), 2019. Acrylic on canvas, 62 x 50 in (152 x 127 cm); Princesse de Broglie, I've Waited A Long Time To Be Disappointed By Someone Like You, 2019, detail. All images courtesy the artist.