Sheffield street art murals are painted all over this industrial city in the north of England, on the edge of the Peak District national park. This place, probably best known for the production of steel, has become a street art hot spot that you have to visit. The home of many creatives and the Festival of the Mind, Sheffield proved to be the perfect playground for street artists, such as Phlegm, Kid Acne, Faunagraphic and Rocket01. If you start wandering around the streets of the city, you will find colorful, magical murals on construction sites, shops, pubs and neglected, run-down buildings. New murals are created every week, you just have to spot them! Widewalls curated a list of ten extraordinary  street art murals you have to find and see in Sheffield.
From the nature-inspired works of Faunagraphic via fairytale-like imagery by Phlegm to Kid Acne's witty slogans, these murals will leave you hungry for more. Scroll down to check them out!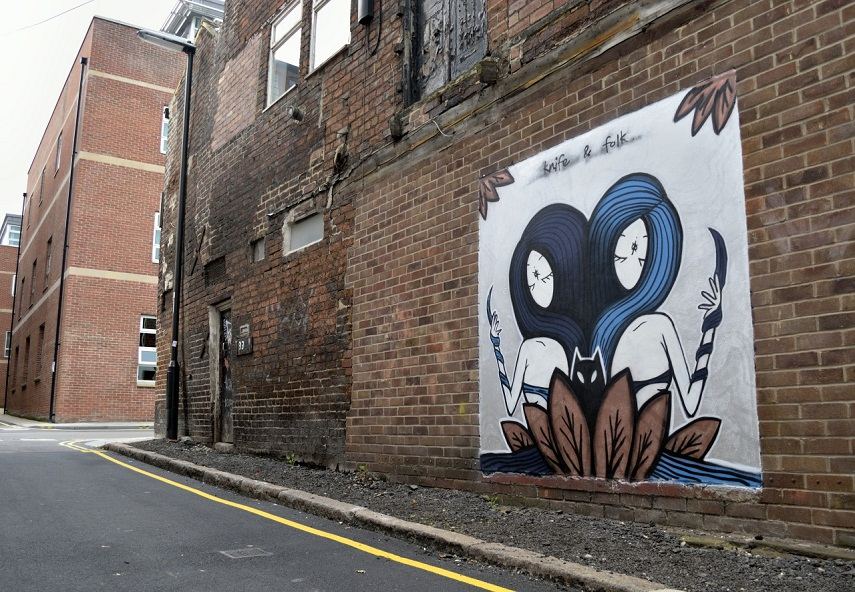 Coloquix for Knife and Folk Gallery
Coloquix likes to paint girls and cats, so the majority of (if not all) his works feature a black cat and one or two naked, long haired girls, resembling creatures from a story for children. His magical, fairytale-like painting now adorns the wall of Knife and Folk Gallery in the center of Sheffield. This is not the only art piece that decorates the exterior of Knife and Folk, so you definitely got to check it out!
Image courtesy of Sheffield Street Art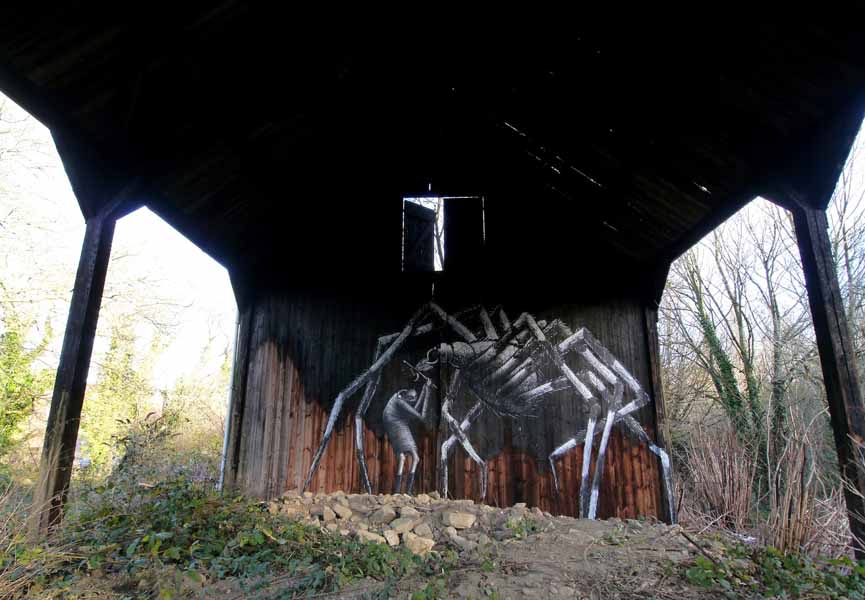 Phlegm - Spider
Now here's something that will scare you if you pass the derelict, burnt out barn along the Station road in Mosborough, alone and when it's dark. A black and white character is feeding a gigantic, terrifying spider with a fly. The author of this piece is Phlegm, the renowned Sheffield-based muralist, whose works you can often see on the abandoned warehouses, factories and run-down spaces, both in the Steel City and around the world.  His surreal, story-telling murals are always monochromatic, precise and highly-detailed. A true work of art!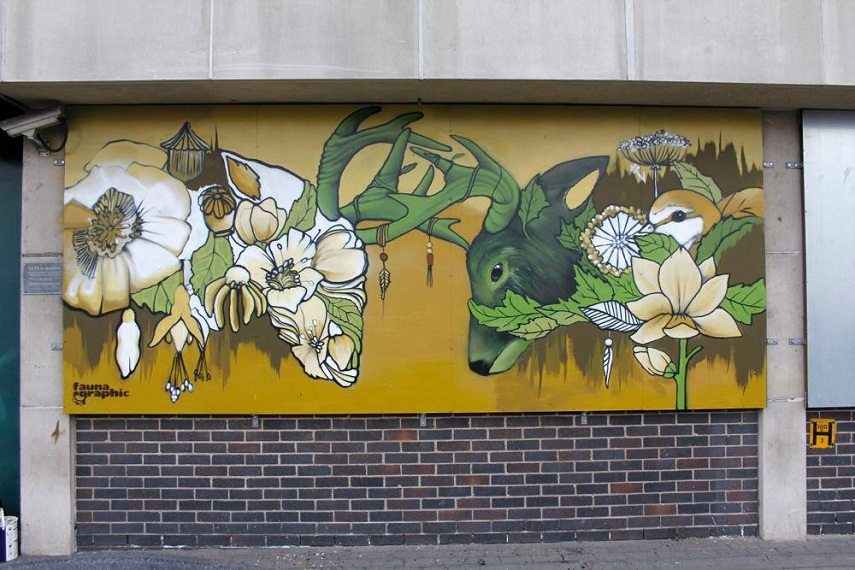 Faunagraphic - Deers
As her name says, Faunagraphic is an animal-lover, tree-hugger and a street artist/graphic designer. This artist from Sheffield likes to paint animals, especially birds and small creatures, and to raise awareness about our environment, both on canvas and walls. She has been doing that with passion since 2006. Her beautiful murals are all over the city, so you will come across one without doubt, but this piece which portrays the fight of two deers, adorned with floral motifs, can be seen  at the bottom of the Moor on Eyre Street. A must-see for all the lovers of flora and fauna!
Image courtesy of Faunagraphic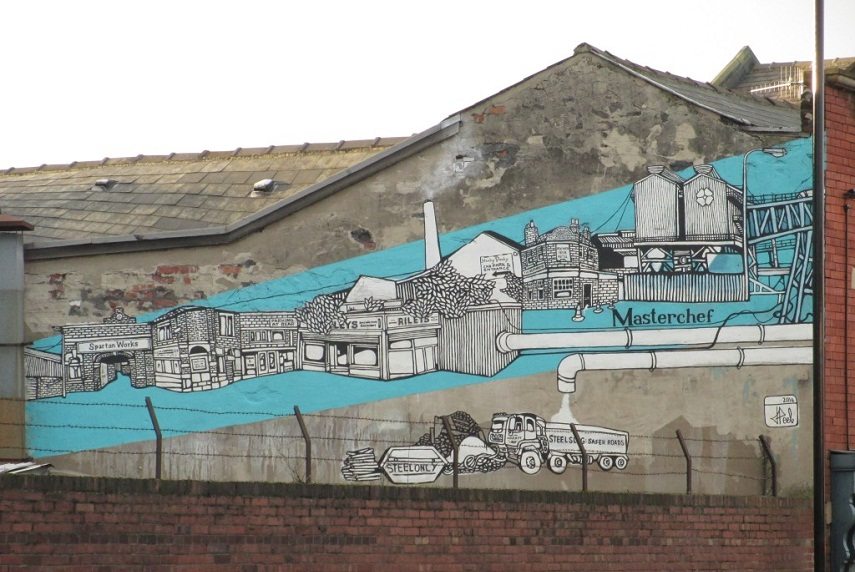 Jo Peel - Attercliffe Wall Mural
Whereas Faunagraphic finds her inspiration in the world of plants and animals, Jo Peel,  a painter, printmaker, animator and film maker is inspired by the man-made. Her paintings and murals show urban landscape, architecture and her home city Sheffield. Her works give soul and life to buildings she paints with precision and with many details. This captivating mural located on Staniforth Road in Attercliffe is painted in her signature colors - pastel blue with monochrome objects. If you've been to Attercliffe, you may recognize the Spartan Works building, The Wentworth pub and Sheffield Forgemasters. Wouldn't you like to have such a lovely representation of your neighborhood in YOUR neighborhood?
Image courtesy (detail) of Street Art Sheffield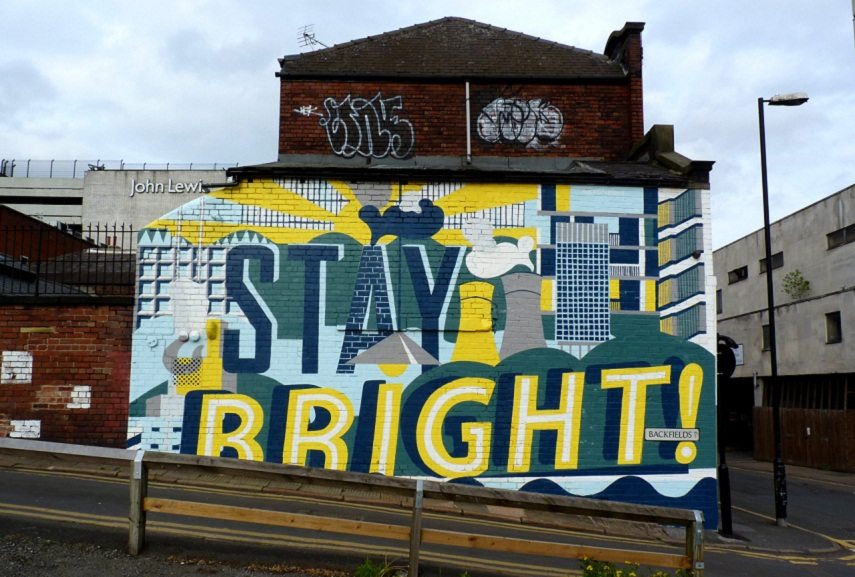 Emily Forgot and Peter Barber - Stay Bright
This is the mural that you want to see every time you go to work, when you break up with your girlfriend/boyfriend, when you fail an exam or just every Monday morning.  However, this boldly-colored and uplifting painting was inspired by derelict steel works called Stay Brite in the area. Just like Jo Peel's Attercliffe mural, this one honors the city of Sheffild -  it depicts famous Sheffield landmarks, such as the Arts Tower, the former Tinsley Towers and the Moore Street electricity substation. You can see it  on the side of the Brew House on Wellington Street thanks to Emily Forgot who designed it, and Peter Barber who had a tiresome task to paint it (with some help from Rob Lee) Have a good look at this sunny yellow street artwork if you're not feeling very optimistic these days.
Image (detail) via Sheffield On Record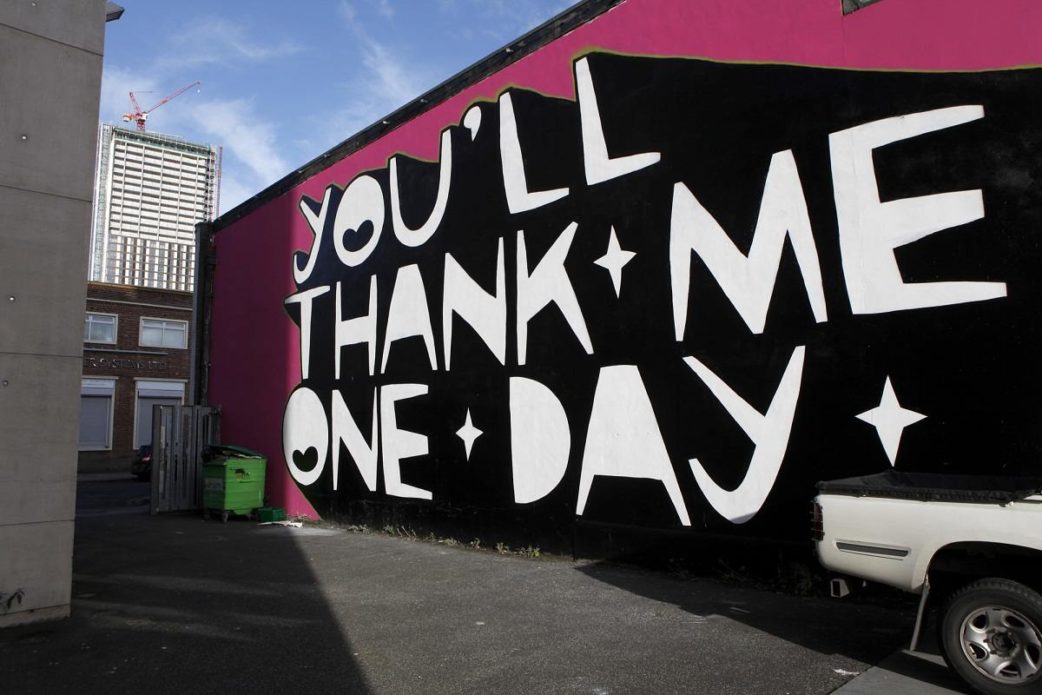 Kid Acne - You'll Thank Me One Day
This huge pink-black-white mural is one of the most famous on our list and one of the numerous Kid Acne, an intentionally renowned graffiti writer, illustrator and hip hop enthusiast created in Sheffield. Spanning over the wall of the Yorkshire Artspace carpark, the slogan graffiti was painted in 1997, when there wasn't much street art in this city, let alone in the area where the mural is situated. Kid Acne planned to write "CHILL OUT GRANDDAD", but changed his mind in the last minute and opted for something that a granddad would say before that. Although this graffiti can be interpreted in many other ways, now that you know the background story, can't you hear your parents/grandparents uttering this sentence? This piece does a wonderful job in honoring all the grandparents of the world.
Image via AOI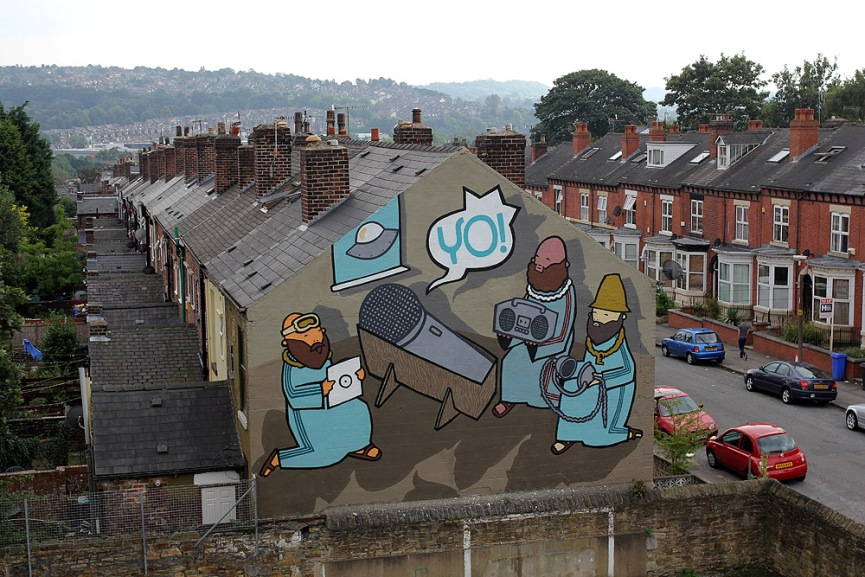 Kid Acne - The Birth of Hip Hop
Another artwork by Kid Acne! As mentioned, this artist is not only interested in street art, but he is also very passionate about hip-hop culture.  The Birth of Hip-Hop was commissioned for Festival of the Mind, which took place in Sheffield in September 2014. The creation of the mural accompanied the talk The Word Made Fresh by Dr Katie Edwards. The two of them explored the Bible's influence on street art, as shown in the eye-catching mural which portrays Baby Mic and Three Wise Men, bearing the gifts such as a hip-hop record, headphones and a cassette player. Christmas is all around!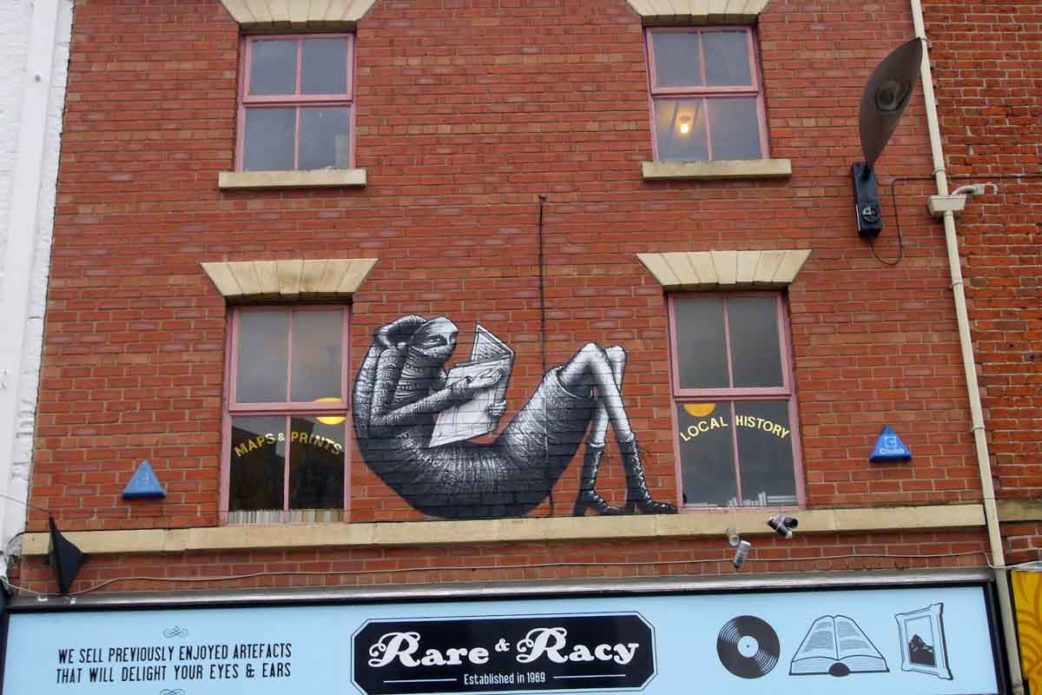 Phlegm at Rare & Racy
After feeding the giant spider, we can see Phlegm's signature monochrome figure resting on the building of the local store called Rare & Racy. Rare & Racy is a much-loved independent music store that sells books and records, apparently doomed by a developer's decision to demolish the building, despite a 20,000-strong petition. This means that the piece by Phlegm could be gone, too! Phlegm painted his character, reading the newspapers or a book above the entrance door of this vintage, cozy shop. Hurry up before this detailed, storybook-like artwork is gone!
Rocket01 - David Attenborough
Is there a better way to show your love in a subtle way than by painting a large-scale portrait of the popular British presenter and naturalist David Attenborough, wearing badges that say "I love Fauna", "I love Sheffield" and "I love Planet Earth"? If you haven't guessed, Rocket01 is the partner of previously mentioned street artist and environmentalist Faunagraphic.  They share the love for art, nature and their city, and travel together adorning walls of different countries with their wonderful art. David Attenborough's huge and detailed portrait was painted in the center of the Steel City in August 2012.
Image courtesy of Sheffield Street art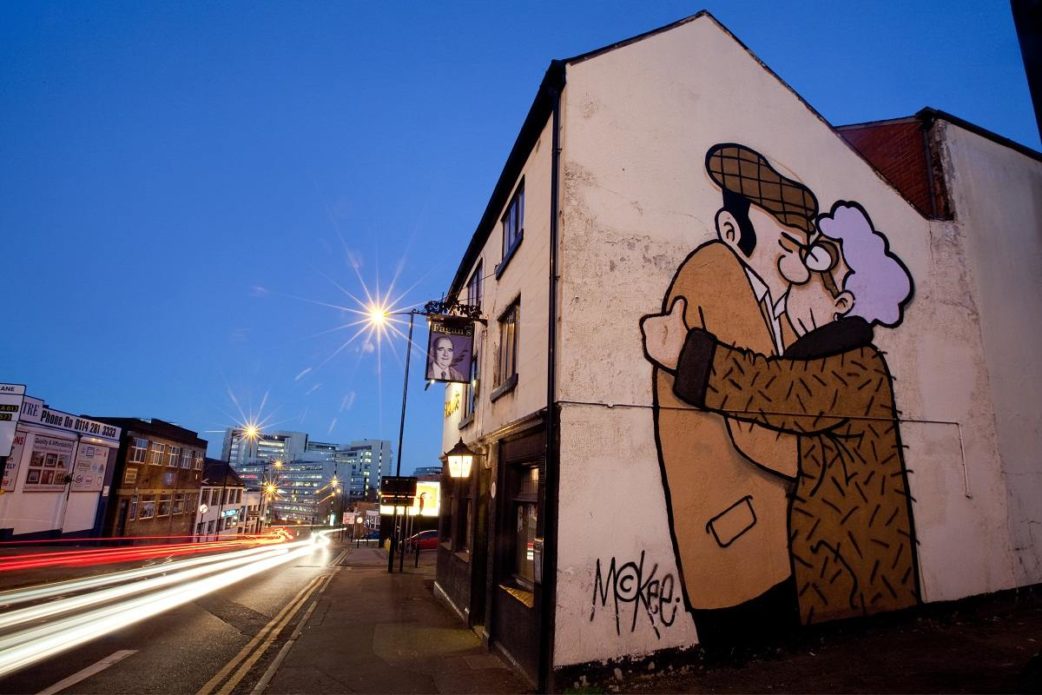 Pete McKee - The Snog
Love is all around! The kiss was captured by Pete McKee, whose works can be usually seen on merchandise, not on walls, as he collaborates with music stars and designers, such as The Arctic Monkeys, Oasis and Paul Smith. He finds inspiration in the 60's and 70's Sheffield of his childhood. The mural is located on the side of Fagan's on Broad Lane. Check it out and bring the loved one!
Photo courtesy of Andy Brown
Hungry for more art? Sign up for FREE to My Widewalls!