Today's news is that the famous street artist Shepard Fairey will be facing arrest if he returns to the city of Detroit! Just recently, Fairey finished the largest mural of his career in Motown on a 18-story building One Campus Martius, formerly the Compuware building. It appears, though, that while Fairey was painting the mural, he also painted some other things on some other buildings, and the Detroit police pressed charges against the LA-based artist, for causing a $9,000 worth of damage throughout Detroit.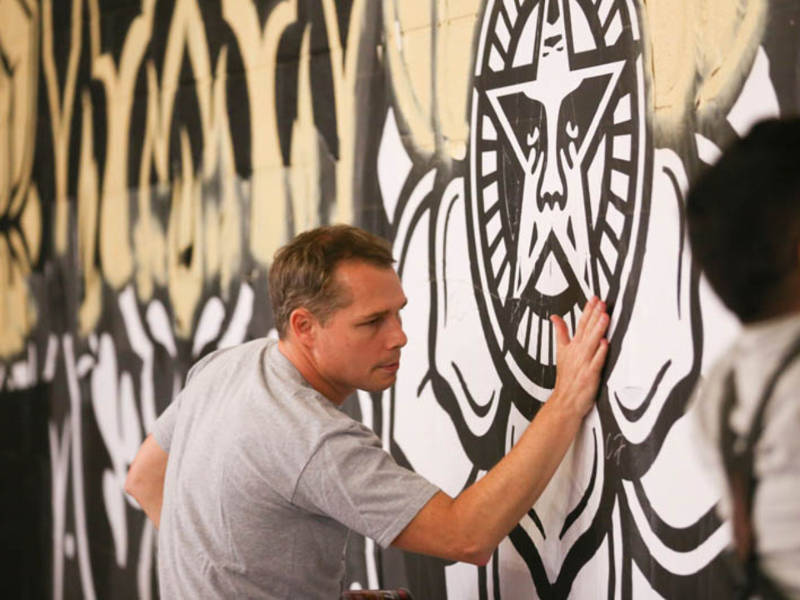 What Was Shepard Fairey Doing in Detroit
Before even coming to Detroit and beginning his work on a mural, which was commissioned by Dan Gilbert's Bedrock Real Estate Services, Meridian Health and the Library Street Collective gallery, Fairey stated that he is still producing art on the street without a permission, and that he would do just that during his stay in the city. But that was a big no-no for the Detroit police. In a generally sad story of a city devastated by the economic crisis and crime, Fairey was accused for creating a total of nine square-shaped posters with his well-known symbols (like Andre the Giant) between May 16 and May 22 2015, and, of course, on private property. If convicted, Fairey would face a possible jail-time up to five years, and a fine over $10,000. It appears that Detroit officials and city's police, unable to tackle much bigger issues and problems, have picked on graffiti artists - Mayor Mike Duggan said that seven different felony charges were brought up in the last six months against graffiti artists, and that graffiti is being "dramatically reduced". Well, bra-vo (the applauding sound should be inserted somewhere here).
Apart from painting that gigantic mural, that he finished at the end of May, and that changed the way Detroit's downtown looks like, Fairey did another, smaller mural, and five paintings for an outdoor public exhibition called Public Matter. Also, an exhibition of Shepard Fairey's work, called Printed Matters, was opened at the Library Street Collective gallery in Detroit, and it will remain open until August 15.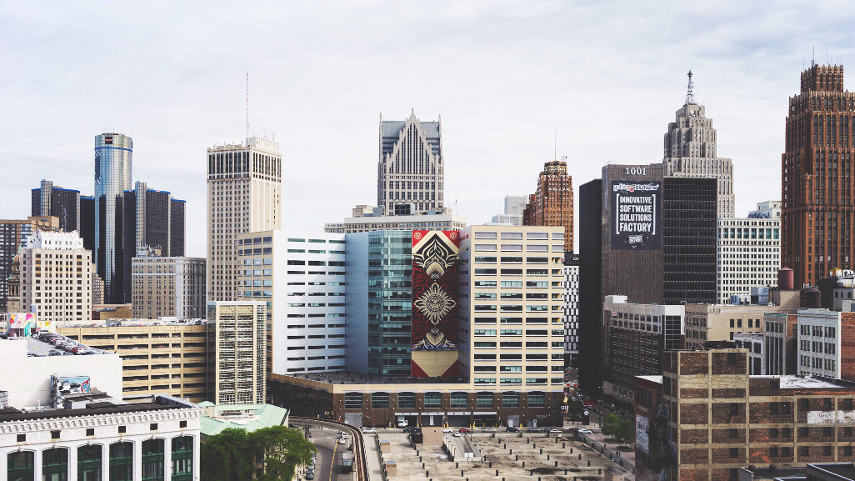 Art or Vandalism?
So, what could we say on Shepard Fairey's actions in Detroit (apart that he's, obviously, a very productive artist)? First of all, hats off, for creating so much free art in such a short term! Seriously: two murals, of which one was 184-by-60-foot big, five paintings, and at least 14 street art pieces, in less than a week. We've said 14 pieces, even though Fairey was accused for nine, because the police could not find the property owners of five locations, or they were not willing to press charges. Second - here's a little advice to the Detroit officials: Perhaps you could find a way to sell those nine Fairey's posters. You would have gathered much more than those $10,000, easily. The value of Shepard Fairey's works exceed the 'damage' estimated by the police. And that's just one part - what about the visual improvement of city's facades? What about the possible gains from tourism? On the other hand, there is that small thing of, let's put it that way, changing someone's property without a permission. It is a difficult question for solving: the police says it was the act of vandalism. The artist and his admirers say that was art. And a compromise between those far apart qualifications could hardly be found. Perhaps it's one of those things that will never change: some people will paint the streets, no matter what, and the other people will pursue them, no matter what. That's the way it is.
Your opinion is valuable to us! Please join us for a discussion on our Facebook page.
Sign up to My WideWalls for FREE and be up-to-date with contemporary and street art.
- Featured photo courtesy of the artist.
- Slider photo: Shepard Fairey's exhibition Printed Matters in Detroit - Photo by Christopher M. Bjornberg, courtesy of Detroit Free Press.