That JustKids, the Global Art curator, is one of the busiest and most prolific outdoor initiatives out there shows their latest painting adventure featuring two of the most famous urban artists in the world. In partnership with Life is Beautiful Festival, the ever-growing art gallery in downtown Las Vegas just got richer for two massive murals covering the 21-story tower of the iconic Plaza Hotel & Casino! This time round, they brought together American prodigy Shepard Fairey and British legend D*Face, who once again painted wonderful pieces in their trademark styles.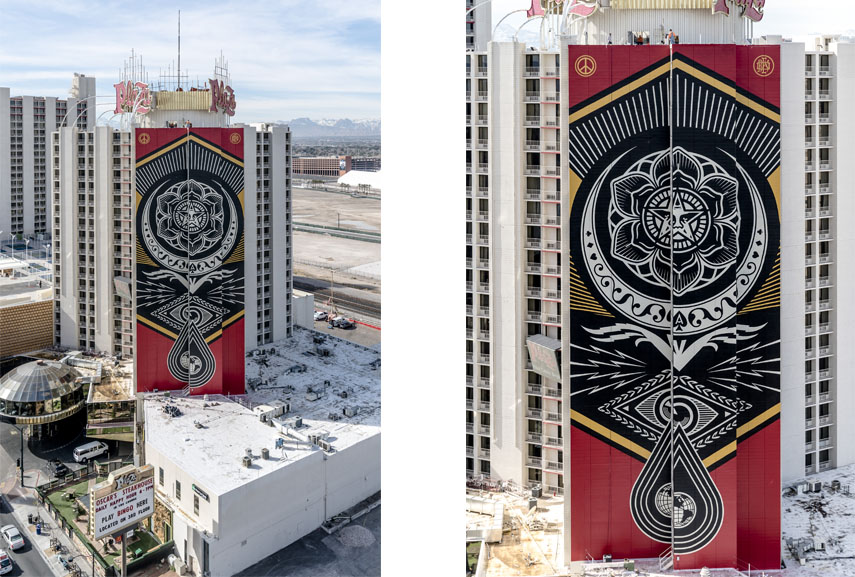 Shepard Fairey - Cultivate Harmony
Only a week after the historic demonstration of his We The People political poster series, Shepard Fairey found himself in Las Vegas, accompanied by his wonderful team of collaborators. For six days, they created a great mural entitled Cultivate Harmony in unexpectedly cold Nevada weather. Once again proving his mastery in proportion and great detail, the artist incorporated his iconic stencilling, using the usual color palette of black, white, red and yellow for a mesmerizing visual effect. "This kind of work is very physical and pretty exhausting, but it's also very rewarding to see a piece on that scale come together," said Shepard Fairey.
The lotus flower, the peace sign, the Obey logo, the globe inside a teardrop remembering his latest environmental theme Earth Crisis. Through his design, Shepard conveys the idea of peace between human beings and harmony with the planet. "These ideas are hard to argue with unless you are really just someone with a reactionary and a hostile side.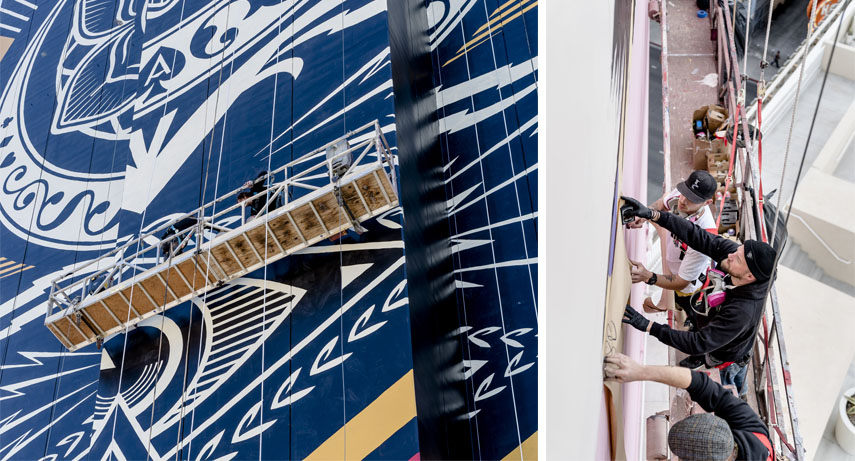 D*Face - Behind Closed Doors
Dysfunctional comic book characters in Roy Lichtenstein-like style is what made D*Face famous around the globe. Making use of the Plaza architecture in an ingenious way, the artist created Behind Closed Doors, his fifth mural in the Downtown Las Vegas area (with his other works being located throughout the Fremont East and have been curated by JustKids as well, since 2013). A frightened female about to get grabbed by a skeleton hand, lurking around the facility's uneven surface.
On his inspiration, D*Face commented "I get to stay in many varied hotels in many cities, as such I've become fascinated with the comings and goings in these dwellings, the people, the stories, the lives that have been before. I wanted to play with these and use the architecture to present a mural to the public that is both a reference and, I hope, an homage to hotel life."
JUSTKIDS presents: Shepard Fairey & D*Face on Their Plaza Hotel Las Vegas Project
Changing Las Vegas
We talked to Charlotte Dutoit of JustKids about this incredible project, and got an exclusive insight into the creative process behind the creation of these stunning murals.
Widewalls: What can you tell us about the creation of these murals?
Charlotte Dutoit: On the production side, when you are working on a building that size, there are a few challenges and concerns that require a lot of upfront work to make sure that the logistics and security are solidly executed. I mean it's a beast of a wall, it's obviously a serious business. For the preparation, we were working with the Plaza hotel team. They commissioned the piece but still it's a completely new world for their staff and considerably changed the engineer, maintenance and security department routines for at least 2 weeks! It was like a weird encounter between 2 worlds at the beginning but they were on point and everything went really well.
Concerning the artistic part, it was crucial for us to insure that both artists kept their creative freedom without any compromise because of the location or the massive exposure of the wall. Having worked with Shepard and D in the past, we knew that they would be considerate and respectful regardless of the public space situation but still it's in their nature to challenge the convention. Shepard Fairey is an artist and activist so his work will carry one way or another his social and political ideas. D*Face's art is known to be cynical towards the consumerism and the American dream so that was not a given for the final approval for a one thousand room hotel and casino! Usually the only things that are displayed on this type of business walls are advertising banners. But the owners of the Hotel, the Zabludowicz family, are also major international art philanthropists, so they understood perfectly the importance of public art, which was great. It allowed these 2 murals to be exactly as they were originally designed. And indeed the murals after being up since 2 weeks are already very popular and have received so many positive feed-back!
Widewalls: How long did it take and what was the atmosphere like?
CD: Once the artists arrived on site it's non stop for everybody. Both teams, Shepard's and D's, worked each day from morning to sunset on the wall. It took 6 days for Shepard and 7 days for D, which is really fast for a wall that size. The atmosphere is a mix of hard work, good fun, productivity, and camaraderie. It's one of the best aspect about this, beside the art pieces of course.
Widewalls: Why this particular location?
CD: Since 2013, Justkids have been converting Downtown Las Vegas into an open air art gallery through the annual Life Is Beautiful Festival with murals and installations by incredible artists from all genres and countries. So this part of Vegas has become one of our favorite playgrounds. In 5 years we have witnessed and participated in this major downtown metamorphosis and revitalization. These efforts have created a growing interest toward arts from the local community, residents and businesses. So when the Plaza reached out to us, it was the natural continuity of what we have started. Just way bigger!
Widewalls: What is the story behind each mural?
CD: D*Face's mural is a very personal interpretation of the hotel life in his usual super clean comic book style. The use he made of the building sections is just brilliant. Same for the proportion. He choose to paint a close-up on a face so it looks even larger.
Shepard's mural could be seen as more ornamental but if you are familiar with his work you can recognize some of his iconic images and symbols that connect to his previous defiant works.
Widewalls: What were the artists' impressions, once painting was done?
Like every artist that spend so much energy in something so big and complex, they both felt a sense of relief, accomplishment and a sort of adrenaline rush I guess...
Be sure to catch Life Is Beautiful Festival in downtown Las Vegas between 22nd and 24th September 2017, for yet another showcase of established and emerging creatives!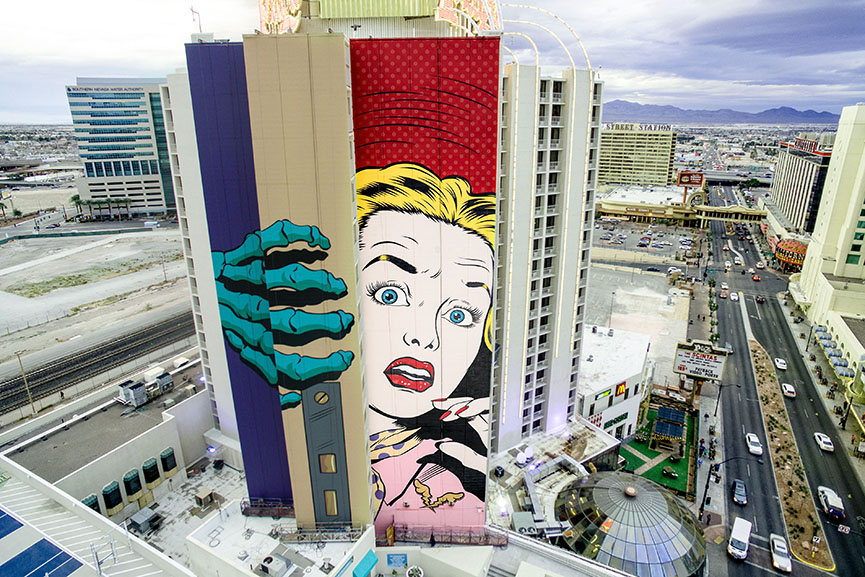 Featured images by Raymesh Cintron, courtesy JustKids.