Obey has released a new print today through his online shop based on a photo shot of famous writer William S. Burroughs by Kate Simon. This collaboration celebrates of what would be 100th birthday of Burroughs on February 5th. It is a limited edition of 450 screen prints, $65 each, signed by the artists.  Both Shepard Fairey and Simon, the famous photographer who has created many iconic photographs that are part of modern popular culture, are Burroughs' fans and were influenced by his writings throughout their lives. William S. Burroughs (February 5, 1914 – August 2, 1997) was an American novelist, short story writer, essayist, painter and spoken word performer. A primary figure of the Beat Generation and a major postmodernist author, he is best known for his novel "Naked Lunch". He is considered to be the most politically vigorous, provocative and culturally influential artists of the 20th century.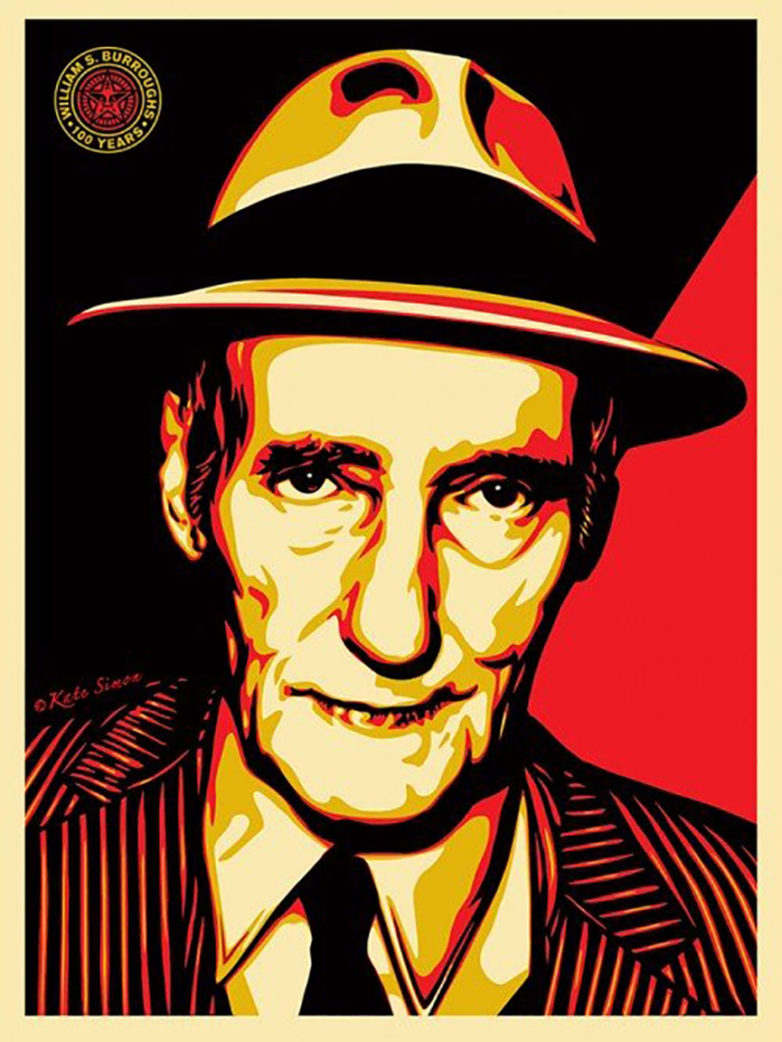 True Outsider
For Obey, Burroughs was a true outsider. Having in mind Burroughs' provocative and evocative voice it's no wonder Obey is drawn to him. The man behind Obey, the famous American contemporary street artist and activist Shepard Fairey, first became known for his "Andre the Giant Has a Posse" sticker campaign (which evolved into the "Obey Giant" campaign) which aim was to inspire curiosity and cause the masses to question their relationship with their surroundings. This questioning starts by placing an image in the public space which leads to changing the environment. And this change of environment affects an individual. A sticker provokes viewers to think, possibly sometimes frustrating them, but nevertheless revitalizing their perception. The most difficult task any artist faces is capturing the public's attention. Does this change of environment have a potential for social change? It is hard to say. For sure, Obey never ceases to surprise and provoke. Today he reminded us of a great writer. Which Burroughs' book have you read? Or, have you read any good books lately?
Shepard Fairey - Background
Shepard Fairey is an American contemporary street artist, graphic designer, illustrator and activist who emerged from the skateboarding scene. He first became known for his "Andre the Giant Has a Posse" sticker campaign followed by OBEY campaign. The Institute of Contemporary Art in Boston calls him one of today's best known and most influential street artists. If you want to find out more about Shepard Fairey follow the jump to our Artist section.
Kate Simon - Background
Kate Simon, the photographer behind the first Clash album cover and the Bob Marley "Kaya" cover, has captured many of the most famous musicians, writers and artists of her and our time such as Miles Davis, Iggy Pop, The Sex Pistols, Patti Smith, David Bowie, Andy Warhol, Robert Rauchshenberg, and William S. Burroughs and many others. Her work is displayed in museums and galleries in Europe and the U.S. and in many private photographic collections.